Unleash your child's inner warrior: Benefits of martial arts classes & find top studios in Singapore to teach them
Martial arts classes can provide a multitude of benefits for children. From physical strength and agility, to emotional growth and self-discipline, these classes offer an incredible opportunity for children to develop important life skills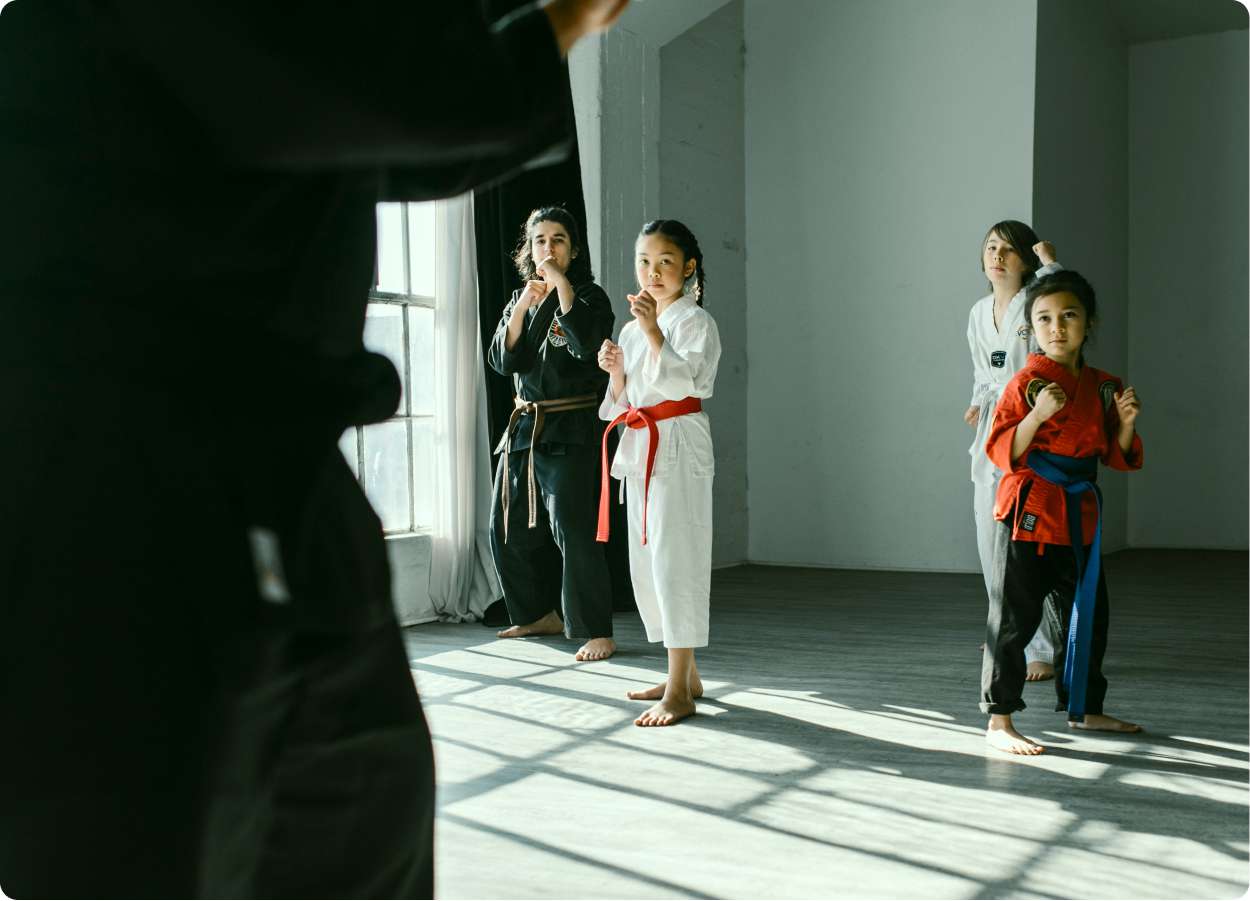 Source: Pexels
Martial arts is a super cool way for kids to stay active, learn new skills and make new friends! With its roots dating back centuries, it's no wonder that martial arts has become a staple in cultures all around the world.
Not only is it a physical workout, but it also helps kids grow in so many other ways. By building self-confidence, teaching discipline and focus, and promoting teamwork, martial arts classes can be a game-changer for kids.
In this article, we're going to explore the exciting world of martial arts and show you how it can unleash your child's inner warrior. We'll dive into the benefits and give you tips on choosing the right class for your little ninja.
We'll also show you how to make the most of the experience so your child can get the most out of their martial arts journey.
So, grab your karate gear and get ready to discover the benefits of martial arts classes for kids. Let's unleash that inner warrior!
What is martial arts?
Martial arts is a collection of various fighting styles and techniques that originated from various cultures and civilizations. It encompasses a wide range of disciplines, including karate, judo, taekwondo, kung fu, and many more. And each style of martial arts discipline focuses on different techniques and has its own set of principles and philosophies.
Overall, martial arts focus on physical movements, hand-to-hand combat, and weapon-based fighting techniques, with the ultimate goal of promoting self-defence and physical fitness.
The practice of martial arts also incorporates mental and spiritual training, promoting discipline, focus, and mindfulness.
It is a comprehensive form of training that offers a range of benefits for its practitioners, from physical health and fitness to mental toughness and personal growth.
Different types of martial arts for children
When it comes to martial arts for children, there is no one-size-fits-all approach. Different types of martial arts have different goals and objectives, so it's important to find the right style for your child.
Here are some of the most popular martial arts that are available for children:
Karate
Karate is a Japanese martial art that focuses on strikes, kicks, and blocks. It is a great way for your child to learn self-defence and build strength and flexibility.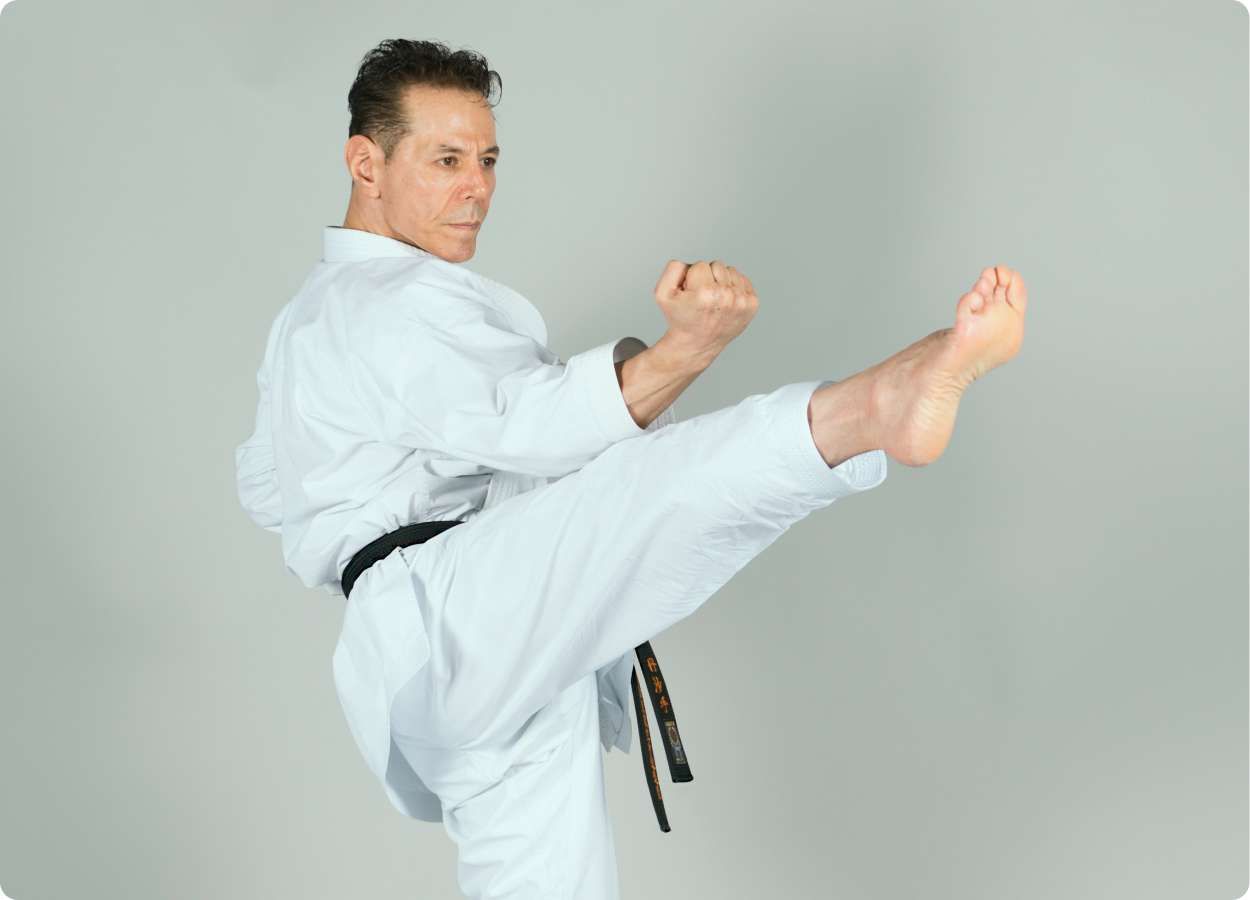 Source: Unsplash
Judo
Judo is another popular martial art that focuses on throws and joint locks. It teaches your child how to use their opponent's weight and strength against them, making it a great way to learn how to protect themselves without having to resort to violence.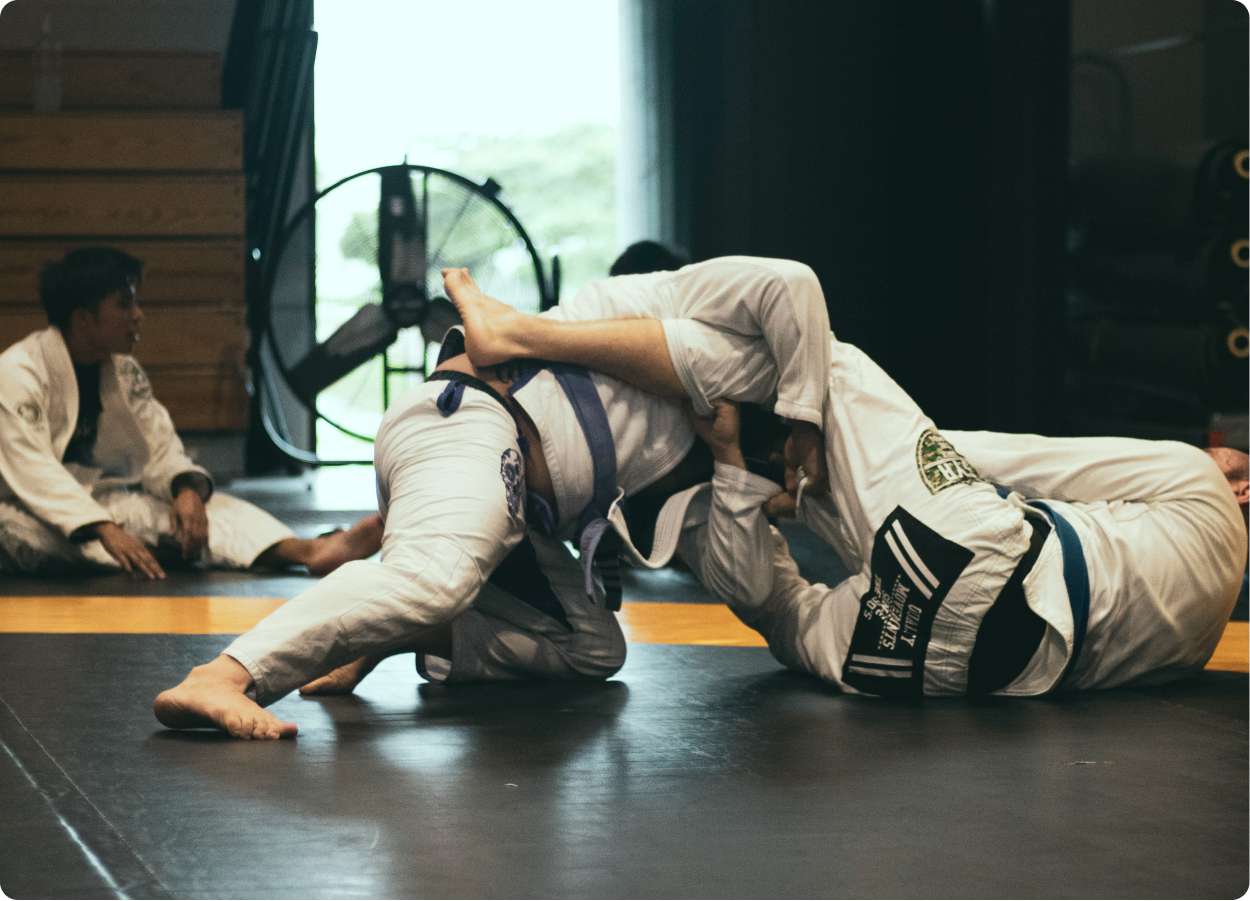 Source: Unsplash
Taekwondo
Taekwondo is a Korean martial art that is known for its high, fast kicks and jumping techniques. It emphasises speed, power, and balance, making it a great option for children who want to develop agility and coordination.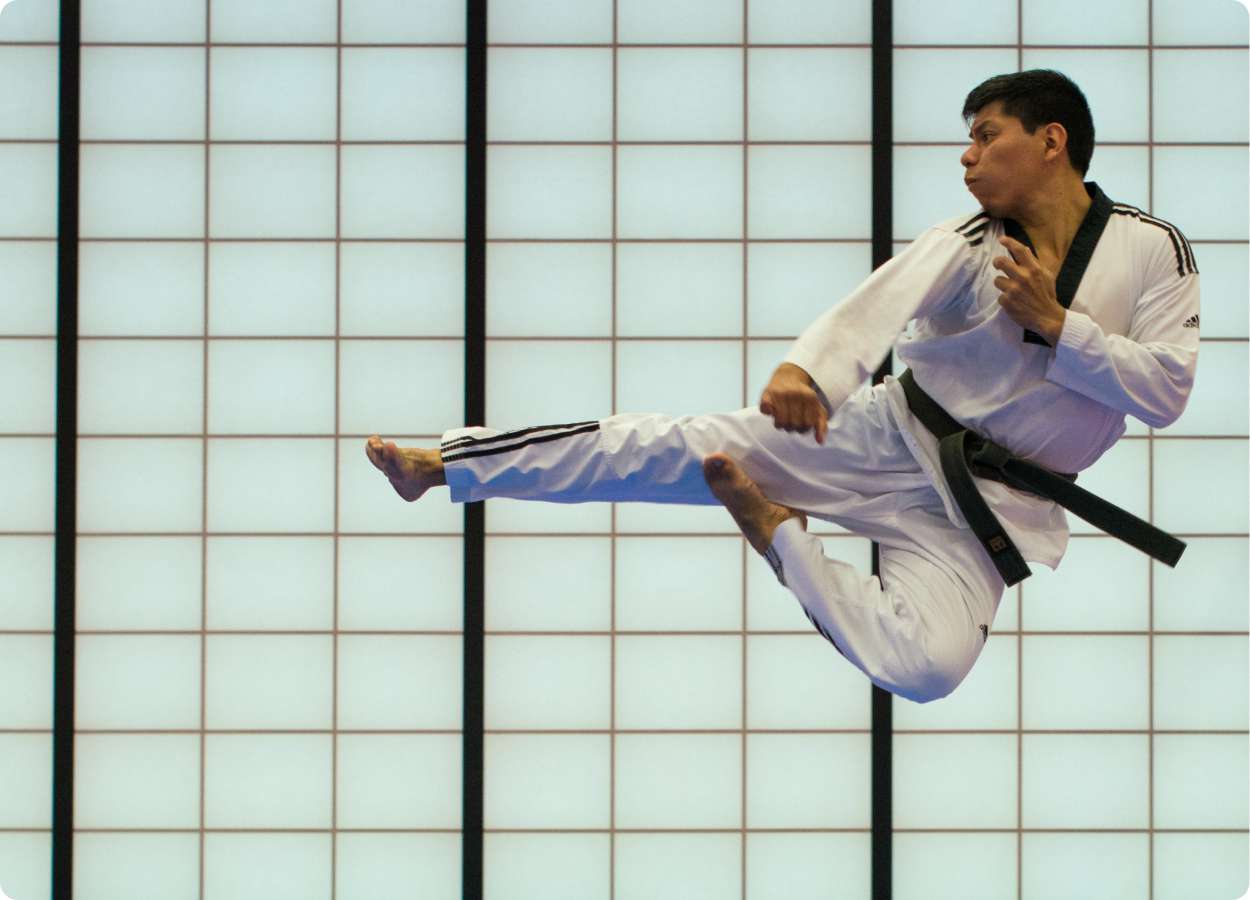 Source: Unsplash
Kung Fu
Kung Fu is a Chinese martial art that focuses on using the body's natural weapons, such as punches and kicks, to defend oneself. It also teaches your child how to develop balance and coordination.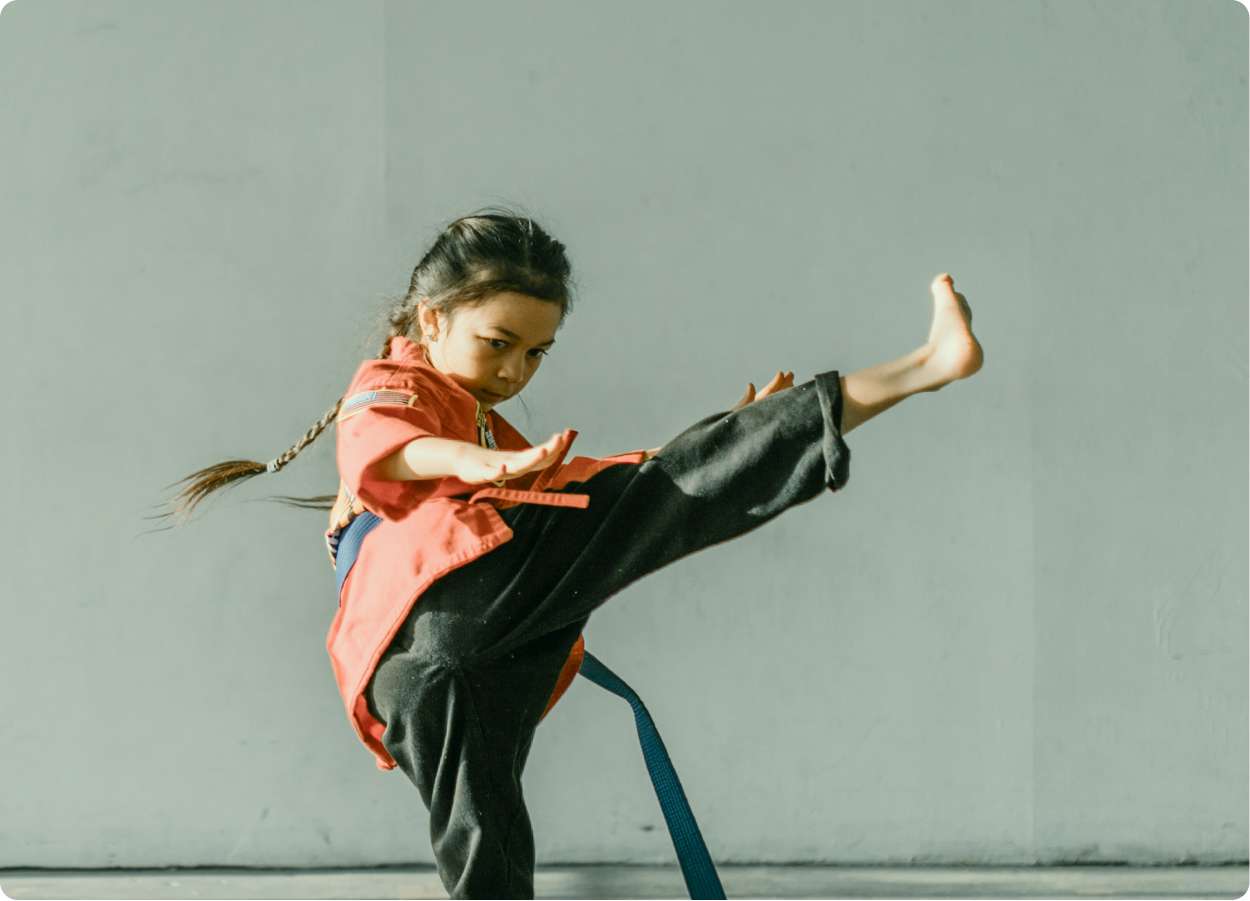 Source: Pexels
Jiu-Jitsu
Jiu-Jitsu is a Japanese martial art that focuses on grappling and submission holds. It is a great way for your child to learn how to stay calm and use their opponent's energy against them.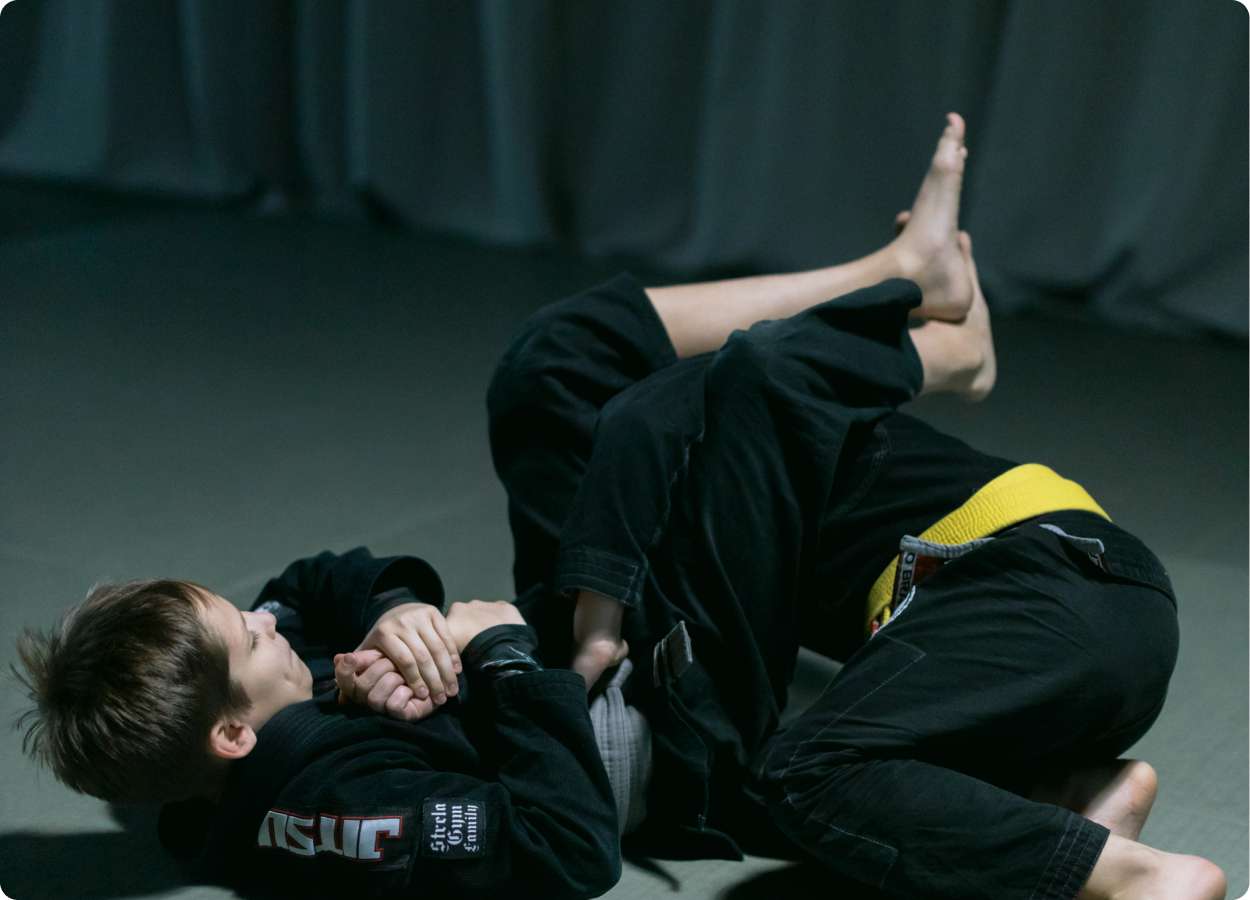 Source: Unsplash


Muay Thai
Muay Thai is a Thai martial art that emphasises the use of strikes, clinching, and throws. It is known for its powerful and intense techniques and is a great option for children who want to develop strength, endurance, and confidence.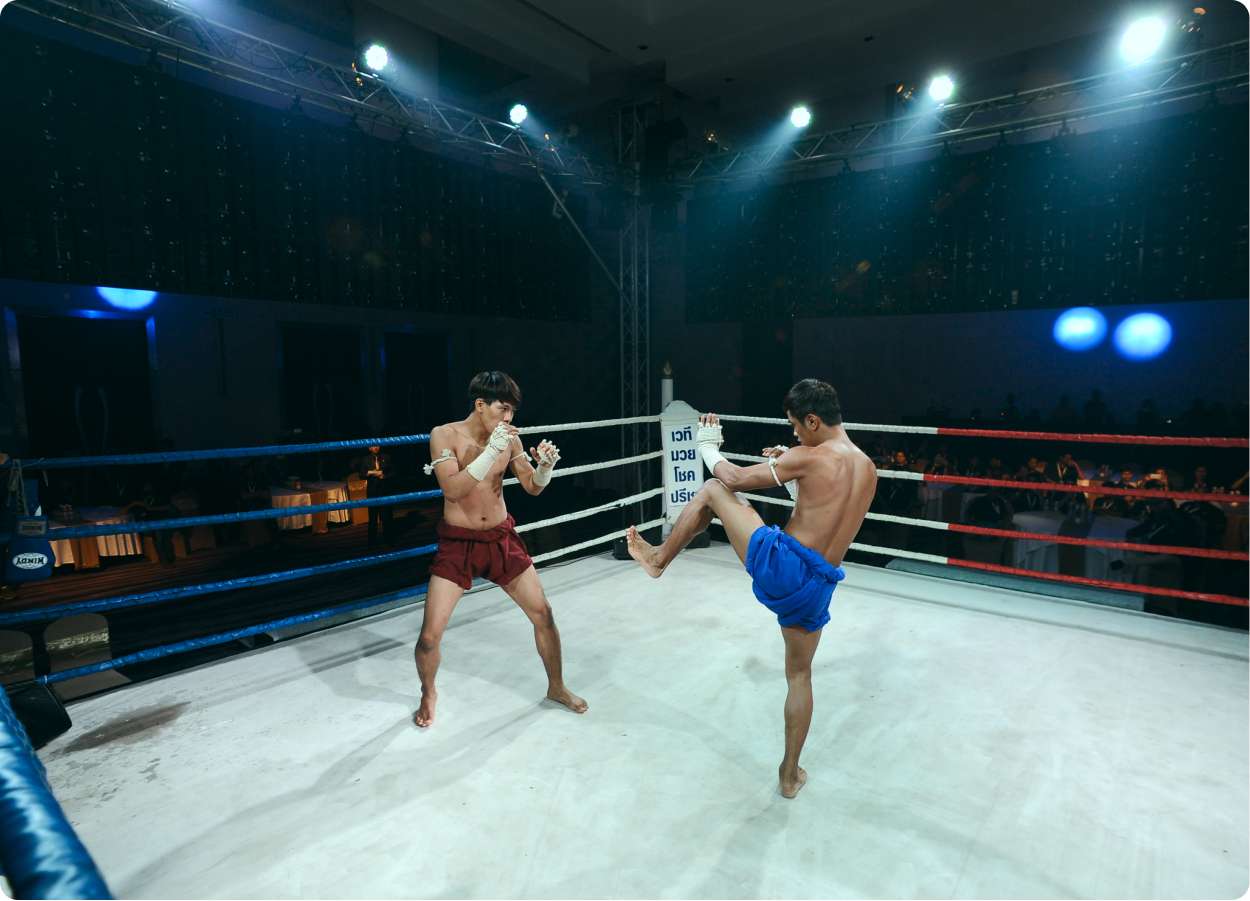 Source: Pexels
Read: Top 7 Muay Thai studios in Singapore
Each of these martial arts has its own unique benefits, so it's important to choose the one that best fits your child's interests and abilities. Regardless of the type of martial arts your child chooses it'll help your child develop important life skills and stay fit and healthy.
The benefits of martial arts for kids
Martial arts classes for kids offer a range of physical, mental, social, and emotional benefits. Here are some of the key benefits of martial arts for children.
Physical benefits
Strength and coordination: Regular training in martial arts will help your child build strength and improve coordination. The various movements and techniques taught in martial arts classes require the use of multiple muscle groups, leading to a full-body workout and increased physical strength.
Improved fitness: Martial arts classes are designed to be physically demanding, keeping children active and improving their overall fitness levels. The classes also help to improve endurance, allowing children to tackle physical challenges with ease.
Increased flexibility: Flexibility is an important aspect of martial arts and regular training will help children become more limber and agile. Improved flexibility leads to a wider range of motion and increased physical capability, allowing children to perform better in all areas of life.
Improved posture: Martial arts training places a strong emphasis on proper form and posture. This can help children develop good posture habits, leading to improved health and confidence in their physical appearance.
Learn how to defend themselves: Children who participate in martial arts classes will learn how to defend themselves in a controlled and safe environment. This knowledge can give them peace of mind and the ability to protect themselves if necessary.
Mental benefits
Confidence booster: Children who train in martial arts often develop a sense of accomplishment and pride in their abilities. This can be a significant confidence booster, as children see their abilities improving over time.
Focus and discipline: The structure and discipline required in martial arts classes help children develop better focus and attention skills. They learn to concentrate on their training, leading to improved self-discipline.
Mental toughness: Martial arts training can be challenging, but this can help children develop mental toughness and resilience. They are encouraged to push through challenges and overcome obstacles, building a strong sense of determination and self-reliance.
Memory and problem-solving skills: Regular practice in martial arts can help children develop better memory skills by memorising techniques and forms. This repeated mental stimulation also helps improve their problem-solving abilities, as they are taught to analyse situations and find creative solutions.
Decision-making: Martial arts training can also help children learn how to make quick and effective decisions, especially in high-pressure situations. For example, in a sparring situation, children must quickly assess the situation and react appropriately. This repeated practice helps develop their decision-making abilities.
Respect, self-control, and self-confidence: Martial arts classes can teach children the importance of respect, self-control, and self-confidence. They learn to respect their instructors, training partners, and themselves, while also learning to control their emotions and maintain self-confidence in challenging situations.
Learn how to manage stress: Martial arts classes can help children learn how to manage stress and control their emotions. The physical and mental demands of training can help children develop coping strategies, leading to a better ability to handle stress and adversity.
Read: Mental health benefits of exercise in a physical fitness class
Social benefits
Making new friends: Children who train in martial arts classes often form close bonds with their classmates. They spend time together during training sessions and often participate in group activities, which can foster strong friendships. This is especially important for children who may struggle with making friends in other social settings.
Building teamwork skills: Martial arts training requires teamwork and cooperation. For example, many martial arts classes involve sparring or partner drills, which require children to work together to achieve a common goal. This experience can help children learn how to work effectively with others, which is an important life skill.
Increased sense of belonging: Children who train in martial arts often feel a sense of belonging and connection to their class and instructor. This can lead to a more positive experience for children, as they feel valued and supported. This sense of belonging can be especially beneficial for children who may struggle with feelings of loneliness or social isolation.
Where to find martial arts classes for kids in Singapore?
Singapore is home to some of the best martial arts studios that offer classes for children. These studios offer a safe and supportive environment for children to learn, grow and develop their martial arts skills.
In this section, we'll introduce some of the top studios that are known for providing quality training and education for children in martial arts.
1. Singapore Silat Federation (Silat)
The martial arts scene in Singapore is thriving, with an abundance of options for children to learn and grow their skills. Among these options is the traditional Indonesian martial art of Silat, which has a strong presence in the country with over 20 affiliates and 32 Silat clubs providing lessons.
The Singapore Silat Federation is the main governing body for Silat and is led by world champion pioneer Sheik Alau'ddin, who also heads up the MMA team. With a wide range of locations offering classes, parents and children can find a Silat club that fits their schedule and needs.
Classes are offered at varying times throughout the week, making it easier for children to get involved and pursue their interest in martial arts. Whether you're looking for a fun and challenging way for your child to stay active, or you want to encourage their personal growth and development, enrolling them in a Silat class may be just what they need.
📍 Address:
No. 11 Bedok North Street 1, #04-02, Singapore 469662, ActiveSG Silat Hall
3 Stadium Drive, Singapore 397630, OCBC Arena Hall 4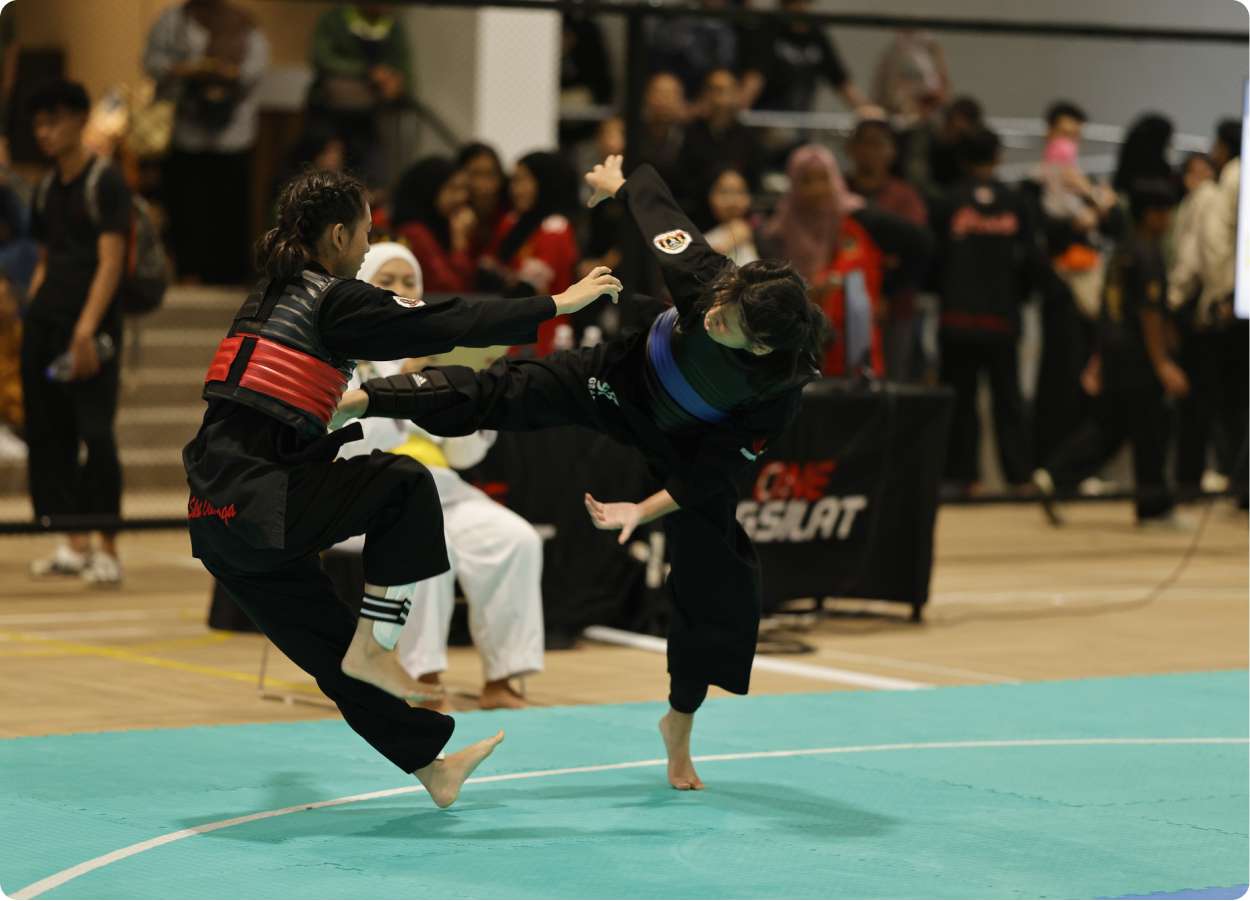 Source: Singapore Silat Federation (Silat)
2. Evolve MMA (MMA)
The MMA gym, Evolve MMA, offers a comprehensive program called Little Samurai Children's Program for kids as young as four years old. This program provides an introduction to the world of martial arts and encompasses various aspects of physical and mental development.
Not only do children get to practise their coordination and dexterity by throwing punches, but they also learn self-defence techniques, improve their cardiovascular health, and gain an understanding of different styles of martial arts such as Brazilian Jiu-Jitsu and Muay Thai.
The Little Samurai Children's Program is not just about learning the techniques of MMA but also about instilling important values such as discipline, focus, and confidence in young children.
The program is designed to be fun and engaging for kids, and the experienced trainers ensure that each child is given the proper attention and guidance needed to grow both physically and mentally.
By participating in the program, children not only become more physically active but also develop a love for martial arts that can stay with them for a lifetime.
📍 Address:
26 China Street, Far East Square #01-01, Singapore 049568
181 Orchard Road, #06-01 Orchard Central, Singapore 238896
11 Tanjong Katong Road, #02-52 KINEX, Singapore 437157
6 Eu Tong Sen Street, #04-18 Clarke Quay Central, Singapore 059817
1 Vista Exchange Green, #02-26A The Star Vista, Singapore 138617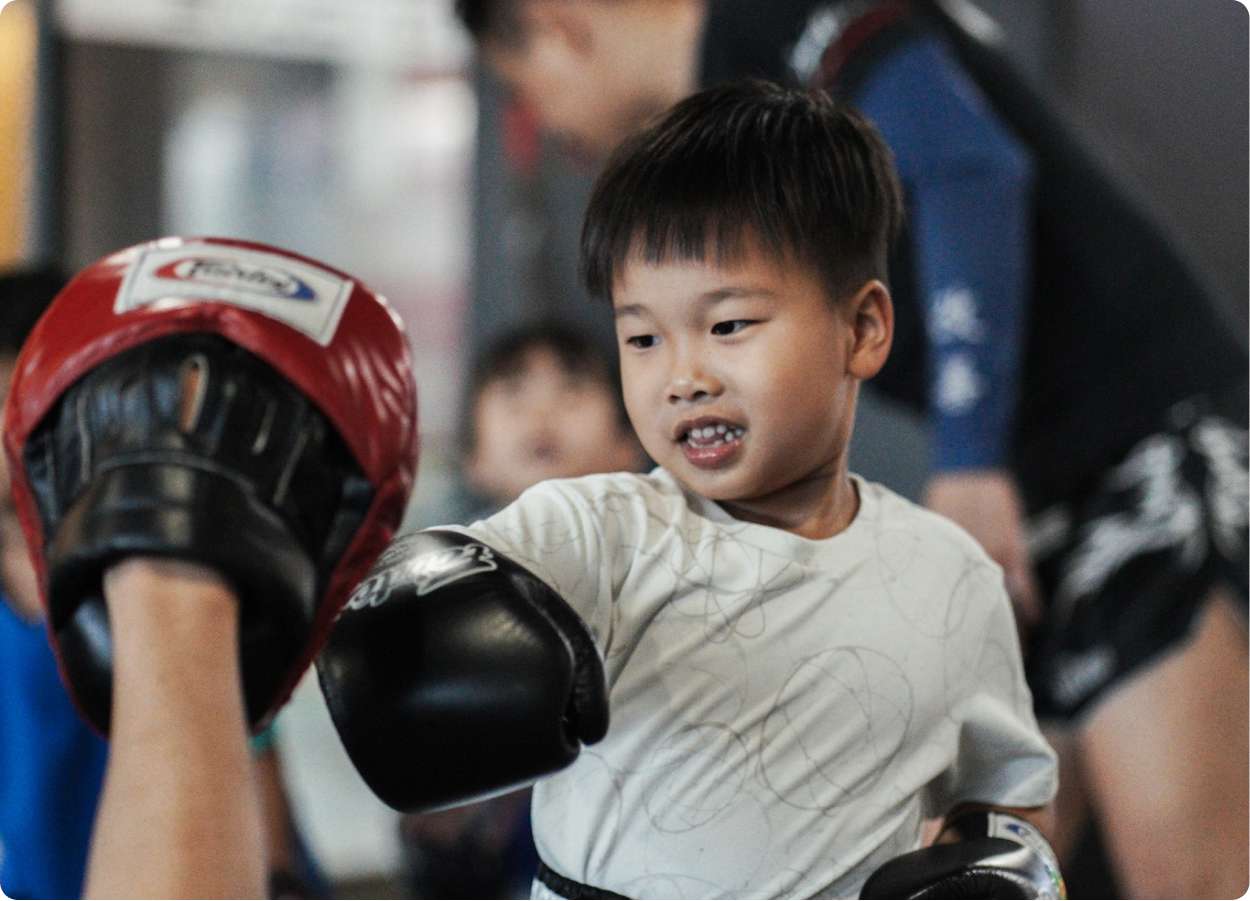 Source: Evolve MMA
3. The Gentle Art (Brazilian Jiu-Jitsu)
The BJJ (Brazilian Jiu-Jitsu) Kids program at The Gentle Art is designed to cater to children of different ages and abilities.
The classes are carefully structured to provide a safe and challenging environment that allows children to develop at their own pace. And unlike traditional BJJ classes, The Gentle Art incorporates self-defence techniques that do not involve striking or kicking, making it ideal for children as young as three years old.
The experienced instructors ensure that children receive individualised attention and guidance to maximise their learning potential.
The focus is on helping children develop good motor skills, coordination, and confidence, while providing them with a form of self-defence that they can use in the future.
Parents can rest assured that their children will be in safe hands, as the classes are split according to age and ability. This ensures that children are matched with others of similar abilities, avoiding the risk of injury and providing a positive learning experience.
The Gentle Art is committed to fostering the development of children in a fun and engaging environment, helping them to become confident and well-rounded individuals.
📍 Address: 183 East Coast Rd, Singapore 428889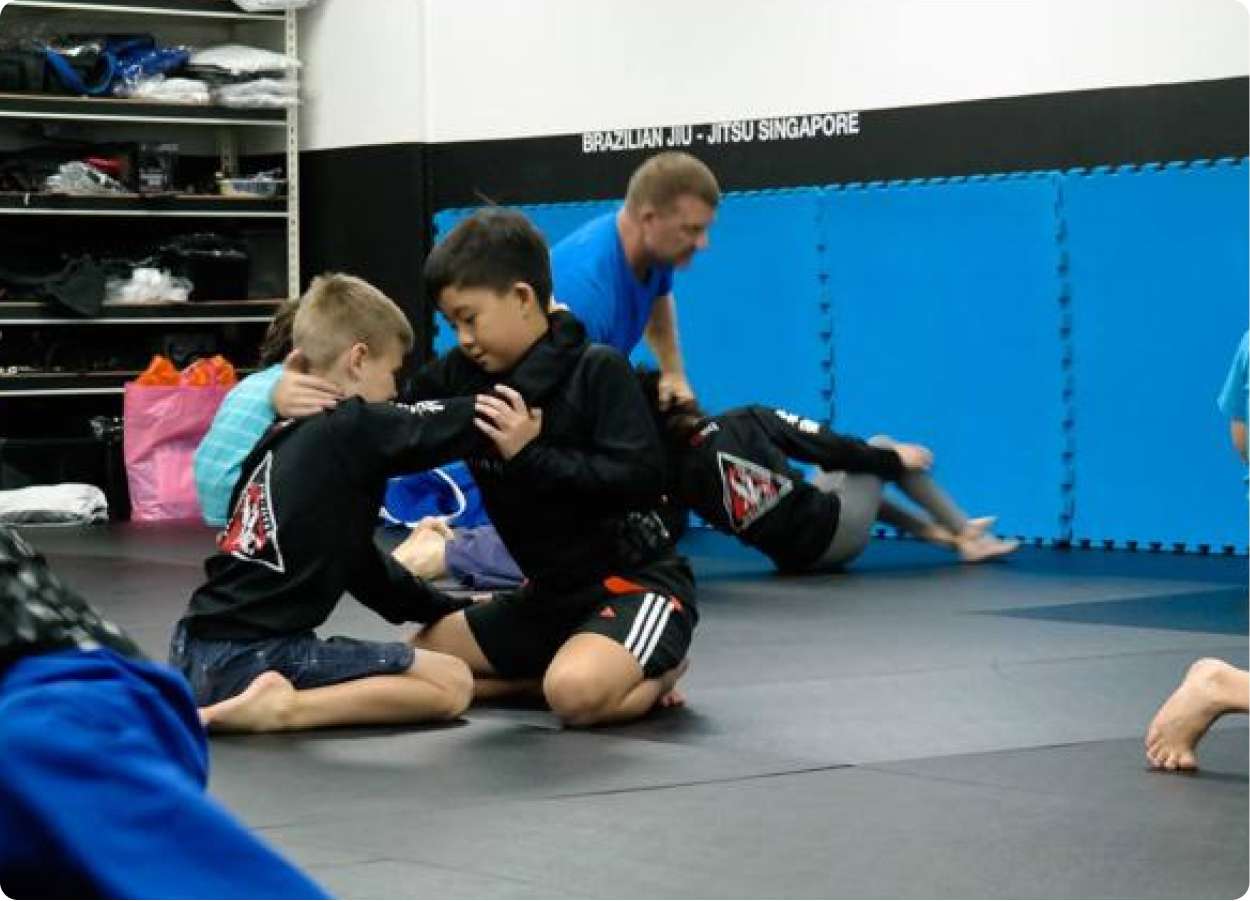 Source: The Gentle Art
4. Kali Majapahit (Traditional SEA Martial Arts)
Kali Majapahit is dedicated to providing students with the best possible training in traditional Southeast Asian martial arts.
The Lil Ninjas program for children aged 3-5 years and the Kids program for children aged 6-11 years cater to both boys and girls and provide a well-rounded curriculum that encompasses martial arts skills, self-defence techniques, character education, and motor skill development.
The structured curriculum at Kali Majapahit is designed to optimise the students' learning experience and have a lasting impact beyond the dojo. Children will learn important martial arts and self-defence skills, as well as character education such as confidence, focus, teamwork, and balance and coordination.
The instructors are highly skilled and experienced, and they are dedicated to helping each student reach their full potential.
Kali Majapahit offers free trials at its River Valley, Upper Serangoon, Katong, and Sentosa Cove academies, allowing parents and children to get a feel for the centre and its programs before committing to enrolling.
The centres are equipped with state-of-the-art training facilities and offer a safe and supportive environment for children to learn and grow.
📍 Address:
405 River Valley Rd, Singapore 248303
767 Upper Serangoon Road, #01-05, Spazio@Kovan, 767 Upper Serangoon Rd, #01-05, Singapore 534635
31 Ocean Way, #01-02, Singapore 098375
183 East Coast Rd (2nd Floor), Singapore 428889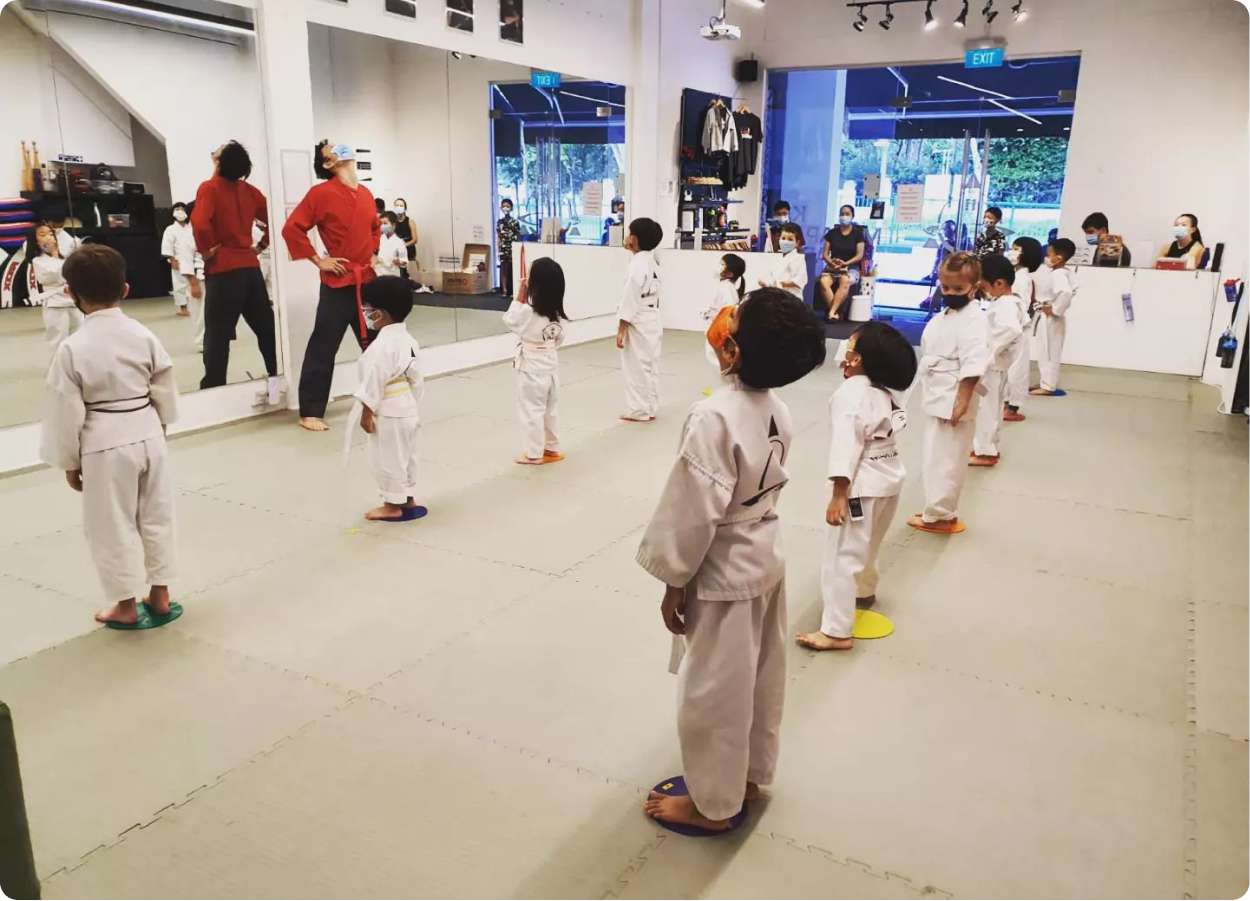 Source: Kali Majapahit
5. Taekwondonomics (Taekwondo)
Taekwondonomics is a highly reputable taekwondo school in Singapore that is dedicated to providing students with world-class coaching and training. The school boasts a team of award-winning coaches who have a wealth of experience and expertise in the art of taekwondo.
Children as young as three years old can start learning the basics of taekwondo in group classes, where they will focus on building their balance and coordination skills.
As children progress, they will move on to intermediate classes that offer more advanced forms and routines. These classes are designed to challenge students and help them build their skills and knowledge in taekwondo.
The school's curriculum is structured to ensure that students are able to learn at their own pace and reach their full potential.
For children who fall in love with the sport of taekwondo, Taekwondonomics offers Pace Challenger lessons and an Elite Competition Team. These programs provide students with the opportunity to hone their skills and participate in future tournaments, helping them to become well-rounded and confident taekwondo practitioners.
📍 Address:
Lor 6 Toa Payoh, Safra Toa Payoh, Singapore 319387
9 Sentul Cres, Punggol SARFRA #01-02, Singapore 828654
333 Boon Lay Way, SAFRA Jurong #1A-01, Singapore 649848
598 Yishun Ring Rd, Singapore 768698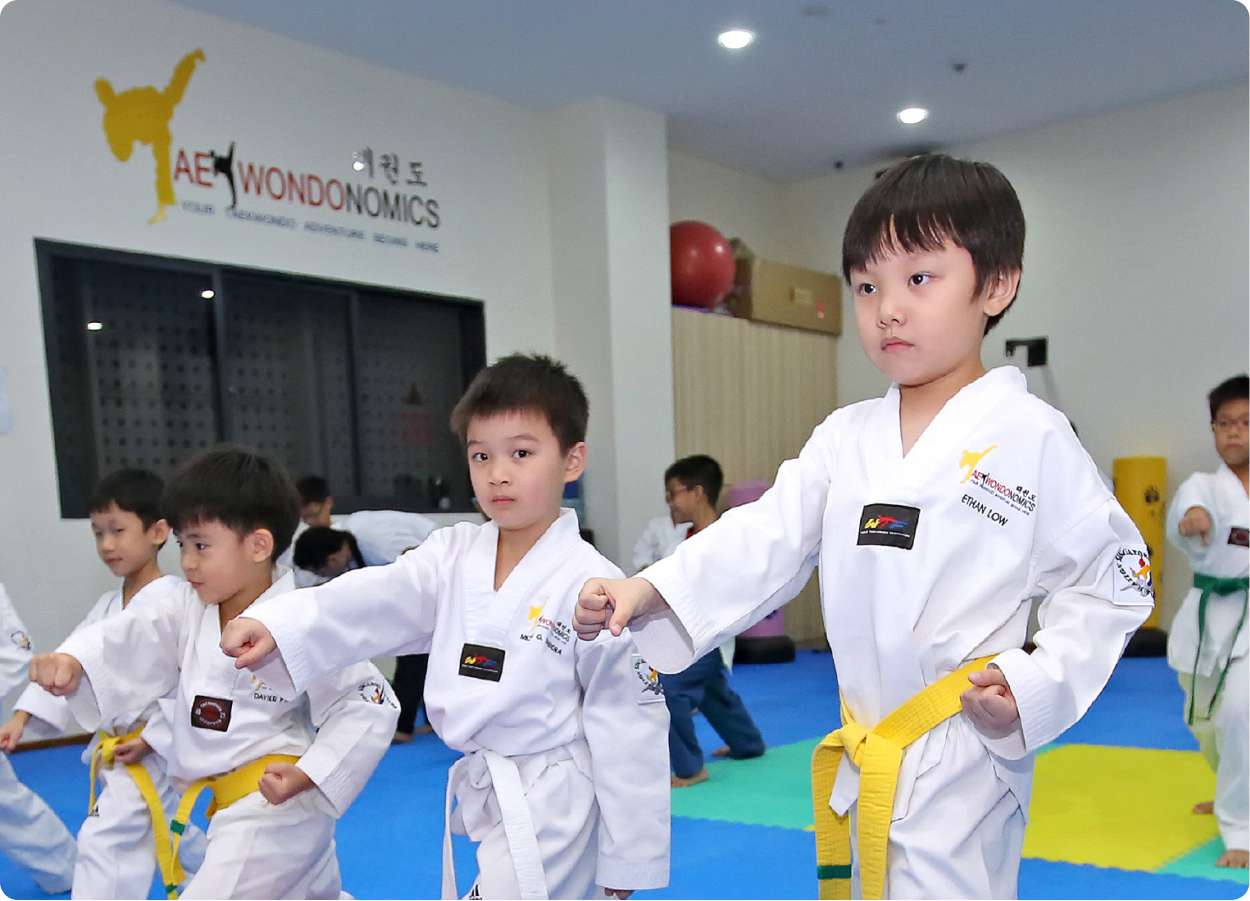 Source: Taekwondonomics
6. JR Muay Thai (Muay Thai)
JR Muay Thai is a martial arts studio that offers children a unique opportunity to build a stronger mind and body through the practice of Muay Thai.
Designed for kids aged six and above, the classes at JR Muay Thai focus on developing discipline, focus, and mental strength while teaching essential Muay Thai techniques, including boxing and kicking.
In addition to learning these self-defence and martial arts techniques, students also participate in physical education and cardiovascular conditioning exercises, ensuring they are developing a well-rounded, healthy lifestyle.
The program is structured to help children achieve their full potential and reach their fitness and martial arts goals.
If your child has a passion for Muay Thai and dreams of competing in local or international contests, JR Muay Thai has the expertise and resources to help them become championship-ready. With a focus on training and preparation, children are given the tools and skills they need to succeed and reach their full potential.
📍 Address: 45 Jln Pemimpin, Admin Office, Singapore 577197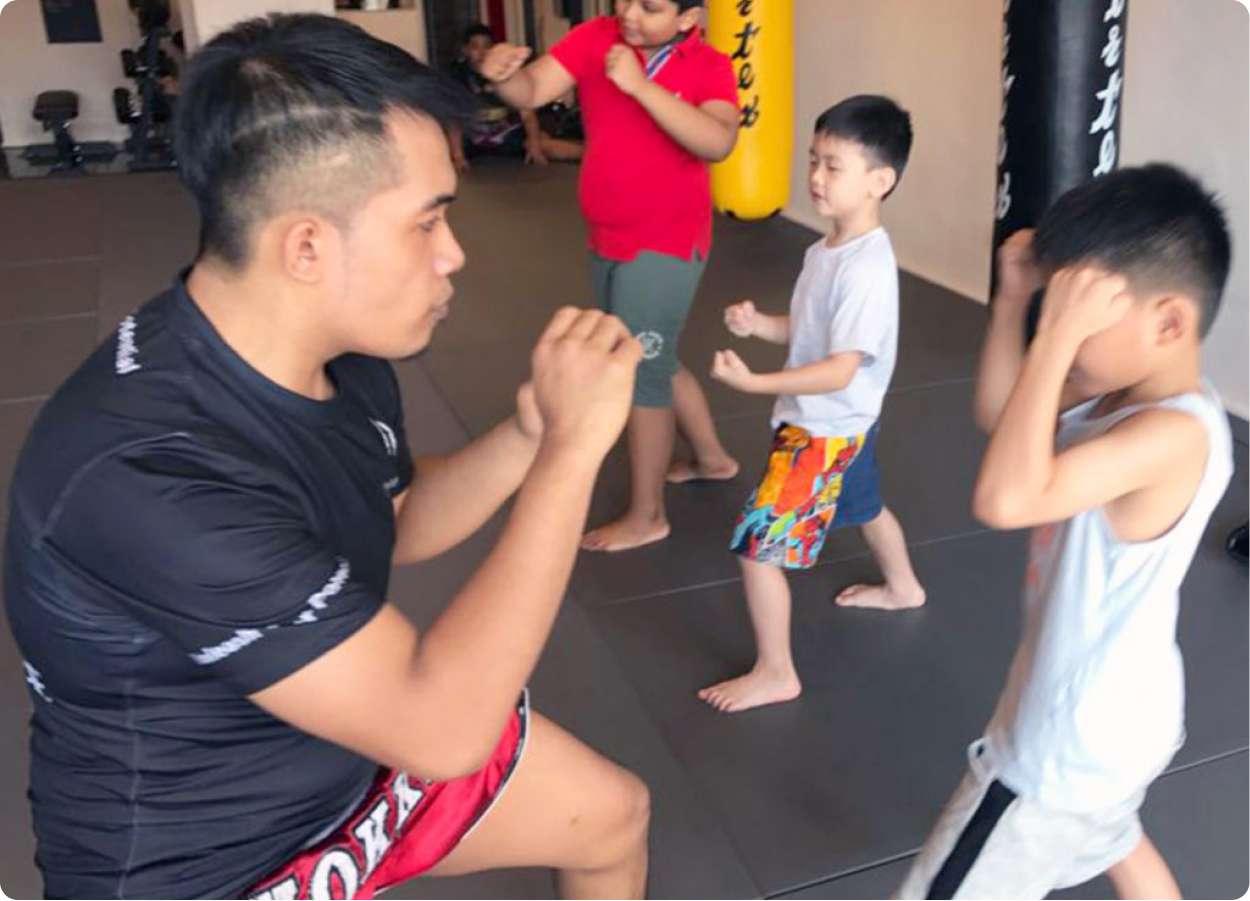 Source: JR Muay Thai
7. Singapore Judo Club (Judo)
Singapore Judo Club is the perfect place to introduce your children to the exciting world of Judo. As a non-profit organisation that has been promoting the sport since 1954, the club is one of the oldest and most established Judo dojos in the country.
The children's classes at Singapore Judo Club are designed specifically for kids, and are led by certified instructors who have a passion for sharing their love of Judo with the next generation. With a focus on building physical and mental skills, these classes provide a safe and fun environment for kids to learn and grow in their Judo abilities.
From developing balance and coordination to learning self-defence techniques and building self-confidence and teamwork, the kids' classes at Singapore Judo Club offer a well-rounded and educational experience for children.
With its experienced instructors, supportive environment, and commitment to skill development, your child is sure to have a fun and rewarding time learning Judo at Singapore Judo Club.
📍 Address: 570 Havelock Road (S 169640) Level 2, Kim Seng Community Centre, Singapore 169640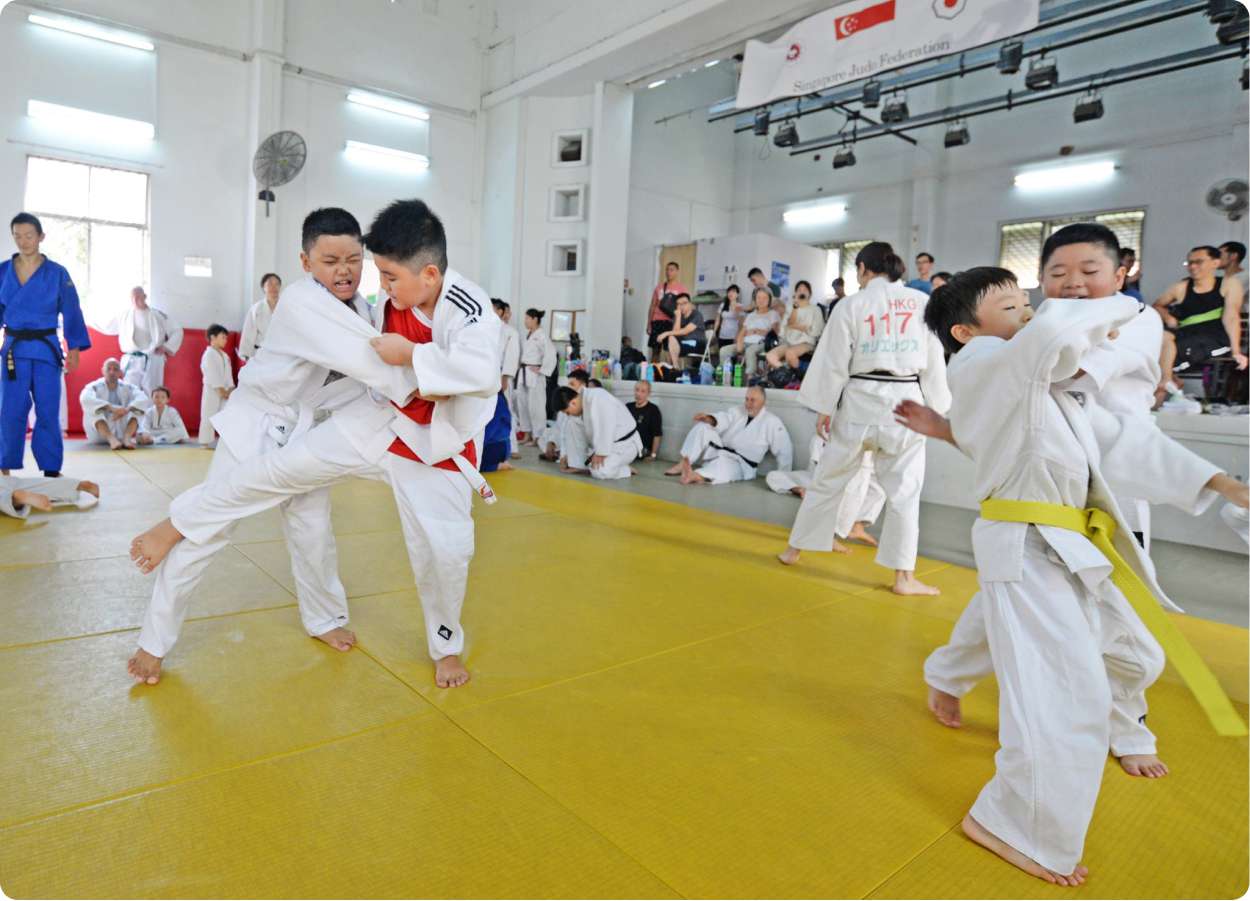 Source: Singapore Judo Club
As a parent, finding the right martial arts studio for your child can be a challenge. And once you find the right one, keeping track of their progress and scheduling can be just as challenging.
That's why we highly recommend a martial art class that uses a fitness management software like Rezeve. Rezeve makes it easy to manage your child's class schedules, track their progress, and communicate with the instructors.
With Rezeve, you can sign up for classes, view your child's progress, and receive updates on their progress all in one place. The user-friendly interface makes it easy to manage your child's martial arts classes, and you can access it from anywhere, at any time.
Tips for encouraging your child to stick with martial arts classes
Getting children involved in martial arts can be an incredibly rewarding experience for both parents and children. However, it can also be a challenge to keep them motivated and engaged in their practice.
To ensure your child sticks with martial arts classes, it's important to find ways to make the experience enjoyable and meaningful. Here are a few tips to help encourage your child's growth and success in martial arts:
Positive attitude and willingness to learn: Encourage your child to approach each class with a positive attitude and a willingness to learn. A positive mindset can make a big difference in how much they enjoy and get out of the class. It's also important to remind your child that everyone makes mistakes and that it's okay to make mistakes as long as they're learning from them.
Realistic goals and expectations: Help your child set realistic goals and expectations for their martial arts journey. This can give them a sense of purpose and help them stay motivated. Set achievable goals with your child, such as learning a new technique, improving their stamina, or mastering a specific form.
Encouragement and support: Children thrive on positive reinforcement and support. Offer plenty of encouragement and support to help your child feel confident and motivated. Cheer them on during class, acknowledge their achievements and offer praise for their efforts.
Celebrating successes: Celebrate your child's successes and help them recognize their progress. This will boost their confidence and keep them motivated to continue their martial arts journey. Celebrate milestones, such as earning a new belt, or participating in a competition.
Proper rest and nutrition: Good nutrition and plenty of rest are essential for your child's growth and development. Encourage your child to prioritise their health and wellbeing to ensure they have the energy and focus they need for martial arts classes. Make sure they are getting enough sleep, eating a balanced diet, and drinking plenty of water.
Practice outside of class: Encourage your child to practise outside of class. This will help them reinforce their skills and improve their abilities. Suggest practising at home, such as practising their forms, techniques or even sparring with a friend.
Making martial arts fun: Find ways to make martial arts classes fun for your child. This can include incorporating games or other activities that engage their interests and enthusiasm. Consider organising a friendly competition or inviting friends to participate in a class together.
Safety Considerations for Martial Arts Classes for Children
Enrolling your child in martial arts classes can provide many benefits for their growth and development. However, it's important to keep safety in mind to ensure your child has a safe and enjoyable experience.
Here are some key considerations to keep in mind when choosing a martial arts class for your child:
Qualified instructors: It's crucial to make sure your child's instructor is certified and experienced in teaching martial arts to children. Look for an instructor who has a proven track record of safety, and who has experience teaching children of your child's age and ability level. It's also a good idea to research the martial arts school to see what safety protocols and procedures they have in place.
Safety gear: Make sure your child is wearing the appropriate safety gear during class. This may include a mouthguard, headgear, and groyne protection. Wearing the right gear can help prevent injuries and ensure your child stays safe during class.
Rules and regulations: Ensure your child is aware of the rules and regulations of the martial arts school. This can include rules about physical contact, safety procedures, and discipline. By following these rules, your child can stay safe and enjoy the experience of martial arts.
Safe environment: Make sure the martial arts school you choose has a safe and supportive environment for children. Look for a school that has a good reputation for safety and that takes the necessary steps to ensure children are protected during class. This may include having clear guidelines for physical contact, as well as a process for dealing with any accidents or injuries that may occur.
Still not sure if martial arts is the right fit for your child? Consider exploring child and parent yoga! Yoga can be a great alternative that focuses on physical and mental wellness, providing a well-rounded exercise experience.


Conclusion
In conclusion, martial arts classes can provide a multitude of benefits for children. From physical strength and agility, to emotional growth and self-discipline, these classes offer an incredible opportunity for children to develop important life skills.
When enrolling your child in a martial arts class, it's important to do your research and choose a reputable school or instructor. Make sure to consider safety protocols and procedures, and ensure that your child is wearing the appropriate safety gear.
By taking these steps, you can help your child unleash their inner warrior and tap into the full potential of martial arts. So what are you waiting for? Encourage your child to explore the benefits of martial arts classes today and watch as they grow into confident, well-rounded individuals.
Cheers,
Friska 🐨
Read next: How to get started on bouldering for beginners?
---
Do you want to see more content like this? Follow us on Instagram and Facebook for more wellness advice, fitness trends, workout inspiration, and even best health and fitness deals exclusive to our followers. Don't miss out!