Diving into the world of Muay Thai & the top 7 studios in Singapore where you can try it (Update 2023)
Singapore is home to many top-notch Muay Thai classes, each with their own unique approach to training and instruction.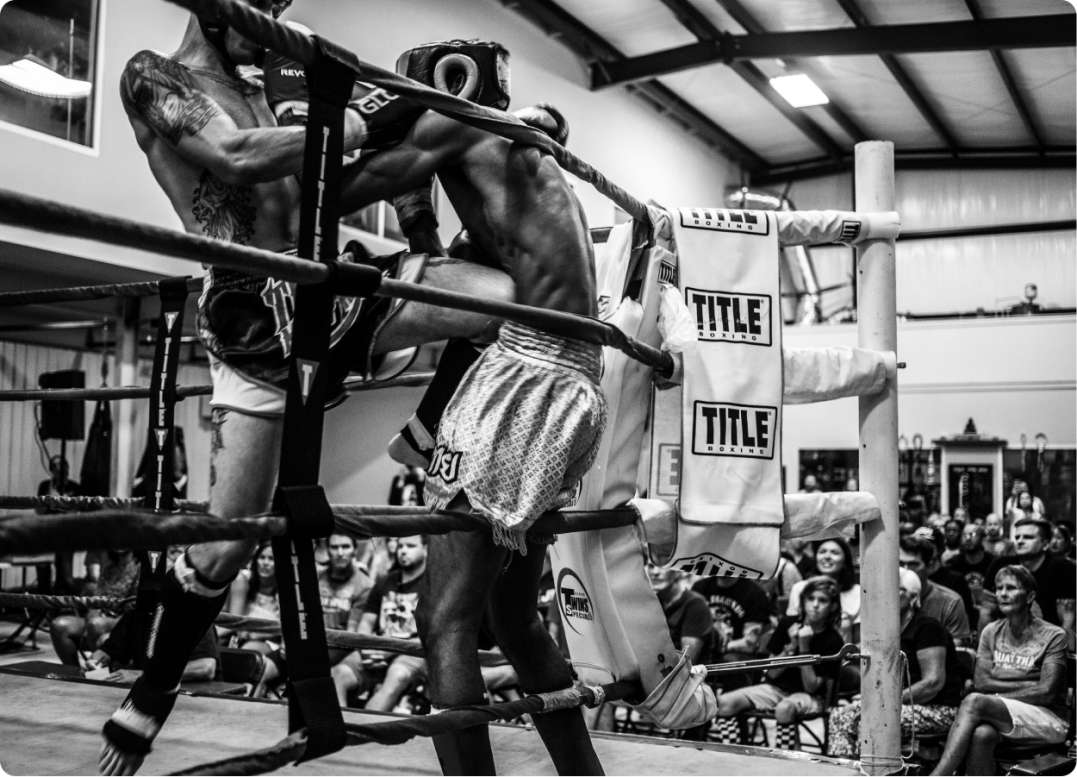 Source: Unsplash
If you've clicked on this article, it's safe to say you're intrigued by the dynamic and intense world of Muay Thai. Or maybe you've just heard the term for the first time and are wondering what on earth this exotic-sounding sport is all about.
Either way, you're in the right place. Muay Thai, known as the "Art of Eight Limbs", is a martial art that hails from the beautiful country of Thailand, and it's been making waves right here in Singapore.
In recent years, Singapore has become a hotbed for various martial arts, and Muay Thai has undoubtedly claimed a significant piece of the pie. It's not just a pastime or a fitness fad; it's a way of life that has captivated thousands across our little red dot.
From the Orchard Central to the Golden Mile Complex, you'll find folks of all ages and from all walks of life throwing punches, landing kicks, and perfecting their knee strikes - all in the name of Muay Thai. It's more than just a workout; it's a test of grit, a boost of confidence, and a journey of self-discovery rolled into one.
In this article, we'll walk you through the exhilarating journey of Muay Thai, right from its rich history in Thailand to the modern-day studios bustling with activity in our own backyard. We'll also give you a rundown of the top Muay Thai studios where you can strap on the gloves and start your own journey in Singapore.
History of Muay Thai
Alright, let's dive right into the thick of things, shall we? Ever wondered about the origins of Muay Thai? How has it come to be what it is today? Well, hold on tight because we're about to take a thrilling journey through time!
Let's start at the beginning, the very beginning. A hundred years ago, the Siamese soldiers were defending their land, and there's this new fighting technique on the scene. Guess what? That's Muay Thai in its earliest form. Born on the battlefield, Muay Thai was not just a sport; it was a means of survival. It's like the MMA of the ancient world – gritty, raw, and undeniably effective.
Over time, this fierce fighting style started morphing into something more. It wasn't just about survival anymore – it became an art. Can you imagine how that transition might have been? Going from a battlefield tactic to a ceremonial spectacle must have been quite the transformation, right? It's like watching a caterpillar morph into a butterfly, except with more punching and kicking.
As the centuries rolled on, Muay Thai continued to evolve. It wasn't just about the fight anymore; it was about the fighter's spirit, the discipline, the respect for the opponent. It became a way of life for many Thais, a dance of balance and power, a symphony of kicks and punches. See, it's not so different from a beautiful piece of music, right? Each move, each strike, like a note in a melody, and when done right, it's just as captivating.
Fast forward to the present day. Muay Thai has exploded onto the global scene. People from all walks of life, from all corners of the globe, are falling in love with this ancient art. And why wouldn't they? It's like a high-intensity workout, a stress buster, and a lesson in self-discipline all rolled into one.
And guess what? Singapore hasn't been immune to this Muay Thai fever either. It's become a hotspot for this sport, with world-class studios sprouting up all over the island nation. Singaporean fighters are making their mark on the international stage, and the country's Muay Thai scene is vibrant and thriving.
The basics of Muay Thai
If you've ever seen a Muay Thai fight, you'll know it's not just about wildly throwing punches or kicks. It's an intricate dance of offence and defence. You've got to use your fists, elbows, knees, and shins - all while protecting yourself from your opponent's attacks. Hence, it's often referred to as "The Art of Eight Limbs." Pretty cool, right?
Let's break it down a bit more. In Muay Thai, strikes can be divided into two main types - Mae Mai, or major techniques, and Luk Mai, or minor techniques. Mae Mai techniques are the bread and butter of Muay Thai, and mastering these is crucial to your training. On the flip side, Luk Mai techniques are generally used to set up or follow Mae Mai techniques, making your attacks more fluid and dynamic.
Now let's talk about the stance. The typical Muay Thai stance is slightly different from other martial arts. You stand side-on to minimise the target area for your opponent, with your hands up to guard your face and your legs ready to check any incoming kicks. A good stance is like a fortress; it keeps you safe while allowing you to attack effectively.
One thing you'll notice in Muay Thai is the emphasis on body conditioning. When you first start, you might find the workouts pretty intense. But don't worry! It's all part of the process. You're training your body to become a finely tuned machine, capable of delivering powerful strikes and absorbing blows.
And hey, it's not all about the physical side. Muay Thai demands mental discipline, too. You've got to keep your cool in the heat of a bout, plan your moves strategically, and always be ready to adapt to your opponent's actions. That's where the real beauty of this martial art lies!
The Benefits of Practising Muay Thai
1. Full-Body Workout: Muay Thai isn't just a simple workout—it's a full-body fitness regime. From your shoulders and arms to your core and legs, every part gets a fantastic workout. And let's not forget—it's an incredibly fun way to burn those calories!
2. Enhanced Strength and Flexibility: Throwing punches, delivering kicks, kneeing, and elbowing all require and build strength and flexibility. So, get ready to feel stronger and more flexible than ever before.
3. Cardiovascular Health: If you're looking for a cardiovascular boost, look no further. Muay Thai is here to elevate your heart rate and keep it there, giving your heart a good, healthy workout.
4. Mental Discipline: Muay Thai isn't just about the body—it's about the mind, too. Each move requires focus and precision, helping to sharpen your concentration. It's like a workout for your brain!
5. Stress Relief: Had a hard day? Let it all out on the training pad. There's something incredibly therapeutic about physically releasing all that stress, making Muay Thai an excellent stress buster.
6. Community Spirit: One of the best parts about practising Muay Thai is the sense of camaraderie that develops. You're not just part of a class—you're part of a community. And that's a really special feeling.
The top 7 Muay Thai studios in Singapore
So, how about we take a closer look at some of the places where this magic is happening? Let's check out the top 7 Muay Thai studios in Singapore, shall we?
1. Familia Muay Thai
Welcome to Familia Muay Thai! This boutique martial arts gym nestled right in the heart of Singapore offers a unique and effective training approach suitable for all experience levels. Whether you're an aspiring Muay Thai fighter or a complete beginner looking to dip your toes into the world of martial arts, Familia has got you covered.
Isn't it wonderful when a gym is more than just a place to sweat, but a supportive community where you're more than a number? At Familia Muay Thai, that's exactly what you'll find.
They're all about enabling everyone to embark on their 'Journey To Greatness' in a safe, fun, and supportive environment. Whether your aim is to enjoy the benefits of martial arts, develop fitness, mental strength, discipline, or self-confidence, Familia is ready to guide you on your journey.
Now, let's get into the nitty-gritty. Familia offers programs for everyone - from complete beginners with little to no fitness background, to advanced competitors looking to up their game. And when they say 'everyone', they mean it. All age groups, genders, fitness levels, and skill levels are welcome here. Every training session has been carefully tailored to enhance your learning and development in Muay Thai.
Worried about getting lost in the crowd? Don't be. They've limited all their classes to no more than 15 students so that you get the attention you deserve.
Speaking of classes, they've got quite a selection. Their Group Class is meticulously designed to help you achieve your goals, allowing students of all levels to train together without compromising the quality of training.
Feeling confident and want to take your training to the next level? Their Sparring classes are perfect for you, conducted under the watchful eyes of their trainers to ensure safety.
If you're looking for more personalised attention, Familia's Personal Training Program might be right up your alley. These sessions are crafted to accelerate your progress up to 200% more quickly compared to regular group classes.
And hey, if you're new to Familia, they've got a treat for you - a 7 DAY TRIAL PASS that includes a gym tour, introduction to trainers and programmes, and a 7-day access to unlimited group class packages.
But that's not all! What sets Familia Muay Thai apart is their use of the Rezeve fitness management software for their booking system.
Rezeve makes it super easy to manage your classes, track your progress, and communicate with the instructors. You can sign up for classes, view your progress, and receive updates all in one place. The user-friendly interface makes it a breeze to manage all your fitness classes, and the best part? You can access it from anywhere, at any time!
📍 Address: 123 Jalan Besar Road, Unit 03-01, Singapore 208841
2. Farong Muay Thai
If you're on the hunt for an authentic and unforgettable Muay Thai experience, then Farong Muay Thai is right up your alley. They go above and beyond to provide a genuine connection to the heart and soul of Muay Thai through their gym in Ubon Ratchathani, Thailand.
Picture yourself on an unforgettable adventure, flying over to Thailand and training with competitive fighters! But hold on, if international trips aren't your thing, no worries! They have high-energy padwork sessions right here in Singapore, perfect for the bustling CBD crowd to stay fit and blow off some steam after a hectic workday.
So, where can you find this amazing gym? Nestled in a charming heritage shophouse at 11D Hongkong Street, Farong Muay Thai's top-floor boutique gym is as trendy as it gets. As a boutique gym, they focus mainly on Muay Thai and boxing, offering an open space with enough room for sparring, padwork, and training on punching bags.
When it comes to equipment, they've got you covered with boxing pads and punching mitts, but remember to bring your own gloves for hygiene purposes (trust us, you don't want to use gloves that others have worn!). And don't fret about freshening up after a sweat session - they've got showers and changing facilities, plus lockers to keep your belongings secure while you train.
Their trainers? Top-notch pros with over a decade of experience each, ready and able to customise your training and intensity to suit your personal experience level. Whether you're a complete beginner or a seasoned pro, they've got you covered. And ladies, you'll be happy to know that Farong's diverse student mix and laid-back training vibes attract a great number of female students.
Now, let's dive into their awesome class lineup! Farong Muay Thai offers boxing and Muay Thai classes every evening from Monday to Saturday, and they've even got lunchtime Muay Thai sessions on weekdays for those midday warriors.
Oh, and did we mention they have Saturday classes at 11am? (which is perfect for those with a strict weekend-only schedule!) But, since space is limited, make sure to book your spot through their website at https://www.farongmuaythai.com/schedule.
📍 Address: 11D Hong Kong St, #05-01, Singapore 059654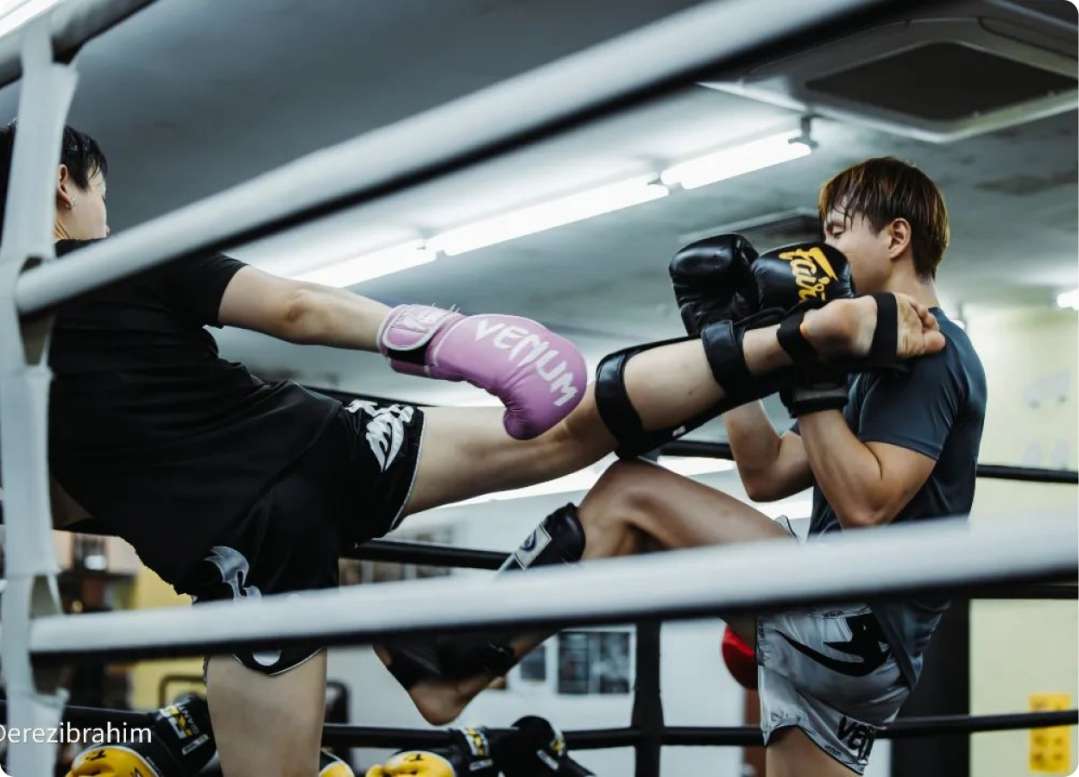 Source: PFG Muay Thai Singapore
3. PFG Muay Thai Singapore
One of the best things about this studio is they offer a free trial class where you can experience a class before committing to a full membership. If you're busy during the day, but still want to learn Muay Thai, this gym is perfect for you!
They have 79 classes a week, starting as early as 7AM and running as late as 9PM. Plus, the classes are small, with only 8 students per class, so you'll get lots of personalized instruction.
They have classes for all skill levels, including beginner, intermediate, and advanced. So, you can come in and learn Muay Thai at your own pace.
📍 Address: Balestier Point, 279 Balestier Rd, #01-06, Singapore 329727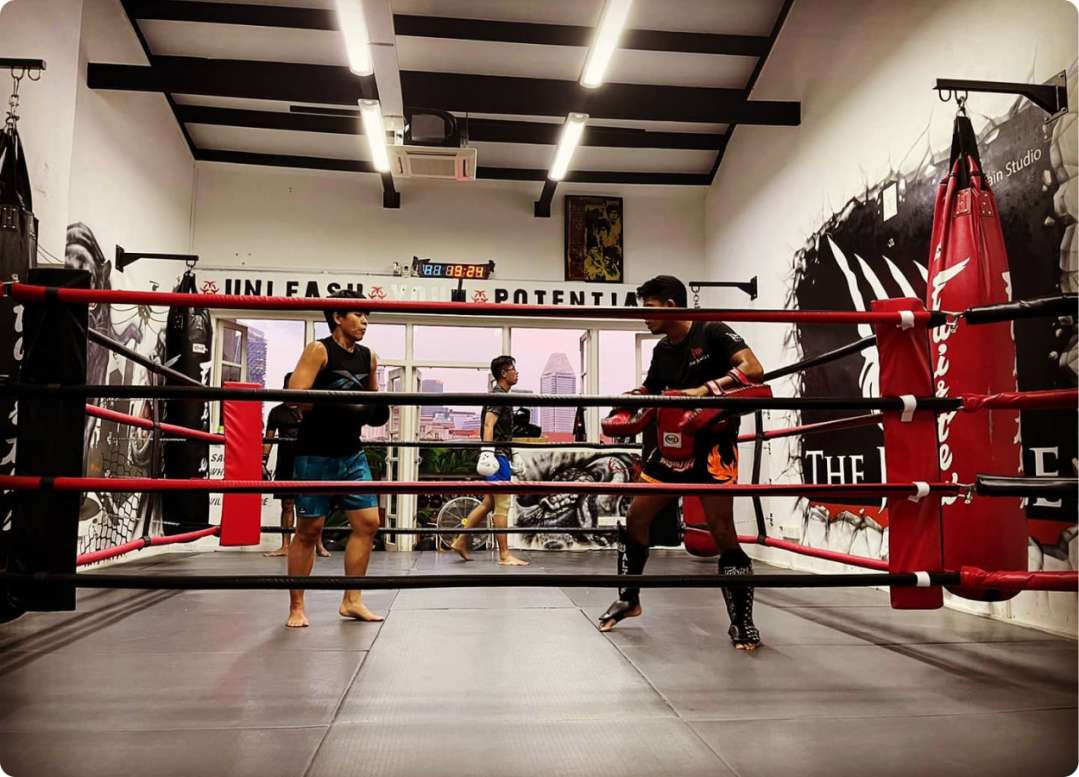 Source: The Jungle MMA
4. The Jungle MMA
The Jungle MMA Singapore is a premier martial arts gym that provides a comprehensive training experience for all levels. Offering a wide range of disciplines including Muay Thai, Boxing, Brazilian Jiu Jitsu (BJJ), as well as a strength and conditioning program.
They strive to empower individuals to reach their full potential, not just in martial arts but in life. With experienced instructors and a focus on developing mental and physical strength, The Jungle MMA Singapore is dedicated to helping you gain confidence, discipline and the tools to succeed.
📍 Address: 35 Boat Quay, Level 3, Singapore 049824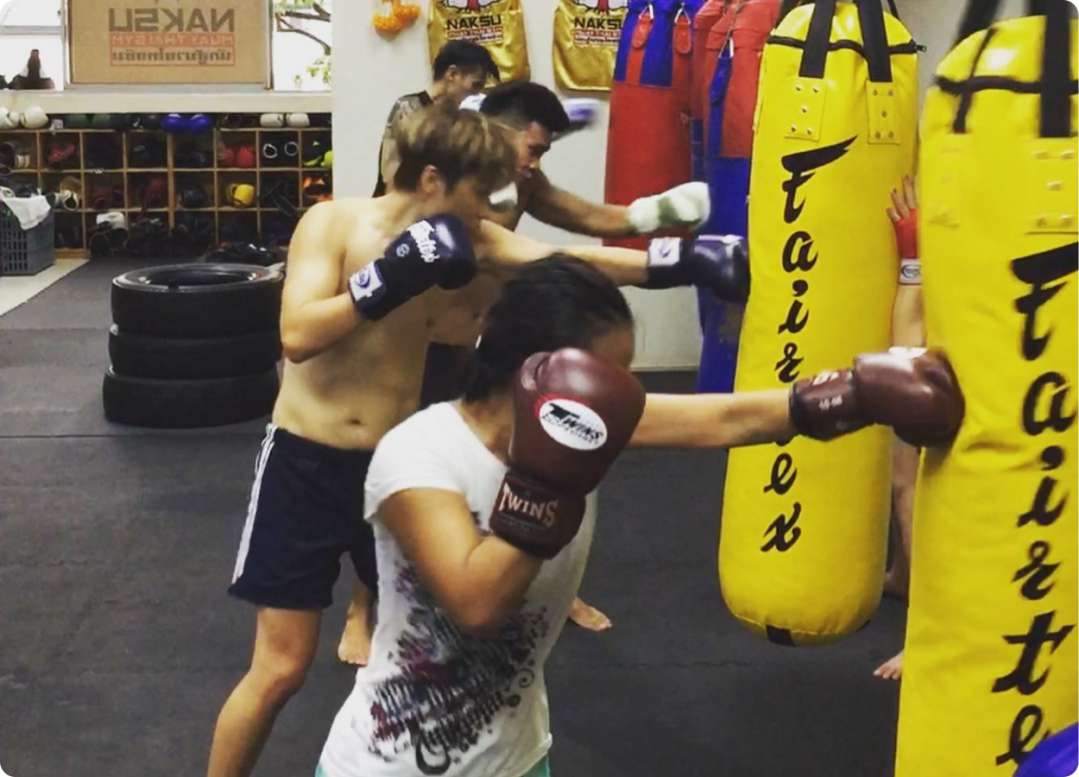 Source: Unsplash
5. Naksu Muay Thai
Naksu Muay Thai is known for its friendly and supportive atmosphere, making it a great place for both experienced fighters and beginners to train.
The gym is open to people of all ages and fitness levels and provides a challenging yet fun workout that will help you improve your fitness and self-defense skills.
With expert instruction, a wide range of classes, and a great community of fellow students, It is one of the best options for anyone looking to get into the sport of Muay Thai or to improve their skills in a supportive and well-equipped environment.
📍 Address: 324B King George's Avenue, King George's Building, Singapore 208566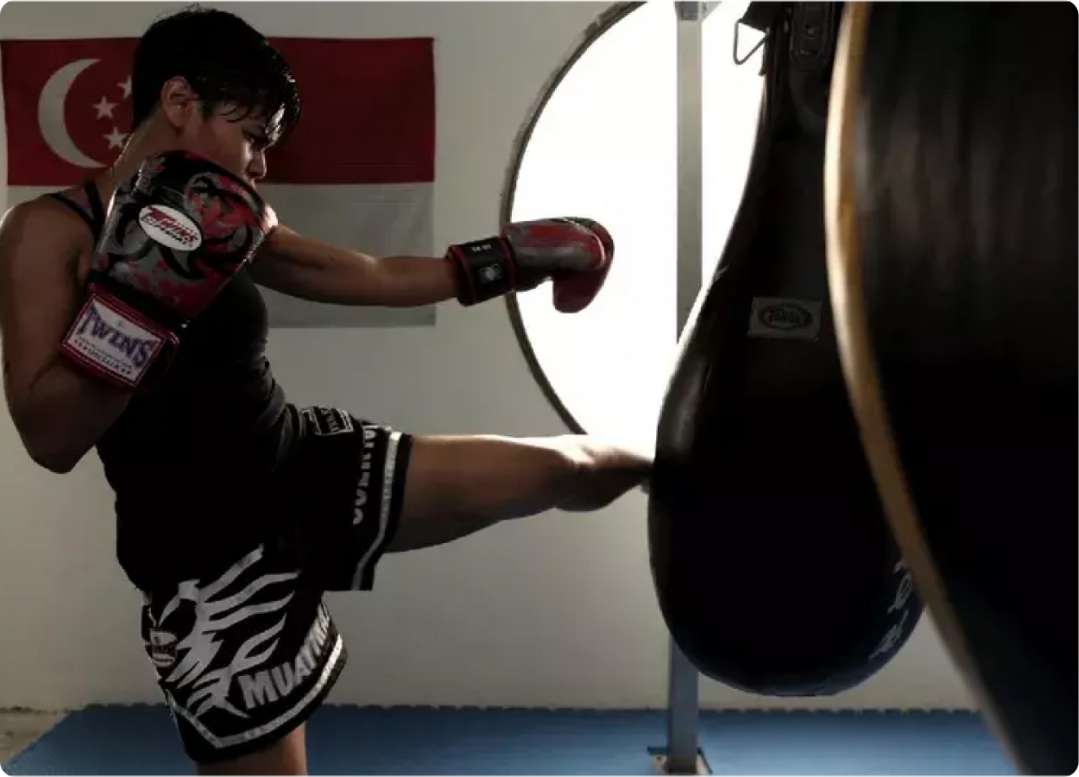 Source: Chawraiooi Muay Thai Singapore
6. Chawraiooi Muay Thai Singapore
This studio boasts a strong connection to the world of competitive Muay Thai, as it is affiliated with the prestigious Chowraiooi Gym of Thailand, which is led by Adjharn Chartchanoi, also known as the coach of Thailand's National Team.
The studio in Singapore is headed by Robert Yap, a highly-skilled Master Trainer under the Amateur Muay Thai Association of Singapore (AMAS).
He leads a team of instructors who are AMAS-certified and boast impressive credentials, including current and former National Muay Thai Team fighters. This level of expertise and experience ensures that students are learning from some of the best in the industry, and can help them achieve their goals in the sport of Muay Thai.
📍 Address: 5001 Beach Road #04-07 Golden Mile Complex, Singapore 199588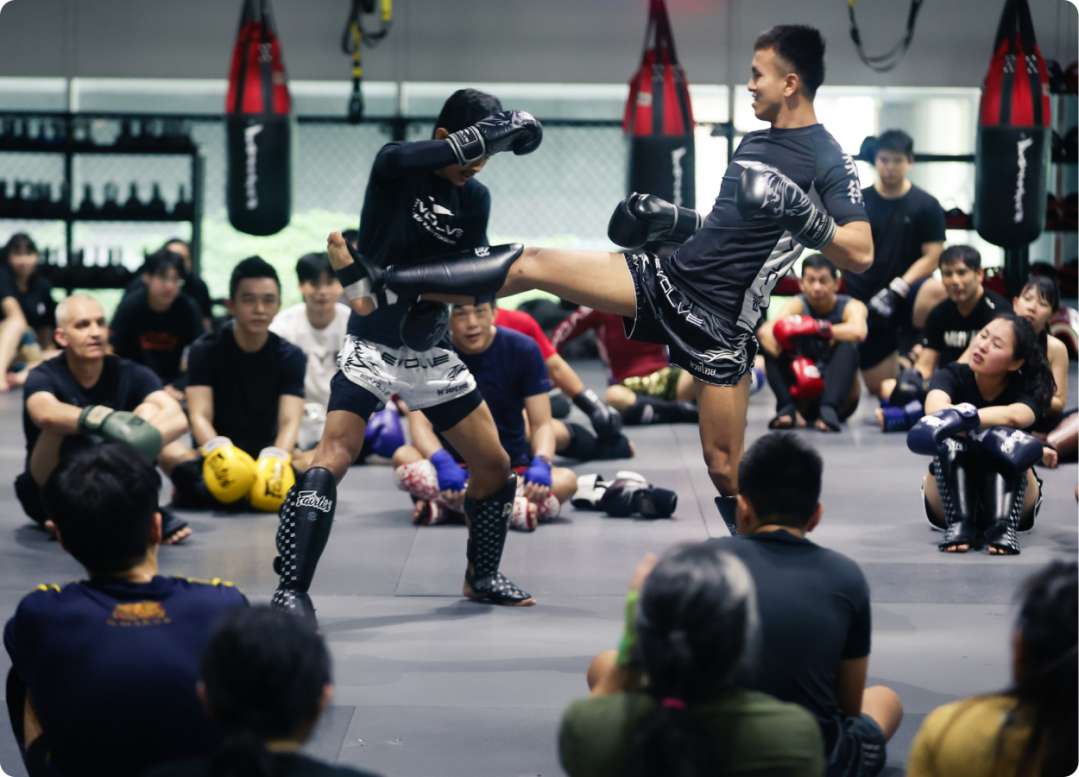 Source: Evolve Muay Thai
7. Evolve Muay Thai
At Evolve Muay Thai studio, you'll join a supportive community of like-minded individuals who are passionate about learning and training in the sport of Muay Thai. As the largest Muay Thai studio in Singapore, Evolve is proud to be home to the largest collection of World Champion Muay Thai fighters-turned-instructors under one roof.
This means you'll have the opportunity to learn from some of the best in the industry and receive an official Sityodtong certificate as you progress through the different levels.
But it's not just about the competition. Evolve's team of experienced instructors is dedicated to helping you reach your full potential, whether you're a beginner or a seasoned pro. And, as you progress through the different levels, you'll become eligible to compete in amateur or pro events if you choose to do so, giving you the chance to showcase your skills and put your training to the test.
📍 Address:
Evolve MMA (Far East Square): 26 China Street Far East Square #01-01 Singapore 049568
Evolve MMA (Orchard Central): 181 Orchard Road #06-01 Orchard Central Singapore 238896
Evolve MMA (KINEX): 11 Tanjong Katong Road #02-52 KINEX Singapore 437157
Evolve MMA (Clarke Quay Central): 6 Eu Tong Sen Street #04-18 Clarke Quay Central Singapore 059817
Evolve MMA (Star Vista): 1 Vista Exchange Green #02-26A The Star Vista Singapore 138617
Choosing the Right Muay Thai Studio for You
1. Location: The first thing to consider when choosing a Muay Thai studio is the location. Is it close to your home or work? Can you easily fit sessions into your daily schedule? Convenience is key. You're more likely to stick with your Muay Thai journey if the studio is easily accessible.
2. Facilities: Next up, take a good look at the facilities. A clean, well-equipped studio can make a world of difference to your training experience. Does the studio have adequate space for training? Is the equipment well-maintained? Don't shy away from asking these questions.
3. Instructors: The quality of the instructors is crucial. Are they qualified? Do they have proper training and experience? A good instructor will ensure you're learning the right techniques, while also keeping safety top of mind. Plus, their passion can be infectious, making every session more enjoyable.
4. Class Variety: Look for a studio that offers a variety of classes catering to different skill levels. Whether you're a newbie or an advanced practitioner, the studio should have classes that fit your needs. Maybe you'll even find special classes like Muay Thai for fitness or women's only classes. Variety is the spice of life, after all!
5. Check Reviews and Testimonials: Don't just take the studio's word for it. Look at what other people are saying. Check out reviews and testimonials from other students. They can give you a real sense of what to expect.
6. Trial Class: If possible, take a trial class. This gives you a firsthand experience of what training there would be like. You can interact with the instructors, check out the facilities, and get a feel of the overall environment.
7. Cost: Last, but definitely not least, consider the cost. Does the studio fit into your budget? Remember, Muay Thai is a journey, not a one-time thing. The cost should be sustainable for you in the long run.
We understand that finding the right Muay Thai studio for you can be a challenge. And once you find the right one, keeping track of your progress and scheduling can be just as challenging.
That's why we highly recommend a Muay Thai studio that uses a fitness management software like Rezeve.
Rezeve makes it easy to manage your classes, track your progress, and communicate with the instructors. With Rezeve, you can sign up for classes, view your progress, and receive updates all in one place. The user-friendly interface makes it easy to manage all your fitness classes, and you can access it from anywhere, at any time!
---
Muay Thai is an intense and challenging sport that requires both physical and mental strength. It offers many benefits such as improved fitness, self-defense skills, and confidence.
If you're looking to take your fitness to the next level, or just looking for a new challenge, consider getting into Muay Thai and check out one of the many top-notch studios in Singapore.
Keep spirit!
Nicholas 🐸
Read next: Top 5 spin studios in Singapore you can try
---
Do you want to see more content like this? Follow us on Instagram and Facebook for more wellness advice, fitness trends, workout inspiration, and even best health and fitness deals exclusive to our followers. Don't miss out!