Bouldering: How it differs from rock climbing and the top 6 Bouldering gyms in Singapore
If you're looking to try out bouldering, Singapore has a variety of excellent bouldering gyms to choose from, each offering its own unique features and atmosphere.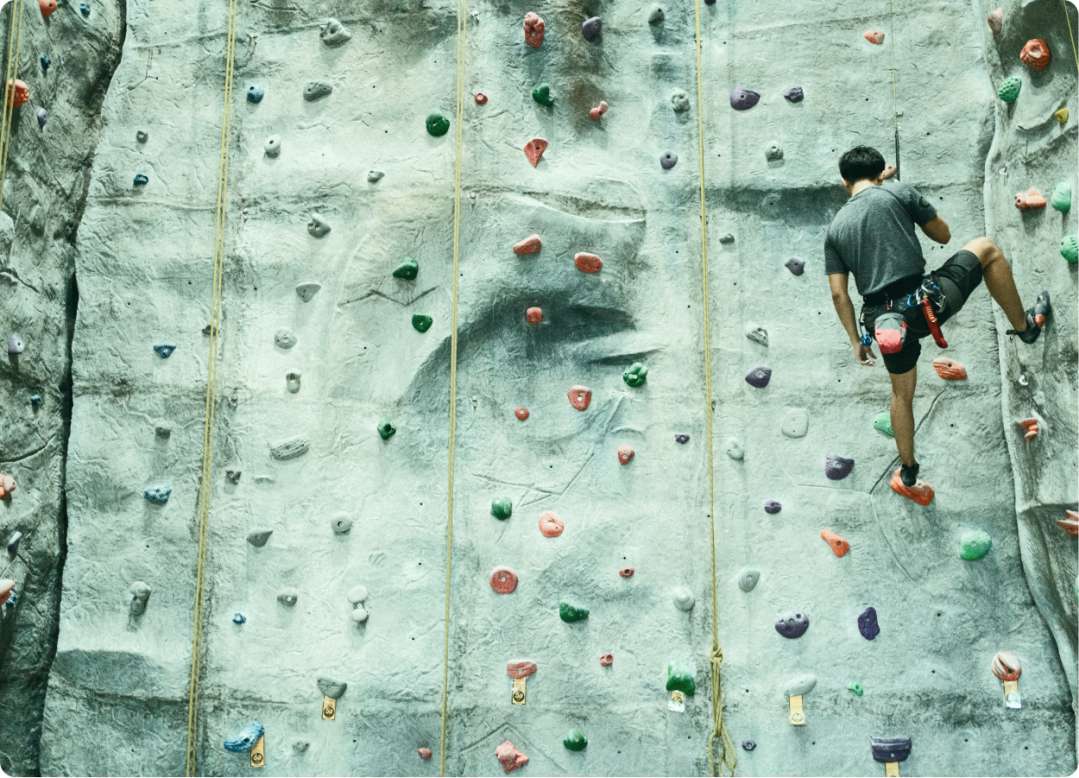 Source: Pexels
Bouldering and rock climbing may share similarities, such as being physically demanding and requiring strength and endurance, but they are also unique sports with distinct differences.
In this article, we will dive deeper into the differences between bouldering and rock climbing, their benefits, and provide an overview of the top 5 bouldering gyms in Singapore.
Bouldering and its Growing Popularity in Singapore
Bouldering is becoming increasingly popular in Singapore, particularly among younger people. One of the reasons is because it is a relatively accessible form of rock climbing. Bouldering walls can be found in gyms, parks, and outdoor locations, making it easier for people to try the sport without needing to travel to remote climbing locations or invest in expensive gear.
Bouldering is also a great workout, as it engages many different muscle groups in the body, including the arms, shoulders, back, core, and legs. It can help improve strength, endurance, flexibility, and balance. Additionally, bouldering can also have mental benefits, as it requires focus, problem-solving skills, and the ability to stay calm under pressure.
Understanding the Differences Between Bouldering and Rock Climbing
To understand the differences between bouldering and rock climbing, it's essential to grasp the concept of bouldering first.
It is important to understand the differences between bouldering and rock climbing because they are different sports that require different skills and equipment. Knowing the differences between these two activities can help you decide which sport is best suited for your interests and abilities.
Additionally, understanding the differences can also help you identify the safety measures that need to be taken to prevent accidents and injuries.
One of the main differences between bouldering and rock climbing is the height of the walls or rock formations that climbers ascend. Bouldering routes are generally shorter, with walls that are typically less than 20 feet high.
Rock climbing routes, on the other hand, can be much higher, with some routes going up to several hundred feet. Climbing these heights requires more advanced equipment, training, and safety measures, such as ropes, harnesses, and anchors.
Another key difference between bouldering and rock climbing is the type of climbing holds used. In bouldering, climbers rely on smaller, more difficult-to-grip holds, which require more strength and technique to master. In rock climbing, climbers often use larger, more stable holds, but must navigate more complex routes and use a variety of different techniques.
It is also important to note that bouldering and rock climbing have different safety considerations. The floor is typically equipped with padded mats to cushion falls, while rock climbers use ropes and other safety equipment to prevent falls. Knowing the appropriate safety measures for each activity is essential to prevent injuries and accidents.
Top 5 Bouldering Gyms in Singapore
There are several bouldering gyms in Singapore worth checking out, some of them are:
Source: Climb@T3
1. Climb@T3
As soon as you step inside Climb@T3, you'll be blown away by the impressive 12-metre-long, 2.5-metre-high boulder wall that dominates the space. This wall offers a range of challenging climbs that will test your skills and keep you coming back for more. With different angles, features, and routes to explore, you'll never get bored at this gym!
But that's not all - Climb@T3's star attraction is the jaw-dropping 8-metre-high rock-climbing wall that spans Basements 2 and 3. This impressive structure boasts nine lanes, each equipped with state-of-the-art auto belay systems that allow you to climb with your friends and family without having to worry about belaying. It's an exhilarating experience that you won't forget anytime soon!
For those new to climbing, Climb@T3 offers guided sessions and programs for children aged two and up, including the 'Climb and Play' sessions, which are available on a free-and-easy or guided basis. These sessions are a great way to introduce kids to the fun and excitement of climbing in a safe and supportive environment.
The operating hours of Climb@T3 are also convenient, with opening hours from noon to 9.30pm on weekdays and 10 am to 9.30 pm on weekends and public holidays. The admission fee starts from $19 per hour, which is reasonable considering the facilities and equipment available at the gym.
Booking classes and creating a membership has never been easier with Climb@T3. They use an easy-to-use online fitness software powered by Rezeve.
With Rezeve, you can sign up for classes, view your progress, and receive updates all in one place. The user-friendly interface makes it easy to manage all your fitness classes, and you can access it from anywhere, at any time!
📍 Address: Changi Airport Terminal 3, B3-01/02, Singapore, Singapore 819663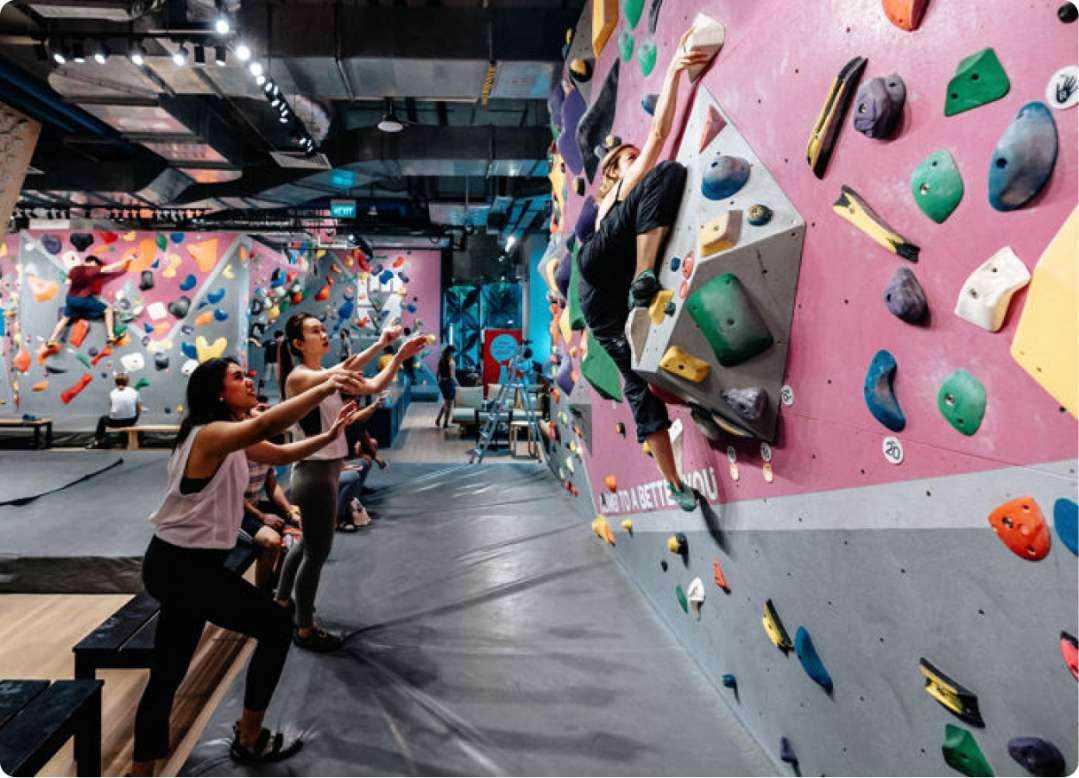 Source: Boulder Movement
2. Boulder Movement
Boulder Movement is one of Singapore's most popular bouldering gyms. It has five locations all around Singapore, It features a wide variety of climbing routes for all skill levels and a spacious, well-lit facility with plenty of crash pads for safety.
Boulder Movement also offers training classes for those looking to improve their skills. Beginners can attend an introduction to bouldering class to learn the basics, while more experienced climbers can take master technique classes
Fun fact: our sister company, Codigo, designed and built the custom website for Boulder Movement
📍 Address:
Bugis: 201 Victoria Street #05-07, Bugis+ Singapore 188067
Downtown: 6A Shenton Way, #B1-03 Downtown Gallery, 068815
Rochor: 2 Serangoon Road #02-12, Tekka Place Singapore 218227
Suntec: 3 Temasek Boulevard #01-484/85/86, Suntec City Mall (North Wing), Tower One Singapore 038983
Tai Seng: 18 Tai Seng Street #01-09, 18 Tai Seng Singapore 539775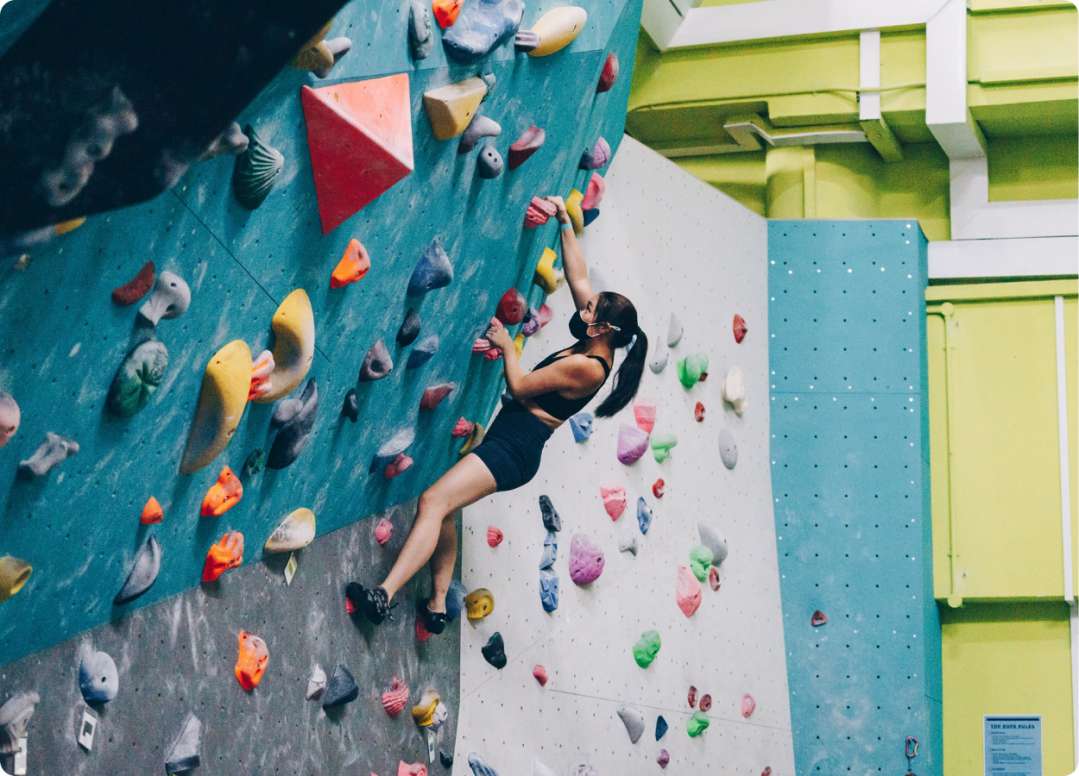 Source: T-Hall.sg
3. T-Hall.sg
T-Hall.sg is a bouldering gym that offers a range of climbing routes suitable for both beginners and advanced climbers. T-Hall.sg has two distinct areas for climbers: the Climb Zone and the Fun Zone.
The Climb Zone is where climbers can find the main bouldering area, which features over 100 climbing routes of varying difficulty levels. The routes are colour-coded to indicate their level of difficulty, making it easy for climbers to select a route that suits their skill level.
The Fun Zone, on the other hand, is a unique feature of T-Hall.sg. It is a separate area that is designed for climbers to challenge themselves in a more playful and interactive way. The Fun Zone features various climbing obstacles and challenges, these obstacles are designed to help climbers improve their strength, balance, and coordination in a fun and engaging way.
📍 Address: 464 Crawford Lane #01-464 Singapore 190464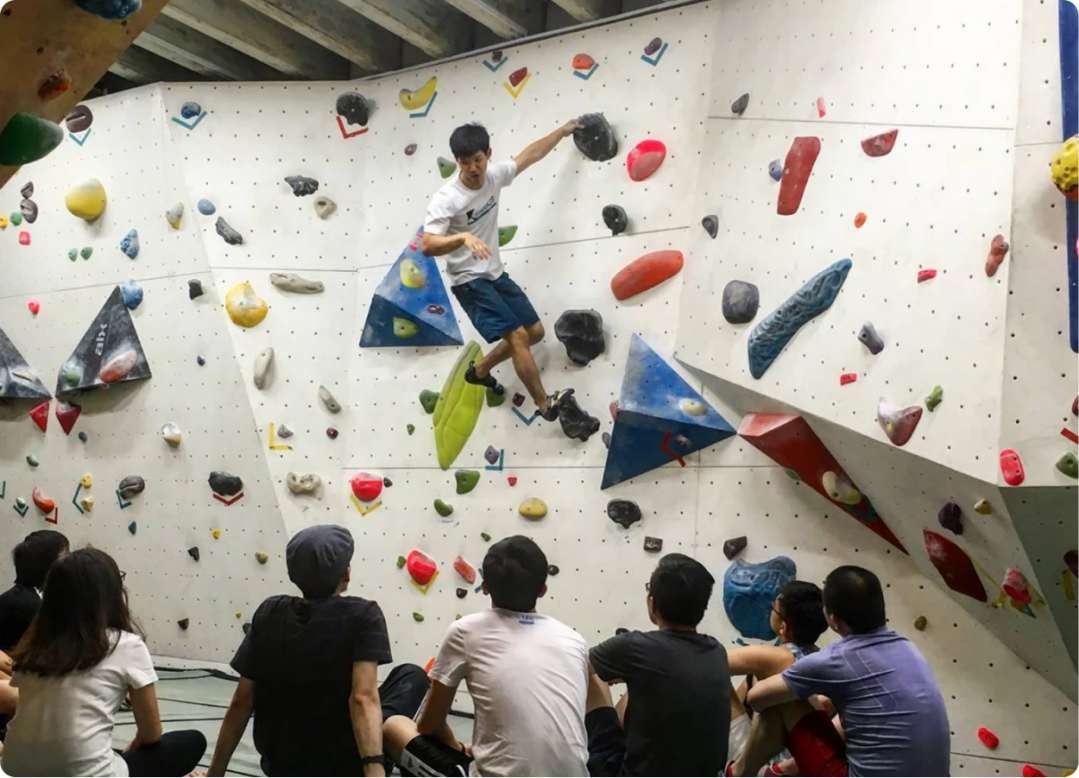 Source: Kinetics Climbing
4. Kinetics Climbing
Kinetics Climbing has many bouldering routes that are updated regularly, offering climbers a wide range of options to choose from. The routes are suitable for climbers of all levels, from beginners to advanced climbers.
The gym has a minimalist design with bright lighting, creating a clean and bright atmosphere
📍 Address: 511 Serangoon Rd, Singapore 218153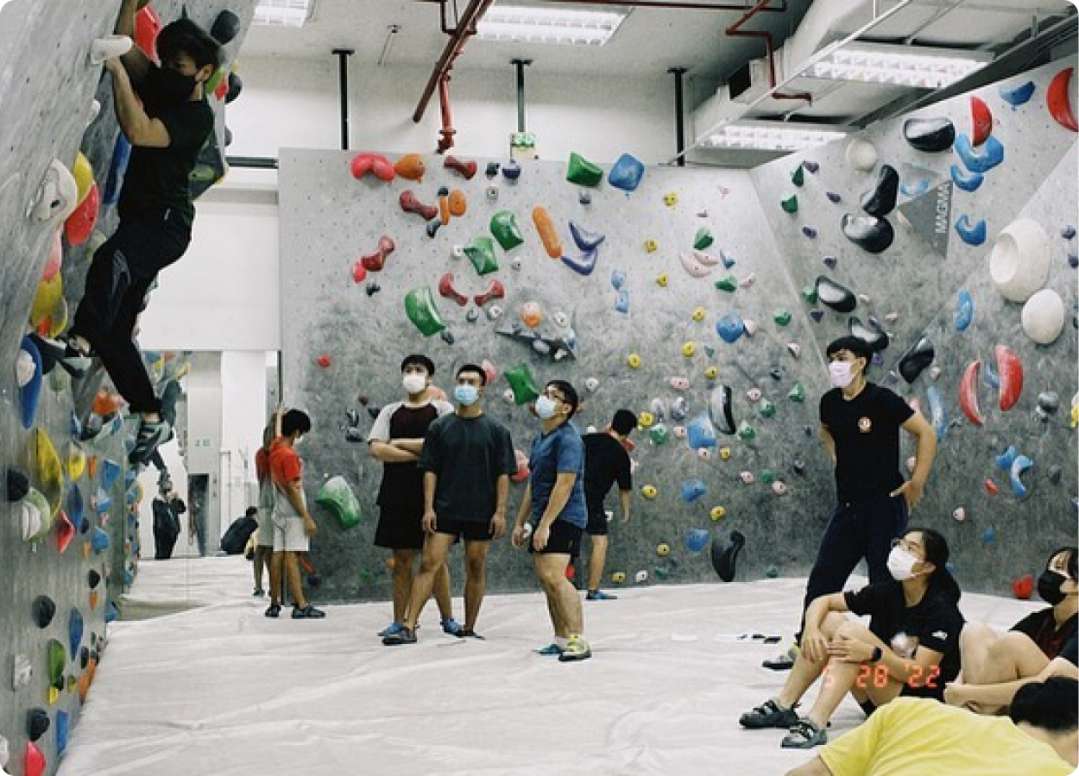 Source: Z-Vertigo Boulder Gym
5. Z-Vertigo Boulder Gym
Z-Vertigo Boulder Gym is a bouldering gym that prides itself on offering a warm and cosy climbing environment with friendly and interactive staff always ready to lend a helping hand. This gym welcomes climbers of all levels of experience and aims to create an atmosphere where climbers can feel at home.
Conveniently located in the west of Singapore, Z-Vertigo Boulder Gym is easily accessible by public transportation, and there are plenty of food options available in the surrounding area for climbers to enjoy after a good climbing session.
📍 Address: 170 Upper Bukit Timah Rd, B2-20B, Singapore 588179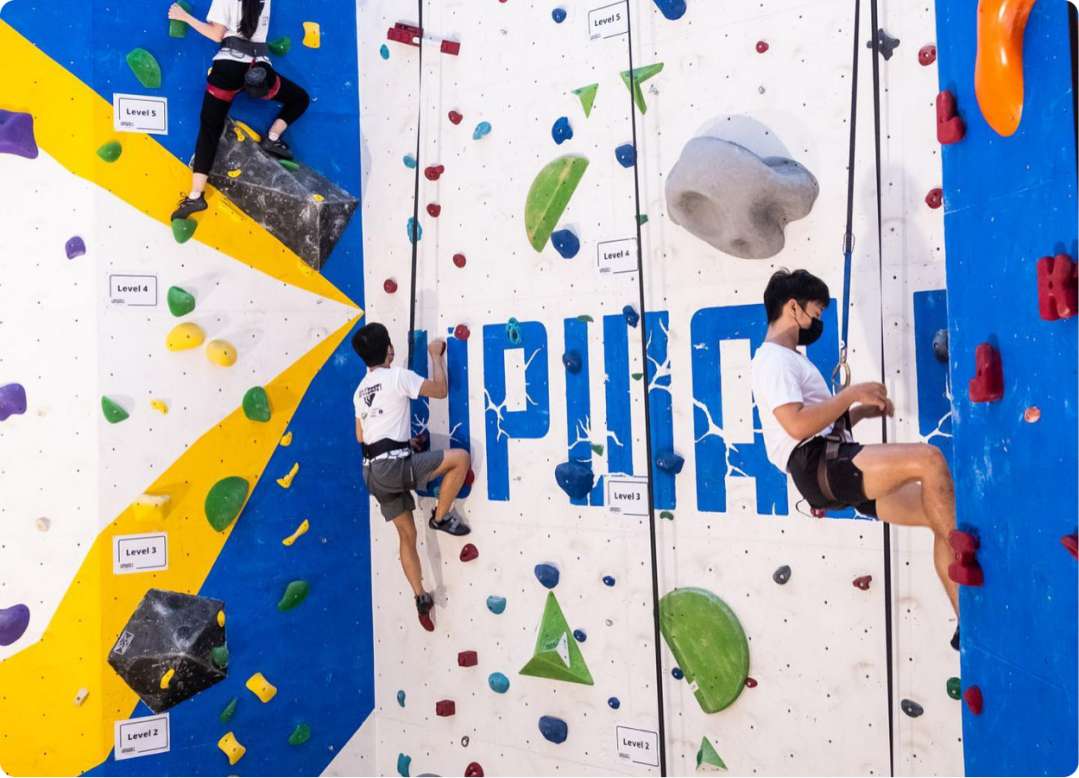 Source: UpWall Climbing
6. UpWall Climbing
Upwall Climbing is an air-conditioned rock climbing gym located in the East side of Singapore, within E!Hub@Downtown East in Pasir Ris. This gym has a beginner-friendly atmosphere and is focused on nurturing young climbers and bringing families together through a fun and engaging activity.
At Upwall Climbing, climbers have the option to scale high walls using auto belay, top-rope, or lead climbing lanes. This allows climbers to choose the type of climbing that suits their skill level and preferences..
📍 Address:1 Pasir Ris Close, E!Hub@Downtown East, #01-105, Singapore 519599
Choosing the Right Bouldering Gyms for You
Finding the right bouldering gym is crucial to ensure that you get the most out of your bouldering experience. Here are some factors to consider when choosing a bouldering gyms:
Location: The location of the gym is one of the most important factors to consider. Choose a gym that is easily accessible and convenient for you to get to. A gym that is too far away may make it harder for you to commit to a regular practice.
Size and Layout: The size and layout of the gym can also play a significant role in your decision-making process. A larger gym with more climbing routes and boulder problems may be more appealing to advanced climbers, while a smaller gym with a more intimate setting may be more suitable for beginners.
Climbing Style: Different bouldering gyms can have different styles of climbing, so it's essential to choose a gym that aligns with your climbing preferences. Some gyms may focus on technical climbs, while others may have more dynamic routes.
Gym Facilities: The facilities offered by the gym can also be important, especially if you plan to spend a lot of time there. Look for a gym that has adequate restrooms, showers, and changing rooms, as well as a comfortable seating area and a gym store where you can purchase climbing gear.
Staff and Community: Finally, consider the staff and community at the gym. A friendly and knowledgeable staff can make a big difference in your bouldering experience, and a supportive community can help motivate and encourage you to improve your climbing skills.
We understand that finding the right bouldering gym for you can be a challenge. And once you find the right one, keeping track of your progress and scheduling can be just as challenging.
That's why we highly recommend a bouldering gym that uses a gym management software like Rezeve.
Rezeve makes it easy to manage your classes, track your progress, and communicate with the instructors. With Rezeve, you can sign up for classes, view your progress, and receive updates all in one place. The user-friendly interface makes it easy to manage all your fitness classes, and you can access it from anywhere, at any time!
Conclusion
Bouldering and rock climbing offer a fun and challenging way to stay physically active and mentally engaged. While they share similarities, such as requiring strength and endurance, they also have distinct differences that make each sport unique.
If you're looking to try out bouldering, Singapore has a variety of excellent bouldering gyms to choose from, each offering its own unique features and atmosphere. So what are you waiting for? Give it a try and see for yourself why this exciting sport is gaining popularity all over Singapore.
Cheers,
Nicholas 🐸
Read next: How to get started with bouldering for beginners?
---
Do you want to see more content like this? Follow us on Instagram and Facebook for more wellness advice, fitness trends, workout inspiration, and even best health and fitness deals exclusive to our followers. Don't miss out!