Top 5 best yoga studio software
With the right software, you can streamline your business operations and focus on what really matters: your yoga practice and your students.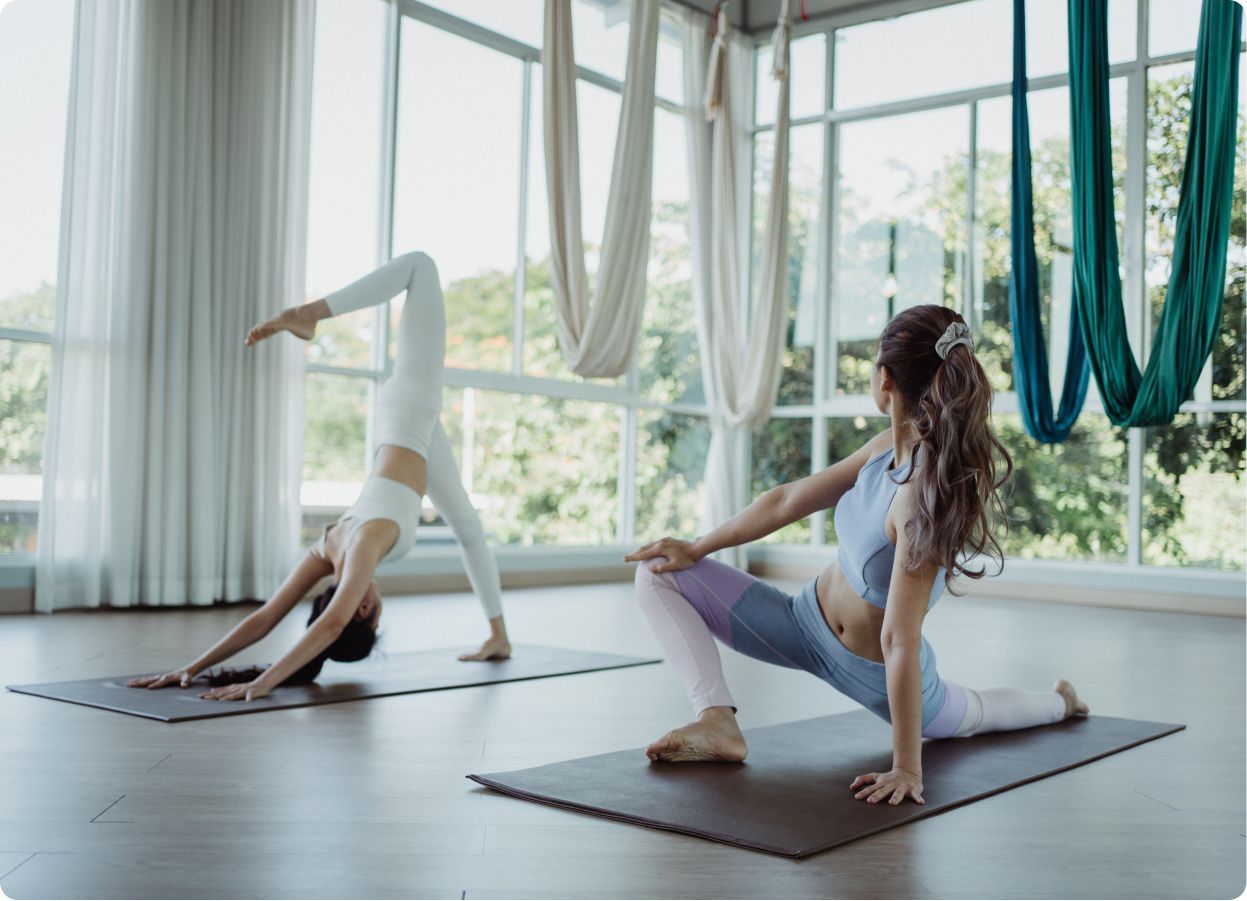 Source: Pexels
Namaste! If you're a yoga studio owner, you already know how challenging it can be to manage your business while keeping your clients happy. From scheduling classes and managing payments to keeping track of attendance and communicating with your students, there are so many tasks to juggle on a daily basis. That's where yoga studio software comes in.
With the right software, you can streamline your business operations and focus on what really matters: your yoga practice and your students. But with so many options on the market, it can be hard to know which software to choose.
In this article, we'll be discussing the top 5 best yoga studio management software, based on a variety of criteria such as features, ease of use, pricing, and customer support.
Whether you're a small, independent studio or a large franchise, there's a yoga studio software option for you. We've done the research for you and narrowed down the options to the top five. We'll go over the pros and cons of each software, their pricing plans, customer reviews, and more to help you make an informed decision.
5 Best Yoga Studio Management Software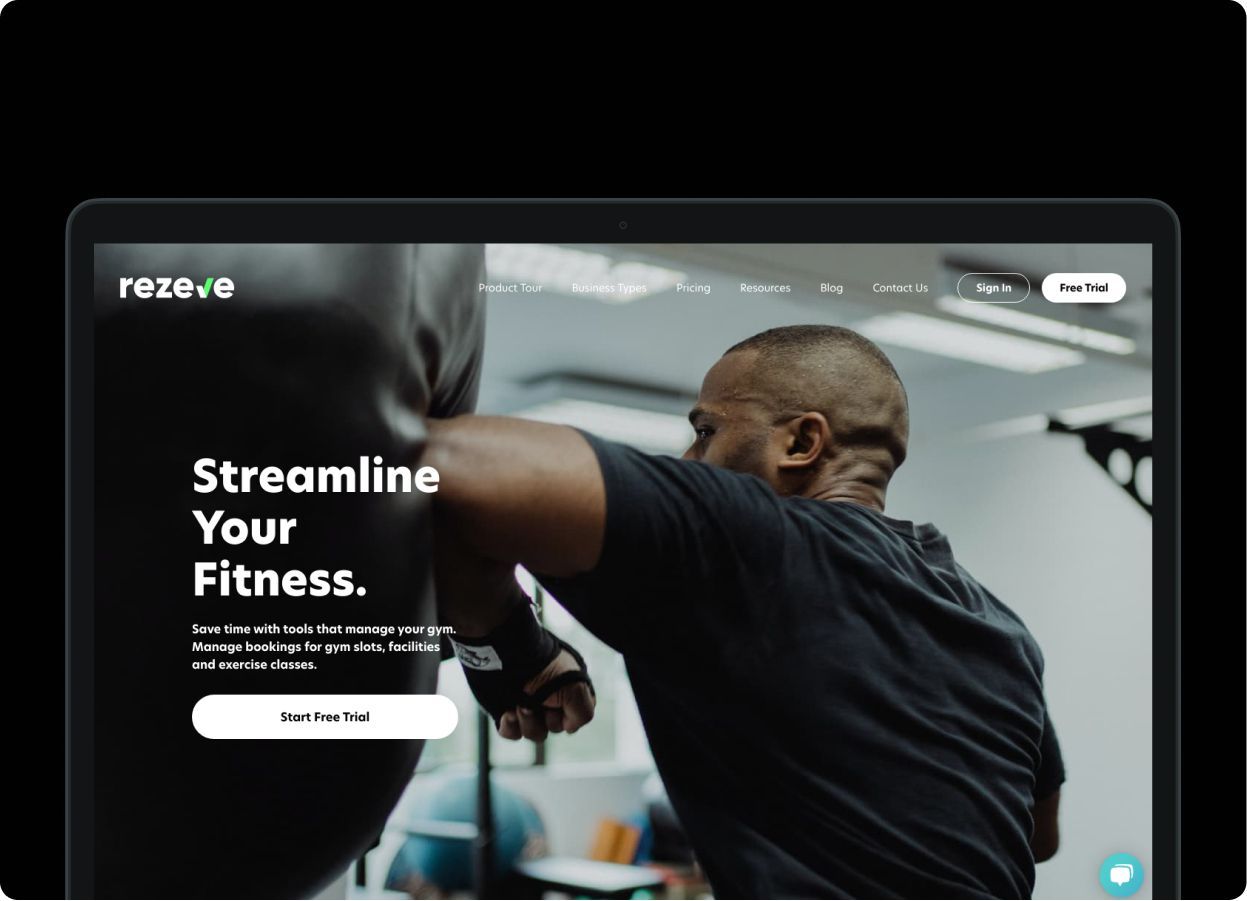 1. Rezeve
Rezeve is a comprehensive management software that is designed to help not only yoga studio and fitness businesses but all service-based businesses streamline their management operations and improve the booking experience for their customers.
It offers a wide range of tools and features, including a custom branded website builder, booking management, staff management for yoga teachers, membership management, and marketing, making it a valuable resource for businesses of any industry looking to manage and grow their business with software for yoga studios.
One of the standout features of Rezeve is its Shareable Package, which allows members to purchase a package of sessions and share them with their friends and family. This feature is particularly useful for businesses that want to encourage members to refer new customers, as it offers an incentive for members to do so.
In addition to the Shareable Package feature, Rezeve also offers Spot Booking and Family Account features. With Spot Booking, customers can reserve their preferred spot or equipment before a class starts, ensuring they get the spot they want.
The Family Account feature is great for businesses catering to children, allowing customers to create child accounts and book classes and packages on their behalf, even if the child doesn't have their own account or mobile number.
One of the additional benefits of using Rezeve is their commitment to providing unlimited support to their clients. This means that businesses can get the help they need whenever they need it, whether it is during the setup process or after they are fully operational.
This is especially important for businesses that may not have a lot of experience with yoga management software, or for those who may be using it for the first time. The unlimited support policy offered by Rezeve ensures that businesses can get the help they need to get up and running quickly, and to make the most of the software's many features.
Pros:
Integrated custom-branded website builders that are user-friendly and require no coding skills to use. Plus, there are 50+ website templates to choose from.
Unique features for managing family subscriptions, group booking, spot booking, and shareable package.
Support online local payment methods such as virtual account, QRIS, bank transfer, e-wallet, and credit card.
Unlimited support policy for businesses.
Cons:
Notable features:
Branded website builder: Enable business owners to build their own custom branded website in a snap. No coding required!
Spot Booking: Allow customers to reserve their desired spot or equipment before the class or services starts.
Group Booking: Allow customers to book classes and sessions together with their friends or family, rather than each person making separate bookings.
Shareable Package: Allows customers to purchase a package of sessions and share them with their friends and family.
Family Account: Allow customers (parent) to book classes for their children.
Free Trial:
Hit us up for a DEMO today and enjoy a 2-month FREE TRIAL!
Pricing:
The standard plans are:
Starter at 29.90 USD/month
Team at 169.90 USD/location/month
Business at 299.90 USD/location/month
Enterprise: Contact for pricing
However, the pricing differs for each country and you can visit this page to see the price in your country. The good news is this software offers 20% OFF if you sign up to one of those plans annually.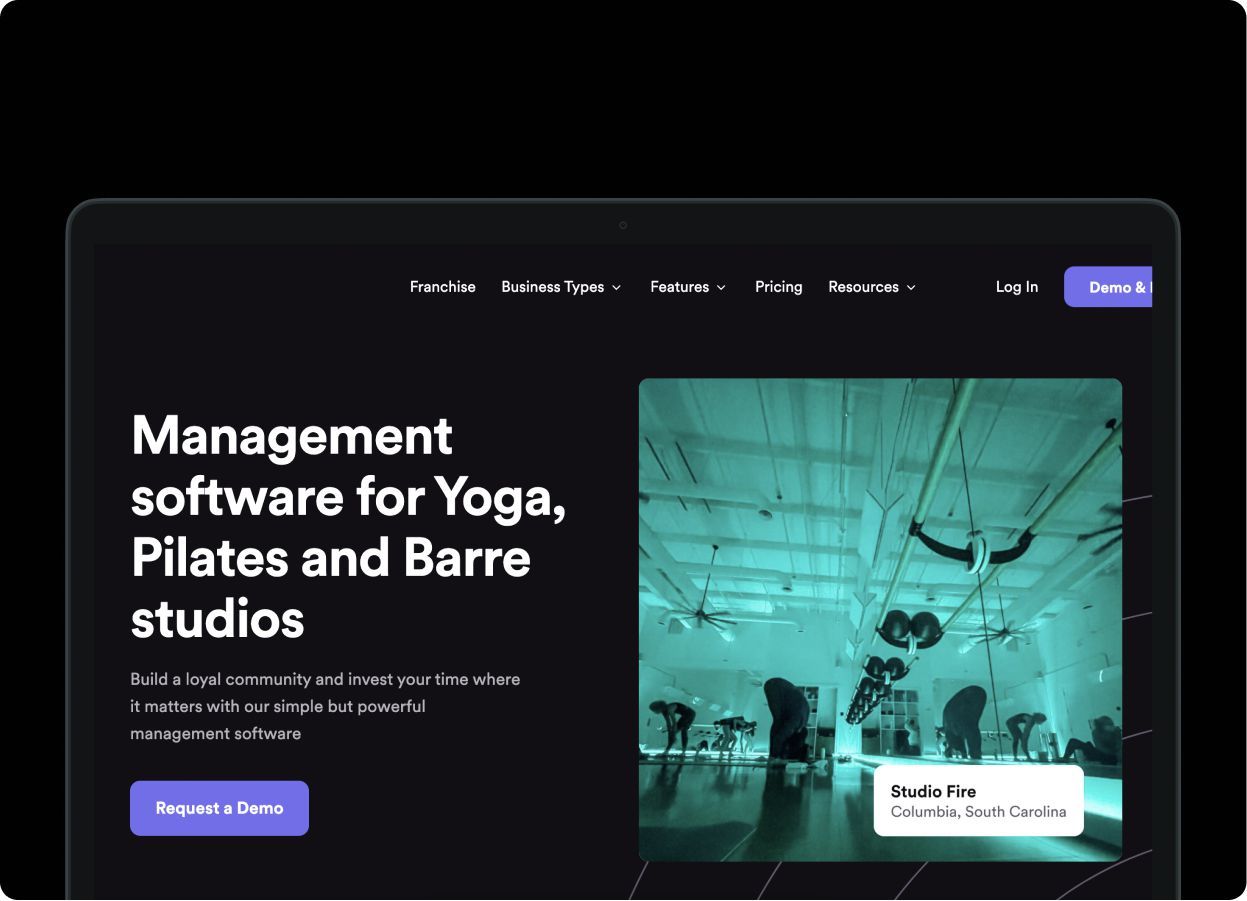 Source: Glofox
2. Glofox
Glofox is a comprehensive app designed to manage gyms, yoga studios, and various other disciplines such as, dance, pilates, and martial arts. It simplifies administrative tasks such as scheduling classes, managing members, billing, reporting, and check-ins, allowing yoga studio owners and yoga teachers to focus on their core business.
With the Glofox Member App, members can easily book and pay for classes, courses, appointments, and memberships from their iOS or Android devices. The app can be integrated with social media pages, enabling seamless booking and payment options directly from social media platforms.
Glofox also provides detailed reporting features that track metrics such as membership sales, attendance rates, and failed payments, while keeping members informed of changes through app notifications and messages.
Pros:
User-friendly interface.
Integrated custom-branded Android & iOS apps.
Integrated CRM system.
Cons:
Take a fee on top of the provider's fee.
The pricing information is not readily available.
Can be relatively expensive compared to others.
Notable features:
Automated Emails and Push Notifications: Set up triggers that will automatically send emails or notifications.
Membership Management: Create, customise and manage membership plans.
Free Trial:
No free trial
Pricing:
Customised pricing, start from USD 100/month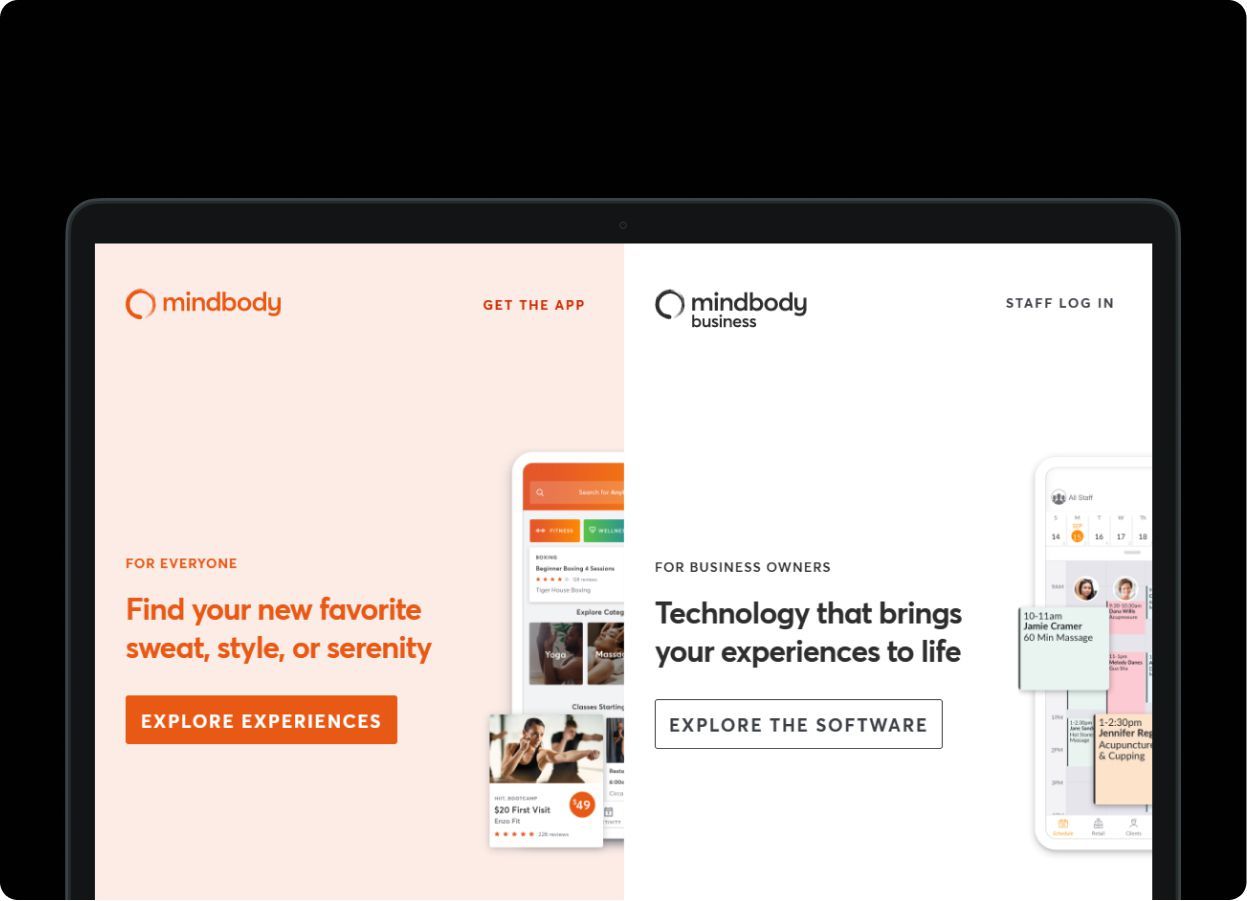 Source: Mindbody
3. Mindbody
Mindbody is a comprehensive management software built to manage your yoga studio business. Their all-in-one software solution includes enterprise and franchise management features. The platform offers client scheduling, employee management, marketing tools, payment processing, and online booking system to help streamline operations for yoga studio businesses.
Pros:
Robust open API.
Integrated employee management tools, including automated payroll processing.
Offers advanced customer support messaging features powered by artificial intelligence (AI).
Cons:
Several customers have reported having difficulty contacting customer service. One customer commented on softwareadvice.com, "When trying to get an answer to a question, I was sent to three different people, and even then, I wasn't guaranteed a solution. Our account representative was also unable to help us with our issue and directed us to the website or another department, stating that they lacked the authority to change an email address."
Some users have reported that certain bugs and glitches have taken longer than expected to fix.
Notable features:
Virtual Class Streaming: Allows gyms to live stream and provide on-demand videos to instruct members remotely.
Referral management: Track the clients who've sent new clients your way and automate the rewards process.
Free Trial:
No free trial
Pricing:
Mindbody has 4 different plans:
Starter at 129 USD per month.
Accelerate at 259 USD per month.
Ultimate at 399 USD per month.
Ultimate Plus at 599 USD per month.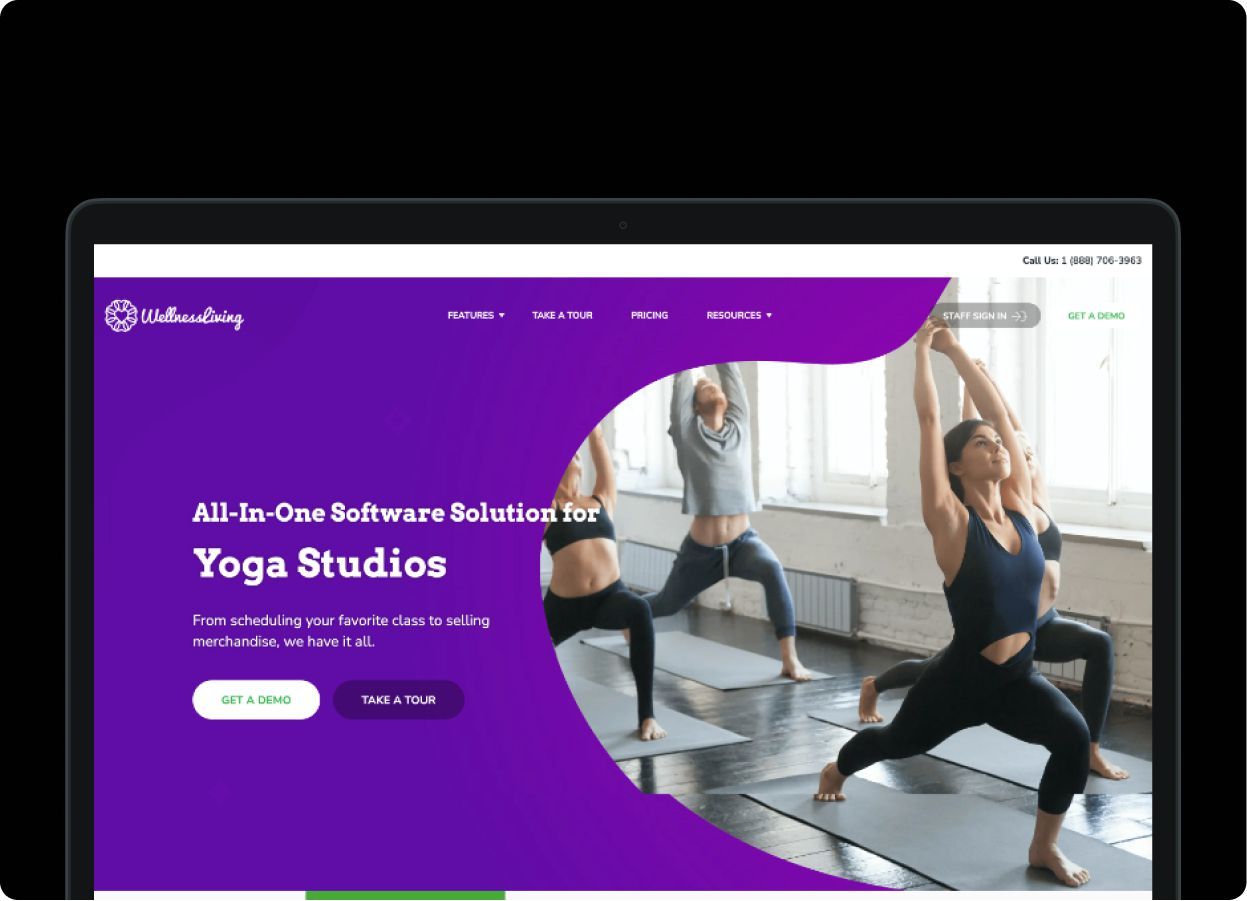 Source: WellnessLiving
4. WellnessLiving
WellnessLiving is a comprehensive yoga management software that offers a suite of tools to help yoga studio owners and yoga teachers streamline their business operations.
With WellnessLiving, users can easily manage client information, process transactions, and launch marketing campaigns via direct mail, email, or SMS. The platform also provides detailed activity reports, interactive graphs, and inventory statuses, making it easy for users to stay on top of their yoga studio's operations.
WellnessLiving's best feature is its AI tool, which analyses your yoga studio's data to help you better understand your business. This includes evaluating membership patterns, churn potential and rates, and pricing effectiveness. By providing these insights, WellnessLiving can help gym owners and managers make data-driven decisions to improve their business operations and drive revenue growth.
WellnessLiving is particularly well-suited for fitness studios that use rewards programs to incentivize progress towards exercise goals and training competitions. As a yoga scheduling software, the platform ensures seamless booking experience for your clients.
The software allows yoga studio owners and yoga teachers streamline their business operations to give out points for frequent purchases, which can be redeemed through the customizable client app. This feature can help increase member engagement and retention, as well as drive revenue growth for the yoga studios.
Pros:
Clean and user-friendly interface.
Offers dedicated branded mobile apps.
Booking platform can be integrated with Facebook and Google Maps.
Cons:
Pay-per-feature pricing plan.
No free trial or free plan to try out its feature.
Notable features:
Rewards & Loyalty Management: Redeemable rewards program based on fitness contests, progress, and customer purchases.
AI Analytics Tools: Evaluate and analyse data with integrated artificial intelligence tools.
Free Trial:
No free trial
Pricing:
WellnessLiving has 4 different plans:
Basic at 89 USD per month
Advanced at 129 USD per month
Professional at 159 USD per month
Enterprise: Contact for pricing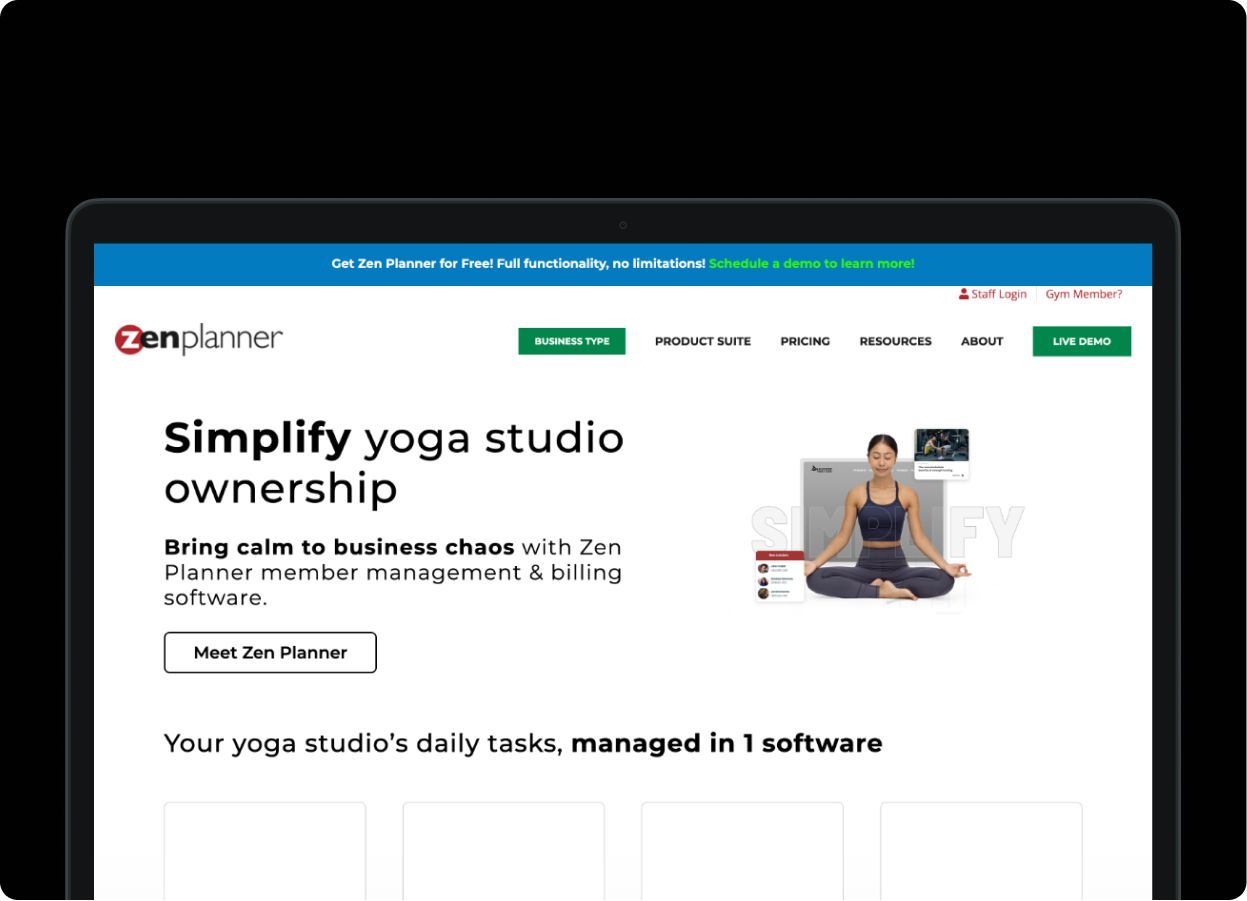 Source: Zen Planner
5. Zen Planner
Zen Planner is a specialised yoga management software that offers tailored features for specific types of fitness centres, including CrossFit, Mixed Martial Arts (MMA), yoga studios, and traditional gyms.
These specialised features include workout score tracking, lift percentage calculations, and skill and belt tracking, allowing yoga studio owners and yoga teachers to more effectively track their athletes' progress and provide personalised coaching.
A key highlight of Zen Planner is its ability to allow coaches to assign daily workouts through the app, which athletes can view in real time. This helps to keep athletes accountable and motivated, while also ensuring that they are getting the most out of their workouts.
In addition to its specialised features, Zen Planner also offers a suite of tools to help gym owners manage their business operations. These include marketing tools, payment processing, appointment and class scheduling software for yoga studios, and a mobile app for members to use.
The software also includes a full retail management module for processing transactions and tracking inventory, making it easy for yoga studio owners to manage all aspects of their business from a single platform, making it a comprehensive yoga business software.
Pros:
Pricing structure is based on the number of members and does not offer tiered pricing. This means that all features are available to users regardless of the pricing plan they choose.
Centralised dashboard.
Cons:
Limited mobile apps functionality.
Some users have reported that system updates are too frequent and occur at inconvenient times.
Notable features:
Skill Tracking: Allows trainers to track student progress in terms of workout scores, lift percentages, and belt levels.
Family and Group Account: Allow customers to create a shared account for their family or friends under a single shared account.
Free Trial:
No free trial
Pricing:
Depends how many active customers you have per month:
Basic at 117 USD per month for 0-50 members
Standard at 157 USD per month for 51-100 members
Premium at 197 USD per month for 101-250 members
Enterprise at 251 USD per month for 251+ members
---
Conclusion
Congratulations! You've made it to the end of our article on the top 5 best yoga studio software options. By now, you should have a good idea of which software will best suit your needs based on factors such as pricing, features, and customer support.
Remember, the right yoga studio software can make a huge difference in the success of your business. By streamlining your operations and automating certain tasks, you'll have more time to focus on what you do best: providing a high-quality yoga experience for your students.
Before you make your final decision, take advantage of any free trials or demos that the software companies offer. This will give you a chance to test out the software and see how it works for you and your team.
We hope that this article has been helpful in your search for the best yoga studio software for your business. Just like finding the perfect yoga pose for your body, finding the perfect software fit for your studio may take some time and experimentation. But with the right yoga booking software on your side, you'll be able to run your business more efficiently, attract more students, and create a better overall experience for everyone involved.
Namaste!
Friska 🐨
Read next: Top 10 best gym management software
---
Do you want to see more content like this? Follow us on Instagram and Facebook for more wellness advice, fitness trends, workout inspiration, and even best health and fitness deals exclusive to our followers. Don't miss out!