Top 5 Jiu-Jitsu studios in Malaysia that you should try
Whether you're looking to improve your physical fitness, learn self-defense, or compete at a high level, you're sure to find the perfect training experience among these top Brazilian Jiu-Jitsu studios in Malaysia.
Have you ever watched an action movie and marveled at the graceful yet deadly moves of the characters during a fight scene? Well, that's exactly what Jiu-Jitsu is all about.
This martial art has been gaining popularity in Malaysia for its practical self-defense techniques and physical fitness benefits. If you're looking to learn this impressive martial art, you're in luck, because Malaysia has some of the best Jiu-Jitsu studios in the region.
In this article, we'll take you on a journey through the top 5 Jiu-Jitsu studios in Malaysia. We'll explore the history, unique styles, instructors, and success stories of each studio. So, if you're ready to step into the world of Jiu-Jitsu and discover what makes these studios stand out, then let's dive in!
The Best 5 Jiu-Jitsu studios in Malaysia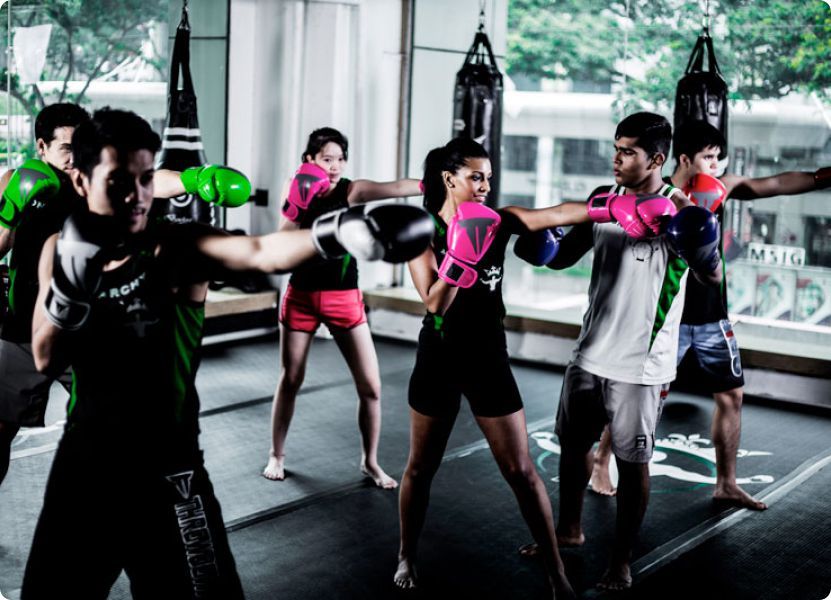 Source: Monarchy MMA
1. Monarchy MMA
Monarchy MMA is a leading martial arts gym in Malaysia that offers training in various disciplines, includingJiu-Jitsu. The Jiu-Jitsu program at Monarchy MMA focuses on self-defense techniques, grappling, and submission holds, and is suitable for both beginners and advanced practitioners.
At Monarchy MMA, you'll have the flexibility to choose between group classes and personalized one-on-one training. If you're looking for an opportunity to work more closely with the instructors and focus on specific techniques, the private classes might be your best option.
These sessions are tailored to your individual needs, allowing you to receive personalized feedback and support. With Monarchy MMA's experienced and dedicated instructors, you'll get the most out of your training and see rapid improvement in your skills.
📍 Address:
Monarchy MMA | City Centre Branch, Unit 146, Wisma New Asia, Jalan Raja Chulan, Bukit Bintang, 50200 Kuala Lumpur, Federal Territory of Kuala Lumpur, Malaysia
Monarchy MMA | Bangsar Branch, 34-02 &, 36, Jalan Telawi 2, 51900 Kuala Lumpur, Malaysia
Monarchy MMA | Mont Kiara Branch, 10-1, Jalan Solaris 5, Mont Kiara, 50480 Kuala Lumpur, Wilayah Persekutuan Kuala Lumpur, Malaysia

Monarchy MMA | Kota Damansara

Unit 32, 3, Jalan PJU 5/5, Kota Damansara, 47810 Petaling Jaya, Selangor, Malaysia
Also read: Top martial arts studios in Singapore for kids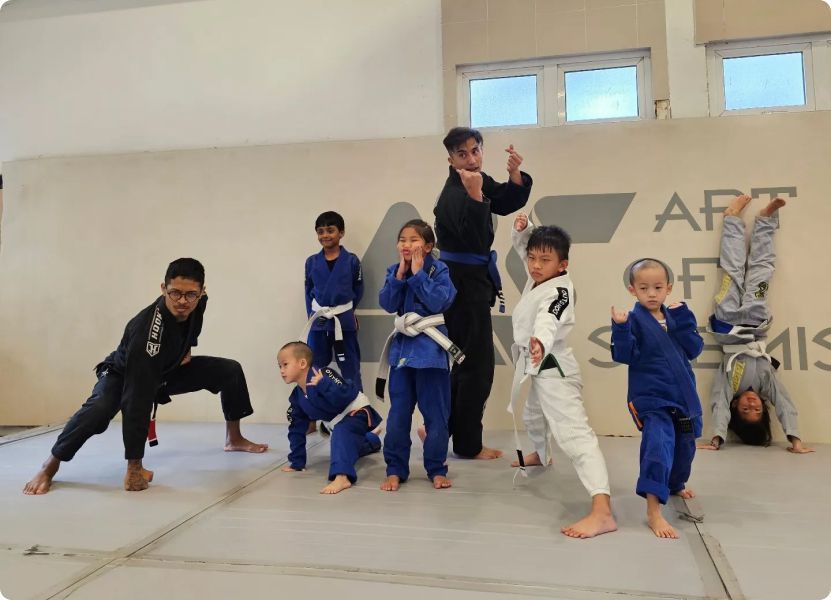 Source: Art Of Submission
2. Art Of Submission
Art Of Submission Malaysia offers a variety of classes to suit different levels of experience and interests. Whether you're a beginner or an experienced practitioner, you'll find a class that's right for you.
Art Of Submission Malaysia also offers private lessons for students who want personalized attention and training. Private lessons are a great way to accelerate your learning and focus on specific techniques or areas of improvement.
Art Of Submission Malaysia offers classes for children aged 7 to 12, which are focused on teaching the fundamentals of Brazilian Jiu-Jitsu in a safe and enjoyable environment. In addition to the core techniques of the martial art, the classes also incorporate fun games and activities to keep kids engaged and motivated.
The experienced instructors at Art Of Submission Malaysia understand how to make the learning process enjoyable for children, and are dedicated to creating a supportive and encouraging atmosphere in the classes.
📍 Address: Block E-3-13, Plaza Damas, Jalan Sri Hartamas 1, Sri Hartamas, 50480, KL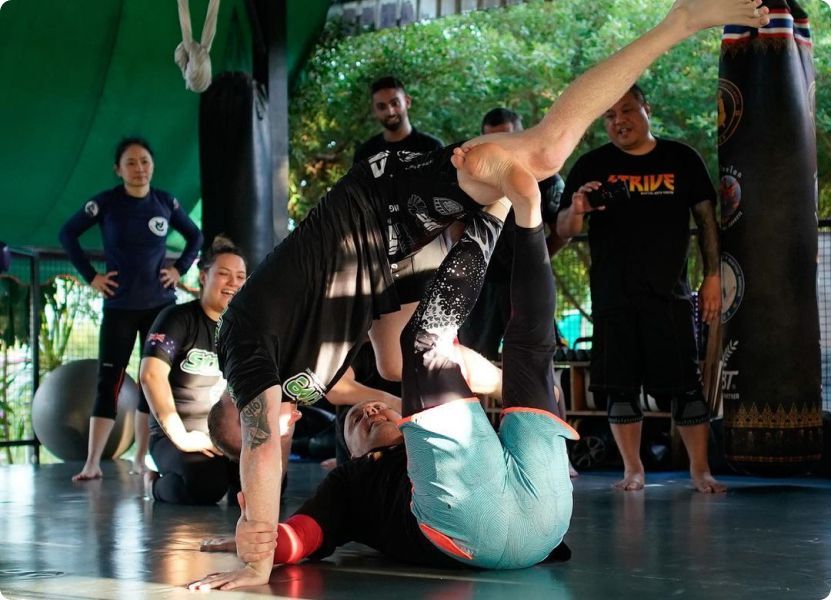 Source: Jeet Academy
3. Jeet Academy
Jeet Academy KL (JAKL) is a martial arts academy that specializes in personal training and on-site corporate coaching in a range of disciplines, including Krav Maga, Self Defense, Jeet Kune Do, Brazilian Jiu-Jitsu, and Western Boxing, for adults and teenagers.
JAKL also offers specialized training for actors and stunt teams, providing them with the skills and techniques necessary for performing high-intensity action scenes in movies and television.
In addition, JAKL recently launched a Kids Training program that focuses on Brazilian Jiu-Jitsu and Self Defense through the "BullyProof program". The program aims to help children develop confidence and self-discipline, as well as the physical skills necessary to defend themselves against bullying and other potential threats.
JAKL's experienced instructors are dedicated to providing personalized training to help students achieve their individual goals, whether that means learning self-defense, improving physical fitness, or pursuing a career in the entertainment industry.
📍 Address: 14-2 Jalan Telawi 3, at Bangsar, 59100 Kuala Lumpur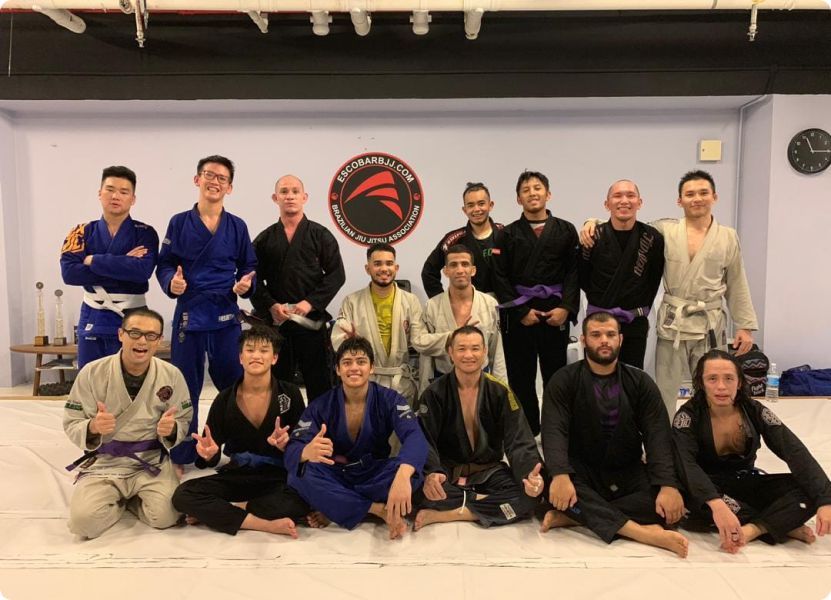 Source: Marcos Escobar
4. Marcos Escobar
Marcos Escobar Brazilian Jiu-Jitsu is the largest BJJ organization in Malaysia, with a reputation for providing top-quality instruction and training at an affordable price. Founded by Brazilian Jiu-Jitsu pioneer Marcos Escobar, the academy has played a pivotal role in introducing BJJ to the country and promoting the sport to a wider audience.
Marcos Escobar BrazilianJiu-Jitsu offers classes for all levels, from beginner to advanced, catering to both hobbyists and competitors. They have a team of highly decorated coaches who provide personalized instruction and training to help students reach their full potential.
Moreover, the academy has several programs designed to support underprivileged individuals who wish to train in BJJ. These programs offer free training to those who would otherwise not be able to afford it.
Currently, Marcos Escobar BrazilianJiu-Jitsu has seven black belts and six brown belts actively training and competing, highlighting the academy's emphasis on producing skilled and accomplished martial artists.
Whether you are a beginner or a seasoned practitioner, Marcos Escobar BrazilianJiu-Jitsu offers an inclusive and supportive community that will help you achieve your goals.
📍 Address: L1-16, Cova Square, Jalan Teknologi, Pju 5 Kota Damansara, 47810 Petaling Jaya, Selangor, Malaysia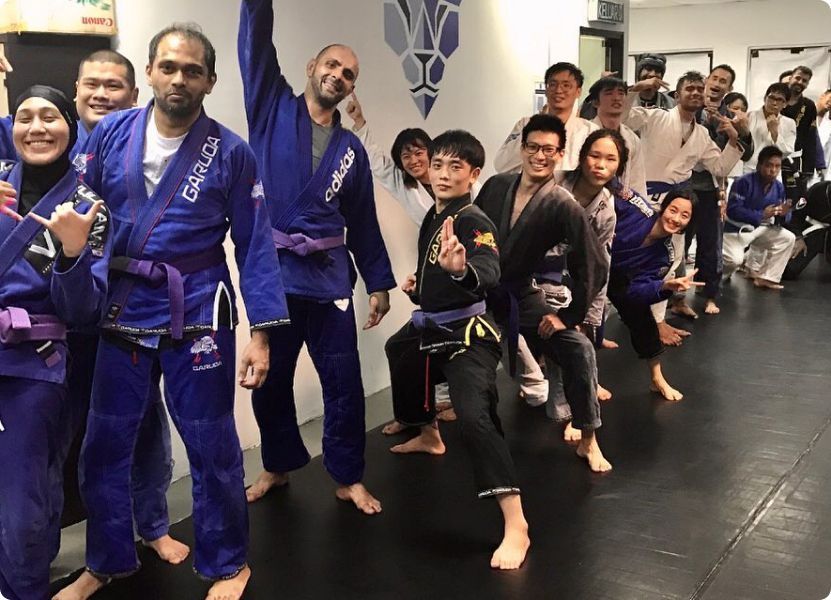 Source: The Jiu-Jitsu Foundry
5. The Jiu-Jitsu Foundry
The Jiu-Jitsu Foundry, founded in January 2016, is a Brazilian Jiu-Jitsu academy located in Petaling Jaya, Malaysia. Led by resident Black Belt, Professor Kenu, the academy aims to spread the art of Brazilian Jiu-Jitsu and make a positive impact in the community.
The Jiu-Jitsu Foundry places a strong emphasis on discipline, respect for others, and individual development. Whether one is training for competition or seeking a new fitness routine, the academy provides a welcoming and supportive environment. The academy's training programs are designed to improve physical and mental health and can transform students' overall well-being.
The Jiu-Jitsu Foundry offers a special class exclusively for female members to train Brazilian Jiu-Jitsu once a week. This ladies-only class is designed to make beginners feel more comfortable, especially if they have no prior experience in sports or martial arts. Women who take part in this class can learn valuable skills that can help them protect themselves in real-life situations while improving their overall physical fitness.
The Jiu-Jitsu Foundry recognizes that some women may feel more comfortable training in an all-female environment. By offering this class, they hope to create a safe and inviting space where women can learn and grow without feeling intimidated.
📍 Address: 72-C, Jalan SS21/62, Damansara Uptown, 47400 Petaling Jaya, Malaysia
We understand that finding the perfect Jiu-Jitsu studio that meets your needs can be a daunting task. Once you find the right one, it can be challenging to keep up with your progress and class schedules.
That's why we highly recommend enrolling in a Jiu-Jitsu studio that utilizes fitness management software such as Rezeve.
Rezeve makes managing your classes, tracking your progress, and communicating with instructors incredibly easy. You can sign up for classes, view your progress, and receive updates all in one convenient location. Plus, the user-friendly interface makes it simple to manage all your fitness classes, and you can access it from anywhere, at any time!
Conclusion
After reading about the top Brazilian Jiu-Jitsu studios in Malaysia, it's clear that this martial art has gained significant popularity and recognition in the country.
So, whether you're looking to improve your physical fitness, learn self-defense, or compete at a high level, you're sure to find the perfect training experience among these top Brazilian Jiu-Jitsu studios in Malaysia. Start your journey today and discover the life-changing benefits of this incredible martial art.
Cheers,
Friska 🐨
Read next: Top 7 Muay Thai studios in Singapore you can get on board
---
Do you want to see more content like this? Follow us on Instagram and Facebook for more wellness advice, fitness trends, workout inspiration, and even best health and fitness deals exclusive to our followers. Don't miss out!