Effortlessly Manage your Racket Sports Facility with Our Powerful, All-In-One Software
Maximise your racket sports facility's efficiency with Rezeve Racket Sport Facility Management Software. You can manage memberships and packages, schedule bookings, track staff attendance, and even process payments smoothly.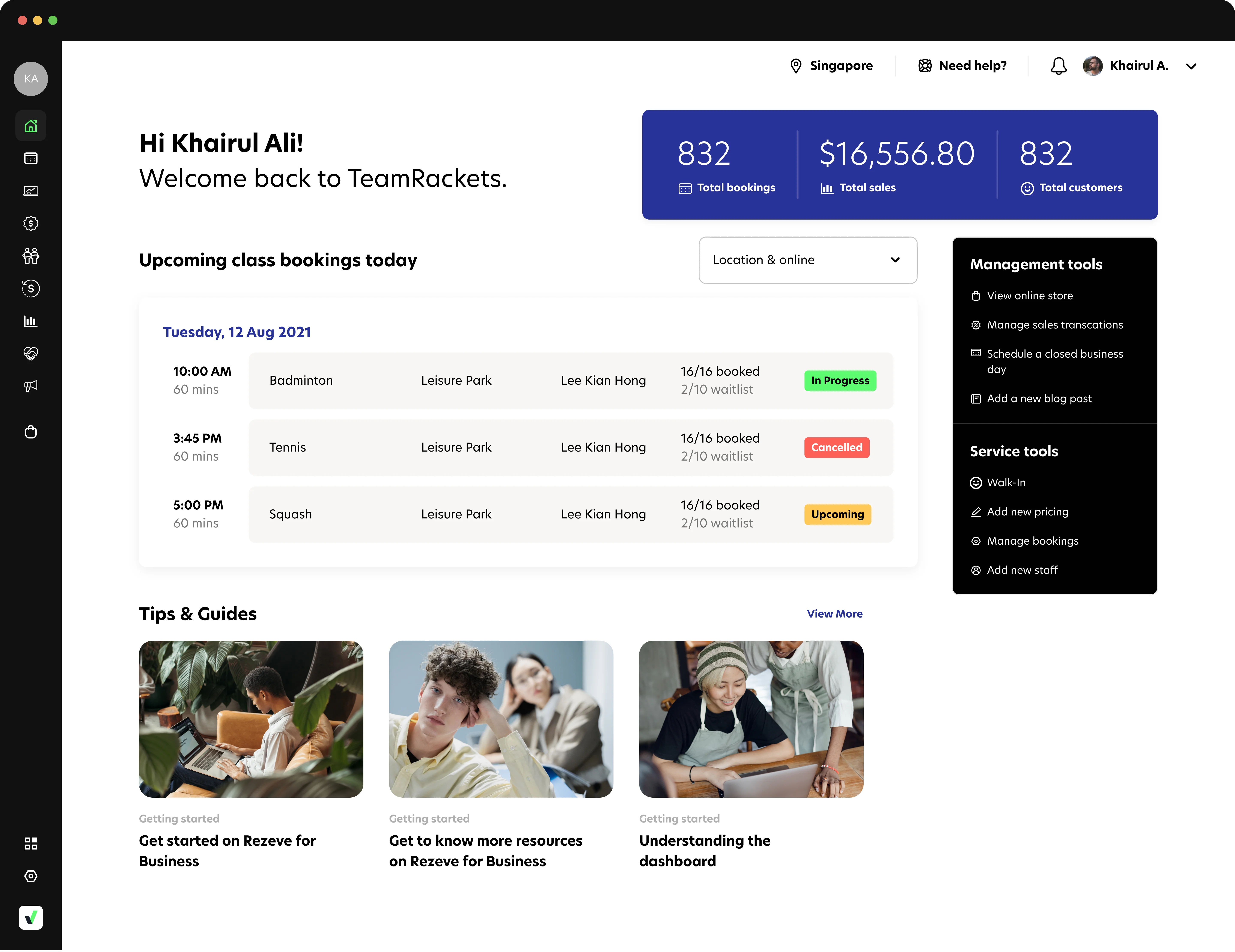 Increase membership, not complexity.
Our cost-effective, customer-driven structure is designed to help you give your clients the attention they deserve.
Your customer deserves a better, easier booking and scheduling system. With Rezeve, you can stop wasting their time and streamline the entire process with our seamless online booking, and scheduling system for your sport facility business.
---
Sell anything with ease and maximise your profits!
Don't waste any more time and effort trying to sell your services and products the hard way. Try our software today and start seeing results. Sign up for a free trial now to see how easy it is to sell anything with ease and maximize your profits.
---
Maximize your profits with customizable pricing and the ability to accept local payment methods
Rezeve makes it easy to accept local payments and get more clients. With a few simple clicks, you can create a payment page that's integrated with your sport facilitiy's schedule. Increase your revenue by using a single system that accepts all forms of payment, including credit cards, bank transfers, e-wallets, and even cash!
---
Rezeve is everything you need to run a racket sports facility business
Rezeve is a versatile dance & Zumba studio management software that will assist you in managing your time, space, and flow. We provide analytics to help you better understand your business; fully customizable website design to better represent your brand; and visibility into what's going on in the studio at any given time to help you make smarter decisions about how to grow your business.
Create a professional, modern website for your racket sports facilities with our 50+ customizable templates
It's time to take your racket sports facilities online and showcase them to the world with our customizable and mobile responsive website templates. With over 50 options to choose from, you can easily create a professional, modern website that showcases your facilities and helps you attract more bookings and customers.
Effortlessly Manage your Team with Our Stress-Free Management Software
Managing a racket sports facility involves more than just tracking customers, memberships, and finances. It's about creating a cohesive workflow from marketing to sales to facilities management. With Rezeve Racket Sport Facility Management Software, your team can access everything they need in one place.

Our software also allows each staff member to easily set up their own work schedule and view their upcoming shifts from any device. Streamline your operations and improve efficiency with Rezeve Racket Sport Facility Management Software.
Real People, Real Results: How Our Clients Transformed Their Businesses with Our Management Software
"Rezeve offered my small business an affordable all-in-one website, payment & booking platform with better service than their major competitors.

The interface is user-friendly and the team are incredibly responsive and always available to help. I cannot recommend Rezeve enough."

"I've been using Rezeve for my fitness studio for several months now, and I couldn't be happier with the results. The software is user-friendly and allows my clients to easily book and manage their appointments. The customer support team is also amazing, always available to answer my questions and offer helpful solutions.

Overall, Rezeve has made managing my fitness bookings so much simpler and efficient. I highly recommend it to any fitness business owner!"

Eddy

Elegant Dreams Pilates

"When Rezeve approached me, I was quite apprehensive about their management software for a service-based business.

After trying their demo, I must admit that they have one of the most seamless and smooth platforms and provided the necessary tools to deliver a customer-centric experience. Kudos to the team!"

Shafiq

Meraki Fight Fitness

"Since using their software, my day-to-day operations has improved significantly. The software is user-friendly and provides me with a lot of useful features to simplify my business. The biggest plus is their customer support who's excellent and always responds promptly to any queries or concerns I have.

Overall, I highly recommend Rezeve to anyone looking to improve their fitness business."

"Finally! A company with a Management Software that understands and supports young businesses, by keeping rates competitive without compromising functionality and services offered. As a business owner, this enables me to focus on growing my business, knowing customer convenience and experience is well managed.

My favourite part about Rezeve? The team. They are there ready to address my burning questions promptly and are constantly working hard behind the scenes, rolling out new functionalities periodically that will continue to add value to your business.

Happy days that Bodyhack and Rezeve's paths crossed! Keep up the good work Rezeve team!"

"For few years we had our own system of yoga studio membership administration. Later we decided to go for the ready product as we could see the need of development and getting modern. We had many similar product introductions, demos, we had one platform for few months, but still it looked we had to adapt our business and adapt the way we run it to the system.I am happy I found the Rezeve. After few months now using the platform, we are still satisfied. The system is clear, simple, covers many possible cases, support team is very responsive. They want to develop the product so it would cover as many needs of the customers as possible. As we all are different, so Your Rezeve can be different also. Highly recommended!"

Marius

Ashtanga Yoga Shala Vilnius

"When I first decided to start my business in Malaysia, I was worried about how to manage our group class booking and payment site. Until I reached out to the rezeve website, I found that the website is so organised that I could easily solve my concerns on managing customers' bookings, scheduling classes and handling payments. I feel so lucky that I could get to solve all my concerns through this website. I will continue to expand my businesses using this rezeve website in Malaysia."

"Rezeve is a great management tool and it's only getting better by the day. The interface is user-friendly and classy as well.

The best thing about Rezeve is that there are different tiers to suit your business needs. We came in at the early stages and the team has been accommodating, supportive and efficient to all our digital needs. Get on board now and be apart of this growing space. We are so excited for the new features that are coming in!"
USD

1.3M

Total Client's Sales
25K
Total Clients' Customers
USD

1.1M

Total Packages Sold
USD

200K

Total Memberships Sold
Explore our other fitness categories:
Industry updates
No blogs available
Rezeve Racket Sports Software
Frequently asked questions
What is Rezeve Racket Sport Facility Management Software?
Rezeve Racket Sport Facility Management Software is an all-in-one scheduling, management, and membership system for watersports centres. It makes it easy for watersports centres to manage customers and courses by automating the majority of the administrative workt.
What is the benefit of using Rezeve Racket Sport Facility Management Software?
You can use Rezeve Racket Sport Facility Management Software to manage your operations, increase your customers base, and offer an easy booking experience for your customers.   Rezeve Racket Sport Facility Management Software addresses the specific requirements of Racket Sport Facility businesses, and it'll assist you in simplifying administrative work, processing payments quickly, saving time with client management, generating detailed reports, and more. We can also confidently say that using Rezeve Racket Sport Facility Management Software
will increase more bookings for Racket Sport business.
How do I know my business needs Rezeve Racket Sport Facility Management Software?
Consider moving to Rezeve Racket Sport Facility Management Software if you or your staff spend too much time thinking about calendars, looking for appointment data, or wasting time on scheduling and organising rather than actually preparing for your classes and focusing on sales.
What payment gateway does Rezeve Racket Sport Facility Management Software work with?
Rezeve allows your customers to pay using credit cards, bank transfer, e-wallets, cash, and local payment methods like PayNow! More localised payment alternatives will be available soon.
Can Rezeve Racket Sport Facility Management Software be customised to fit my Business needs?
Yes, Rezeve Racket Sport Facility Management Software offers customizable features and options that can be tailored to your specific needs. Whether you need to manage a team building courses, or canoeing courses you can specify the number of persons who can join, the timing, and the booking price.
I'm not tech-savvy enough, does Rezeve Racket Sport Facility Management Software requires a lot of technical knowledge to use?
Rezeve Racket Sport Facility Management Software is very user-friendly and convenient. It is created in an uncomplicated, simple-to-use manner, and the majority of actions are automated and self-explanatory so that both you and your customers can use it very comfortably.

Rezeve Racket Sport Facility Management Software is extremely accessible for you and your customers. From tracking equipment rental to reserving courses and even paying bills, your fundamental operations will be easy to access and you'll be able to use it on all devices.
Our racket sport facility still primarily accepts cash, how will this work for us?
No worries. Even though cashless payment is now the norm, some studios still accept cash. When a member pays in cash, simply update their profile with the class package amount purchased.
Can I personalise and create my own website?
You can create a beautiful, fully-functional booking website with Rezeve's website builder. Choose from among 50+ templates, personalise it with your own images and text, expand it with new pages and external links, and adjust the looks to match your branding.
I already use ClassPass, do I need to change my system?
No, Rezeve Racket Sport Facility Management Software is already integrated with ClassPass. Your ClassPass members can also book your services via the ClassPass app too!
Can I test Rezeve Racket Sport Facility Management Software before I get onboard with it?
Yes we can provide you with a 30-day free trial. But every studio's needs are different, so it's easiest if we have a quick chat to discuss your personal preferences.
In this way, we can talk to you personally and ensure that our account manager is saving you valuable time. Schedule a free demo with us here.
Schedule a free demo with us here.