What is Gyrotonic method & top 5 studios in Singapore to practise it
Gyrotonic exercises, with their fluid, circular movements, take inspiration from practices like yoga, dance, swimming, and tai chi.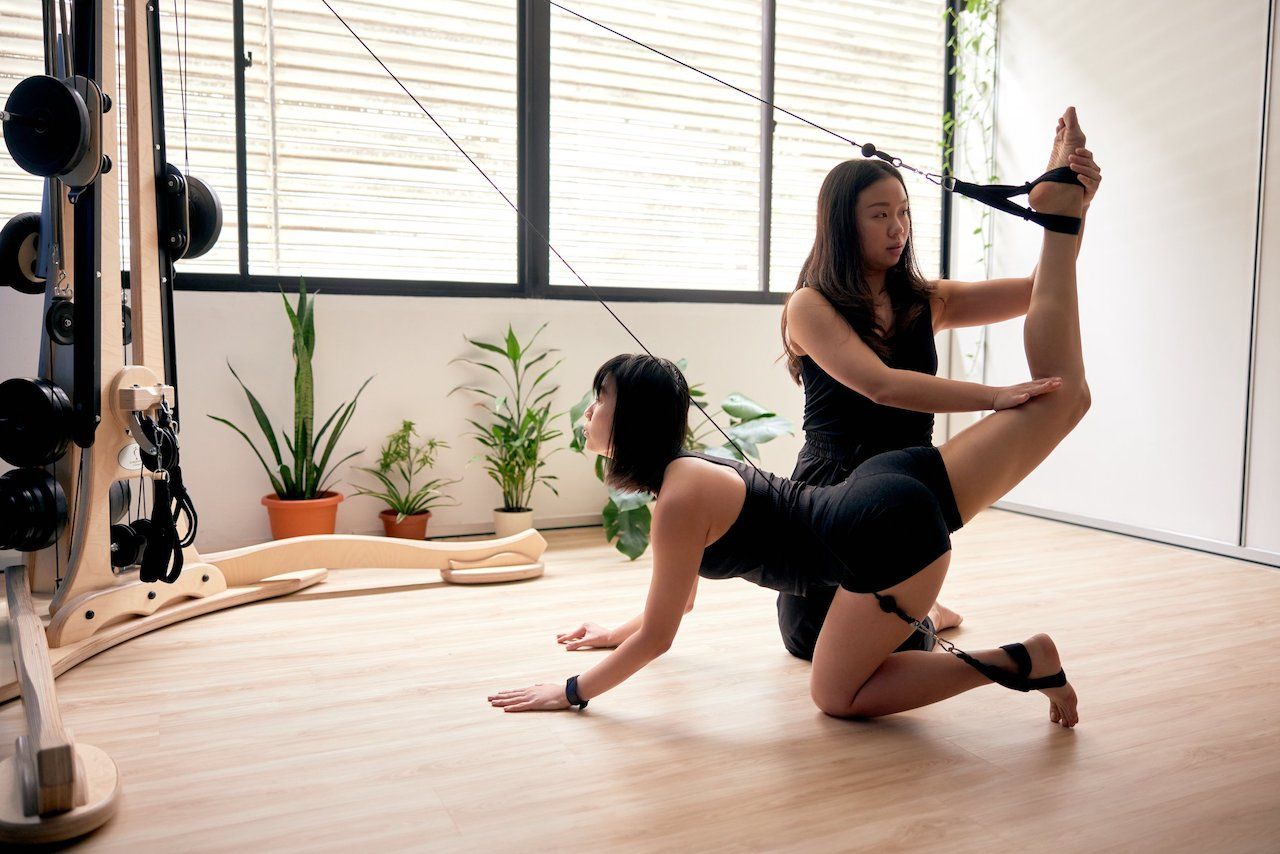 Source: Ido Studio
Do you often find yourself confined to the standard gym routines? Do you seek a method that not only enhances your physical attributes but also nurtures your mind? If your answer is 'yes', then the Gyrotonic Method might be just what you're looking for.
Gyrotonic exercises, with their fluid, circular movements, take inspiration from practices like yoga, dance, swimming, and tai chi. Sounds interesting, doesn't it? It's like bringing the agility of a dancer, the strength of a swimmer, the flexibility of a yogi, and the calmness of tai chi into one coherent practice. And the best part? It's suitable for everyone, irrespective of age or fitness level.
As our fast-paced lives keep us constantly on our toes, the importance of a holistic fitness method becomes paramount. We're not just talking about flat abs or toned muscles here - this is about an all-round approach that synchronizes the body, mind, and spirit. The Gyrotonic Method aims to achieve exactly that.
Stay tuned as we explore more about this unique fitness approach and we'll introduce you to the top 5 studios in Singapore where you can start your Gyrotonic journey!
Understanding Gyrotonic method
You might be wondering, what exactly is this Gyrotonic Method that we're so excited about? The Gyrotonic Method, often regarded as 'yoga for dancers', is a unique workout regimen that was born out of a dancer's desire for freedom of movement and overall well-being.
Juliu Horvath, the creator of the method, wanted a practice that harmonizes strength, flexibility, and fluid motion. Thus, the Gyrotonic Method was born, where movements are not linear or isolated, but rather flowing and connected, just like in nature.
Think about it - have you ever observed a cat stretching or a bird soaring in the sky? Their movements are smooth and seamless, aren't they? The Gyrotonic Method aims to bring that same natural fluidity to human movements. It's about creating harmony between different body parts, making them work together like a well-orchestrated symphony.
And that's not all. This method goes beyond the physical. It also incorporates the principles of yoga, tai chi, and dance, focusing on breath control, concentration, and coordination. Just imagine - you're not only getting a full-body workout, but you're also learning to breathe better, focus better, and live better. Sounds like a complete package, doesn't it?
But what about the equipment? Yes. Gyrotonic equipment is unique and specially designed to accommodate the body's natural movement patterns. It's all about providing resistance that is uniform, making your workout more efficient and effective.
Now, let's talk benefits. Who doesn't love a good benefit list? Gyrotonic exercises promise to improve your strength, flexibility, balance, and coordination.
But it's more than just about having a toned body. It's about feeling good, both inside and out. It helps in stress relief, increases focus, and promotes mindfulness. On top of all these, it also has therapeutic aspects. If you're recovering from an injury, or just want to improve your posture, Gyrotonic can come in really handy. Isn't it amazing how one method can offer so many perks?
Top 5 studios to practice Gyrotonic method in Singapore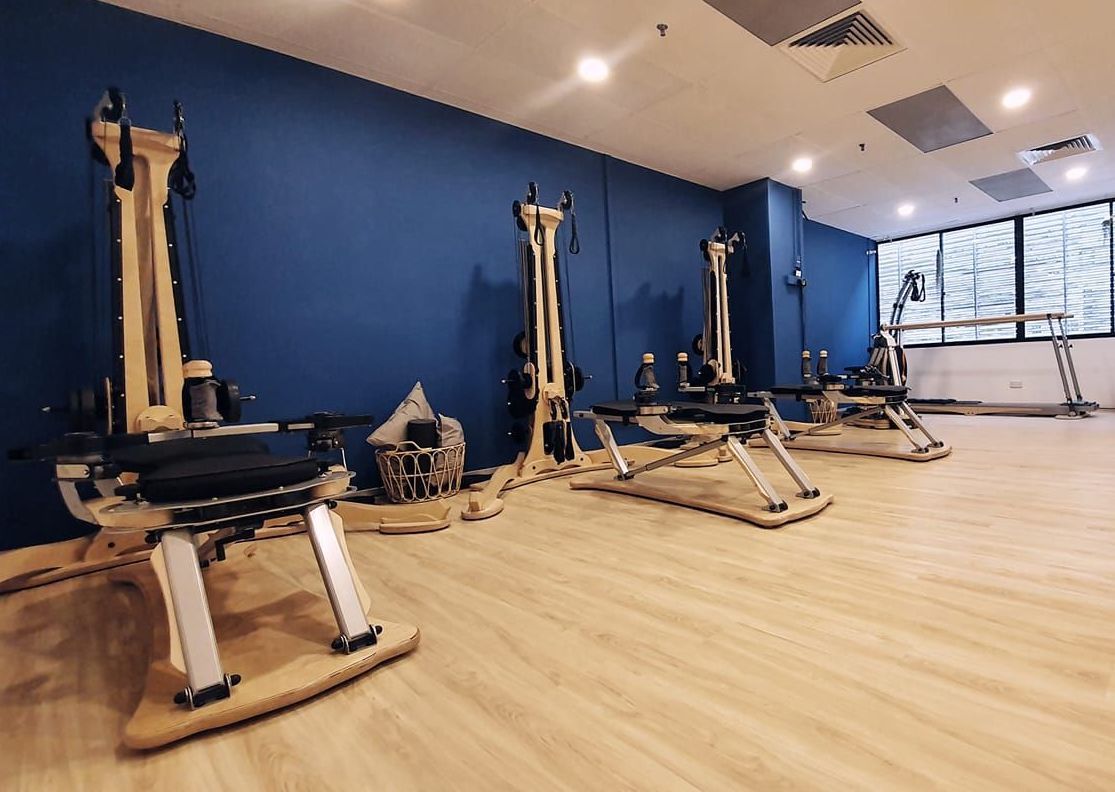 Source: Ido Studio
1. Ido Studio
The magic behind Ido Studio comes from none other than its founder, Samantha Lun. Samantha's background in dance took her to the prestigious stages of Nanyang Academy of Fine Arts and New York's Purchase College, and it's there where she discovered the Gyrotonic Expansion System.
With the Gyrotonic Expansion System, Samantha found flexibility and strength that she didn't experience with other systems. Samantha has had the opportunity to work with specialized Master Trainers around the globe. Talk about international influences! Now, as an Authorized Gyrotonic Pre-Trainer, Samantha aims to share the true essence of the Gyrotonic method with everyone at Ido Studio.
At Ido Studio, Samantha specializes in working with dancers, leveraging the Gyrotonic system to bolster their performance and technique. But it's not all about dance here; Samantha's vision is to foster a community of practitioners who share a burning passion for learning and growing together. Whether you're a dancer or someone just interested in improving your well-being, Samantha and her team have got you covered.
Wondering how Ido Studio can empower you? Here's the thing - you'll be guided to perform circular movements paired with specific breathing patterns. This combination is designed to enhance your body's range of motion, support your nervous system, and revitalize your energy. Plus, your sessions will be customized to your individual goals and needs. Once you're part of the Ido community, they inspire you to reach your greatest potential.
And what about their equipment? Their studio is fully equipped with a Gyrotonic Pulley Tower, Gyrotoner, and Jumping Stretching Board.
📍 Address: 51 Cuppage Rd, #05-08, Singapore 229469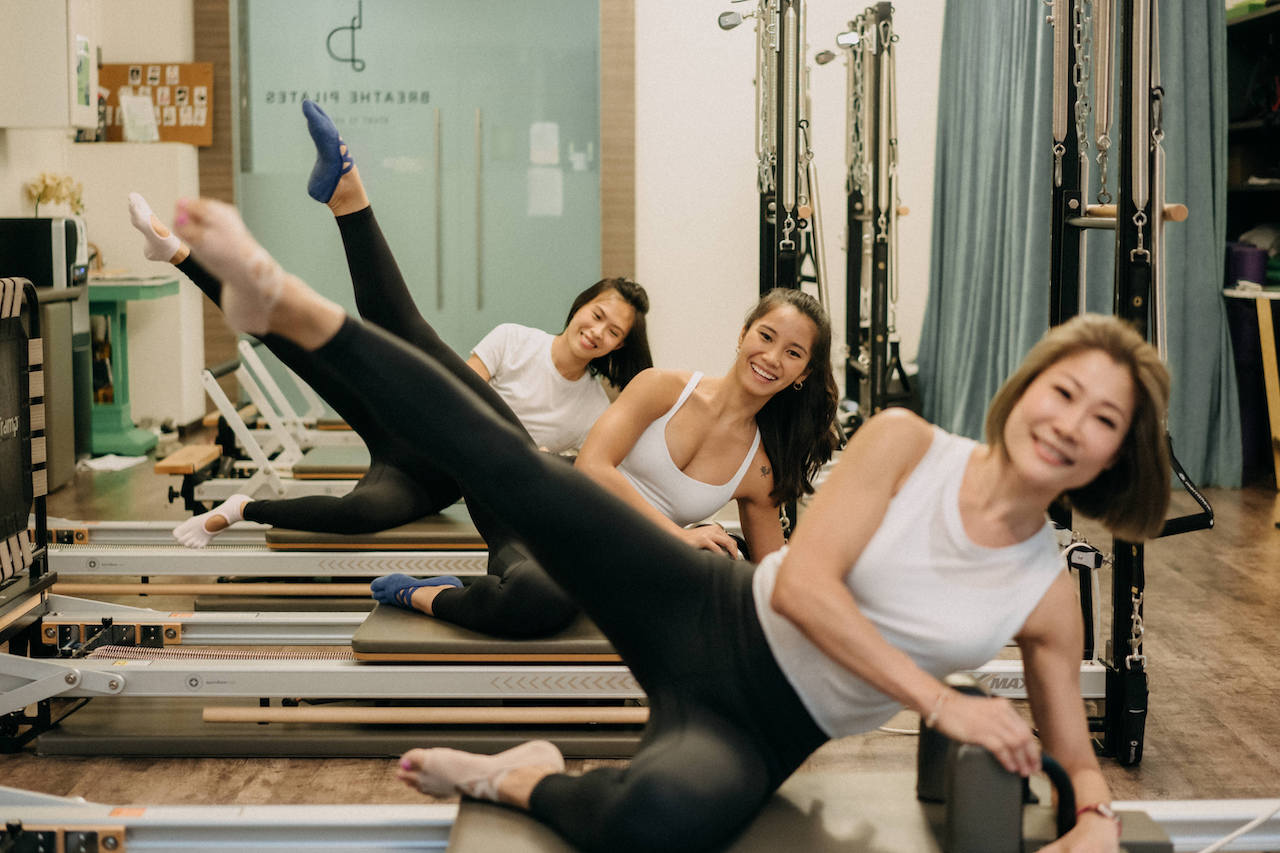 Source: Breathe Pilates Studio
2. Breathe Pilates Studio Singapore
As the name suggests, it is a place that resonates with awareness, strength, and flexibility. Their mantra is to provide every individual with the freedom of movement - an aspect that's at the core of the Gyrotonic method.
At Breathe, you're not just attending a fitness class; you're stepping into a realm that combines quality teaching, professional healthcare support, and a diverse blend of teaching styles from across the globe. Sounds impressive, right?
But what makes Breathe a top-notch place for Gyrotonic method in Singapore? First, they're a MERRITHEW™ Licensed Training Center, well-recognized for their exceptional Pilates courses. But wait, there's more! In addition to Pilates, they also offer the GYROTONIC® method as part of their fitness and rehabilitative training programs.
Whether you're a newbie or a seasoned fitness enthusiast, Breathe caters to everyone's needs. They recommend starting with private sessions for newcomers for movement analysis and custom exercises. But for those who prefer group dynamics, they offer group Pilates and Gyrotonic classes too.
In terms of the GYROTONIC® training, it's all about promoting a wide range of body movements - spiralling, circular, and more. It takes cues from Tai Chi, Dance, Swimming, and Yoga, which we've mentioned earlier, right? This method is excellent for enhancing your spine's functional and rotational capacity and other rotational joints, including the shoulder, knee, and wrist.
So if you're looking for an all-around workout routine that boosts both your physical and mental wellbeing, Breathe Pilates Studio is your one-stop destination!
📍 Address:
Novena Medical Centre: 10 Sinaran Drive, #09-05/31/33 Singapore 307506
Parkway Centre: 1 Marine Parade Central, #13-01/02 Singapore 449408
Galaxis: 1 Fusionopolis Place, #01-04 Singapore 138522
6 Raffles Quay 6 Raffles quay #11-02 Singapore 048580
The Heeren: 260 Orchard Road #05-05 Singapore 238855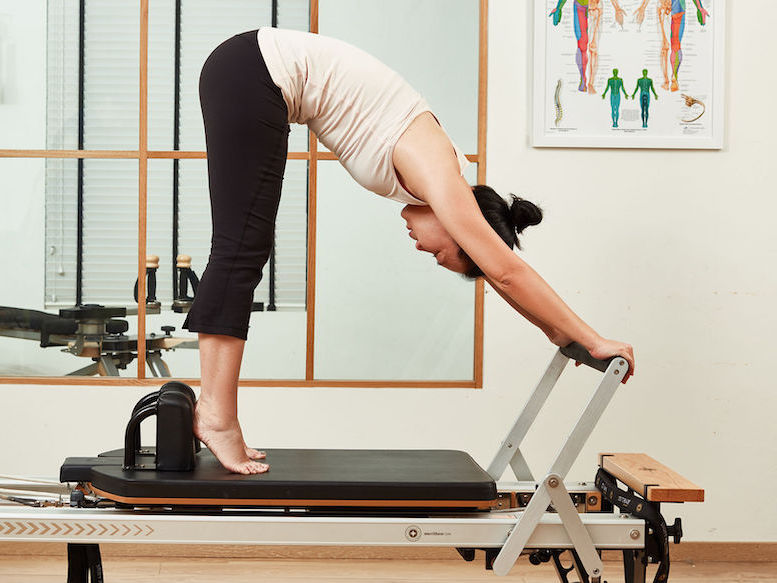 Source: Ilies Soma Studio
3. Ilies Soma Studio
If you're a fan of Pilates and looking to dip your toes in the world of Gyrotonic®, then buckle up, because we're in for a thrilling ride! Here at Ilies Soma, they kick things off with private classes, perfect for Pilates newbies and veterans alike.
Can you imagine being guided by experienced instructors in 55-minute sessions, introducing you to the fantastic health benefits of Pilates? Sounds incredible, right? Oh, and don't worry about the equipment; they'll get you familiar with all the machines you'll need, like the reformer, Cadillac, Chair, and Barrel. It's almost like a personal tour through the fascinating world of Pilates!
Now, let's dive into something extra special. At Ilies Soma, their private Pilates classes aren't just about Pilates; they incorporate Gyrotonic® classes too! So, if you're hunting for the best personalized rehabilitation program in Singapore, look no further. Can you picture the benefits of such a versatile routine? Pilates for strength, balance, and flexibility, and Gyrotonic® for increased range of motion and rejuvenation. It's like having the best of both worlds!
Ready for a group experience? Ilies Soma has got you covered. Their group Pilates Reformer classes are designed to help more people coordinate their breathing with physical movement. Now, we all know that a little healthy competition never hurt anyone, right? So why not motivate each other to reach a common goal in these group sessions?
What sets Ilies Soma apart is the intimate class size. Can you imagine a setting where each STOTT® qualified Pilates instructor can fully engage with each participant, ensuring that you get the most out of your workout? It's the perfect blend of group energy and individual attention.
So, if you're excited to embark on a Pilates and Gyrotonic® journey that is tailor-made to help you achieve your personal fitness goals, why not give Ilies Soma a shot? They might just be the studio you've been waiting for!
📍 Address: 43 Jalan Merah Saga, Singapore 278115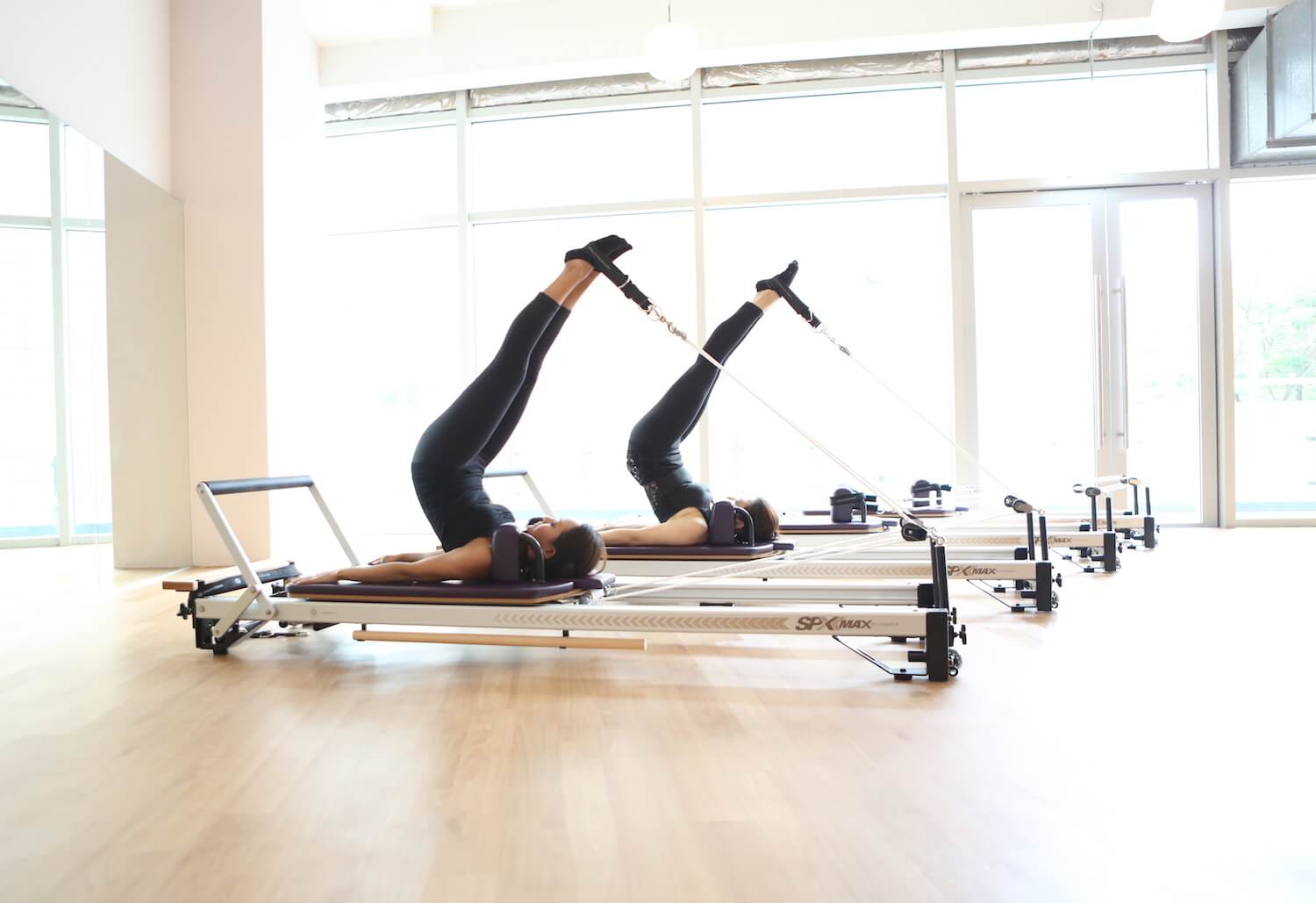 Source: équilibre
4. équilibre
At équilibre, they believe in two key principles: good form and consistent practice. Isn't that refreshing? Their teaching approach is all about hands-on experience, providing technique feedback, minor physical adjustments, and verbal cues to both private and group class students. It's like having your own personal trainer in every class!
Now, imagine being in a class that is fun, dynamic, and challenging – all at once. That's équilibre for you. You won't find a standard syllabus here. Instead, they customise each session to your needs, body condition, and adaptability to different exercises. And, to make things even better, their group classes are limited to six students so you'll get all the personalised attention you need.
What about your goals and overall health? Don't worry, équilibre's got that covered too. They're all about reaching your short-term goals and ensuring your long-term health. Whether you're dealing with existing injuries or looking to improve your strength, flexibility, and joint mobility to avoid future ones, équilibre is on your side.
Susan, équilibre's founder and Principal Instructor, is fully certified in all disciplines of STOTT Pilates Level 1 and the GYROTONIC® and GYROKINESIS® methods. After a forced retirement due to debilitating injuries, she found her calling in Pilates during her own rehabilitation, and she's been sharing the magic of this fitness form ever since.
She continually upgrades her skills and is accredited in other fitness and wellness techniques like Myofascial Release Therapy, RockTape Kinesiology, ZEN.GA, REDCORD, and TRX. So you'll be in safe, and incredibly experienced, hands.
The GYROTONIC® method at équilibre involves fluid, circular, spiralling movements performed on specialized equipment. Picture yourself balancing, building core strength, and flexibility while enhancing joint mobility and stimulating circulation. It's not just about looking good, but also about feeling good, right?
📍 Address: Jalan Lim Tai See Singapore 268462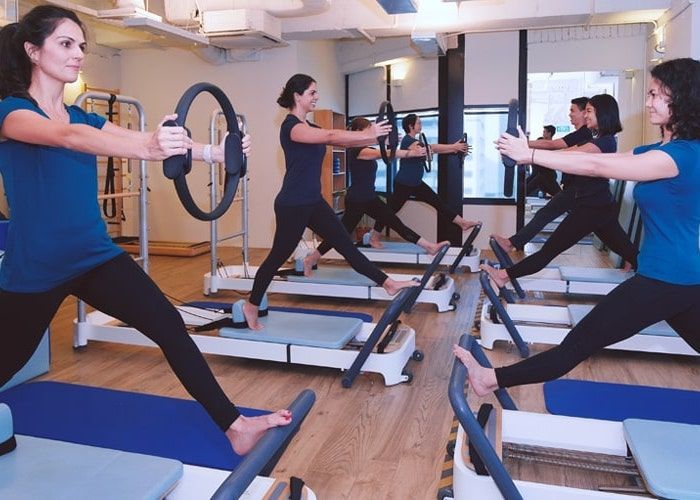 Source: Sky Pilates
5. Sky Pilates
Next on our list, we have Sky Pilates, a haven for all things Gyrotonic! Have you ever wondered how to become a certified GYROTONIC® Trainer? This is your chance! Sky Pilates offers a comprehensive GYROTONIC® Level 1 Program that takes you on a fulfilling journey from being an apprentice to a fully qualified Gyrotonic Trainer. Sounds like an adventure, doesn't it?
Here's the scoop: The entire program spans 188 hours and includes four sequential courses. Now, this might seem like a lot, but guess what? Within just three months of beginning the program, you can start teaching the Gyrotonic Method as an apprentice. That's right, you could be instructing your own classes in no time!
But it doesn't stop there. Once you're a fully certified GYROTONIC® Trainer, you become eligible to register for specialized courses and equipment courses, keeping your skill set ever-growing. And remember, the journey to mastery is an ongoing process.
Every two years, Gyrotonic trainers are encouraged to attend a continuing education course to expand their abilities and maintain their certification. So you're not just teaching Gyrotonic, you're constantly learning and evolving, too.
Now, let's dive into the specifics of the Level 1 Teacher Training Program at Sky Pilates. The first step is the GYROTONIC® Pre-Training Course. Over six days, you'll lay the groundwork for your Gyrotonic education, developing a personal understanding of the Level 1 exercises. Don't worry, you'll be in good hands - the course is led by experienced Pre-Trainer, Geraldine Nonis.
Once you've completed the Pre-Training Course, you're ready for the next stage: the GYROTONIC® Foundation Course. This 12-day program deepens your understanding of the Level 1 curriculum and equips you with the skills to teach these exercises to others, all under the tutelage of a GYROTONIC® Master Trainer.
After successfully completing the Foundation Course, congratulations - you're now a GYROTONIC® Apprentice! At this point, you can start teaching the Level 1 exercises to others. But the journey isn't over yet.
Next up is the GYROTONIC® Apprenticeship, a chance for you to expand your experience and understanding of the Level 1 Foundation Course material. And finally, the GYROTONIC® Final Certificate Course is your chance to demonstrate your proficiency and understanding of the Level 1 curriculum, and to become a fully Certified Gyrotonic Trainer.
If you've been searching for a place to take your love for Gyrotonic to the next level, Sky Pilates is your go-to. Who knows, maybe your journey to becoming a certified GYROTONIC® Trainer starts here!
📍 Address: 583 Orchard Road #09-01 Forum Office Tower, Singapore 238884
---
Conclusion
We've journeyed through five of the top studios in Singapore to practice the Gyrotonic method! We've delved into the world of Gyrotonic, learning about the studios, their unique approaches, and the passionate and knowledgeable people behind them.
The best part? Each of these studios has something unique to offer. Whether you're a complete beginner or an experienced practitioner, there's a place for you. You might be searching for rehabilitation, looking to enhance your dance technique, or simply wanting to get in touch with your body and its natural movement. Wherever you are in your Gyrotonic journey, there's a studio in Singapore ready to welcome you with open arms.
And remember, Gyrotonic is not just a workout—it's a way of life. It's about connecting with your body, understanding its needs, and discovering its potential. It's about flowing, stretching, and strengthening, but most of all, it's about feeling good in your own skin.
So, are you ready to jumpstart your Gyrotonic journey? Who knows, your ideal studio might just be around the corner! It's time to take that leap and begin your adventure towards better health and well-being.
Good luck!
Friska 🐨
Read next: 4 benefits of Pilates that'll inspire you to strengthen your core
---
Do you want to see more content like this? Follow us on Instagram and Facebook for more wellness advice, fitness trends, workout inspiration, and even best health and fitness deals exclusive to our followers. Don't miss out!