Top 5 best personal trainer software
In our increasingly digital world, personal trainer management software is more than just a nice-to-have; it's a must-have tool that can help propel your business to new heights.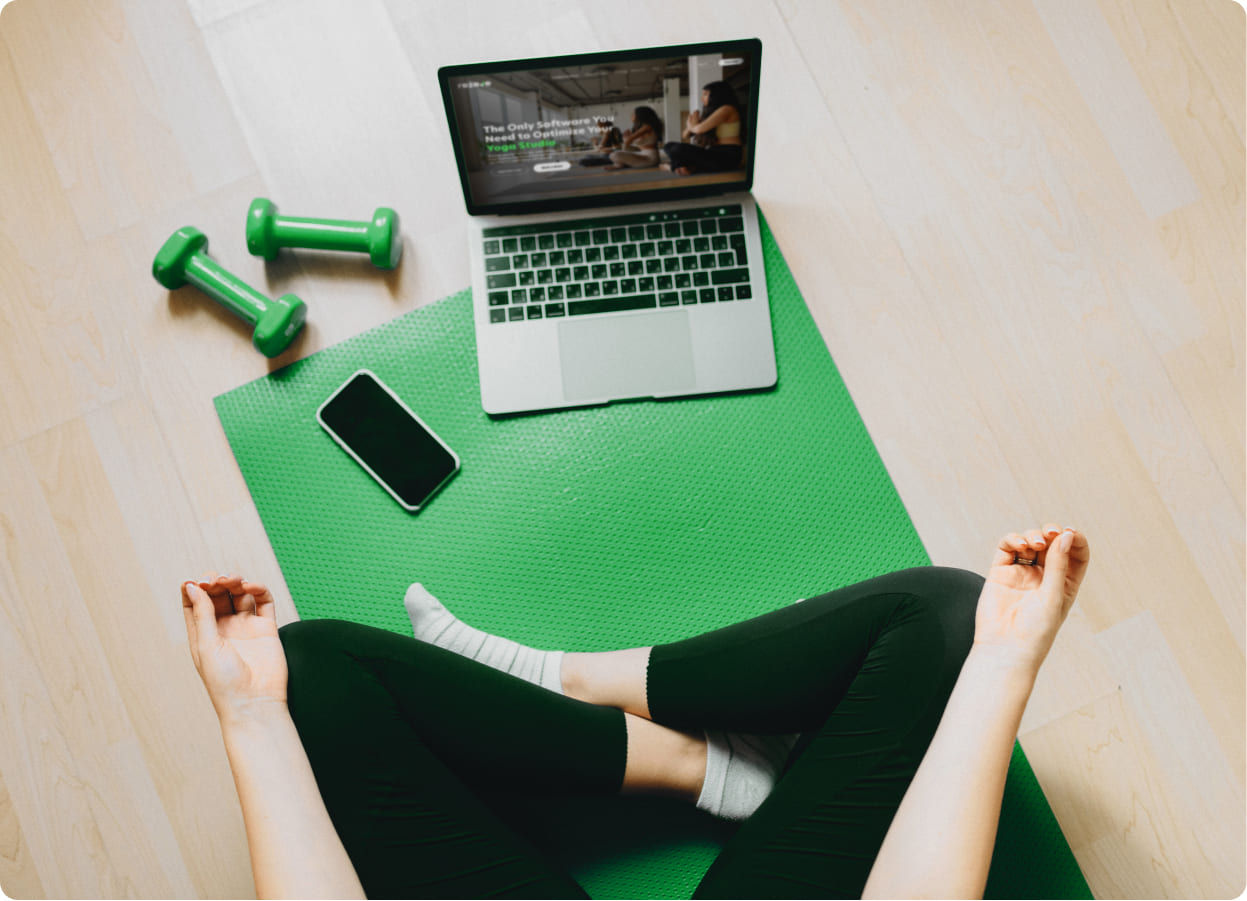 Source: Pexels
If you're a personal trainer, you know how important it is to stay organised and efficient, but let's be real, have you ever found yourself in a bit of a pickle trying to juggle appointments, keep track of your clients' progress, or maybe pulling your hair out over creating those perfect, tailored workout and nutrition plans? If you're nodding along, then you're in the right place.
In this article, we're about to dive headfirst into the world of personal trainer software. But hold on, we're not talking about just any old software. We're talking about the best of the best, the top 5 personal trainer software that are making waves in the industry.
These tools are designed with you in mind, aiming to streamline all these tasks and more. The goal? To free up your time so you can focus on what you truly love - helping your clients smash their goals and become their best selves. So, are you ready to take the plunge? Let's get started!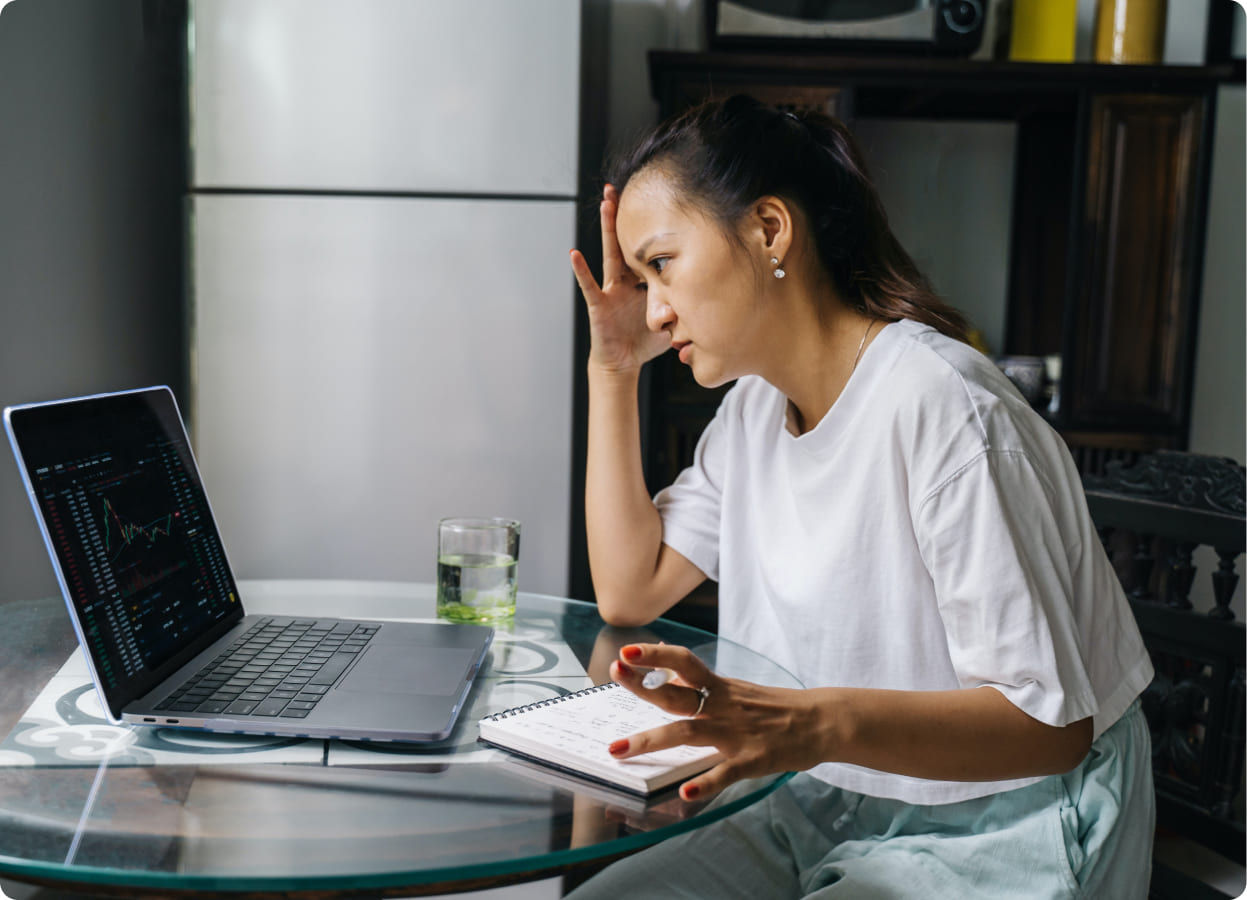 Source: Pexels
Why you need personal trainer management software?
Ever felt overwhelmed by the constant juggle of appointments, client progress tracking, session planning, and - let's not forget - your own workouts? It's like spinning plates, isn't it? It's no walk in the park, and it can sometimes feel like you need an extra pair of hands, or maybe even an extra brain!
This is where personal trainer management software struts into the room. Imagine having a personal assistant that's there 24/7, tirelessly working behind the scenes to streamline operations and enhance the experience for your clients. Sounds like a dream, right? Well, this dream can be your reality with the right management software.
You see, the best personal trainer management software acts as a control centre for your business. It keeps tabs on everything, making your life a lot easier. From scheduling to client management, progress tracking, and even automated reminders – it's all taken care of. This kind of organisation frees up time that you can then use to focus on what you do best: motivating, inspiring, and helping your clients achieve their fitness goals.
But the benefits don't stop there. This type of software can also make your clients' experience smoother and more enjoyable. They can easily book and reschedule appointments, track their progress, and communicate with you, all from a single platform.
Now, doesn't that sound like a weight off your shoulders? In our increasingly digital world, personal trainer management software is more than just a nice-to-have; it's a must-have tool that can help propel your business to new heights. So, ready to learn more about the tools that can help you level up? Let's get to it!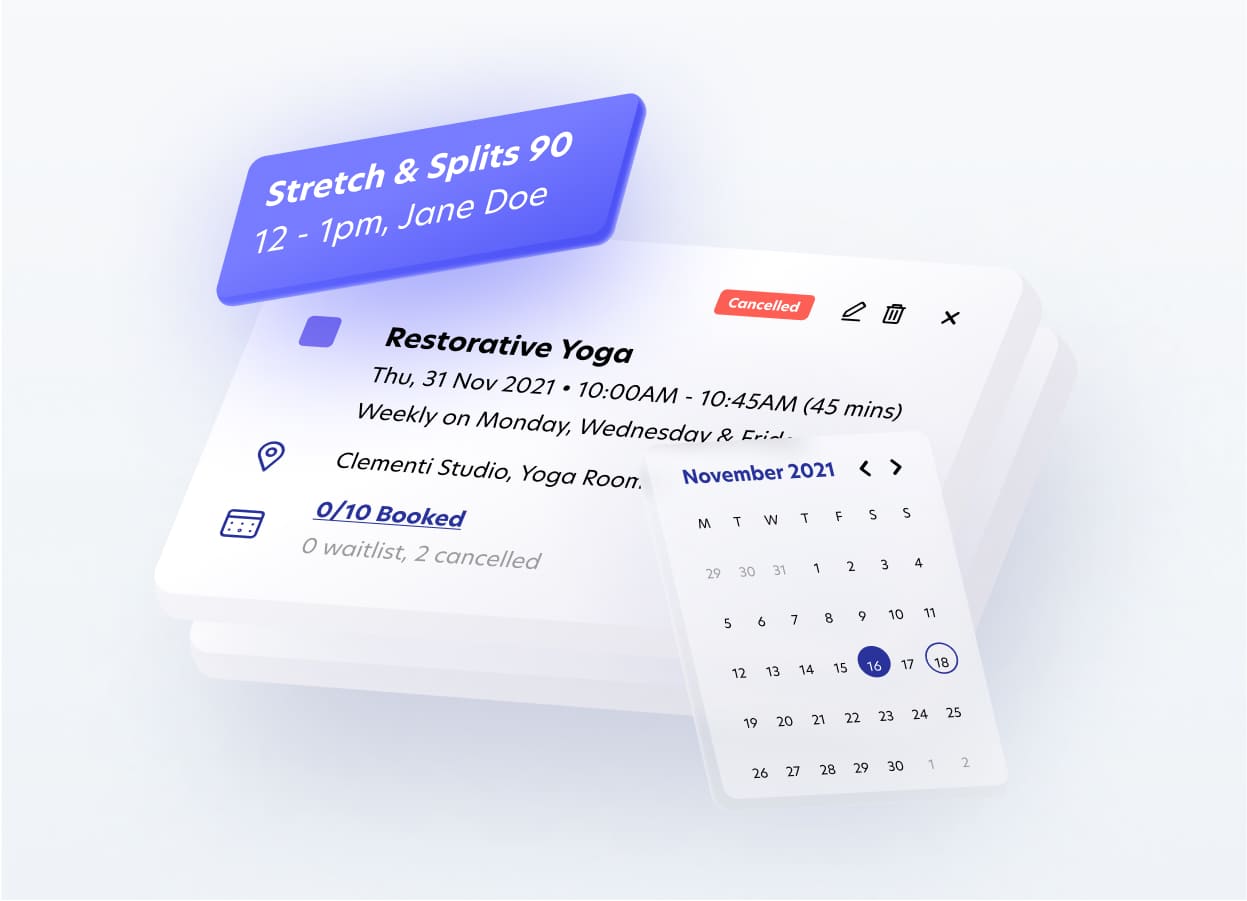 Features of a good personal trainer management software
Alright, now that we've chatted about why personal trainer management software can be such a game-changer, let's talk about what you should be looking for in a good one. After all, not all software is created equal, and the last thing you want is to adopt a system that ends up causing more hassle than it solves.
So, what are the key features that make up a top-notch personal trainer management software?
1. User-friendly experience
You're a personal trainer, not a software engineer. The software you choose should be easy to navigate with a clean, intuitive interface. It should feel more like a helpful tool than a confusing puzzle.
2. Flexible scheduling
Your clients have different routines, and you need a system that can easily adapt. Look for software that allows for easy scheduling, rescheduling, and cancellation of sessions. Bonus points if it sends automated reminders to keep you and your clients on track!
3. Secure payment processing
No one wants to chase after payments or handle physical checks these days. Your software should offer an integrated, secure system for processing payments, handling invoices, and managing subscriptions. It's all about making transactions smooth for both you and your clients.
Dealing with secure payments might feel a bit daunting, but don't worry, we've got you covered. For more insights on how to keep your fitness business bulletproof against payment fraud, why not check out our deep dive article? It's packed full of handy tips and advice. Trust us, it's better to be safe than sorry!
4. Client management
The software should be capable of tracking client progress, storing essential client information, and facilitating easy communication. It's all about providing a personalised and efficient experience for each client.
5. Insightful reporting and analytics
These are vital for tracking growth - both for your clients and your business. They enable you to make informed decisions and plans for the future.
6. Integrated marketing
A little extra help in expanding your client base is always welcome. Look for features like email marketing, social media integration, or even a referral program to help grow your business.
7. Branded website & app builder
If you want to elevate your business, some software options offer a branded website and app builder. This way, your clients can book through your site or app, tying the experience neatly to your unique brand.
Top 5 personal trainer management software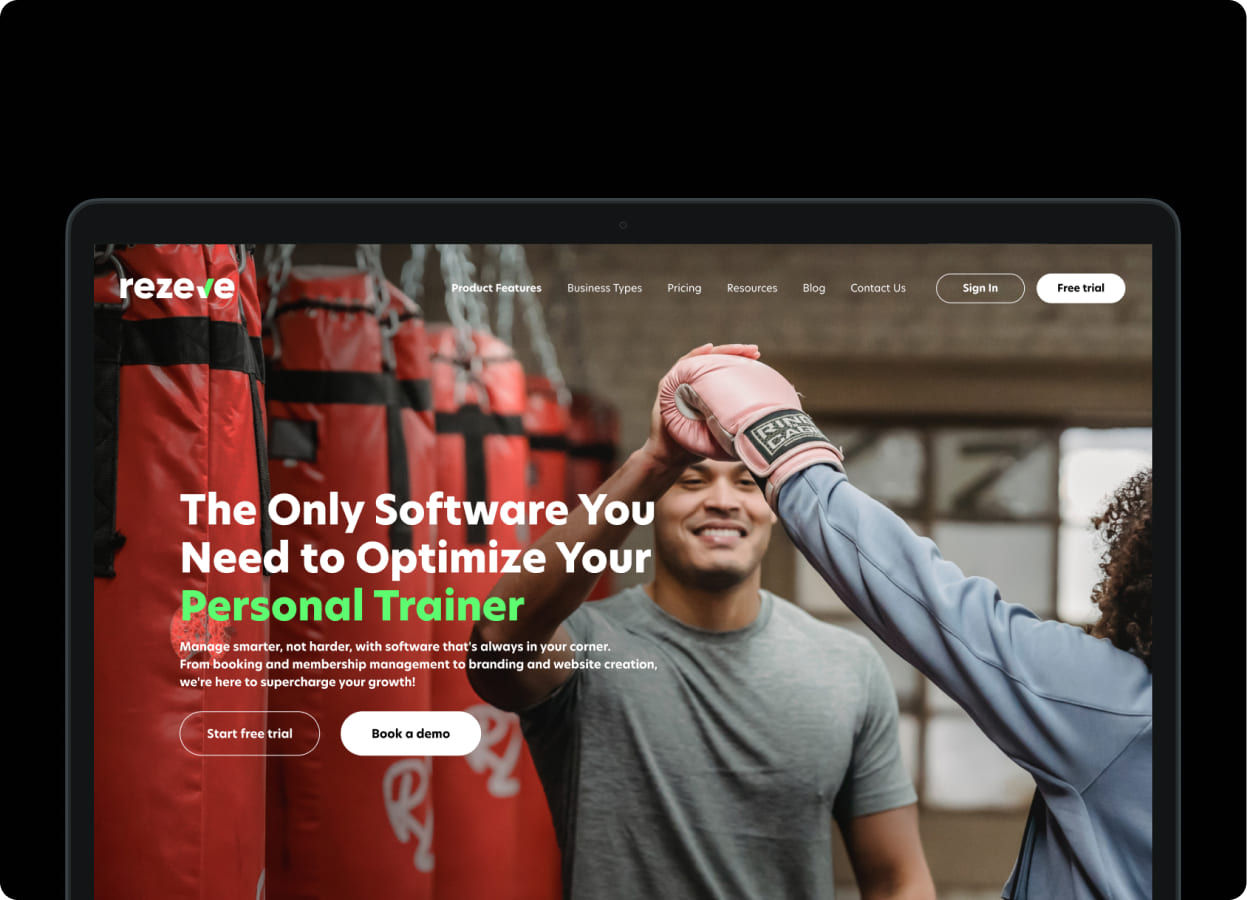 1. Rezeve
First up on our list, let's shine a spotlight on a versatile tool known as Rezeve. While some might initially think of it as just a fitness studio software, Rezeve doesn't limit itself to just that. It caters to the needs of service-based businesses of all types, making it a great fit for both independent personal trainers and larger fitness businesses.
Rezeve is a powerhouse packed with a wide array of features. Picture this: you get a custom-branded website builder, booking management, staff and membership management, and marketing assistance all in one neat package. It's like cloning yourself and having that clone handle all the admin work - pretty cool, right?
But here's the game changer - the Shareable Package. This innovative feature gives members the power to buy a package of credits and then share the joy of fitness with their loved ones. If you're all about building a community spirit in your studio, then this feature is a touchdown.
Rezeve also offers the Spot Booking and Family Account features. Spot Booking is a true game-changer, especially for personal trainers who might run special sessions that require specific equipment or spaces. It allows clients to reserve their preferred spot or equipment in advance, eliminating any pre-class scramble and making each session more enjoyable.
And for those catering to our young fitness enthusiasts, Rezeve introduces the Family Account feature. It lets parents set up child accounts and manage their bookings, even if the little ones don't have their own account or mobile number. It's truly a sigh of relief for every parent!
And here's the cherry on top: Rezeve is all about customer service. They offer unlimited support to their clients, ensuring you have all the help you need to set up, navigate, and fully utilise the platform.
Whether you're just dipping your toes into the world of booking management software or you're a seasoned pro looking for a new system, Rezeve provides constant support to make the process easier for you.
With its comprehensive feature set, customer-centric approach, and adaptability to different business needs, Rezeve certainly kicks off our top 5 personal trainer software list on a high note.
Pros:
Integrated custom-branded website builders that are user-friendly and require no coding skills to use. Plus, there are 50+ website templates to choose from.
Unique features for managing family subscriptions, group booking, spot booking, and shareable package.
Support online local payment methods such as virtual account, QRIS, bank transfer, e-wallet, and credit card.
Unlimited support policy for businesses.
Offers a budget-friendly price, making it especially suitable for small or boutique fitness studios.
Comes integrated with ClassPass, allowing fitness business owners to reach a broader customer base.
Cons:
Notable features:
Branded website builder: Enable business owners to build their own custom branded website in a snap. No coding required!
Spot Booking: Allow customers to reserve their desired spot or equipment before the class starts.
Group Booking: Allow customers to book classes and sessions together with their friends or family, rather than each person making separate bookings.
Shareable Package: Allows customers to purchase a package of credits and share them with their friends and family.
Family Account: Allow customers (parent) to book classes for their children.
Free Trial:
1 month free trial period
Pricing:
The standard plans are:
Starter at 29.90 USD/month
Team at 169.90 USD/location/month
Business at 299.90 USD/location/month
Enterprise: Contact for pricing
Pricing can vary depending on your location, so it's worth taking a quick peek at this page to see the rates for your specific country. But here's the upside! If you're ready to commit and sign up for an annual plan, Rezeve will treat you to a tidy 20% discount. It's like a little thank you for your loyalty. Not a bad way to start a partnership, wouldn't you say?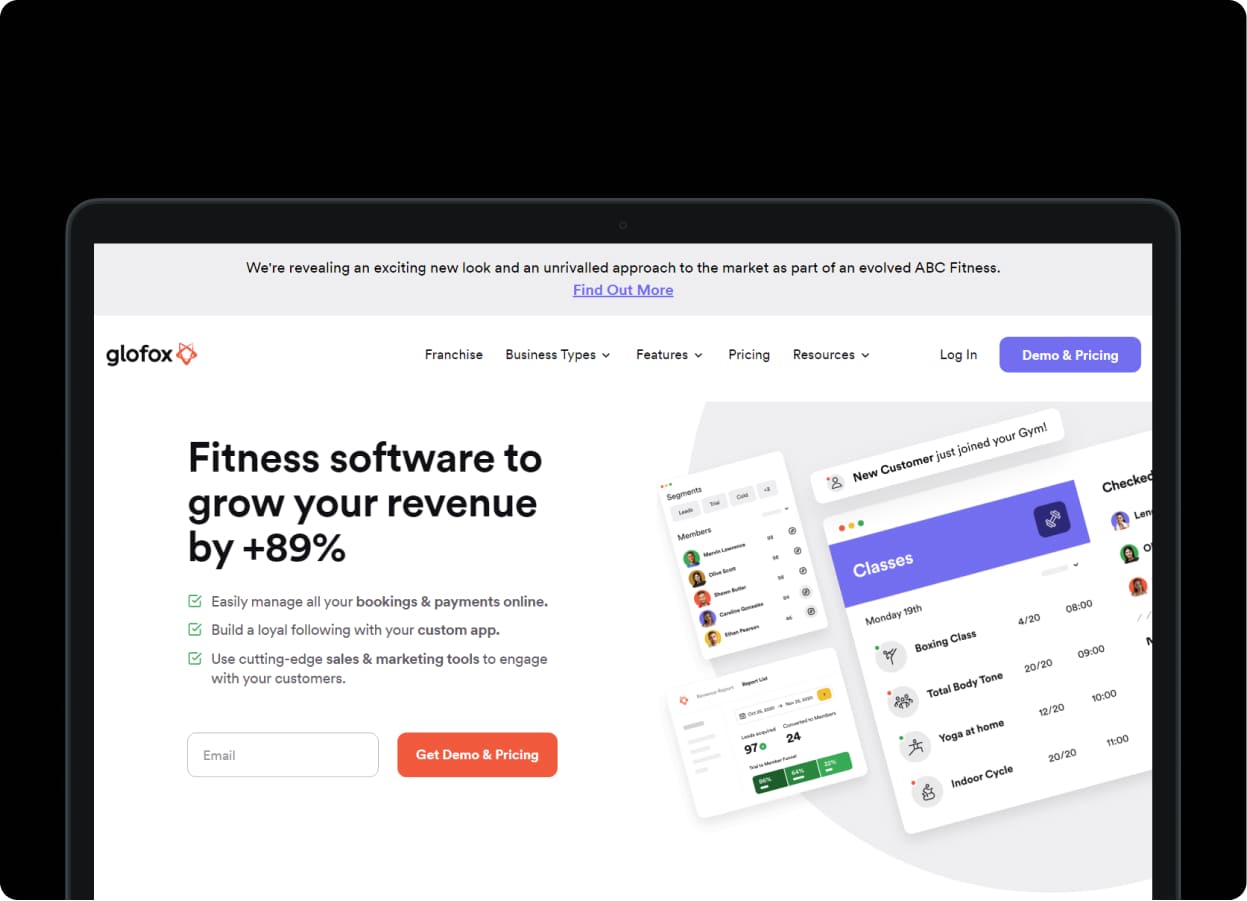 Source: Glofox
2. Glofox
Moving onto our second pick, we have Glofox. Don't be fooled into thinking it's merely an app for gyms and fitness studios; it's so much more. Whether your discipline is yoga, dance, Pilates, or even martial arts, Glofox has something to offer. It's like a one-stop shop for anyone in the fitness industry looking to streamline their operations.
Imagine having your own personal assistant, one who handles the nitty-gritty of administrative tasks. From scheduling classes and managing members, to handling billing and check-ins, Glofox has it all covered. It's like having a backstage crew handling the lights and sound while you take centre stage.
One standout feature is the accessibility for your clients. They can book and pay for sessions directly from their iOS or Android devices. The ease of booking combined with payment processing is a massive win for both you and your clients. And with the bonus of syncing with social media platforms, it just couldn't get any easier.
But where Glofox truly shines is in its attention to detail. It provides you with insightful reports on critical metrics such as membership sales, attendance rates, and even failed payments. This feature equips you with the data necessary to understand your business better and plan effectively for growth.
Keeping your members in the loop is a breeze with Glofox's notifications and messaging feature. It helps maintain a strong connection with your clients, fostering a sense of community and engagement.
Pros:
User-friendly interface.
Integrated custom-branded Android & iOS apps.
Integrated CRM system.
Cons:
Take a fee on top of the provider's fee.
The pricing information is not readily available.
Can be relatively expensive compared to others.
Notable features:
Automated emails and push notifications: Set up triggers that will automatically send emails or notifications.
Membership management: Create, customise and manage membership plans.
Free Trial:
No free trial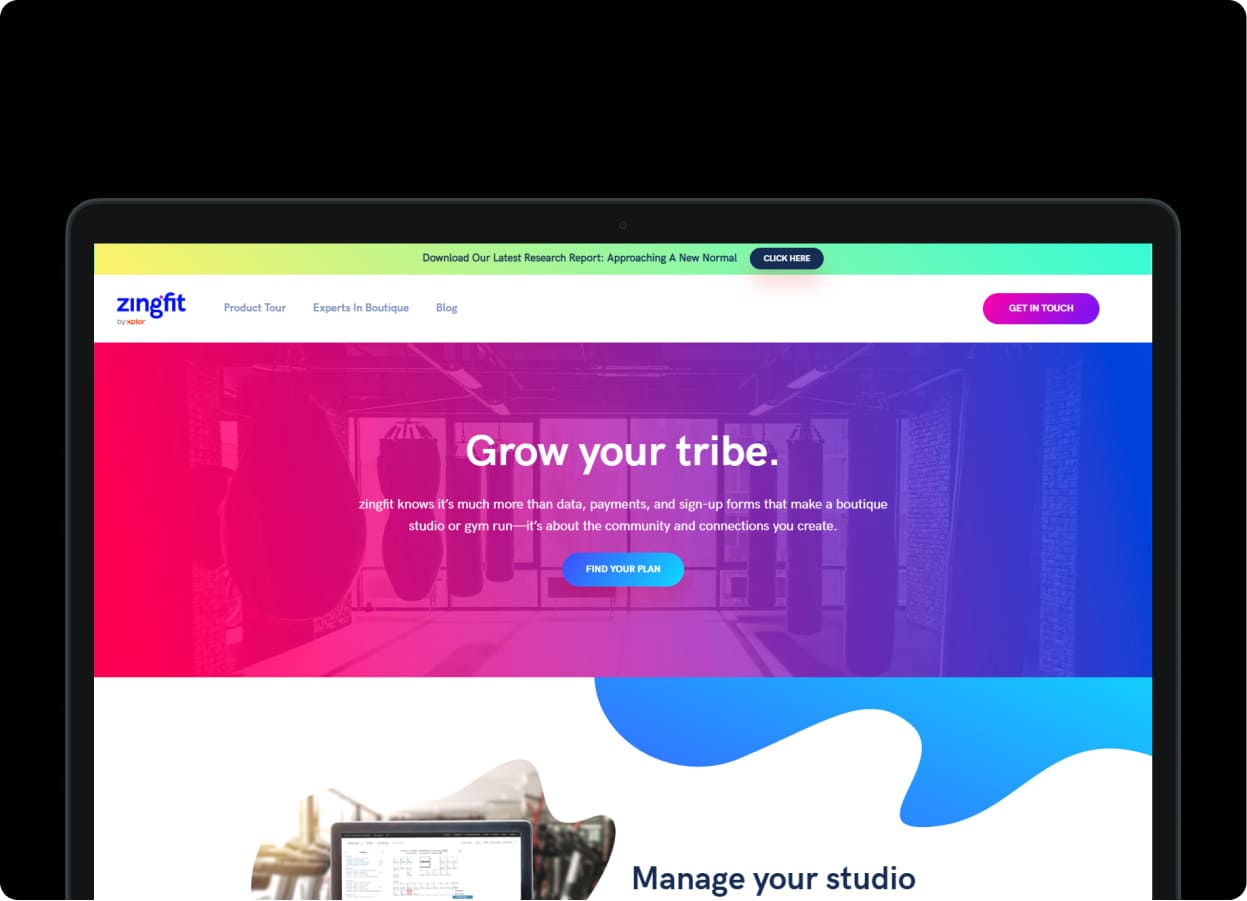 Source: ZingFit
3. ZingFit
Stepping into the third spot, we have ZingFit, a software solution that has carved out a niche for itself, catering specifically to the needs of group fitness businesses. With its precise blend of features, ZingFit aims to turn the management aspect of your work from a chore into a breeze.
What makes ZingFit a standout contender is its thoughtful collection of features. One of its highlights is an online scheduling system equipped with automatic waitlists. This is a game-changer when it comes to juggling fully booked class schedules, taking the stress out of managing popular sessions.
But ZingFit isn't just about schedule management; it excels in the sales department too. It provides a robust point of sale and e-commerce suite, packed with features such as barcode printing and scanning, inventory tracking, and real-time tax calculation. Plus, the software offers post-booking upsell suggestions, a clever tool for boosting your sales performance.
ZingFit also shines in the realm of client management, featuring an integrated Customer Relationship Management (CRM) system. This allows you to create and manage client profiles, offer discounts, and even run a loyalty program, all from a single dashboard. This CRM integration makes managing your clients' journey more efficient and personalised.
In essence, ZingFit is a tool that's specifically engineered to make the business of group fitness management as streamlined as possible.
It's particularly strong in scheduling and sales functionality, and its integrated CRM adds a touch of personalization to your service. So, if you're dealing with group fitness classes and looking for a software that understands your specific needs, ZingFit may just be your ideal companion.
Pros:
Seamless integration with third-party booking app, ClassPass.
Offers complete design control through CSS customization.
Cons:
Branding the app comes with an additional cost of $70/month.
Limited payment integration, supporting only Stripe and PayPal.
Access to pricing information isn't immediately available on their website.
Notable features:
Branded App: Offers dedicated branded mobile app
Free Trial:
No free trial
Pricing:
Contact ZingFit for more info about their prices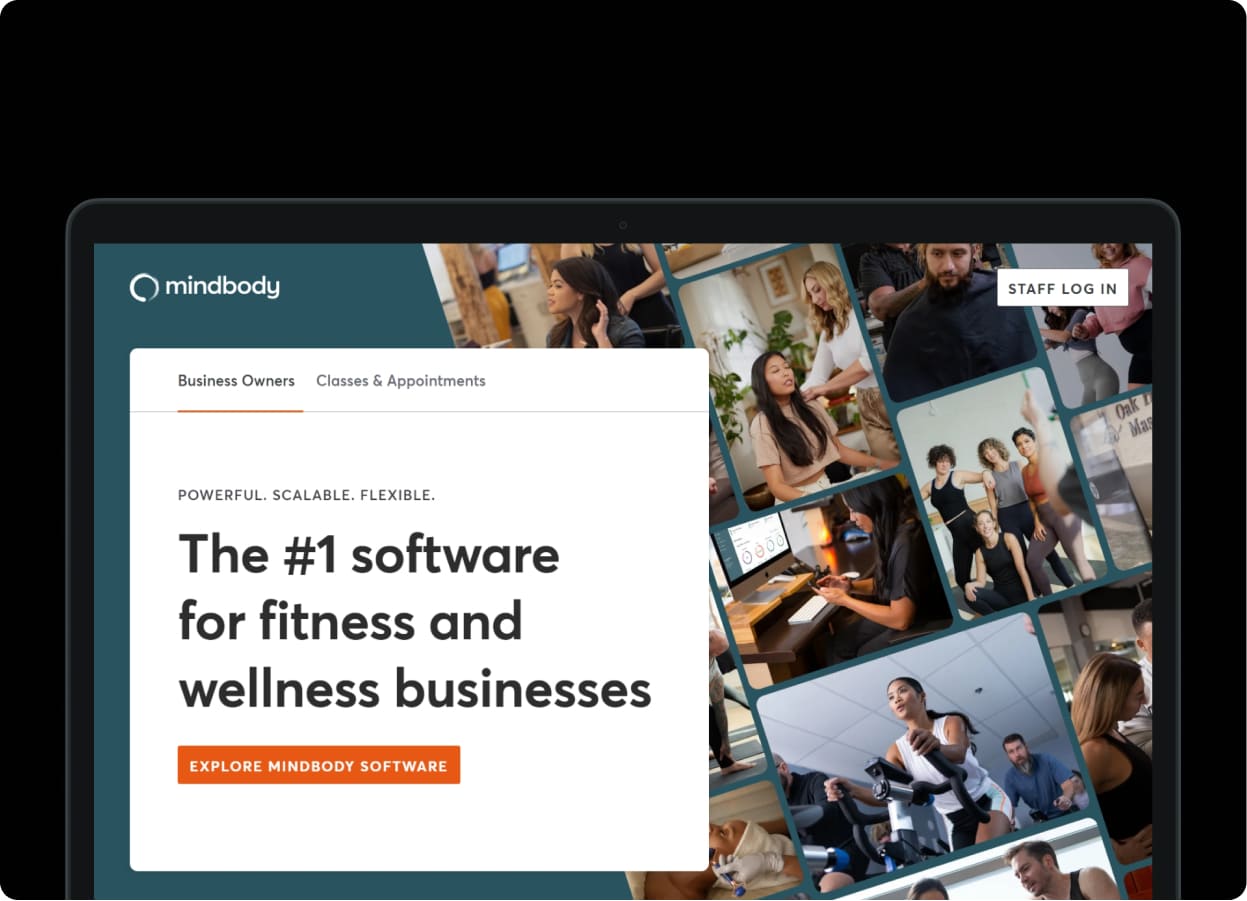 Source: Mindbody
4. Mindbody
For our fourth pick, let's dive into Mindbody, a comprehensive software solution tailored to revolutionise your fitness business management. Imagine having a platform that manages to streamline your operations, allowing you to focus on what you love most - guiding your clients through their fitness journey.
One of the features that sets Mindbody apart is its robust client scheduling and online booking system. With this in place, the days of manual bookings and jumbled schedules are over. You can enjoy more time interacting with your clients and less time grappling with booking logistics.
Mindbody also excels in team management. Keeping track of your team's schedule, performance, and availability becomes simpler than ever with its intuitive employee management features. This tool takes the hassle out of coordinating schedules and makes performance tracking a piece of cake.
Another area where Mindbody shines is in its marketing tools. Whether you're a seasoned marketing pro or just starting to explore this area, Mindbody's suite of marketing tools is designed to keep your current members engaged and attract new fitness enthusiasts to your services. It's like having your own in-house marketing team working to grow your client base.
When it comes to payment processing, Mindbody brings peace of mind. It provides a secure and efficient payment system that ensures smooth transactions. With this in place, you can direct your focus towards creating a vibrant, inviting fitness environment for your clients, knowing the financials are well taken care of.
Pros:
Robust open API.
Integrated employee management tools, including automated payroll processing.
Offers advanced customer support messaging features powered by artificial intelligence (AI).
Cons:
Several customers have reported having difficulty contacting customer service. One customer commented on softwareadvice.com, "When trying to get an answer to a question, I was sent to three different people, and even then, I wasn't guaranteed a solution. Our account representative was also unable to help us with our issue and directed us to the website or another department, stating that they lacked the authority to change an email address."
Some users have reported that certain bugs and glitches have taken longer than expected to fix.
Notable features:
Virtual class streaming: Allows gyms to live stream and provide on-demand videos to instruct members remotely.
Referral management: Track the clients who've sent new clients your way and automate the rewards process.
Free Trial:
No free trial
Pricing:
Mindbody has 4 different plans:
Starter at 129 USD per month.
Accelerate at 259 USD per month.
Ultimate at 399 USD per month.
Ultimate Plus at 599 USD per month.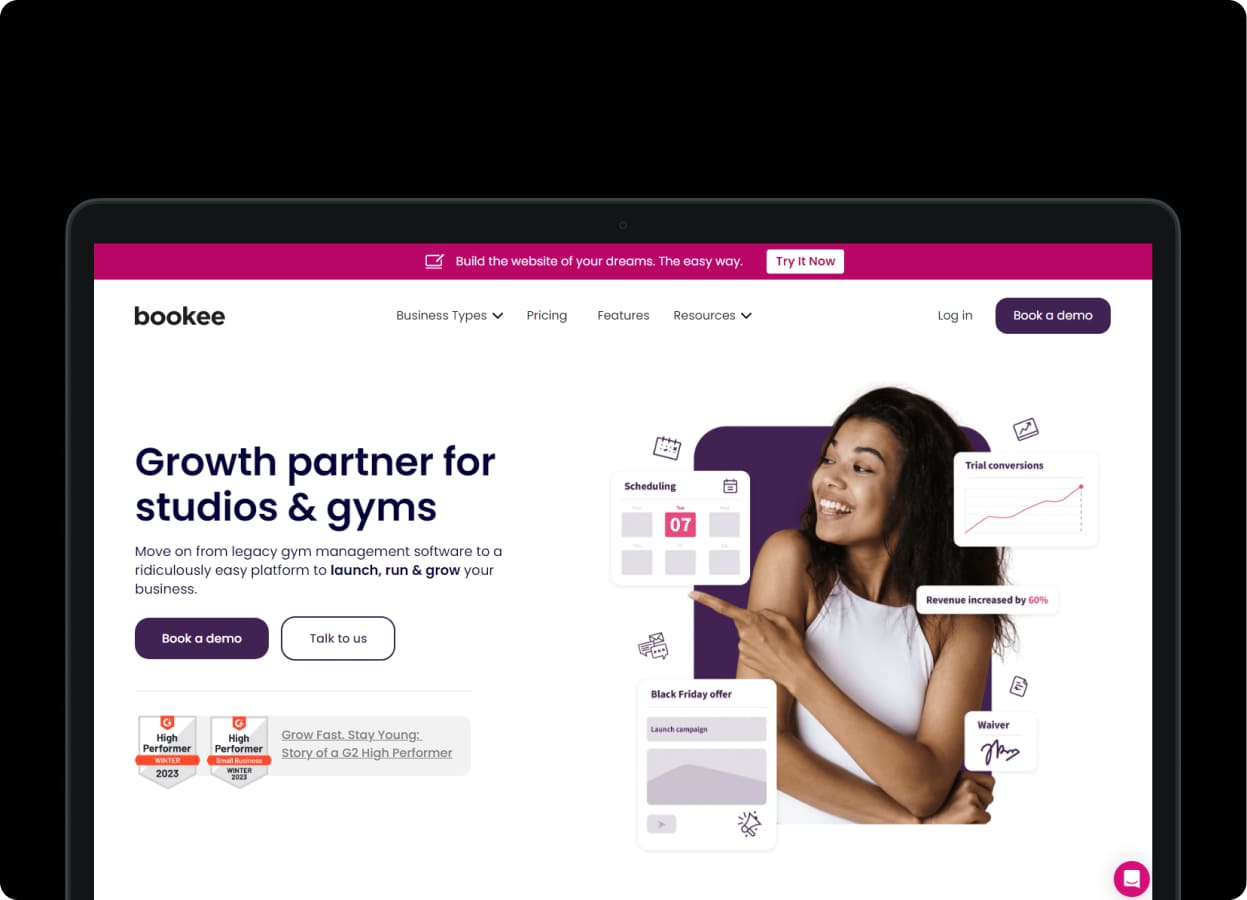 Source: Bookee
5. Bookee
Finally, to wrap up our top 5 list, we present Bookee, a truly multifaceted platform that masterfully merges customer acquisition tools, all-encompassing operational software, loyalty and retention programs, and a platform for live-streaming and on-demand services.
Designed with the growth-minded personal trainer in mind, Bookee aims to equip you with the tools to scale your operations and prepare for what the future of fitness holds.
Bookee demonstrated its true worth during the challenging times of the COVID-19 pandemic. With its seamless live-streaming and on-demand services, it provided a critical connection between fitness professionals and their clients, enabling virtual interaction when in-person meetings were limited or impossible. It became an indispensable tool for many fitness businesses, keeping them afloat in an uncertain time.
But Bookee's versatility extends beyond the digital realm. As fitness studios and gyms progressively reopen, Bookee continues to adapt to meet the evolving needs of your clientele. It seamlessly supports offline, live, and on-demand classes, responding to the shifting dynamics and expectations of the fitness industry in a post-pandemic world.
Pros:
Virtual streaming of classes
Integrated with signature app (Bookee Sign)
Monitor attendance, sales and related reports online
Cons:
Limited payment methods
Require additional fee (USD 89/month) for business owners to have branded client app
Require additional fee (USD 49/month) for business owners to have marketing campaign features
Notable features:
Branded website & app integration: Have your own custom branded website that integrates with mobile apps
Live streaming: Live stream your classes to reach your members in real time
Video-on-demand: Allows your members to access your classes virtually
Broadcast announcements in client mobile app: Broadcast important announcements directly to your clients' mobile apps.
Free Trial:
7 days free trial
Pricing:
Essential: USD 99/month
Pro: USD 199/month
Premium: USD 299/month
In summary, these top five personal trainer software offer comprehensive features, intuitive interfaces, and excellent functionality. Whether you prioritize booking & scheduling, client management, branding, or marketing, these platforms have proven to be reliable and user-friendly, making them ideal choices for personal trainers looking to elevate their training business.
Cheers,
Friska 🐨
---
Do you want to see more content like this? Follow us on Instagram and Facebook for more wellness advice, fitness trends, workout inspiration, and even best health and fitness deals exclusive to our followers. Don't miss out!