Top 5 boutique fitness studio software
In this article, we're going to share the importance of boutique fitness studio software, what to look for, and even suggest some of the best ones out there.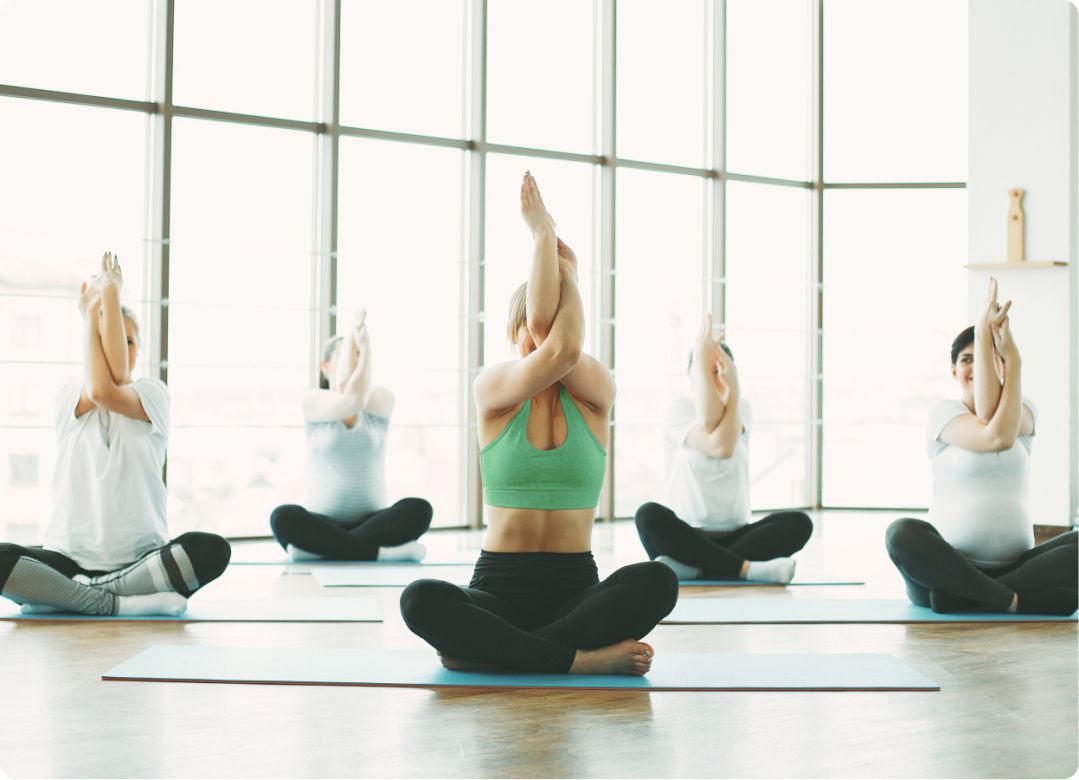 Source: Pexels
Have you noticed the wave of boutique fitness studios sweeping across our industry lately? Yes, you're not alone. From pole dancing to hot yoga, these specialised fitness studios are revolutionising the way we approach health and wellness.
Now, running your own boutique fitness studio isn't just about teaching killer classes and inspiring a community of fitness enthusiasts. There's a whole other side to it - the admin stuff. Managing memberships, scheduling classes, keeping track of payments, and let's not forget about marketing - it can feel like you're juggling a dozen balls at once!
Here's where technology steps in and throws us a lifeline. Have you considered implementing boutique fitness studio software? Think of it as your virtual business partner, ready to step in and help with the nitty-gritty details of running your studio. From administrative tasks to marketing management, the right software can truly streamline the way you operate.
In this article, we're going to share our insights on the importance of fitness studio software, what to look for, and even suggest some of the best ones out there.
Do you need boutique fitness studio software?
Alright, let's tackle the big question head-on: Do you actually need boutique fitness studio software? You might be thinking, "I've gotten along just fine without it so far, why change now?" We hear you, We've been there too. However, let us share with you why this software might just become your new best friend.
Firstly, let's talk about the fitness industry as a whole. It's evolving, it's growing, and most importantly, it's getting more competitive by the minute. Everyone is on the hunt for that special edge that sets them apart, right? Here's where technology, specifically fitness studio software, enters the scene. It can offer that competitive edge by enhancing your operational efficiency and elevating your client experience.
But the benefits go way beyond just staying ahead in the game. Think about those long hours you've spent scheduling classes, managing memberships, tracking payments, or even trying to decipher those Excel sheets for some sense of insight into your business. Pretty exhausting and time-consuming, isn't it?
Imagine if you could have a dedicated tool that simplifies these tasks, freeing you up to focus more on what you truly love – creating amazing fitness experiences for your clients. A good fitness studio software takes on the heavy lifting of your administrative tasks, making your life a whole lot easier.
Also, let's not forget the most crucial part - our clients. In this digital era, they're looking for seamless, intuitive experiences. They want to book classes easily, make payments without a hitch, and have their preferences remembered. A well-chosen software can help deliver this personalised client experience, strengthening their loyalty to your studio.
In a nutshell, while you might have managed without boutique fitness studio software so far, adopting one could streamline your operations, enhance client experiences, and ultimately contribute to your studio's success. So, are you ready to take your fitness studio to the next level with some tech power?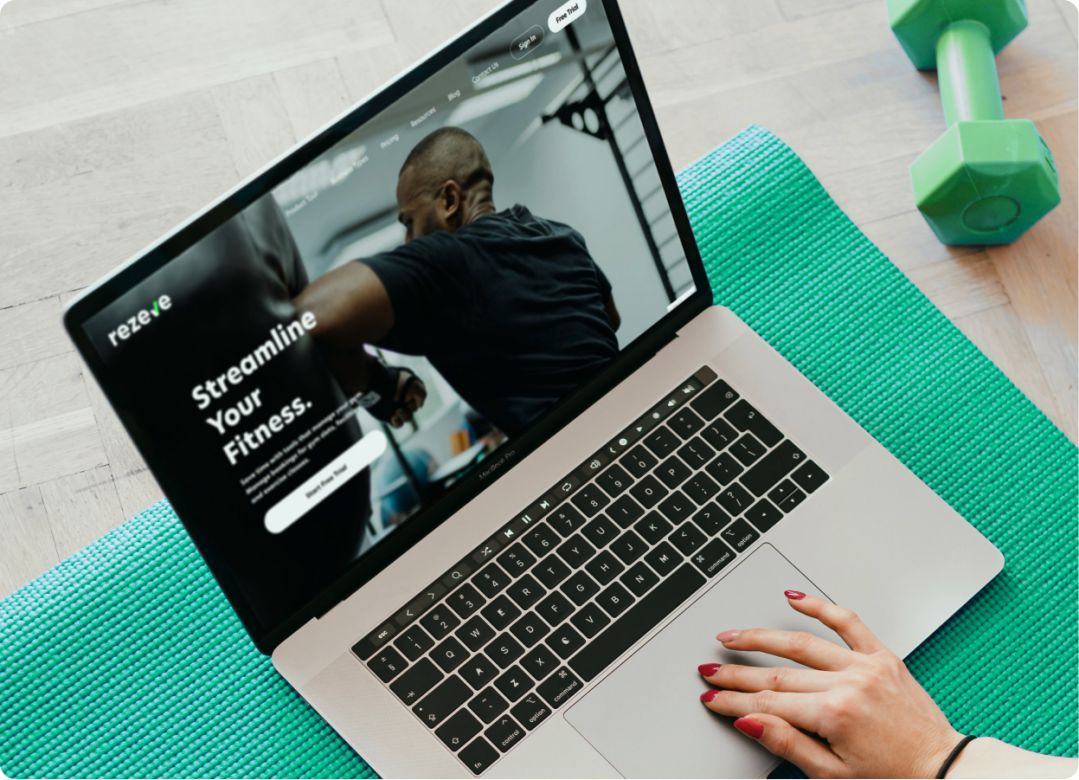 Source: Pexels
What makes good fitness studio software?
Alright, so now that we've covered why you might need fitness studio software, you're probably wondering, "But what makes one software better than another? What should I be looking out for?" Great questions!
1. User experience
Let's start with User Experience. You know that feeling when you use an app or a website and everything just... flows? You can find what you're looking for without searching through endless menus, and everything seems intuitive?
That's what we want in a good fitness studio software. It should be user-friendly for both your staff and your clients. Nobody wants to waste their time trying to figure out how to book a class or check their membership status, right?
2. Flexible scheduling
Next up, let's talk about scheduling. Now, we all know that schedules can change in a heartbeat in the fitness industry. So, your software needs to be as flexible as your most ardent yoga enthusiast! A solid software will let you make changes quickly and easily, without having to jump through a million hoops.
3. Secure payment processing
Now, onto one of the most critical aspects – secure payment processing. Let's face it, in our digital world, a secure payment system isn't just nice to have, it's a necessity. Your clients need to trust that their financial information is safe with you. Plus, you need a reliable system to ensure your revenue is coming in smoothly.
Dealing with secure payments might feel a bit daunting, but don't worry, we've got you covered. For more insights on how to keep your fitness business bulletproof against payment fraud, why not check out our deep dive article? It's packed full of handy tips and advice. Trust us, it's better to be safe than sorry!
4. Member management
Let's not forget about member management. You've got to keep track of your clients - who's coming and going, and who hasn't been seen in a while. Good fitness studio software should have tools to manage and track member data and attendance. It's not just about numbers, it's about relationships and making your members feel valued.
5. Insightful reporting and analytics
Onto reporting and analytics. You're running a business, so you need to know what's working and what's not. Top-notch fitness studio software should give you a comprehensive overview of your data, helping you make informed decisions.
6. Integrated marketing
Your software should be doing more than just managing the day-to-day. It should be helping you grow. So, look out for features that help engage your current clients and attract new ones, like email marketing, social media integration, and referral programs.
7. Branded website & app builder
And let's add another significant point to the list - a custom branded website and app builder. Owning a branded website and app not only looks professional but also increases customer loyalty and trust. It's about creating a total, seamless experience for your members. Your brand should shine through not just in your physical (offline) studio, but also in your online presence.
Now, here's a pro-tip: it's a huge plus if the software provides a builder interface that's user-friendly and doesn't require any technical or coding expertise. Imagine being able to customise your own site and app without needing a degree in computer science. How cool is that!
And that wraps up our rundown of what to look out for in a boutique fitness studio software. Keep in mind that every studio needs is unique, so the right software for you is the one that meets your specific needs and challenges!
Top 5 boutique fitness studio software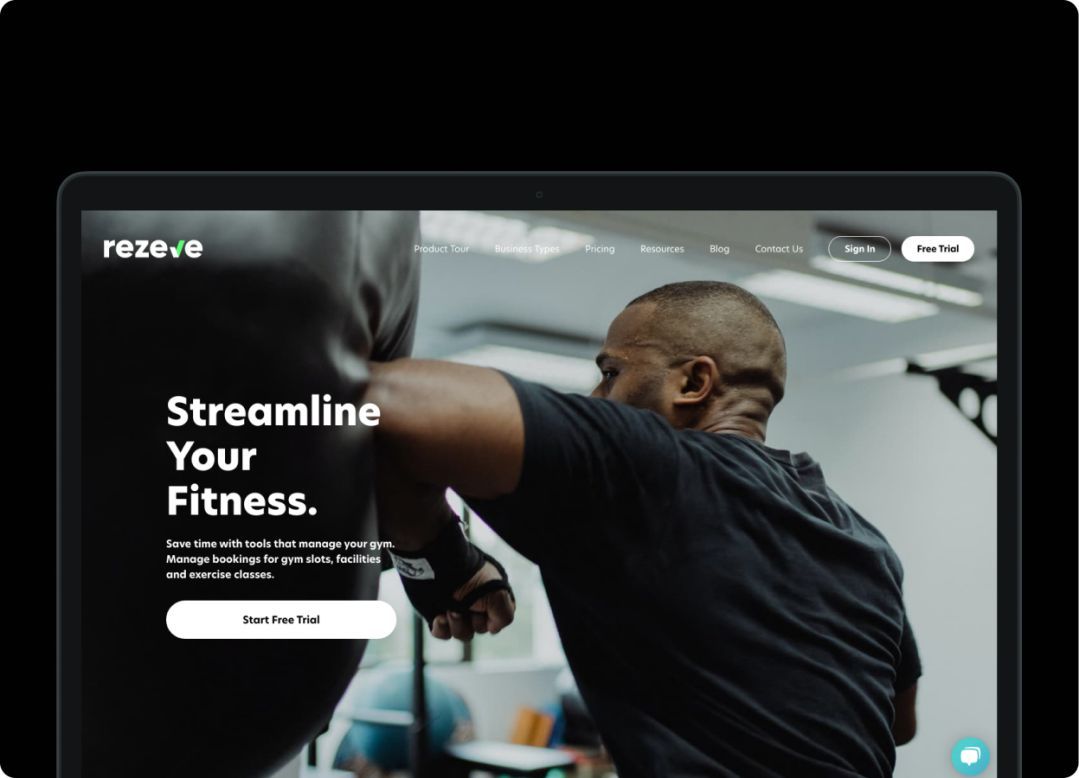 1. Rezeve
So, first on our list, we've got this all-rounder called Rezeve. Now, this isn't just for boutique fitness studios - no, it's designed to be a helping hand for all service-based businesses. This means that whether you're running a buzzing boutique fitness studio, or you're a freelancer or personal trainer, you'll find something in Rezeve that suits your needs.
Rezeve brings a whole lot to the table. We're talking about a custom-branded website builder, booking management, staff management, membership management, and even marketing. Honestly, it's like having an extra pair of hands for all your management needs!
One feature that really makes Rezeve stand out from the crowd is the Shareable Package. This neat feature lets members buy a bundle of sessions and then share them with their loved ones. If you're keen to get your members bringing in new clients, this feature is a winner.
"But wait, there's more. Rezeve also offers Spot Booking and Family Account features. Now, let's talk about Spot Booking. This is an absolute game-changer for businesses like spin studios, Pilates studios, and bounce studios. Why, you ask? Well, because it lets your clients reserve their favourite spot or equipment before a class starts.
Think about it. In a spin studio, everyone has their favourite bike, right? And in a Pilates studio, maybe there's a particular reformer that's just a bit more comfy than the others. As for bounce studios, who doesn't want to ensure they've got the bounciest spot on the trampoline? Spot Booking takes the scramble out of securing the perfect spot, making each class a more enjoyable experience for your clients.
Then, there's the Family Account feature, which is fantastic for businesses catering to kids. Parents can create child accounts and book classes and packages, even if their young ones don't have their own account or mobile number.
The icing on the cake? Rezeve is committed to providing unlimited support to their clients. So whether you're a newbie to booking management software or you just need some help getting set up, Rezeve is always there to lend a hand. They ensure you get the assistance you need to start strong and fully utilise all these amazing features
Pros:
Integrated custom-branded website builders that are user-friendly and require no coding skills to use. Plus, there are 50+ website templates to choose from.
Unique features for managing family subscriptions, group booking, spot booking, and shareable package.
Support online local payment methods such as virtual account, QRIS, bank transfer, e-wallet, and credit card.
Unlimited support policy for businesses.
Offers a budget-friendly price, making it especially suitable for small or boutique fitness studios.
Comes integrated with ClassPass, allowing fitness business owners to reach a broader customer base.
Cons:
Notable features:
Branded website builder: Enable business owners to build their own custom branded website in a snap. No coding required!
Spot Booking: Allow customers to reserve their desired spot or equipment before the class or services starts.
Group Booking: Allow customers to book classes and sessions together with their friends or family, rather than each person making separate bookings.
Shareable Package: Allows customers to purchase a package of sessions and share them with their friends and family.
Family Account: Allow customers (parent) to book classes for their children.
Free Trial:
1 month free trial period
Pricing:
Starter at 29.90 USD/month
Team at 169.90 USD/location/month
Business at 299.90 USD/location/month
Enterprise: Contact for pricing
Pricing can vary depending on your location, so it's worth taking a quick peek at this page to see the rates for your specific country.
But here's the upside! If you're ready to commit and sign up for an annual plan, Rezeve will treat you to a tidy 20% discount. It's like a little thank you for your loyalty. Not a bad way to start a partnership, wouldn't you say?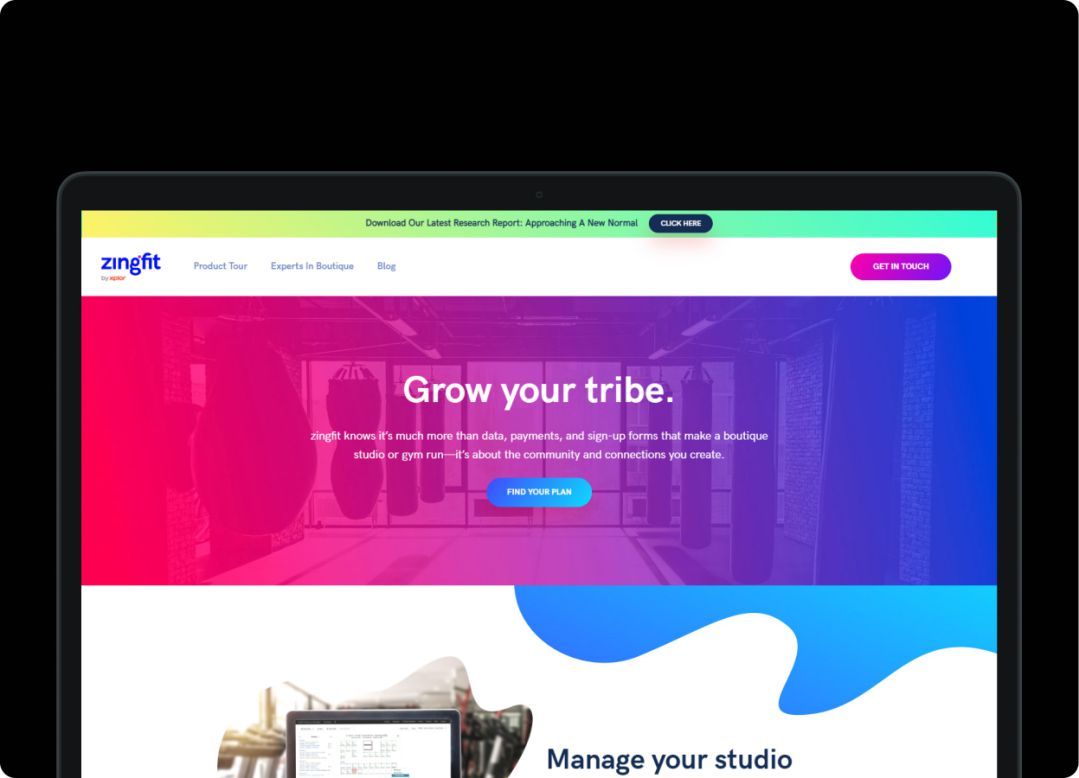 Source: ZingFit
2. ZingFit
Next up on our list is ZingFit. This is a software that's specifically designed for group fitness businesses like yoga and Pilates studios, bootcamp-style classes, and spinning. Yes, it does offer recurring billing for individual-style gyms, but its main attraction is for the group fitness community.
ZingFit comes with a full deck of features intended to simplify running a fitness business. It has online scheduling with auto enrolling waitlists, which is fantastic for managing busy class schedules.
On the sales side, ZingFit provides point of sale and ecommerce options. It supports barcode printing and scanning for retail items, tracks your inventory, and calculates tax at the time of sale. Plus, it even suggests upsells post-booking to help you increase sales.
For client management, ZingFit comes packed with integrated CRM options. You can create and view client profiles, offer discounts, integrate a loyalty program, and more.
In a nutshell, ZingFit is a tailored solution for group fitness studios, making it one of the unique software in our list. Check out their packages and find out if it's the perfect fit for your business.
Pros:
Seamless integration with third-party booking app, ClassPass.
Offers complete design control through CSS customization.
Cons:
Branding the app comes with an additional cost of $70/month.
Limited payment integration, supporting only Stripe and PayPal.
Access to pricing information isn't immediately available on their website.
Notable features:
Branded app: Offers dedicated branded mobile apps
Product management: Keep track of sales and track inventory levels
Free Trial:
No free trial
Pricing:
Studio Plan at 149 USD/month
Boutique Plan at 299 USD/month
Enterprise Plan at 459 USD/month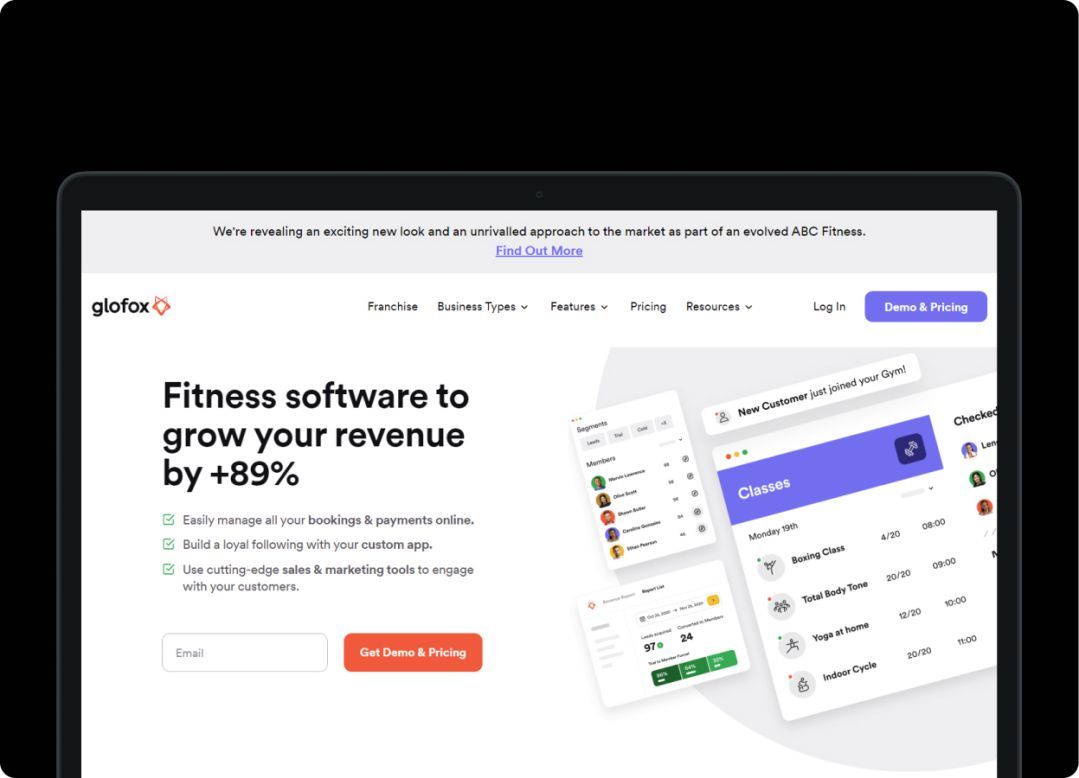 Source: Glofox
3. Glofox
Next up, we've got Glofox. Now, this isn't just an app for gyms and fitness studios. Nope, it's built for a whole range of disciplines from yoga to dance, Pilates, even martial arts! Essentially, if you're in the business of getting people moving, Glofox is here to help.
Think of Glofox as your own personal assistant. It takes care of all those time-consuming admin tasks, like scheduling classes, managing members, handling billing, compiling reports, and sorting out check-ins.
Members can book and pay for everything right from their iOS or Android devices. And yes, it syncs up with social media for even easier booking and payments.
Glofox doesn't stop there; it's all about the details. It gives you insightful reports on membership sales, attendance rates, and even failed payments. Plus, it helps you keep your members updated with notifications and messages.
In short, Glofox is a power-packed tool, designed to help you focus on what you love: guiding people towards their fitness goals.
Pros:
User-friendly interface.
Integrated custom-branded Android & iOS apps.
Integrated CRM system.
Cons:
Take a fee on top of the provider's fee.
The pricing information is not readily available.
Can be relatively expensive compared to others.
Notable features:
Automated emails and push notifications: Set up triggers that will automatically send emails or notifications.
Membership management: Create, customise and manage membership plans.
Free Trial:
No free trial
Pricing:
Customised pricing, start from USD 100/month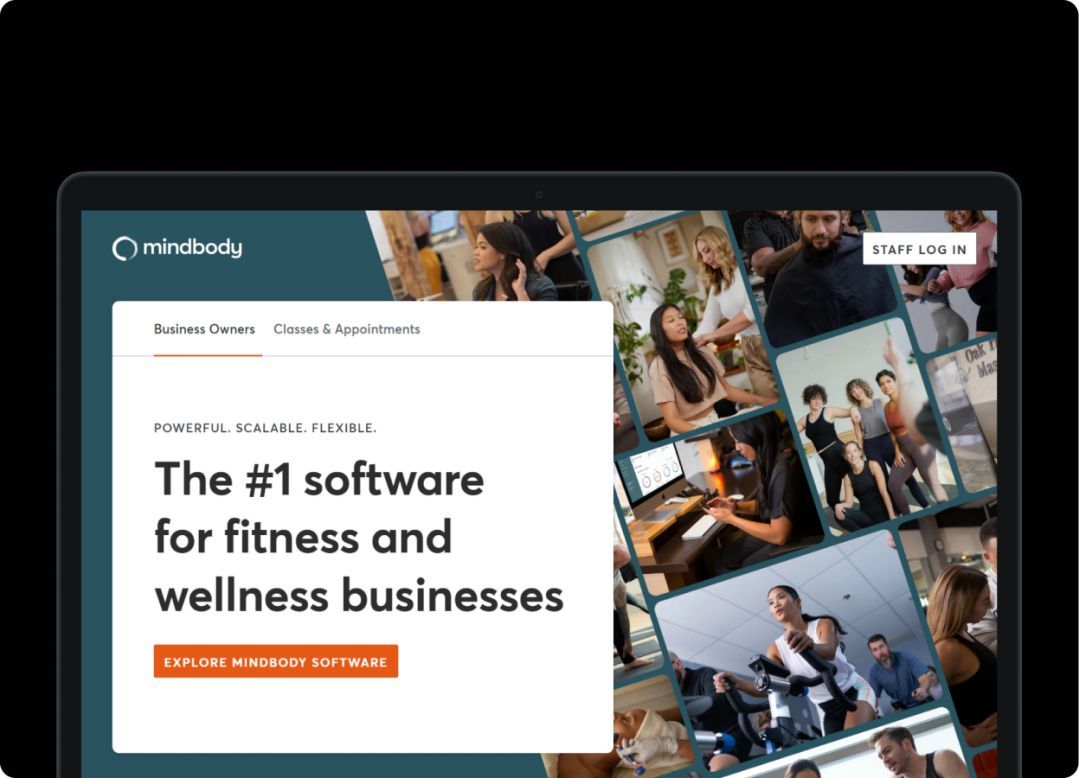 Source: Mindbody
4. Mindbody
Coming up next on our list is Mindbody, your one-stop-shop for fitness business management. Mindbody is a comprehensive platform packed with features to simplify your day-to-day operations.
With Mindbody, you've got client scheduling and online booking right at your fingertips, meaning less time managing and more time moving. It also shines in employee management, so keeping track of your team is a breeze.
Let's not forget about the marketing tools. Whether you're a marketing maven or a complete newbie, these tools can help you keep your current members engaged and attract new fitness enthusiasts to your studio.
As for payment processing, Mindbody has got you covered. It handles payments securely and efficiently, so you can keep your focus on keeping your clients happy and healthy.
Pros:
Robust open API.
Integrated employee management tools, including automated payroll processing.
Offers advanced customer support messaging features powered by artificial intelligence (AI).
Cons:
Several customers have reported having difficulty contacting customer service. One customer commented on softwareadvice.com, "When trying to get an answer to a question, I was sent to three different people, and even then, I wasn't guaranteed a solution. Our account representative was also unable to help us with our issue and directed us to the website or another department, stating that they lacked the authority to change an email address."
Some users have reported that certain bugs and glitches have taken longer than expected to fix.
Notable features:
Virtual class streaming: Allows gyms to live stream and provide on-demand videos to instruct members remotely.
Referral management: Track the clients who've sent new clients your way and automate the rewards process.
Free Trial:
No free trial
Pricing:
Mindbody has 4 different plans:
Starter at 129 USD per month.
Accelerate at 259 USD per month.
Ultimate at 399 USD per month.
Ultimate Plus at 599 USD per month.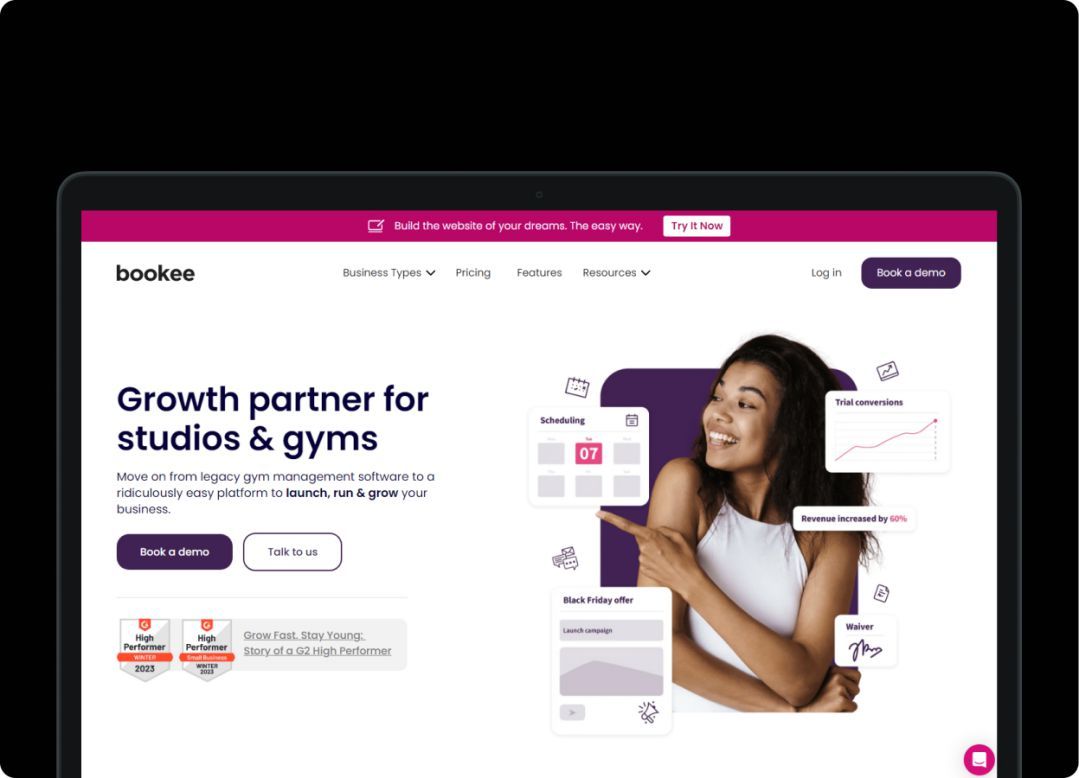 Source: Bookee
5. Bookee
Next in line, we've got Bookee, a savvy SaaS startup that's carving out a space in the fitness industry. You might think of Bookee as a multi-faceted gem, as it combines a customer acquisition engine, full-suite operational software, loyalty and retention products, and live-streaming plus on-demand capabilities. And the best part? It's all tailored to help fitness business owners scale massively and future-proof their operations.
Bookee really showed its worth during COVID-19, making it easy for fitness businesses to hop on the live-streaming and on-demand bandwagon. But hey, it's not just about the online scene. With gyms and studios now opening back up, Bookee is helping them meet their customers' new expectations by offering offline, live, and on-demand classes.
Pros:
Virtual streaming of classes
Integrated with signature app (Bookee Sign)
Monitor attendance, sales and related reports online
Cons:
Limited payment methods
Require additional fee (USD 89/month) for business owners to have branded client app
Require additional fee (USD 49/month) for business owners to have marketing campaign features
Notable features:
Branded website & app integration: Have your own custom branded website that integrates with mobile apps.
Live streaming: Live stream your classes to reach your members in real time.
Video-on-demand: Allows your members to access your classes virtually.
Broadcast announcements in client mobile app: Broadcast important announcements directly to your clients' mobile apps.
Free Trial:
7 days free trial
Pricing:
Essential: USD 99/month
Pro: USD 199/month
Premium: USD 299/month
That's all for the top 5 boutique fitness studio software that you can choose! With these software, you can streamline your studio operation as well as reduce administrative tasks.
Cheers,
Friska 🐨
---
Do you want to see more content like this? Follow us on Instagram and Facebook for more wellness advice, fitness trends, workout inspiration, and even best health and fitness deals exclusive to our followers. Don't miss out!