What is Barre and 10 studios in Singapore that you can try it
Although it originates in ballet, barre is now a widely practiced exercise routine that is not limited to ballerinas only.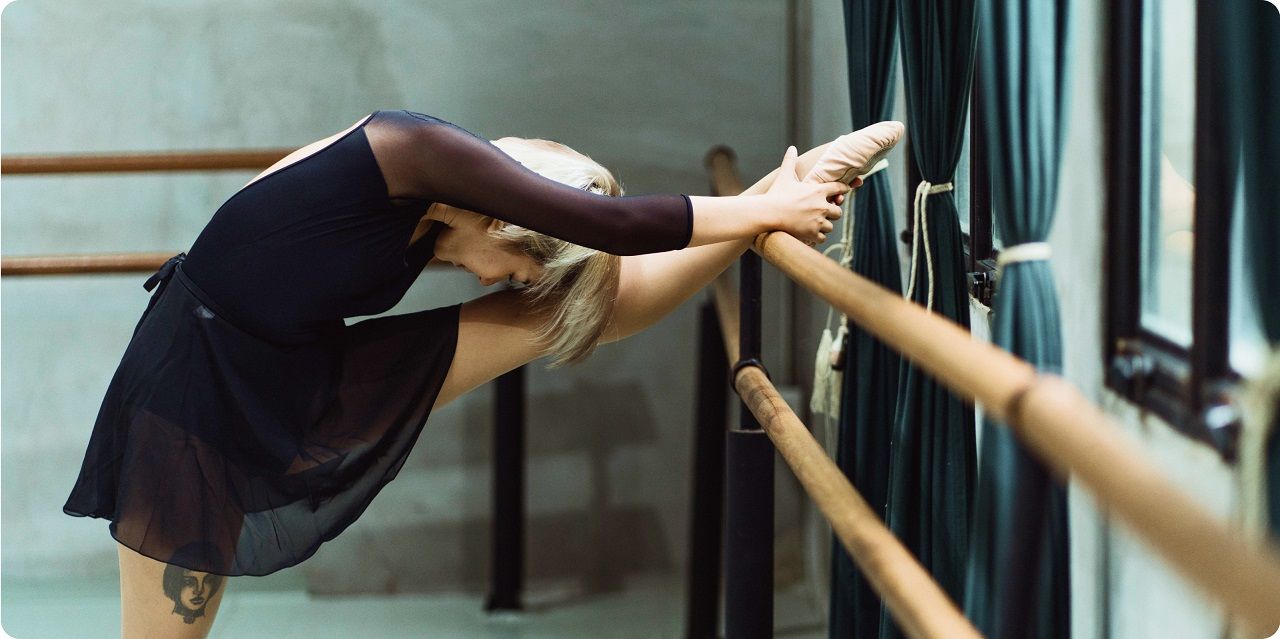 Source: Pexels
Although it originates in ballet, barre is now a widely practiced exercise routine that is not limited to ballerinas only. Don't be deceived by barre's relatively easy, small-range movements; it's an effective workout that may improve your whole body by focusing on certain muscles.
If you are interested in learning more about barre workouts and the benefits they offer, as well as finding the top barre classes in Singapore, you've come to the right blog!
What is a Barre Workout?
The barre workout is a cross-training combination that combines ballet-inspired moves with pilates, dancing, yoga, and strength training. The primary goals of barre workout are to strengthen and tighten the hips, glutes, thighs, and core, as well as to improve posture.
But what sets barre apart from other workouts is the isometric motions you often undertake, when you hold your body stationary while contracting specific muscles.
For example, think of squats or lunges. However, instead of going gradually over the entire range of motion, as you would while performing a typical squat or lunge, you may squat down to a certain level, maintain the position, and then start moving just one inch up and down to further stress the muscles at that particular joint angle. Then, you might change your position very slightly and do it again.
If you're not used to it, you might feel your legs shaking and find it difficult to keep your breath steady. However, you will most likely feel fantastic when class is through. A barre workout series is a challenge, and finishing one will definitely feel like a deserved victory!
10 Best Barre Studios You Should Check Out in Singapore
Now that you know the fundamentals of a barre workout, are you ready to give it a try in the real world to achieve your ideal ballerina body? We've compiled a list of 10 of the best barre studios in Singapore so you can save your energy for the workout instead of looking for one!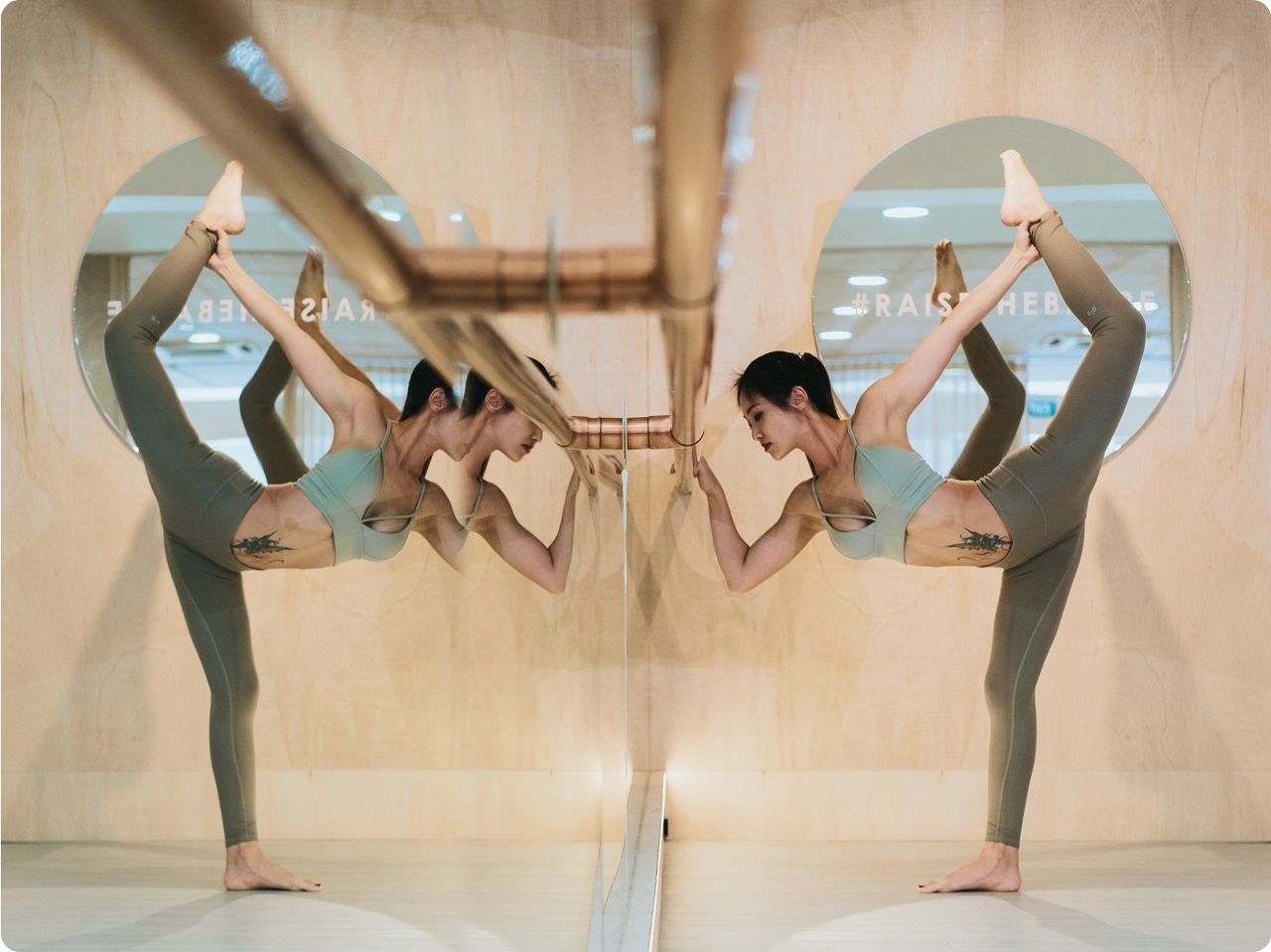 Source: Lab Studios
1. Lab Studios
Lab Studios was established on the principle that barre training should be available to anyone interested in it, and it is their mission to encourage their students to push themselves to their limits and beyond.
Their classes are unlike any others because of their innovative blend of yoga and barre. The studio is intended for people of all genders who want to strengthen their muscles and lengthen their bodies from head to toe.
The experienced instructors at Lab Studios will not only guide you through your workouts, but will also fill you with an invigorating and infectious sense of optimism. This studio has a cozy atmosphere and a unique design, making it comfortable for your exercises.
The virtual subscription offered by this fitness boutique is what sets it different from the competition. You can gain access and book to the studio's classes using an easy-to-use online fitness software powered by Rezeve. Even better, it comes with a mobile app that can be downloaded to your device.
Highlights:
Supportive instructor
Offers a unique approach of combining yoga and barre
Comes with a virtual subscription and downloadable mobile app to book the class
📍 Address:
Lab Studios in East Coast - 135, East Coast Road, Singapore 428820
Lab Studios in Duxton - 60b Duxton Road, Singapore 089524
Lab Studios in Joo Chiat - 437 Joo Chiat Road , Singapore 427650
Lab Studios in Holland Village - Holland Road Shopping Centre (Above Cold Storage) 211 Holland Avenue, Singapore, 278967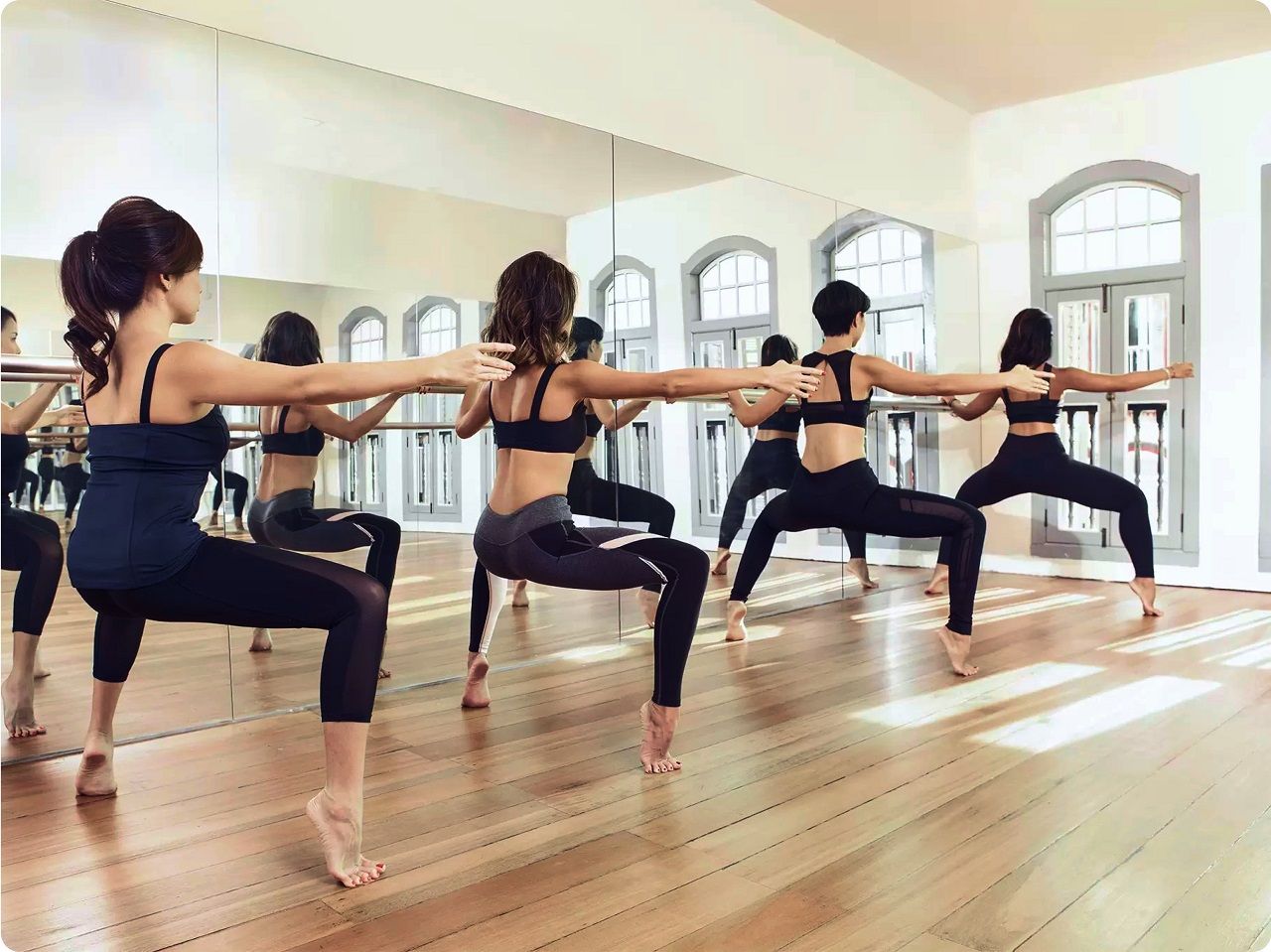 Source: WeBarre
2. WeBarre
WeBarre is a premier barre boutique in Singapore. For a well-rounded workout, you can choose from classes that focus on strength training, ballet techniques, pilates, and yoga.
Rachel Fraser, a professional dancer, is the one who developed the routines. In total, the boutique provides six different types of classes: HIT, prenatal, Fundamentals, Bubs and Mums, private courses, and signature.
WeBarre offers two distinct classes: the slower-paced Fundamentals for newcomers, and the faster-paced, more intense HIIT for experienced customers who want to burn more calories. Classes at WeBarre also provide a wide variety of levels, including Mums and Bubs, prenatal, HIIT, the Fundamentals, the Signature, and private sessions.
The Fundamentals course may be just what you need if you're just starting out, this place moves at a more leisurely pace and has a more intimate feel. HIIT classes are a good choice if you want to lose weight. Those who would rather have fun while working out can sign up for the signature Multi-Level class, which will guarantee that they meet their weekly exercise level.
In addition, the WeBarre studio is located in the heart of Tanjong Pagar, making it easily accessible. The facility has everything you need for a productive workout: mats, lockers, bath towels, and workout towels.
Highlights:
It has a wide variety of workout classes
The studio is conveniently located
The staff is friendly and well-trained.
📍 Address:
WeBarre Telok Ayer - Level 2, 5A Stanley Street, Singapore 068724 (on top of Carrotsticks & Cravings)
WeBarre Clarke Quay - Level 4, 39C North Canal Road, Singapore 059295
WeBarre Dhoby Ghaut - 1 Zubir Said Drive, #02-01, SOTA, Singapore 227968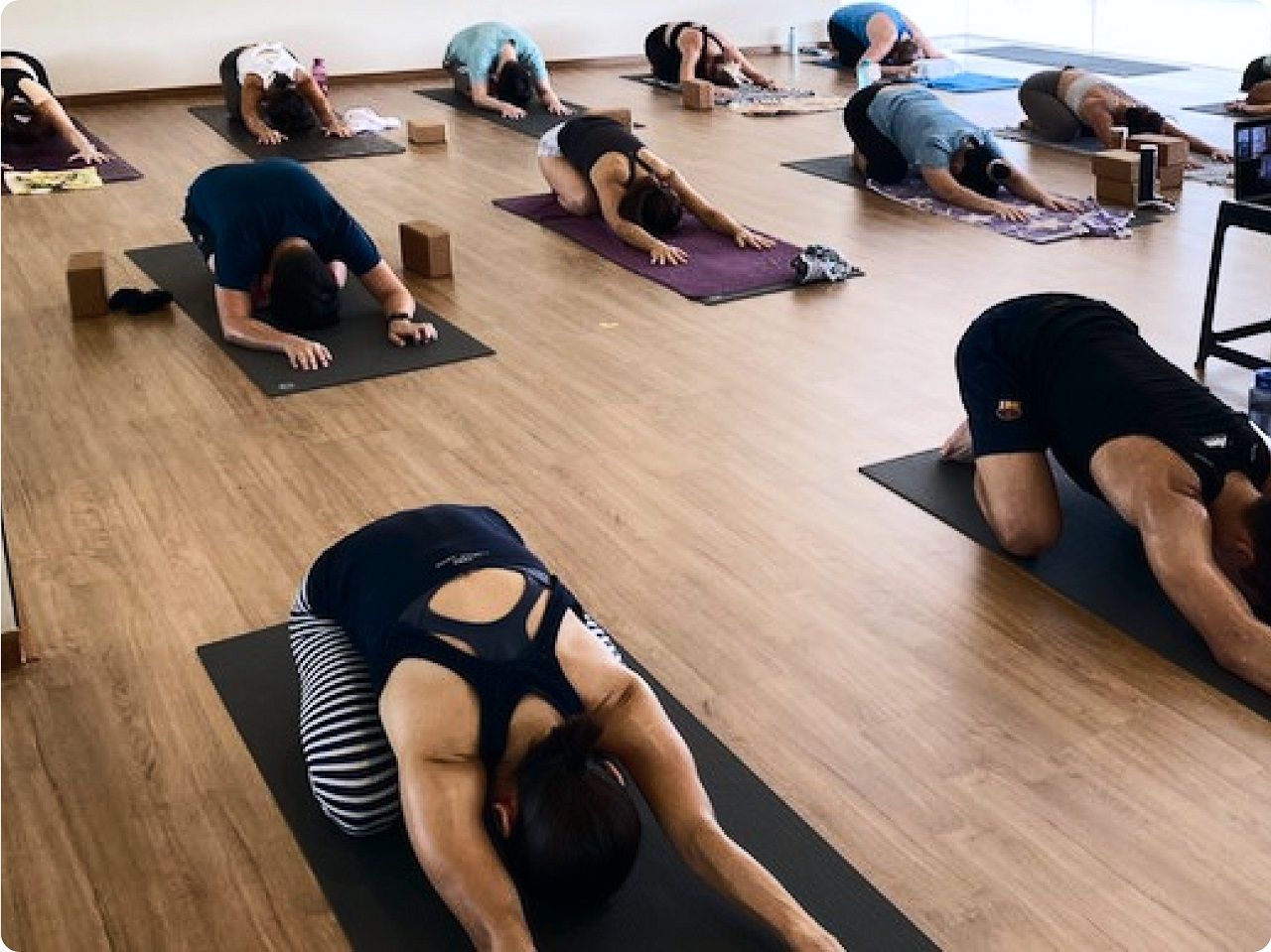 Source: SweatBox Yoga
3. SweatBox Yoga
Have fun while working out your muscles. That sentence perfectly describes your experience attending the SweatBox Yoga's Barre Intensity class.
Although the studio's name is SweatBox Yoga, their Barre Intensity class is anything but zen and calming. You'll enjoy a fun and energetic barre class accompanied by a mixtape of fun and exciting music.
This studio is a must-visit if you want to have a longer, leaner, and more toned body from your toes to your head. Since their barre workout also incorporates props resistance bands training that can help you align your body from the top of your head towards the ends of the toes.
Highlights:
Beginner friendly class
The instructor is a certified barre specialist.
📍 Address:
The Barre Intensity class is only available at their Toa Payoh Outlet 293 Lor 6 Toa Payoh, Singapore 319387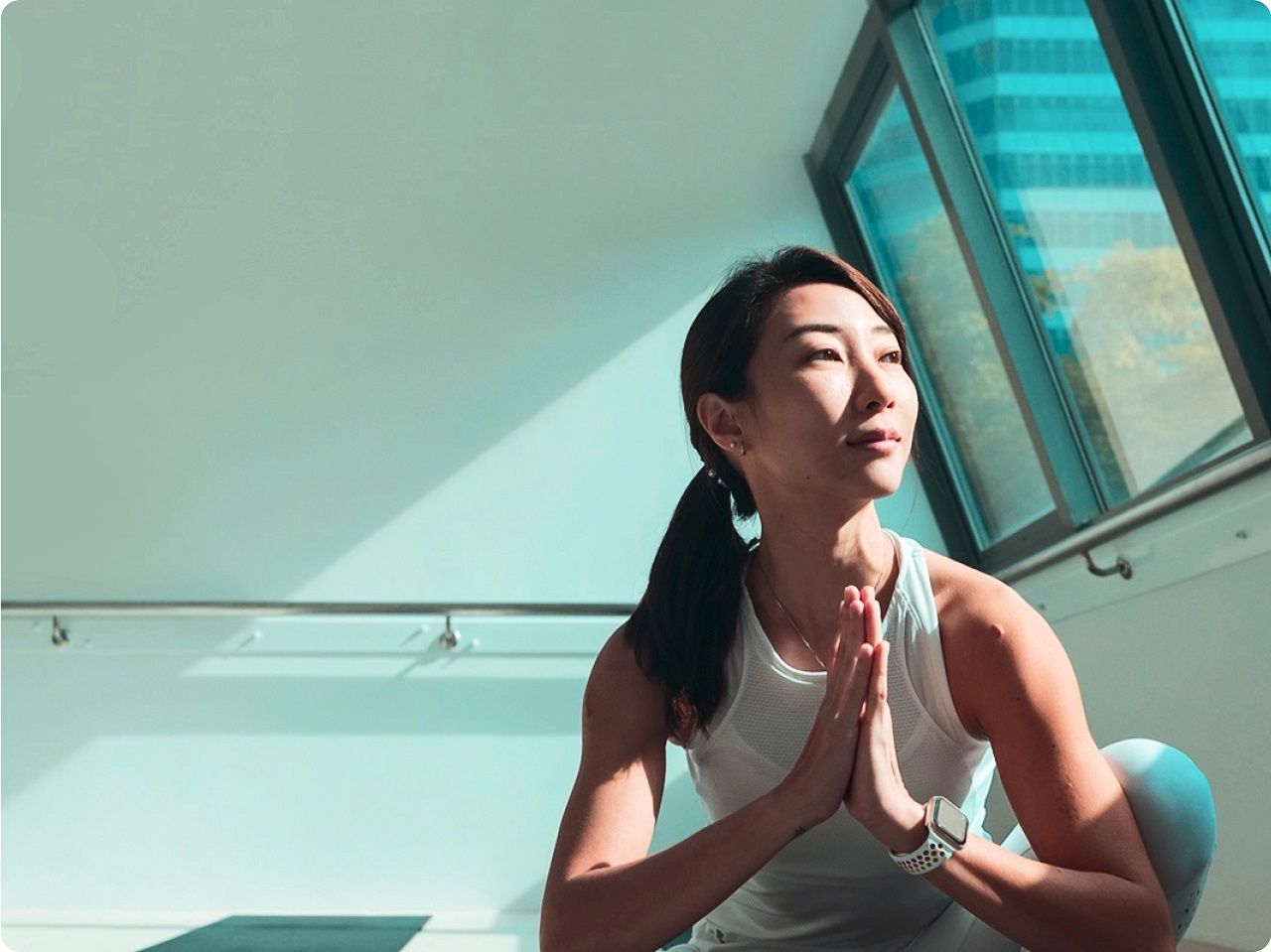 Source: Jal Yoga
4. Jal Yoga
Jal Yoga is the class to attend if you want to take a more zen approach. Though the class focuses on yoga, as the name suggests, this studio also offers pilates and barre.
The barre class is divided into three sections: stretching, barre work, and strength training. While this class improves your fitness, it also improves your posture and overall grace and elegance.
Highlights:
Calming atmosphere
Friendly instructor and staff
📍 Address:
30 Woodlands Ave 1, #02-5A, S739065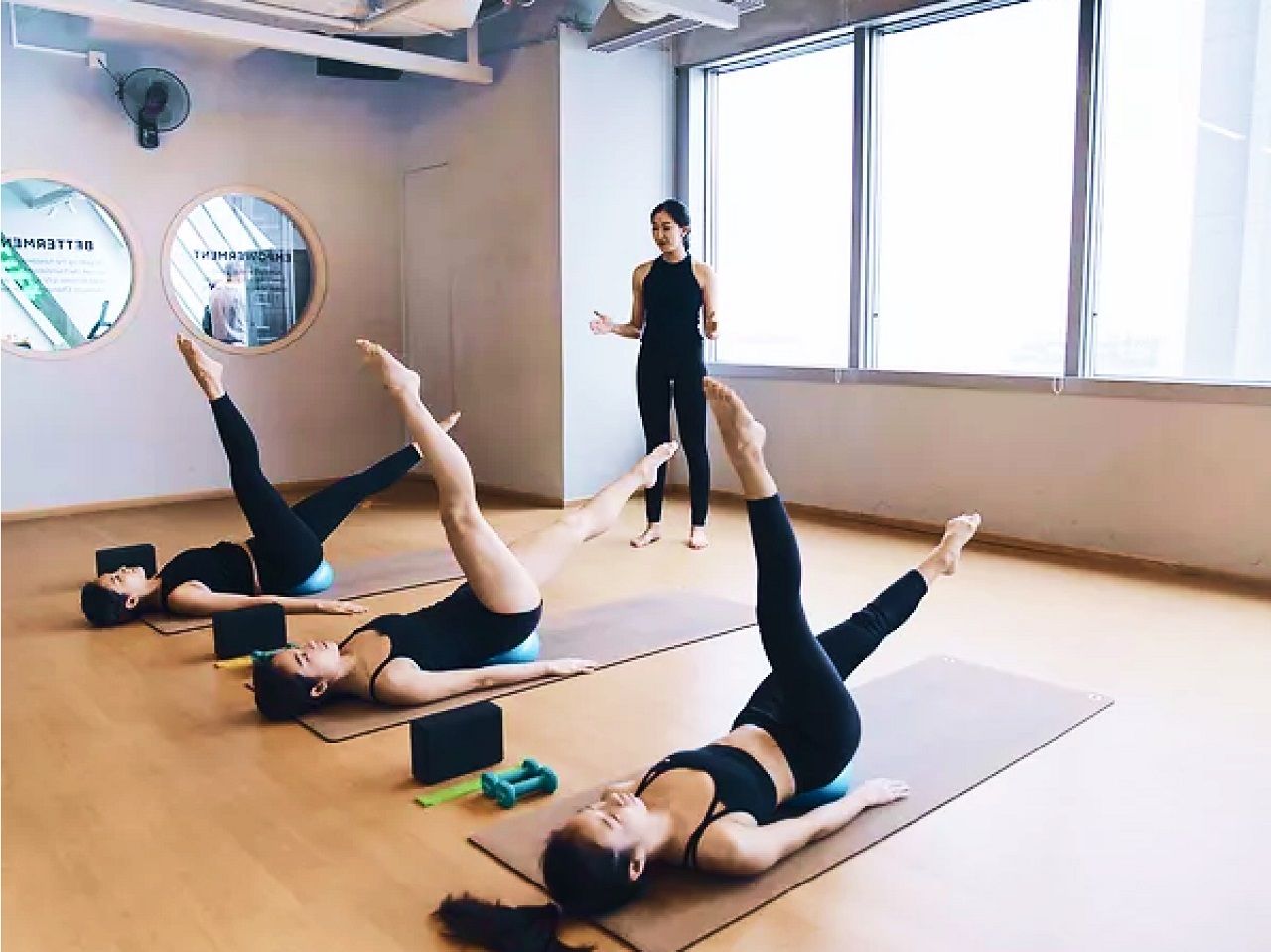 Source: The Movement Studios
5. The Movement Studios
The Movement Studios take a more traditional approach to barre workouts, which means you can try 'the real' ballerina's workout, which includes floor barre, restorative barre, and even adult ballet.
By selecting one of their two trial class packages, you can try their two most popular classes, Barre Power Burn and Ballet Burn, without purchasing a membership.
Highlights:
Affordable
Beginner-friendly instructor and staff
📍 Address:
Sunshine Plaza, 91 Bencoolen St, #05-06, 189652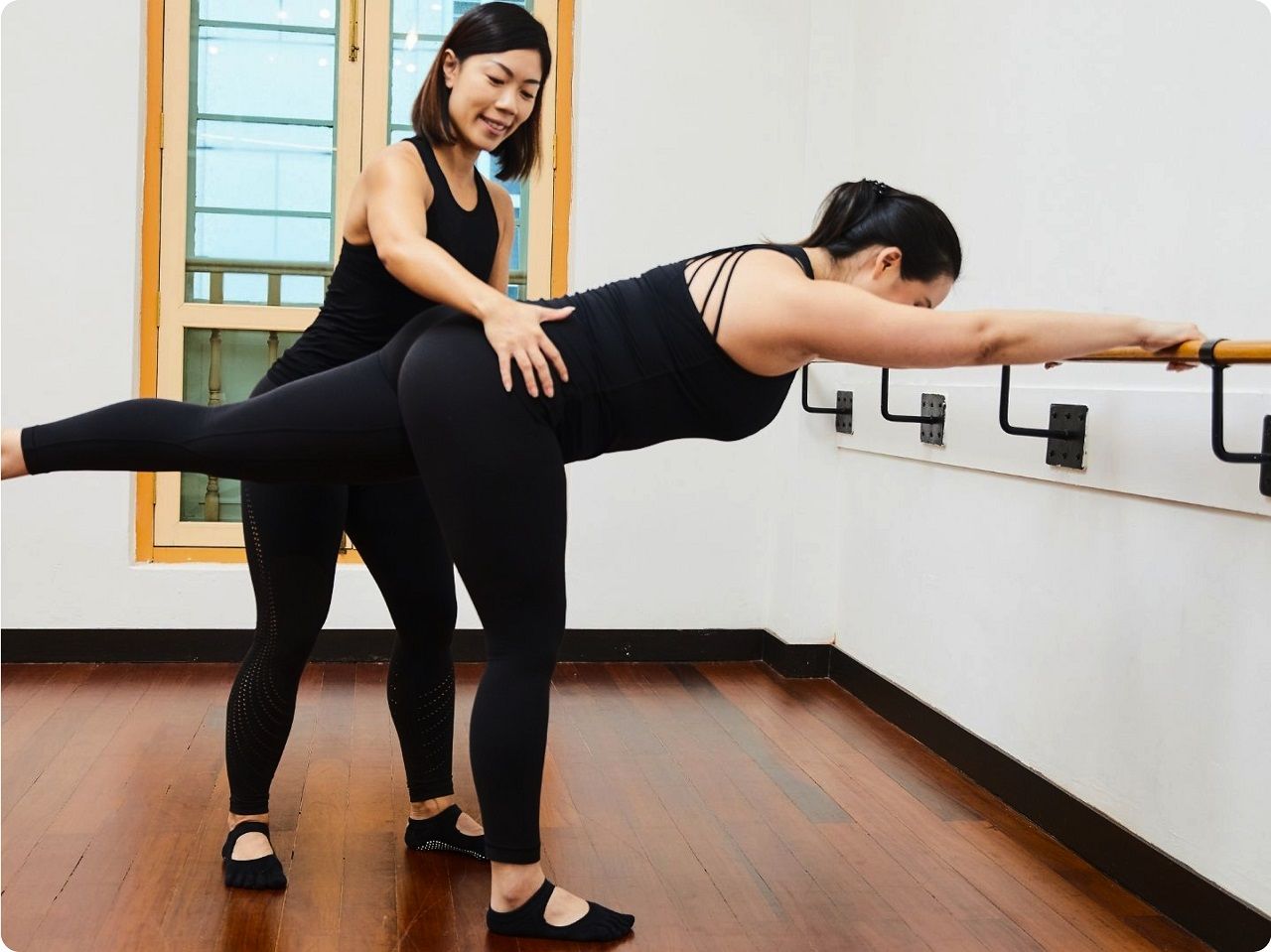 Source: Barre2Barre
6. Barre2Barre
The location of Barre2Barre in central Singapore is highly convenient. A unique form of barre exercise called "BarreAmped Bounce" is only available at this one fitness center. Classic barre routines on the jump sports fitness trampoline are a test for even the most dedicated fun-loving enthusiasts.
Handlebars on challenging machines like a cardio machine can benefit from the dynamic surfaces it generates, as these surfaces provide stable support.
Suzzanne Bowen, a fitness expert with over a decade of experience, developed this revolutionary approach to exercise. In addition, she created BarreAmped, an exercise method that uses a neutral spine as its primary focus and which provides a firm platform upon which to build proper posture.
Highlights
This place provides a relaxing setting for your workout.
It provides a variety of barre classes.
It's possible to extend class sessions
Classes can be customized to meet client's needs.
📍 Address:
3 Pickering St #03-02 Nankin Row | Staircase 1 Singapore 048660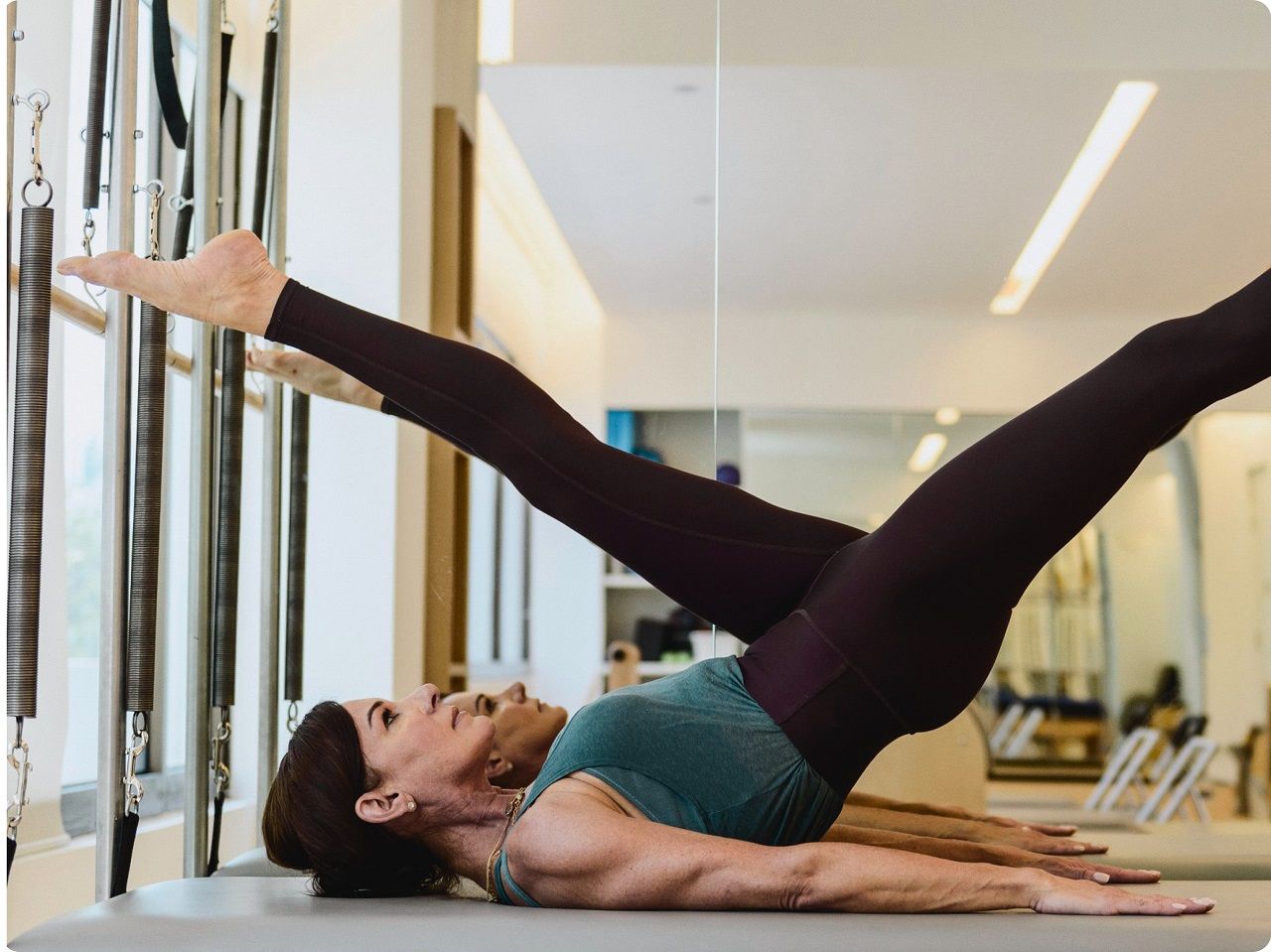 Source: Como Shambhala
7. Como Shambhala
The Como Shambhala spa at the Como Hotels and Resorts was created to offer guests a relaxing and rejuvenating experience that also has deeper spiritual and philosophical underpinnings. Health and fitness are a component of this adventure.
This high-end studio in Orchard offers some of the best barre classes around, with a focus on proper form and technique in a high-energy, low-impact workout suitable for people of all fitness levels.
Highlights:
The barre classes focus heavily on precision and technique
📍 Address:
402 Orchard Road, #06-01/02, Delfi Orchard, Singapore 238876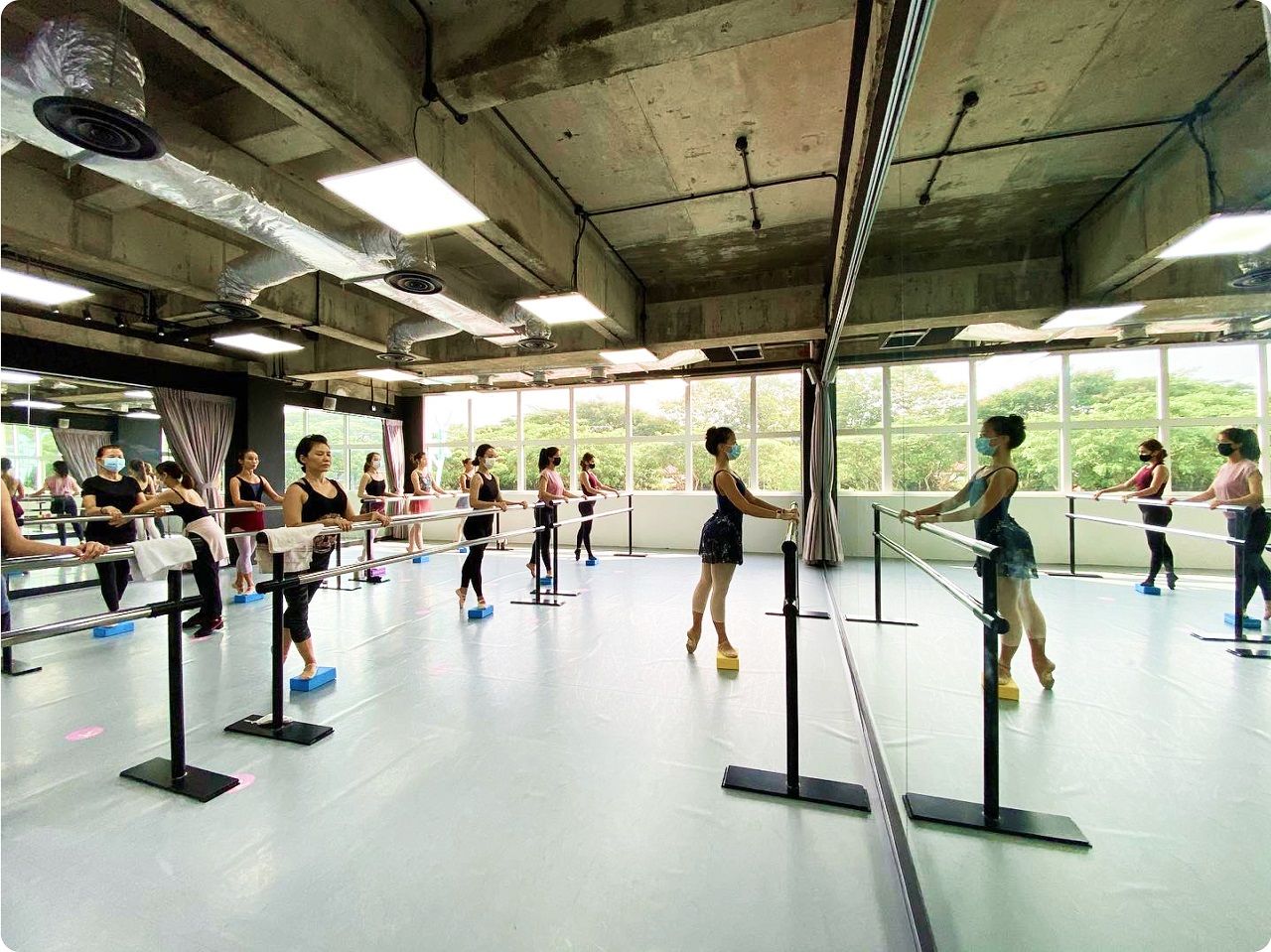 Source: BarreWorks Dance Studio
8. BarreWorks Dance Studio
A pioneer in the field, the Barreworks Dance Studio provides a wide range of services, including BarreWorks and traditional Ballet.
BarreWorks' studio is fully stocked with high-quality equipment that has been carefully sourced by experts and manufactured to the highest standards. The studio also provides enough dance mats, an AUX input music system, portable barres, and professional Harlequin sprung floors.
Highlights:
It has been officially recognized by the Royal Academy of Dance.
The studio offers a variety of Barre programs.
📍 Address:
897b Old Holland Road, Singapore 278690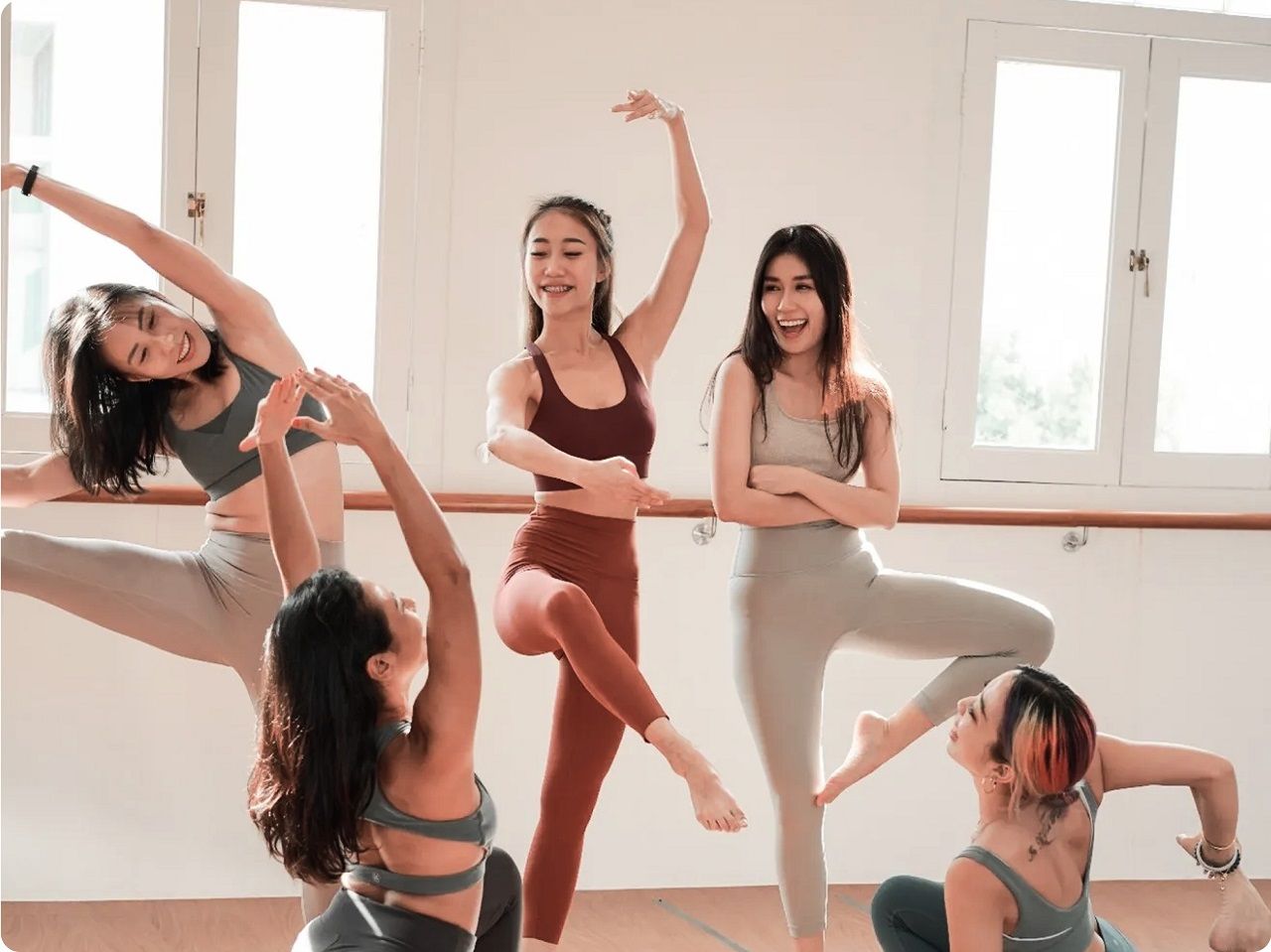 Source: On Good Ground
9. On Good Ground
If you're looking for a great barre studio in Singapore with a complete selection of barre workout type, On Good Ground is the perfect choice.
It offers a Barre Basics class for beginners; Barre sculpt for intermediate and for those who want to focus more on sculpting their body shape; Barre Cardio for those who want to seek an HIIT exercise and burn more calories.
Beside offering those conventional barre classes, they also offer a more special and out-of-the-box barre class such as Prenatal Barre class with prenatal trained instructor, Ballet Barre class and Barre Yin class that highlight a more relaxed and zen approach.
Highlights:
It provides a variety of barre classes
You'll get a more challenging or easier class depending on how advanced you are.
It offers specialized classes, such as Prenatal Barre and Yin Barre
📍 Address:
458B Joo Chiat Rd, Singapore 427671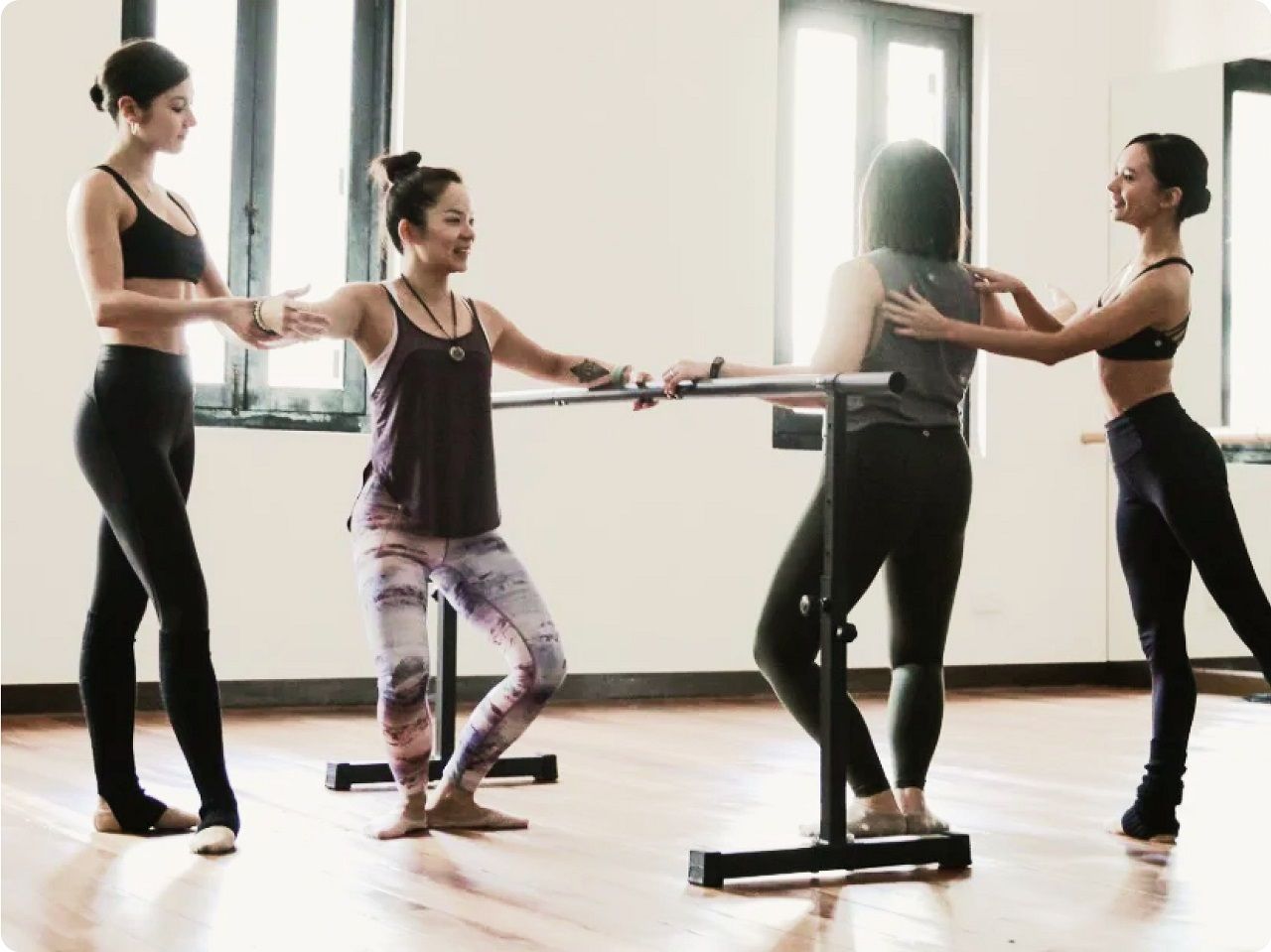 Source: Ballet Body
10. Ballet Body
Want to try the real barre workout that is used by all the best ballerinas around the world as their workout routine? Then you should try the Ballet Fitness program by Ballet Body.
They offer a beginner's introductory barre class and a stretch barre class for muscle conditioning. Those who are looking to shed a lot of fat quickly should try their BalletBody Classic. Pre and Postnatal are also available here.
The instructor always pays close attention to what the students need. Therefore, you can rest assured that you will attend classes in a warm and inviting setting.
Highlight:
Offer the original approach of barre exercises
They offer both prenatal and postnatal classes.
Helpful instructor
📍 Address:
24A &, 26A Pagoda St, Singapore 059187
---
As a kind of physical exercise, the Barre class has become increasingly popular in Singapore. Using a blend of Pilates, dance, and yoga, this method targets lean, long muscle. The barre studios listed above should be able to show you how barre can work for your body type and fitness goals.
If you think barre is what you need for your next sweat session, go ahead and sign up for a class right today!
Happy Barre!
Solar 🐱
---
Do you want to see more content like this? Follow us on Instagram and Facebook for more wellness advice, fitness trends, workout inspiration, and even best health and fitness deals exclusive to our followers. Don't miss out!