Apple Watch Ultra review: Feature-rich fitness tracker
Whether you're looking for a more feature-rich fitness tracker or you're looking to upgrade to a more advanced model of the Watch series, Apple Watch Ultra is definitely worth checking out.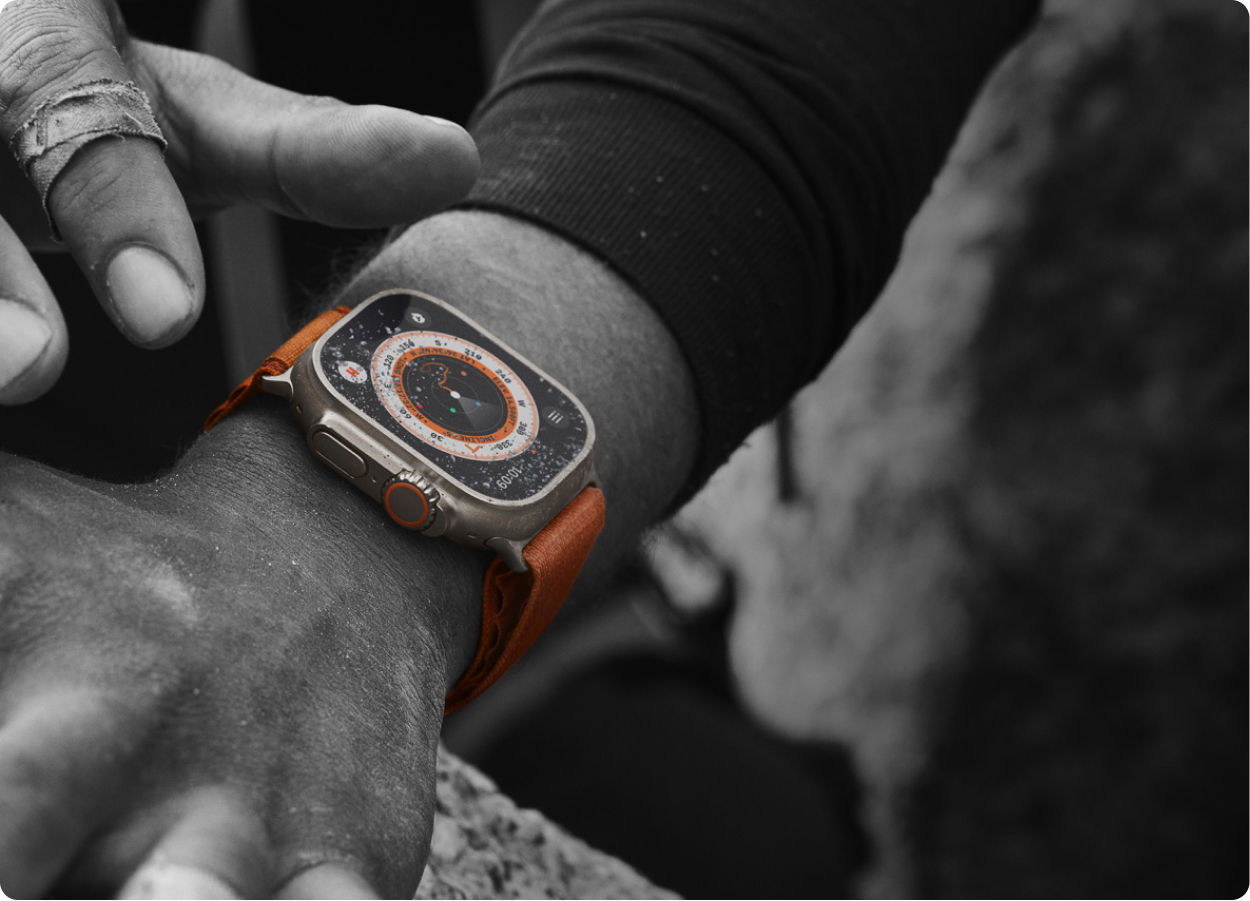 Source: Apple
The Apple Watch Ultra is the newest and most expensive model of the Apple Watch lineup. It comes with many new features and improvements over the other models, including a more powerful processor and better fitness tracking capabilities.
In this review, we'll explore everything the Watch Ultra has to offer and why it might be a good fit for you.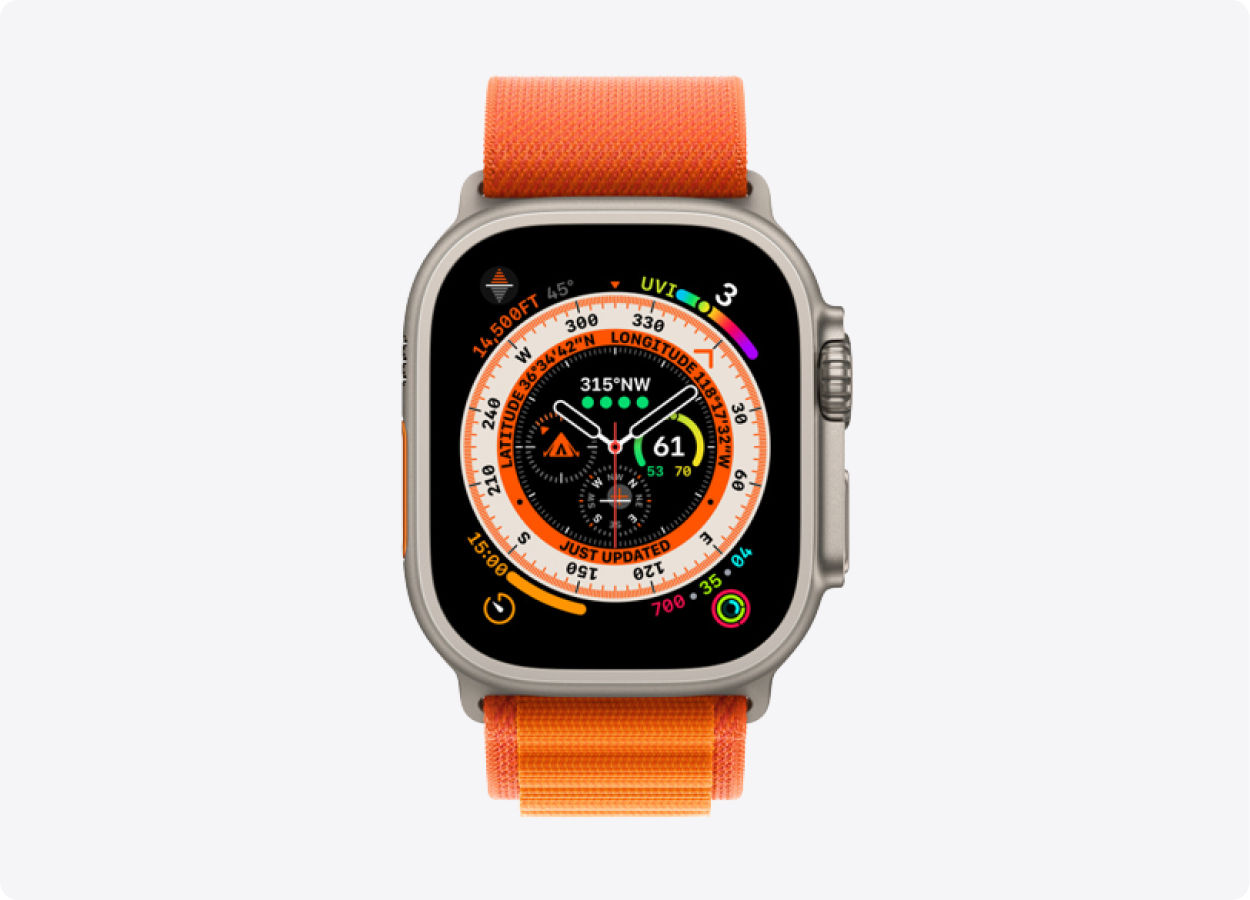 Source: Apple
Display
The watch has a 1.92-inch LTPO OLED screen with a resolution of 502410 pixels and a peak brightness of 2000 nits, which is rather large for this class of device.
Except for the SE model, the display always remains on, with the brightness and refresh rate reduced to save battery life. Encourage the body to relax and the mind to become quiet and focused.
This is one of the best smartwatch screens available. It has a clear picture (338 ppi), deep blacks, and excellent viewing angles, and it displays information well even in bright sunlight.
That is, the user will have no trouble reading the Apple Watch Ultra screen under any situations.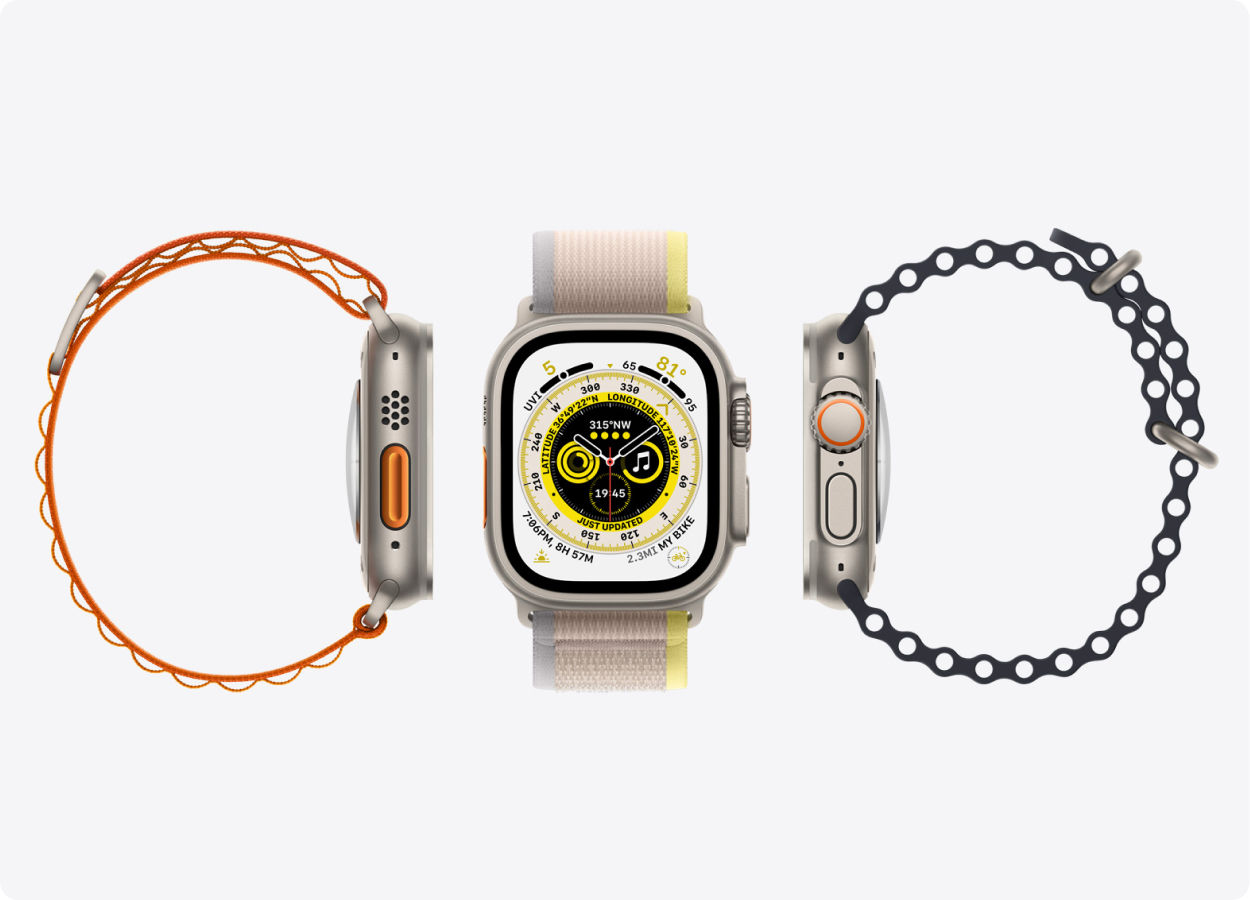 Source: Apple
Design and Materials
Although it's still immediately recognizable as an Apple product, the Apple Watch Ultra's design marks the first major redesign of the Apple watch lineup in many years.
A rectangle with rounded corners was again selected for the model's design, but this time the dimensions were increased to 49 mm in height and 44 mm in width. Not incredibly large (though this is obviously relative to the wearer's wrist), the watch measured in at a sizable 14.4 millimetres in thickness.
The Apple Watch Ultra has a weight of 61.3 grams, but it doesn't feel as heavy as its weight would presume.
Since the Apple Watch Ultra is made of high-quality materials and was made for sports, it doesn't come as a surprise that it has IP6X dust protection, WR100 water protection, and MIL-STD 810H certification.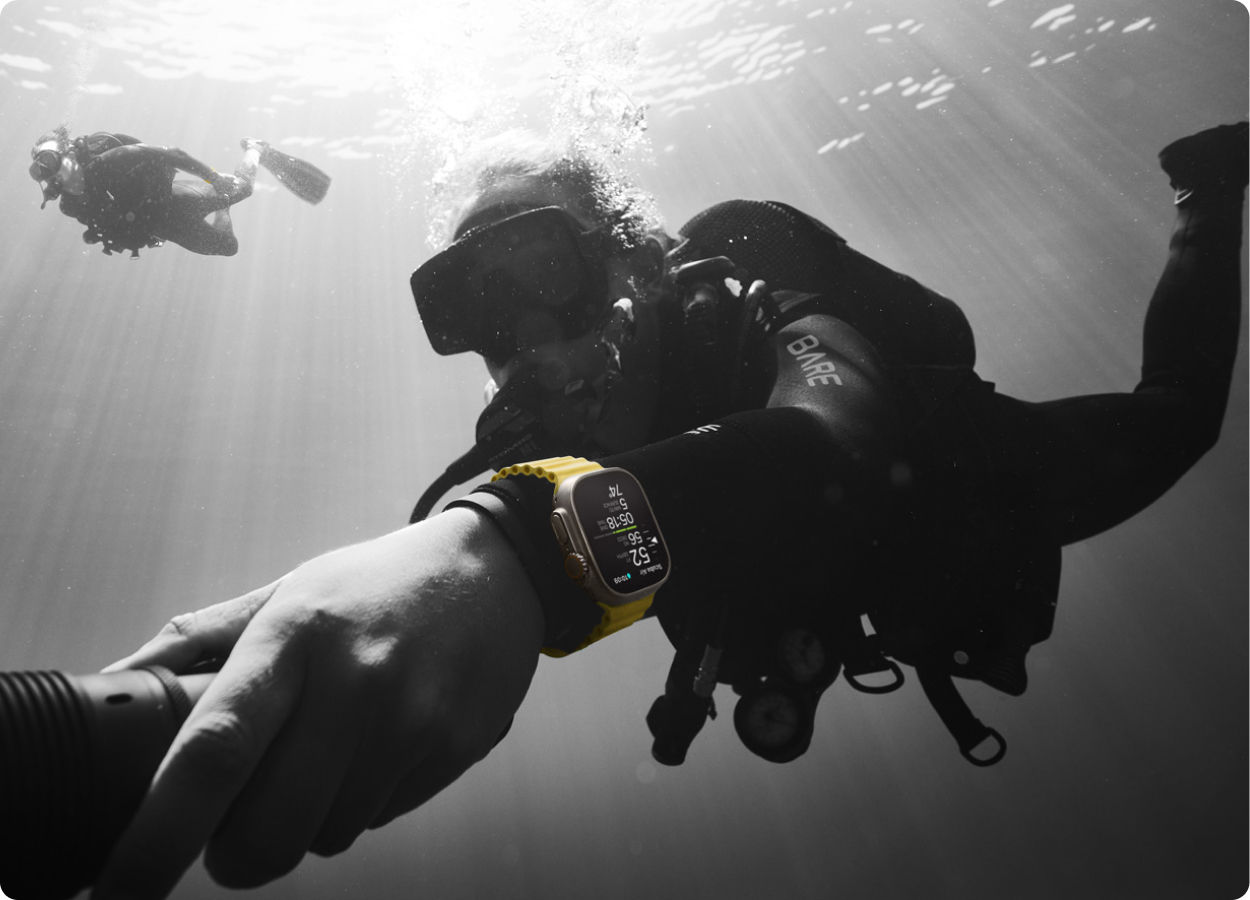 Source: Apple
Perfect for Sport Enthusiast
Apple Watch Ultra was made for people who are serious about sports, so the company added a few extra features. One of them is dual-frequency GPS (L1+L5), which lets you track distance and speed more accurately while running or doing other sports.
This is especially important in densely populated cities, where tracking can be very inaccurate, which can make it hard to keep track of training or competitions, like if you run a marathon. And this is important for people who take sports more or less seriously, let alone professional athletes.
The Apple Watch Ultra is optimized for a wide range of water sports, from extreme activities like kitesurfing and wakeboarding to more relaxed pursuits like scuba diving to depths of up to 40 meters using the new Oceanic+ app.
Apple Watch Ultra is WR100 certified, so you can take it scuba diving with you. It is also approved by the European Standard EN 13319, which is used as a benchmark for depth gauges and other diving accessories around the world.
Apple Watch Ultra also has a new Depth app with a clean interface that makes use of the device's improved depth gauge.
The Depth app conveniently shows the time, current depth, water temperature, time spent underwater, and maximum depth reached with a single glance. To quickly access the Depth app, users can set the Action button to do so.
Read also: The best fitness mobile apps to hit your fitness goals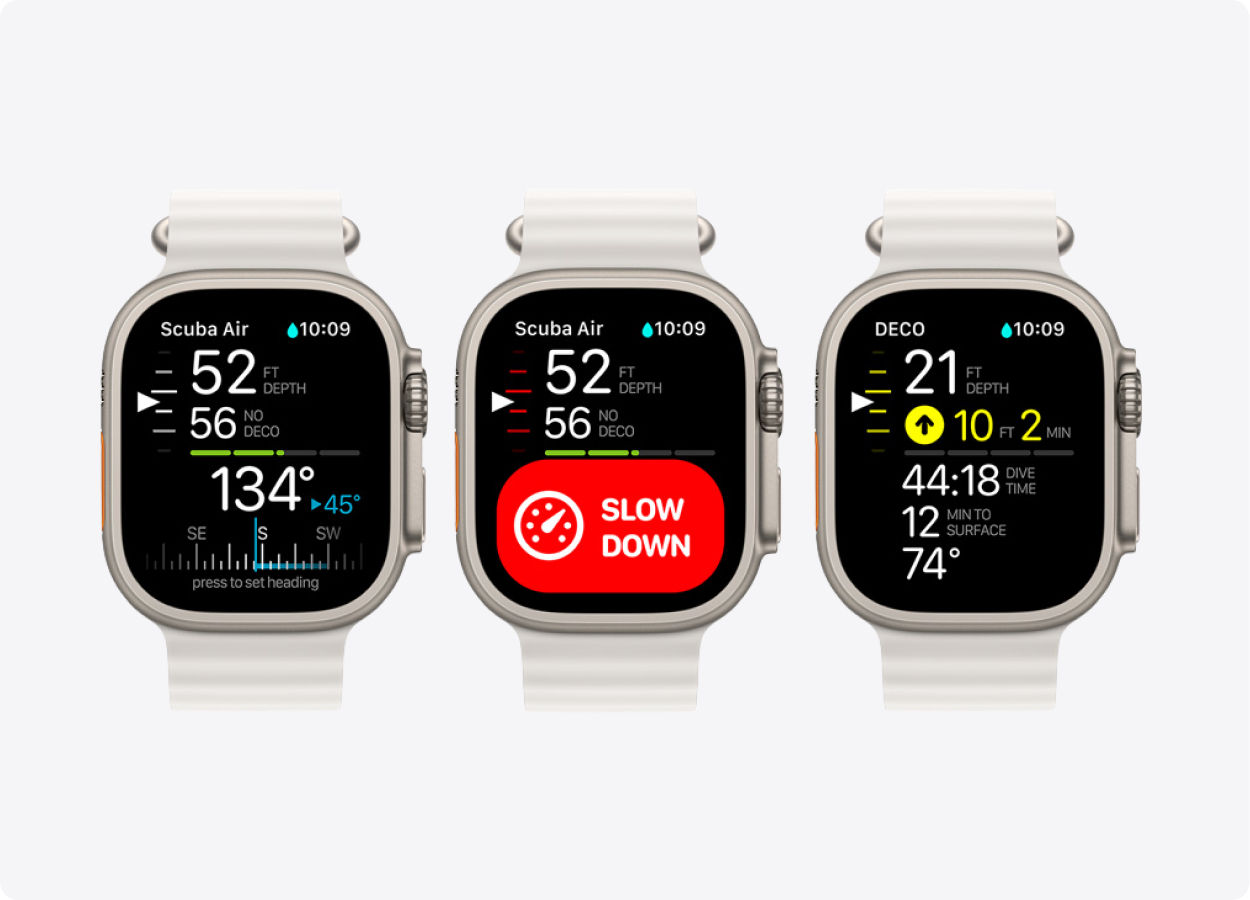 Source: Apple
Fitness and Health Features
One of the main selling points of the Watch Ultra is its new built-in workout capability. Apple has made a few upgrades to its fitness tracking features in the Ultra.
It allows you to track steps taken, exercises performed, and the number of minutes held standing, on a daily basis.
At the same time, it monitors the heart rate, determines the amount of oxygen in the blood, performs a non-medical electrocardiogram, warns about low or high heart rate and arrhythmia, and measures body temperature. Plus it also able to track women's menstrual cycles.
---
So, whether you're looking for a more feature-rich fitness tracker or you're looking to upgrade to a more advanced model of the Watch series, the Watch Ultra is definitely worth checking out.
Cheers,
Friska 🐨
Read next: 7 high-tech fitness gadgets to upgrade your home workout