Top 5 EMS training studios in Spain
Now, with the growing popularity of EMS training in Spain, numerous studios are popping up, each claiming to offer the best experience.
Have you ever heard of EMS training? If not, you're in for a treat, and if you have, you know how revolutionary it can be in transforming our bodies and enhancing our fitness routines.
EMS, or Electro Muscle Stimulation, is a game-changing fitness approach that's been gaining traction globally, and Spain is no exception!
So, what's the buzz about? EMS training is like your regular workout but on steroids (not literally, of course!).
It involves wearing a suit that sends electrical impulses to your muscles, making them contract and relax, just like during a traditional workout, but much more efficiently. Imagine doing a 90-minute workout in just 20 minutes! Yes, it's that powerful.
If you're curious about the ins and outs of EMS training, make sure to check out our previous article! Where we break everything down in a more detailed manner!
Now, with the growing popularity of EMS training in Spain, numerous studios are popping up, each claiming to offer the best experience.
But we know how crucial it is to choose the right place, especially when electricity is involved, right? So, we've dived deep, explored various studios, and brought you a list of the best EMS training studios in Spain.
Whether you're a seasoned fitness pro or a beginner looking to dip your toes into the world of fitness, there's something for everyone.
In this article, we'll explore the crème de la crème of EMS studios in Spain. So, grab a cup of tea, sit back, and let's embark on this electrifying journey together!
The Best 5 EMS training studios in Spain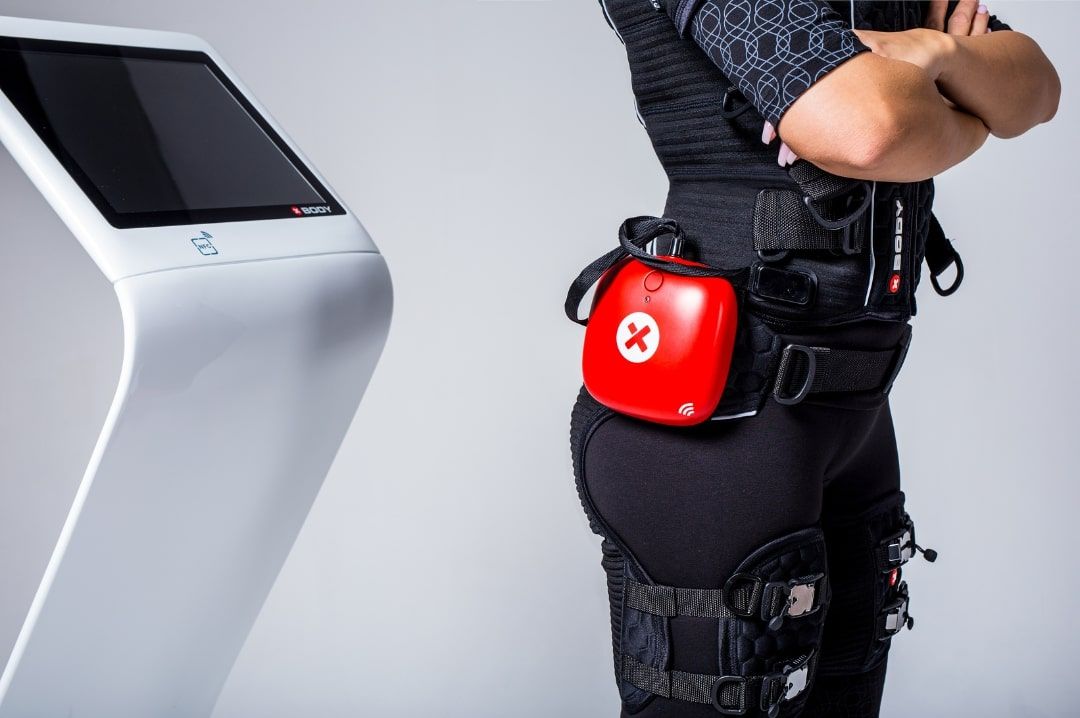 Source: EMS Xperience
1. EMS Xperience
Welcome to EMS Xperience, a gem located in the beautiful locale of Sotogrande, Spain!
This studio is a beacon for those seeking innovative and high-quality Electrical Muscle Stimulation (EMS) training.
It's not just a fitness studio; it's a place where time efficiency meets top-notch quality, allowing fitness enthusiasts to reach their goals with just 20 minutes of commitment per week!
Training and methodology
EMS Xperience is not your everyday gym; it's a sanctuary for those who crave a whole-body workout that's both time-efficient and super effective. Whether your goal is to shed some pounds, build muscle, strengthen your back, or just improve your overall fitness, this studio has got you covered!
The training here is unique, utilising EMS to stimulate bioelectric impulses from the brain, activating various main muscle groups via a functional vest laden with electrodes.
It's like giving your body's natural booster principle a helping hand, ensuring a painless and synergistic workout experience.
Facilities and equipment
When it comes to facilities and equipment, EMS Xperience stands out with its modern amenities and top-tier gear from XBody, enabling cable-free training.
The studio is meticulous about maintaining high standards, ensuring that every training session is nothing short of the best.
And after an invigorating workout, you can freshen up in the modern shower cabins available in the changing rooms, adding a touch of luxury to your fitness journey.
Professional trainers
What makes EMS Xperience truly special is the personal and individual care provided by professionally certified trainers.
These trainers are not just experienced but are also specially qualified for EMS training, motivating users to push their limits and achieve their personal best.
Managing Director and Personal Trainer, Tobias Lukianczuk, is a veteran in the Health & Fitness Industry with over 12 years of experience and holds multiple licences in medical fitness training, personal training, back training, athletic training, and fitness training.
For inquiries, they can be reached at +34 689 736 611 or [email protected].
📍 Address: Centro Commercial Sotomarket, 1st floor, No 37, 11310 Sotogrande, Cádiz, Spain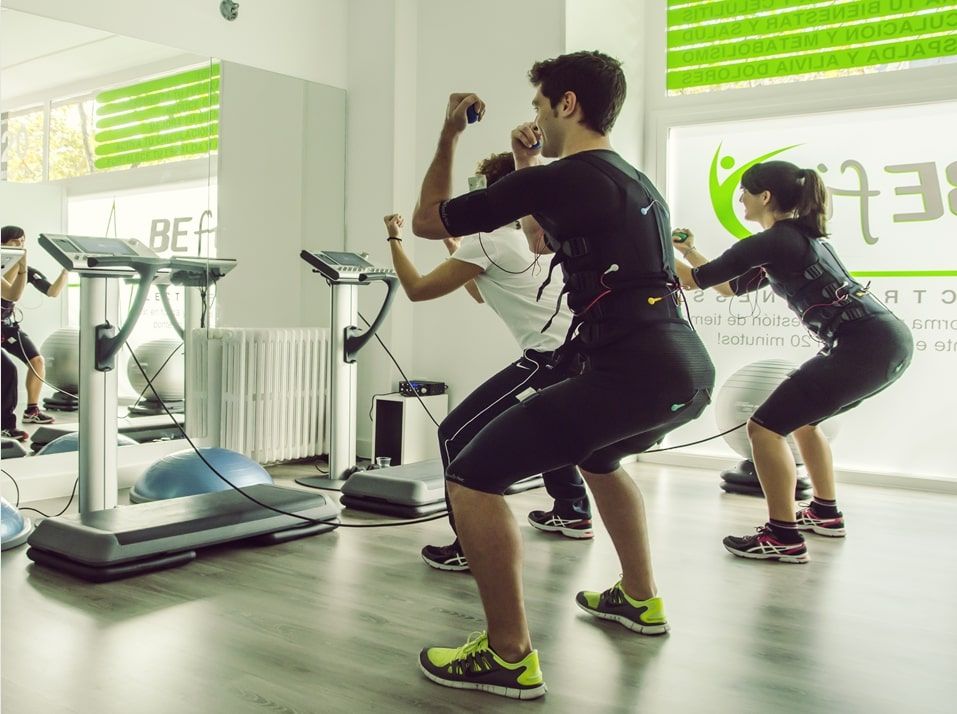 Source: Be Fit Spain
2. Be Fit Spain
Be Fit Spain, is a premier EMS studio nestled in the heart of Madrid, Spain.
This studio is a haven for those who are passionate about optimising their health and physical form through efficient and effective workouts.
It's a place where individual health is prioritised, and fitness goals are achieved with just 20 minutes of training per week!
Training and methodology
Be Fit Spain is a sanctuary for those who seek workouts that are equivalent to 4 hours of conventional training. Yes, you heard it right! Here, clients have the opportunity to exercise up to 300 muscles in each session, making every minute count.
The studio employs advanced German technology, MihaBodytec, for EMS, which is backed by results endorsed by prestigious universities.
With professional experts in Sports Sciences and Electrostimulation at the helm, clients are assured of safety and results, guided meticulously through each session.
Facilities and convenience
Be Fit Spain goes the extra mile to ensure the comfort of its clients. The studio offers private showers, complete with gel and shampoo, and a complimentary towel service for both training and showering.
For those who might forget their workout gear, worry not! They also provide a rental service for training clothes and socks packs. Every detail is designed to make the experience at the studio pleasant and hassle-free.
Conveniently located at Paseo de la Castellana 113, Madrid, Be Fit Spain is easily accessible via Metro Cuzco – Bernabéu, making it a breeze for fitness enthusiasts to incorporate EMS training into their busy schedules.
📍 Address: Paseo de la Castellana, 113, 28020 Madrid, Spain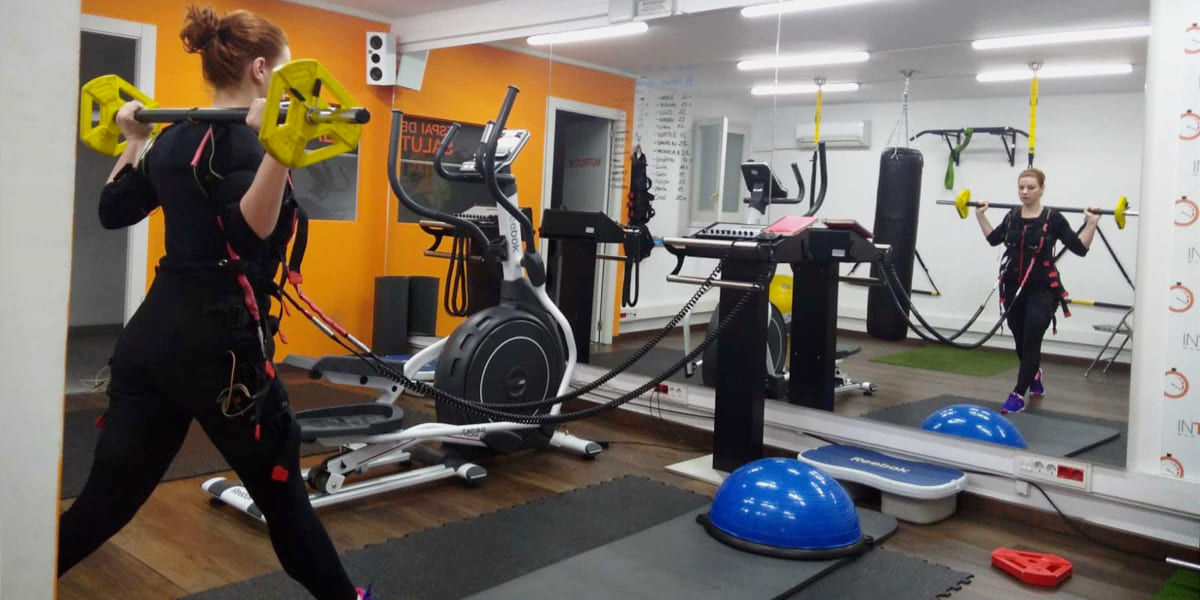 Source: In Time BCN Fitness
3. In Time BCN Fitness
In Time BCN is a proponent of efficient training sessions, where just 20 minutes of Electrofitness training equate to 4 hours of conventional gym training.
Imagine the possibility of burning up to 3000 Kilocalories in such a short span! The studio crafts various programs tailored to individual needs and preferences.
Whether you are a regular sports enthusiast looking for the Sport program, someone recovering from injuries or long periods of inactivity opting for Re-activation, or someone focusing on aesthetics and beauty through the In Beauty program, In Time BCN has something for everyone.
Facilities and services
Situated at Carrer de Muntaner, Barcelona, In Time BCN is not just about advanced training; it's about holistic well-being.
The studio extends its services to group classes and physiotherapy and offers valuable information and advice on nutrition to complement the training sessions.
For session bookings and inquiries, they can be reached at +34 935 323 233
Programs offered
Sport Program: Ideal for individuals who are passionate about sports and physical well-being.
Re-activation Program: A boon for those on the road to recovery from injuries or looking to regain their physical form after periods of inactivity.
In Beauty Program: A unique blend focusing on aesthetics and beauty, combining Electrostimulation with cardiovascular movements.
📍 Address: C/ de Muntaner, 114, 08036 Barcelona, Spain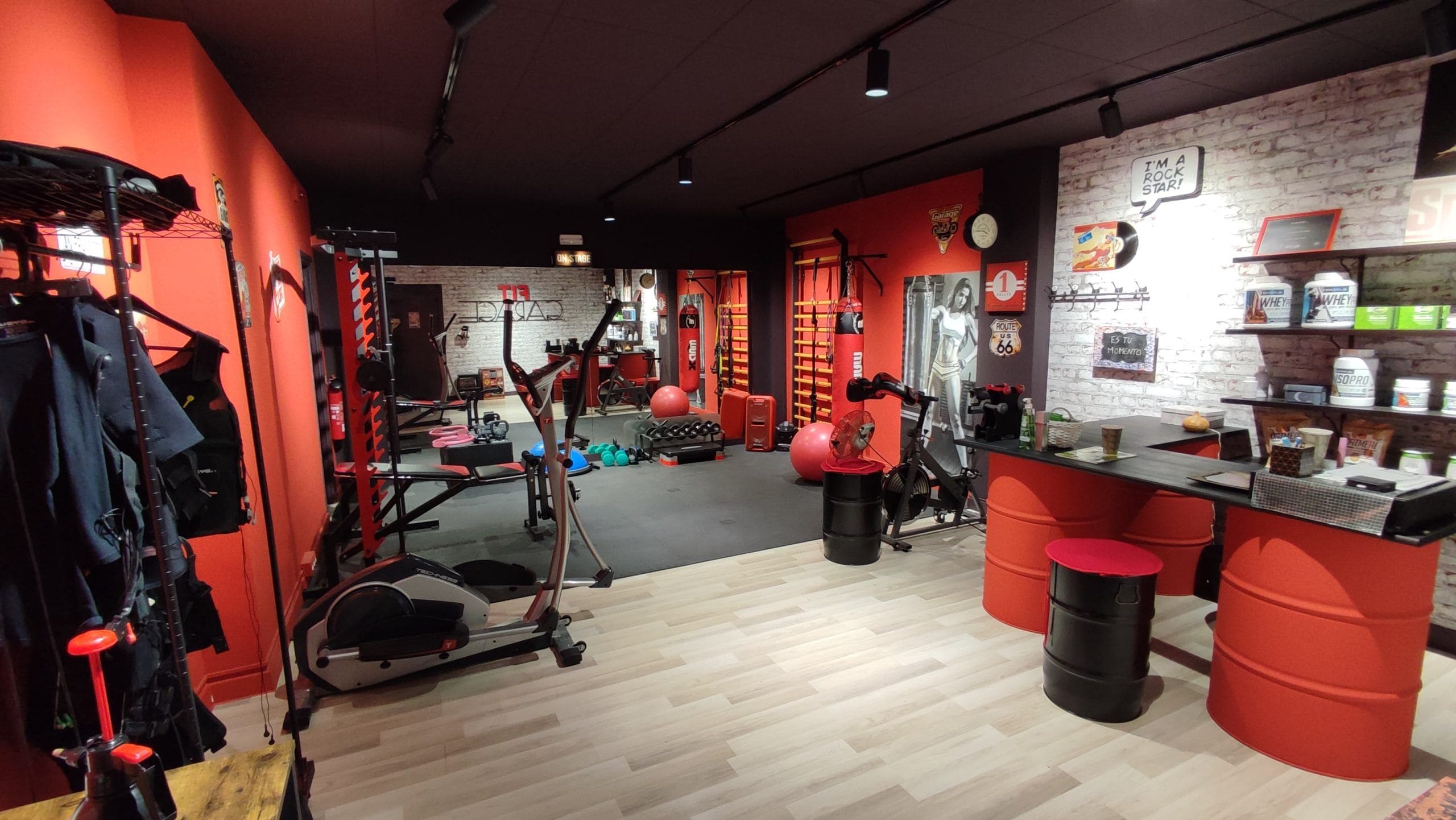 Source: Fit Garage
4. Fit Garage
Fit Garage is a distinguished center located in Mataró, Spain, specializing in electrofitness, advanced nutrition, and aesthetics.
This studio is a perfect place for those who seek maximum benefits in minimal time, offering comprehensive training enhanced with the latest technology in electro muscular stimulation.
Training and methodology
Fit Garage is a sanctuary for those who desire individualized, complete workouts tailored to their unique needs.
The studio harnesses the power of the latest technology in electro muscular stimulation, allowing users to burn up to 3,000 kcal in just a 20-minute session, with effects lingering for the next 72 hours.
This innovative approach guarantees incredible results without the risk of injuries and with minimal time investment. Plus, they offer passive gym sessions where individuals can exercise while relaxing, allowing muscle exercise and weight loss with zero effort.
Services and programs
Fit Garage stands out with its diverse range of services including active and passive gym sessions, dietary and sports supplementation, and advanced aesthetics.
Whether you are looking for rehabilitation, muscle gain, flexibility and performance improvement, weight loss, or therapeutic needs, Fit Garage has a program for you.
They cater to individuals with specific conditions like fibromyalgia or chronic fatigue, offering reparative and neuro sedative effects.
Fit Garage believes in the synergy of various factors to produce good results, with proper nutrition being paramount. They offer personalized diets tailored to individual tastes and objectives, ensuring that the body is well-nourished to utilize the training effectively.
Certified trainers and professionalism
The studio prides itself on having certified trainers proficient in electrostimulation technology, nutrition, and physical activity.
The trainers, including the founder Carolina Cayuela, with 25 years of experience, are present throughout the session, controlling the execution and intensity of each exercise, and are driven by the motivation to see their clients believe in themselves and achieve their goals.
For session bookings and inquiries, they can be reached at +34 658 963 959 and [email protected]
📍 Address: Ronda President Macià, 68, bajos dcha, 08302 Mataró, Barcelona, Spain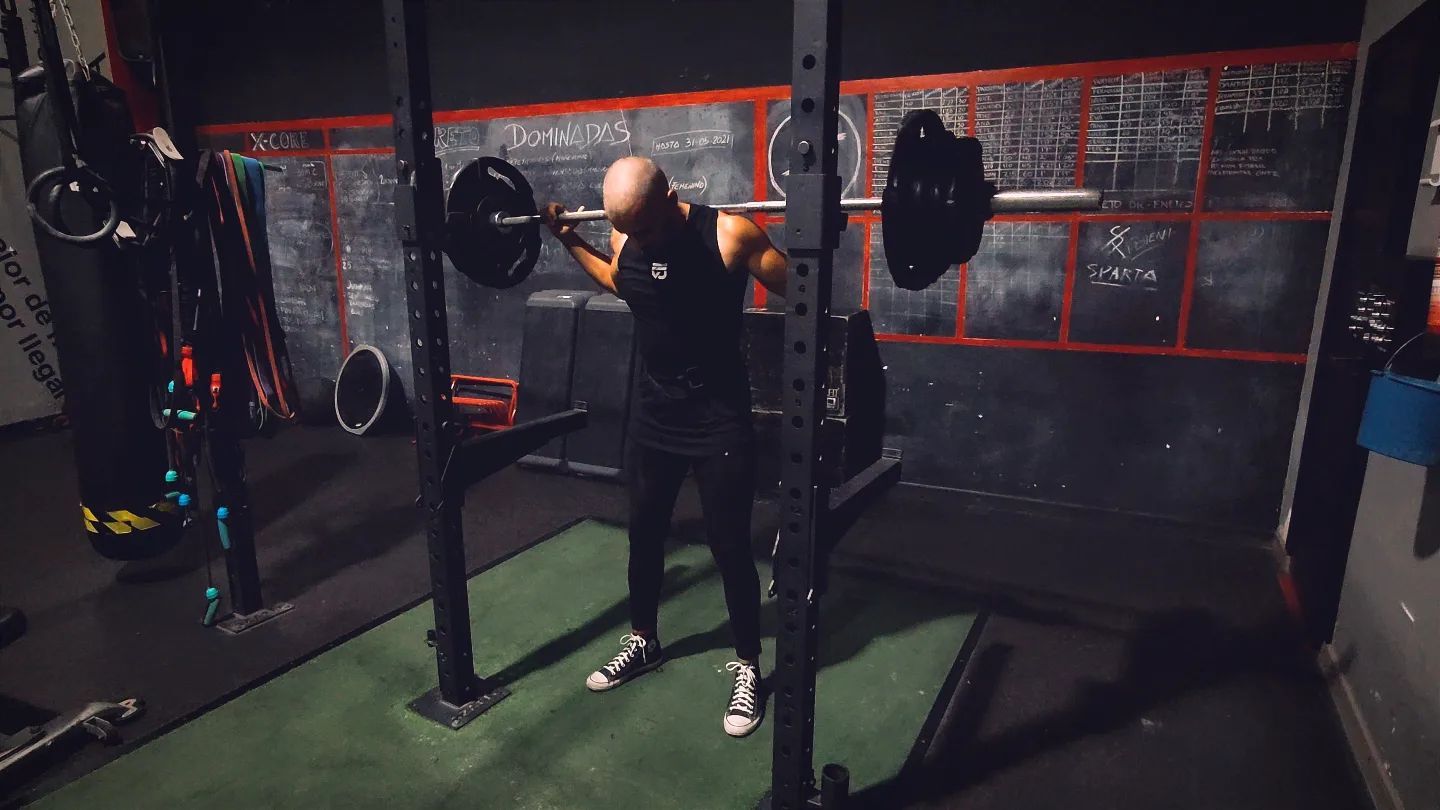 Source: Sparta Sports's Facebook
5. Sparta Sport
Sparta Sport is an EMS studio that goes above and beyond to offer a plethora of fitness services and facilities, focusing on quality installations guided by professional trainers.
This studio is a one-stop destination for those who seek diversity and professionalism in their fitness journey.
Facilities and services
Sparta Sport is a fitness enthusiast's paradise, boasting extensive facilities that cater to every need.
Open 365 days a year, the studio spans 1,000 m2 and features amenities including private parking and a children's play area.
Whether you need nutritional supplements from Musclecult or are interested in the EAC System program, Sparta Sport has it all, ensuring a comprehensive fitness experience.
Professional team
The studio is home to a team of professional trainers, each specializing in different areas of fitness and training, dedicated to motivating and driving individuals to peak performance in every session.
Among them is Parra, specifically mentioned as an expert in EMS training, ensuring that clients receive top-notch guidance in their EMS journey.
Training approach
Sparta Sport is a versatile studio, catering to a wide range of fitness enthusiasts.
Whether you are a weight training aficionado or someone looking for directed classes with personalized advice, trainers like Natalia and JuanMa are there to guide you every step of the way, ensuring your fitness journey is tailored to your needs.
Wiemspro technology
Sparta Sport utilizes cutting-edge Wiemspro technology, likely related to their EMS training offerings.
While specific details about the EMS training provided are not explicitly mentioned, the incorporation of such advanced technology hints at a commitment to providing innovative and effective fitness solutions.
For session bookings and inquiries, they can be reached at +34 682 10 00 40
📍 Address: Ctra. de Arenas, 15, 29700 Vélez-Málaga, Málaga, Spain
---
Conclusion
In the journey of fitness and well-being, finding the right place that aligns with your goals, needs, and values is crucial. Spain, with its vibrant fitness culture, offers a plethora of EMS studios, each with its unique approach, methodology, and ambiance.
We've traversed through the diverse landscape of EMS studios in Spain and brought you insights into some of the best ones out there.
Each studio, with its unique offerings, caters to different needs, whether it's weight loss, muscle building, rehabilitation, or overall fitness improvement. Choosing the right studio is a personal journey.
It's about finding the place where you feel motivated, supported, and inspired. Whether you are a seasoned fitness enthusiast or someone just starting on their fitness journey, exploring these studios can be a step towards finding your ideal fitness destination.
Remember, the journey of fitness is not just about physical transformation; it's about enhancing your overall well-being and quality of life. So, explore, experience, and embrace the world of EMS training, and may you find the perfect place that resonates with your fitness aspirations!
Cheers,
Friska 🐨
Read next: The best 5 EMS training studios in Florida, USA
---
Do you want to see more content like this? Follow us on Instagram and Facebook for more wellness advice, fitness trends, workout inspiration, and even best health and fitness deals exclusive to our followers. Don't miss out!