The top 5 must-visit spin studios in Bangkok's fitness scene!
Bangkok, known for its bustling streets, cultural richness, and irresistible street food, also houses an impressive array of top-notch spin studios.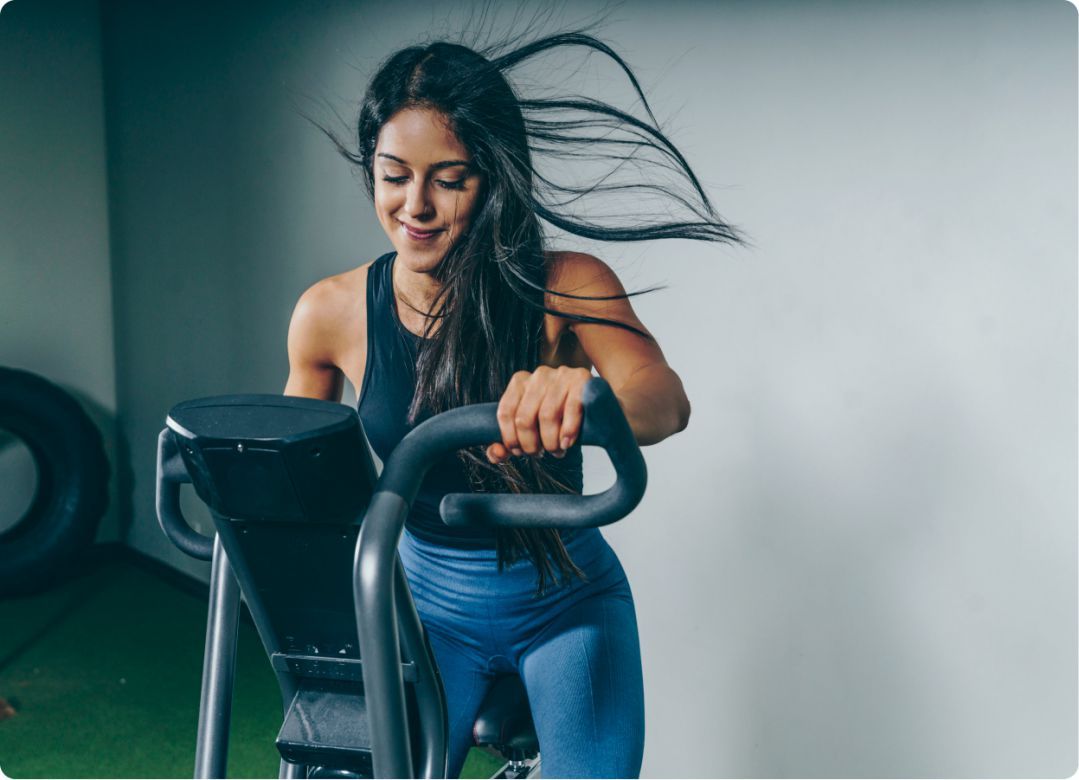 Source: burst.shopify
Have you ever tried spinning? If not, it's high time you did! Over the past few years, spin classes have taken the world by storm and Thailand is no exception. There's something undeniably infectious about the high energy, the pumping music, and the collective effort in a spin class. It's more than just a workout; it's a lifestyle that unites a diverse crowd of fitness lovers.
Especially for those in Bangkok, the "City of Angels", a delightful treat awaits. The city, known for its bustling streets, cultural richness, and irresistible street food, also houses an impressive array of top-notch spin studios. These aren't just places to break a sweat, they are vibrant communities brimming with motivation and energy.
Hence, to help those in search of a great workout spot, this article provides a rundown of the top 5 spin studios in Bangkok. This list is perfect for both experienced spinning aficionados and enthusiastic beginners looking for a place to start.
So, as this exploration into the spinning world of Bangkok begins, everyone is invited to sit back, grab a refreshing drink, and enjoy the ride.
Top 5 Spin Studio in Bangkok
Source: Native Cycle
1. Native Cycle
Stepping into Native Cycle feels like joining a supportive family that's crazy about fitness. Here, everyone's on a mission to build healthier habits and reach their fitness goals together. And boy, do they know how to make a workout fun and social!
Let us picture a scene for you - you're in a dark room with a group of energetic individuals, and music is your guide. One moment you're pumping out high-energy moves to a beat that makes your heart race, and the next, you're finding your calm in heart-opening sequences set to soothing melodies. It's a 45-minute music-led journey that leaves you feeling pumped, empowered, and ready to conquer the world.
But the magic doesn't stop at the music. With each track, your coach guides you through some super fun choreography that gets your mind racing and your body moving. And guess what? Everyone's moving together, vibing off the music and each other. It feels like a dance party on wheels!
The crew at Native Cycle believe in inspiring each other to be the best they can be - and that spirit is infectious. Plus, the studio is squeaky clean and modern, with lockers to stash your stuff, cycling shoes you can borrow, and water for sale to keep you hydrated. After your workout, you can freshen up with a nice shower, and they even provide fluffy towels and hairdryers.
All in all, Native Cycle is not just a spin studio - it's an experience that blends music, movement, and community to transform your fitness routine. It's like a party on a bike that leaves you feeling elevated. Sounds like fun, doesn't it? You can book their spin classes here.
📍 Address: 6th Floor, The Fig Lobby, 55 Rimtangrodfaisaipaknam Road, Klongtoey, Khlongtoey, Bangkok 10110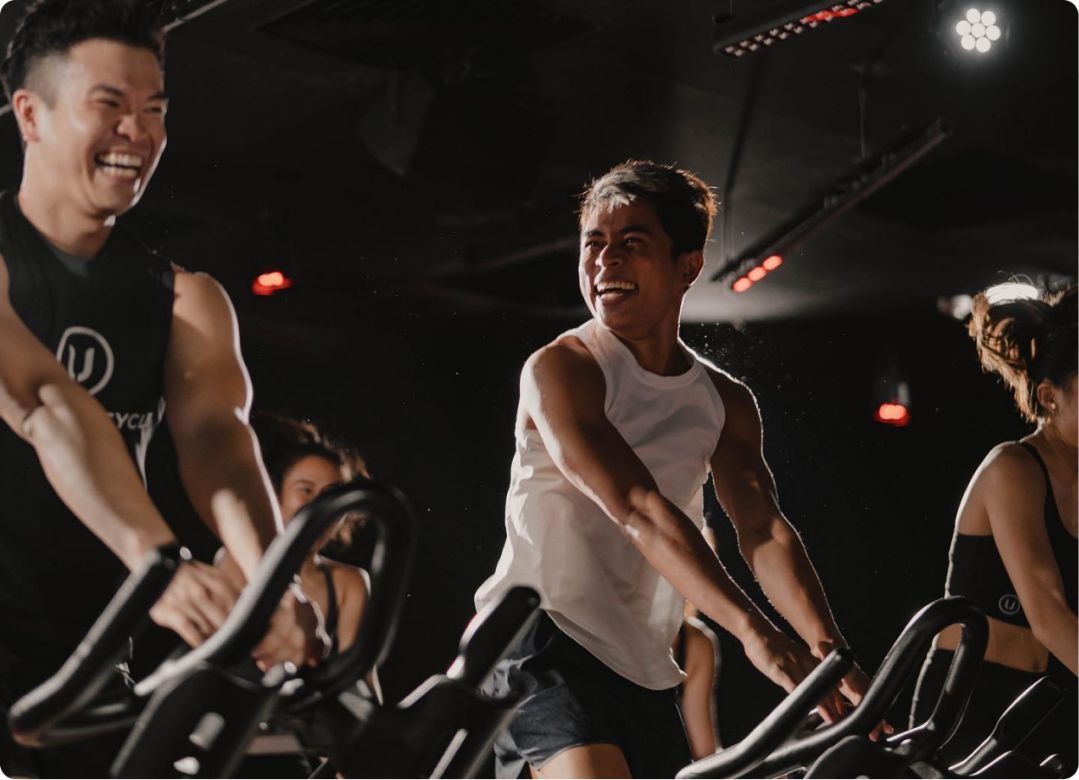 Source: Absolute Cycle
2. Absolute Cycle
If you're someone who loves a challenge, this place is going to be your jam! Touted as Bangkok's "premier, dedicated rhythm-based indoor cycling and lifestyle destination," Absolute Cycle is all about pushing boundaries.
It doesn't matter if you're a gym veteran or if your New Year's resolution was to finally use that gym membership – this place welcomes everyone with open arms.
What's unique about Absolute Cycle is that it's not your traditional spin class, this is rhythm cycling. Wondering what the difference is? Well, in rhythm cycling, it's not just about pedalling like a maniac.
It's a whole-body workout, synced to music that will have your heart pumping and muscles burning. It's essentially the trifecta of cardio, movement, and motivation. And let's not forget the emphasis on brain fitness, connection, and breathing synergies, which just goes to show that it's as much a mental workout as it is a physical one.
Here's something that's going to blow your mind - a single 45-minute class here can have you torching between 500 and 800 calories! How insane is that? If you're intrigued, do check out the Absolute You's packages.
They've got a mandatory 15-minute introductory session just for beginners. This brief intro will help you get the hang of the basic moves and how to use the equipment. It's a nice touch to make sure you're comfortable before you dive in.
As for the studio itself, the cycling gear is absolutely top-of-the-line. But the locker and shower area is a bit on the snug side, and you'd need to bring your own lock if you want to secure your stuff in the lockers.
And one last thing - the studio doesn't have its own toilets. So if you need to use one, you'll have to make a small trek to the public restrooms at the Commons.
📍 Address:
2/F, The Commons, Thonglor Soi 17
11/F, Amarin Tower, Ploen Chit Rd.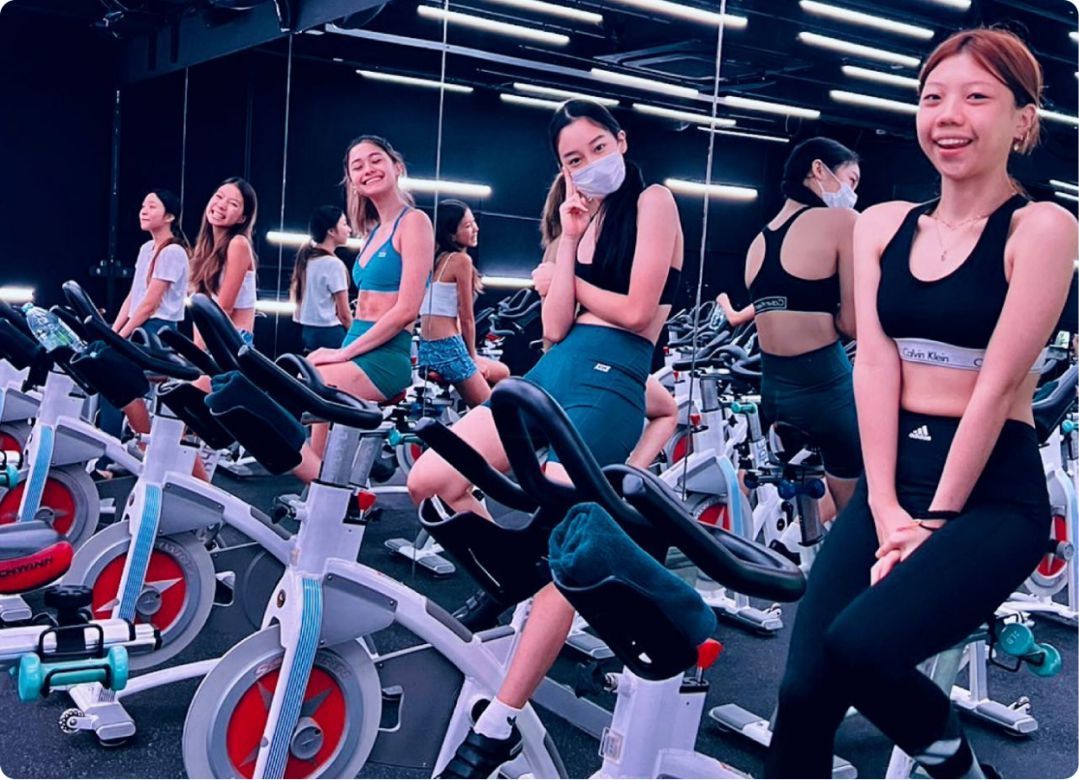 Source: Ryde
3. Ryde
Our journey takes us next to Ryde Cycle, a hub that's sure to get your heart racing and legs pumping! This hip indoor cycling studio is well-known for its fun, intense, and full-body workouts. With two locations, one in the Bang Na district and another in Thong Lor, you've got a couple of options to hop on the fitness train (or should we say bike?).
You know, what's super cool about Ryde Cycle is that they love to mix it up. They recently held a themed class for Chinese New Year where the studio was all decked out, and riders were sporting red outfits. How fun is that?
One of the classes that you can try is Hard Ryde - a 45-minute session packed with tap backs, jumps, push-ups, and dips. Now, a heads-up - this class isn't for the faint-hearted. It's intense and really demands a decent fitness level. So, if you're up for a serious challenge, this is where you should be heading.
One of the best things about this class is how well the EDM and pop music are synced with the lighting. You'll feel like you've stepped into a club, except here, the dance floor is replaced with high-quality spin equipment!
And about their amenities, the shower facilities are really great - clean, spacious, and well-maintained. Ryde Cycle even has a salon, you can get your workout and your grooming done all in one place.
📍 Address:
3rd Floor Seenspace, 251/1 Sukhumvit 55, Thonglor Soi 13, Klongton Nua, Wattana
2nd Floor Lasalle's Avenue, 549 Lasalle-Bearing Road, Bangna Tai, Bangna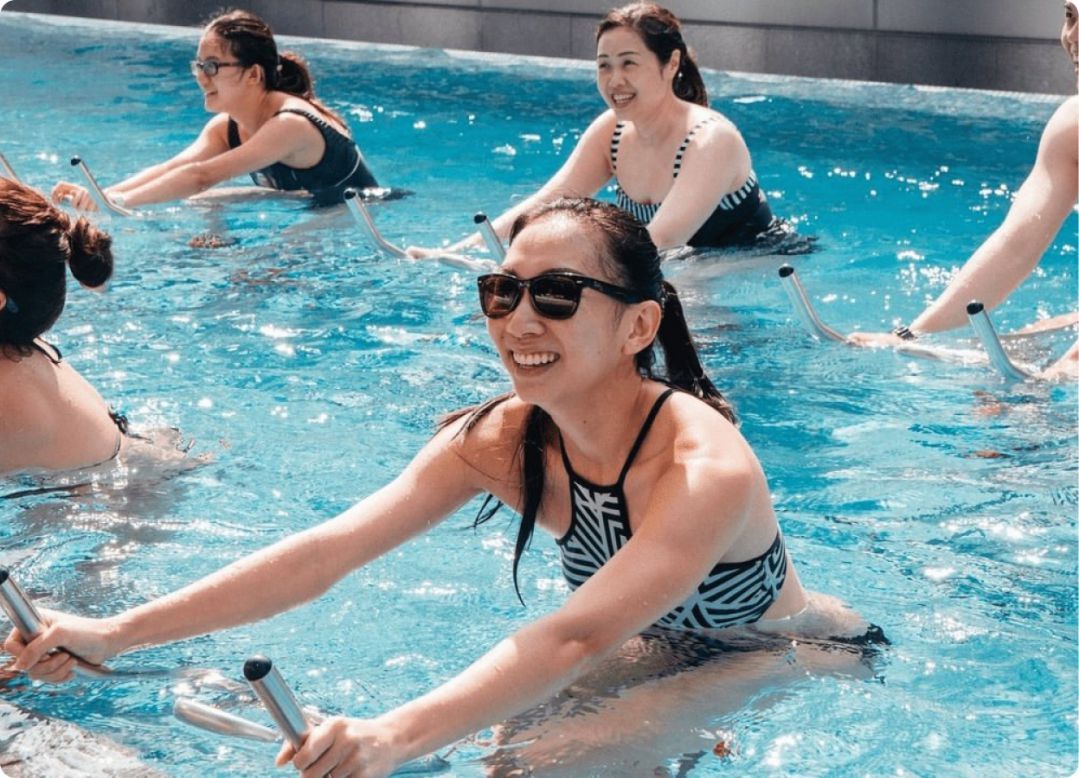 Source: AquaBiking
4. AquaBiking
Next on the list, we're taking a bit of a detour and diving right into the fantastic world of Aquabiking. Now, you might be wondering - swimming and biking together? That's right, folks! This unique fitness concept is just as exciting as it sounds.
Tucked inside the Holiday Inn Hotel along the bustling Sukhumvit Road, you'll find Aquabiking's centre, a haven where you can mix the excitement of cycling with the serenity of water.
This ingenious fusion of fitness regimes isn't just fun, but it's also loaded with health benefits. According to Aquabiking, this workout can improve joint health, boost energy levels, and assist with weight loss.
One of its biggest appeals is that it's easy on the joints, making it a perfect fit for just about anyone - athletes, ex-athletes, seniors, expecting moms, individuals carrying extra weight, and even those in rehabilitation.
So, what makes Aquabiking such a gem in the fitness world? Well, healthcare professionals are in agreement that it's great for your heart health, can help lower high blood pressure, and stimulate venous return, improving your blood circulation.
But the charm of Aquabiking isn't just about the workout. It's also about the experience - the mesmerising pool, the breathtaking view of Bangkok, the camaraderie with friends, and the opportunity to meet new people.
Before you know it, you'll be so absorbed in the experience, you'll forget you're even exercising! So, why not give Aquabiking a whirl? It's a fun, friendly way to stay fit.
📍 Address:
1 Sukhumvit Alley 22, แขวงคลองเตย Khlong Toei, Bangkok 10110, Thailand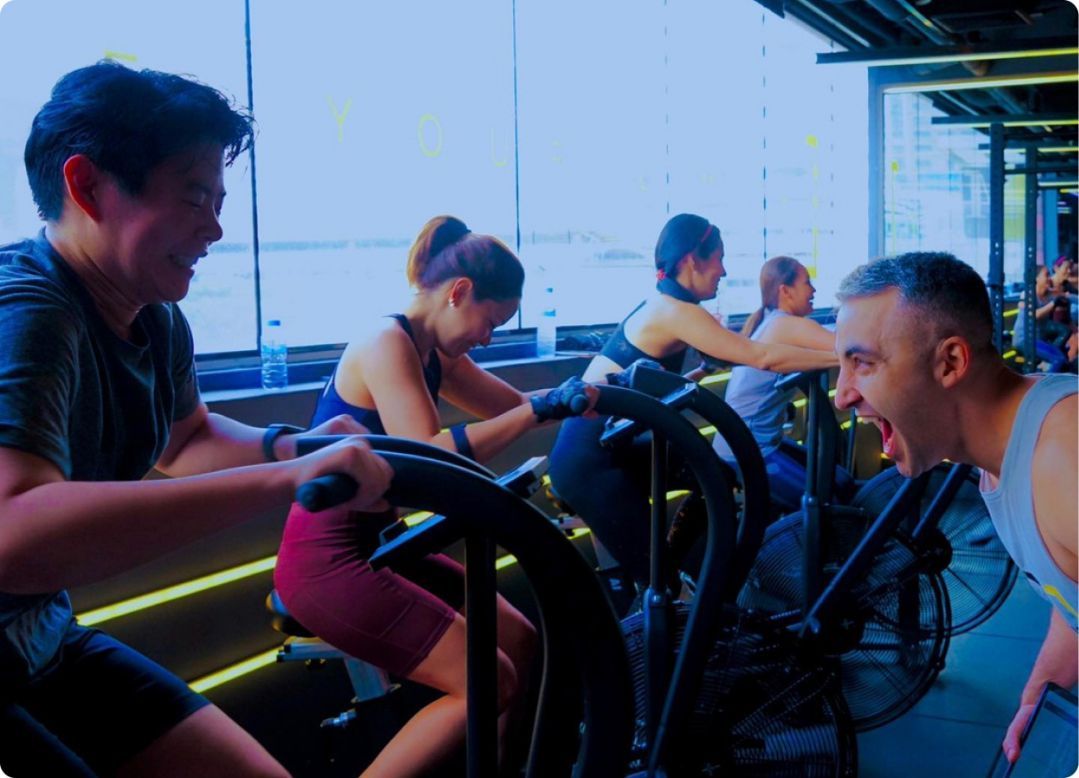 Source: Cubic Fitness
5. Cubic Fitness
Now, if customization is your thing and you love that one-on-one attention, Cubic Fitness might just be your perfect match. Located in Bangkok's central business district, this boutique gym stands out for its personalised approach to fitness. Offering high-intensity workouts, spinning classes, and personal training, Cubic Fitness really gets that each person's fitness journey is unique.
The group classes at Cubic Fitness are anything but cookie-cutter. With exhilarating options like The Cube, Wonder Woman, Powerbuild, and Express HIIT + Spin, these classes will get your heart pumping, your calories burning, and believe it or not, you'll be having fun while at it!
And for the spinning enthusiasts, Cubic Fitness brings you engaging classes like The Beast, Build and Burn, BYOM, and Challengers. But what really sets Cubic Fitness apart is its personalised training programs.
Whether you're aiming for a specific physique, need physiotherapy, or are an expecting or post-partum mom looking for a safe and effective workout, they've got you covered.
The philosophy at Cubic Fitness is all about transforming not just your body but also your mind, and they deliver this through a six-core approach. It's about strength, endurance, agility, physique, nutrition, and therapy. The goal? To help you become the best version of yourself.
Equipped with state-of-the-art equipment, led by passionate and qualified instructors, and backed by the latest sports science technology, Cubic Fitness offers an environment that is both high-energy and supportive.
📍 Address:
973 President Tower, G Floor Phloen Chit Road, Lumphini, Pathum Wan
Choosing the Right Spin Studio for You
Now that we've dished the inside scoop on the top 5 spin studios in bustling Bangkok, the next step is all on you – picking the right one. It's like dating, you know? You've got to find that perfect match. And hey, no pressure! It's all about finding what works best for you.
1. Location, location, location: First up, consider where the studio is. Is it a convenient commute from your home or workplace? Can you easily fit the journey into your daily routine? Make sure to pick a studio that doesn't require you to go on an epic trek just to get there.
2. Instructor: Next, let's think about the instructors. Are they motivating? Do they push you just enough to challenge you without going over the edge? And don't forget about their music - do their playlists get your feet moving? The instructor can make or break a class, so it's crucial that you find their style engaging and uplifting.
3. Variety is the spice of spin: What kinds of classes does the studio offer? Whether you're a beginner looking to start slow or a seasoned pro ready for a challenge, ensure that the studio caters to your preferred intensity and style.
4. Facilities and equipment: Are the studio and its bikes well maintained? Is the equipment up to date? And do they have good changing rooms and showers? A clean, well-equipped studio can significantly enhance your workout experience.
5. That perfect vibe: Lastly, think about the studio's atmosphere. Is it welcoming? Does it feel like a community? A positive vibe can go a long way in making you feel at home and keep you coming back for more.
We understand that finding the right spin studio for you can be a challenge. And once you find the right one, keeping track of your progress and scheduling can be just as challenging.
That's why we highly recommend a spin studio that uses a fitness management software like Rezeve.
Rezeve makes it easy to manage your classes, track your progress, and communicate with the instructors. With Rezeve, you can sign up for classes, view your progress, and receive updates all in one place. The user-friendly interface makes it easy to manage all your fitness classes, and you can access it from anywhere, at any time!
Conclusion
And there we have it - a whirlwind tour of some of the best spin studios that Bangkok has to offer. Whether it's the rhythm-filled classes at Absolute Cycle, the disco-like experience at Ryde Cycle, the soothing underwater fitness journey at Aquabiking, the tailored programs at Cubic Fitness, or the mixed of music and community at Native Cycle, there's something for every fitness enthusiast out there.
Now, while these five spin studios all bring their unique twists to the table, they all share a common thread - a dedication to helping you become the healthiest, fittest, and happiest version of yourself. They understand that fitness isn't just a pastime, but a lifestyle, a community, and a way to find your inner strength.
But hey, don't just take our word for it. Grab those spin shoes, hop on a bike, and feel the exhilaration for yourself. Whether you're a seasoned spinner or a newbie looking to dip your toes in, there's a class and a studio just waiting for you to walk through their doors.
So, why wait? Get out there and start spinning! After all, Bangkok's vibrant spin scene is just a bike ride away.
Cheers,
Friska 🐨
Read next: What is spin workout and top 5 studios in Singapore
---
Do you want to see more content like this? Follow us on Instagram and Facebook for more wellness advice, fitness trends, workout inspiration, and even best health and fitness deals exclusive to our followers. Don't miss out!