Top 5 ZingFit alternatives & competitors
In this comprehensive review, we've explored five alternatives to ZingFit, with a focus on highlighting the strengths and weaknesses of each.
If you're running a fitness studio or gym, you know how crucial the right software is to keep things running smoothly. You've likely come across ZingFit in your search – it's a name that pops up often in the fitness software world.
Known for its sleek integration with websites and a suite of features designed to streamline the fitness business, ZingFit has carved out its own niche.
But let's face it, in a market brimming with diverse needs and preferences, sticking to just one well-known name might mean missing out on some hidden gems.
In this ever-evolving world of technology, it's no surprise that there are some pretty cool alternatives to ZingFit. Maybe you're getting a bit lost in the maze of ZingFit's pricing structure or its monthly costs, which, let's be honest, can be a make-or-break factor.
Perhaps you're curious about how it stacks up against its competitors in terms of customer service, or you're wondering about those pesky transaction fees that can sneak up on you.
Don't worry, we've got you covered! In this article, we're diving deep into the world of fitness studio management software. We're not here to just review ZingFit – although we'll do a bit of that too. We're here to broaden your horizons, to introduce you to a buffet of options that might just be the perfect fit for your unique business needs
So, grab a cup of coffee, and let's embark on this journey together. We promise to keep it informative, a bit fun, and super relevant to your quest for the perfect fitness studio software.
Ready to find out if ZingFit is your fitness biz's soulmate or if there's another software out there that's more your style? Let's get started!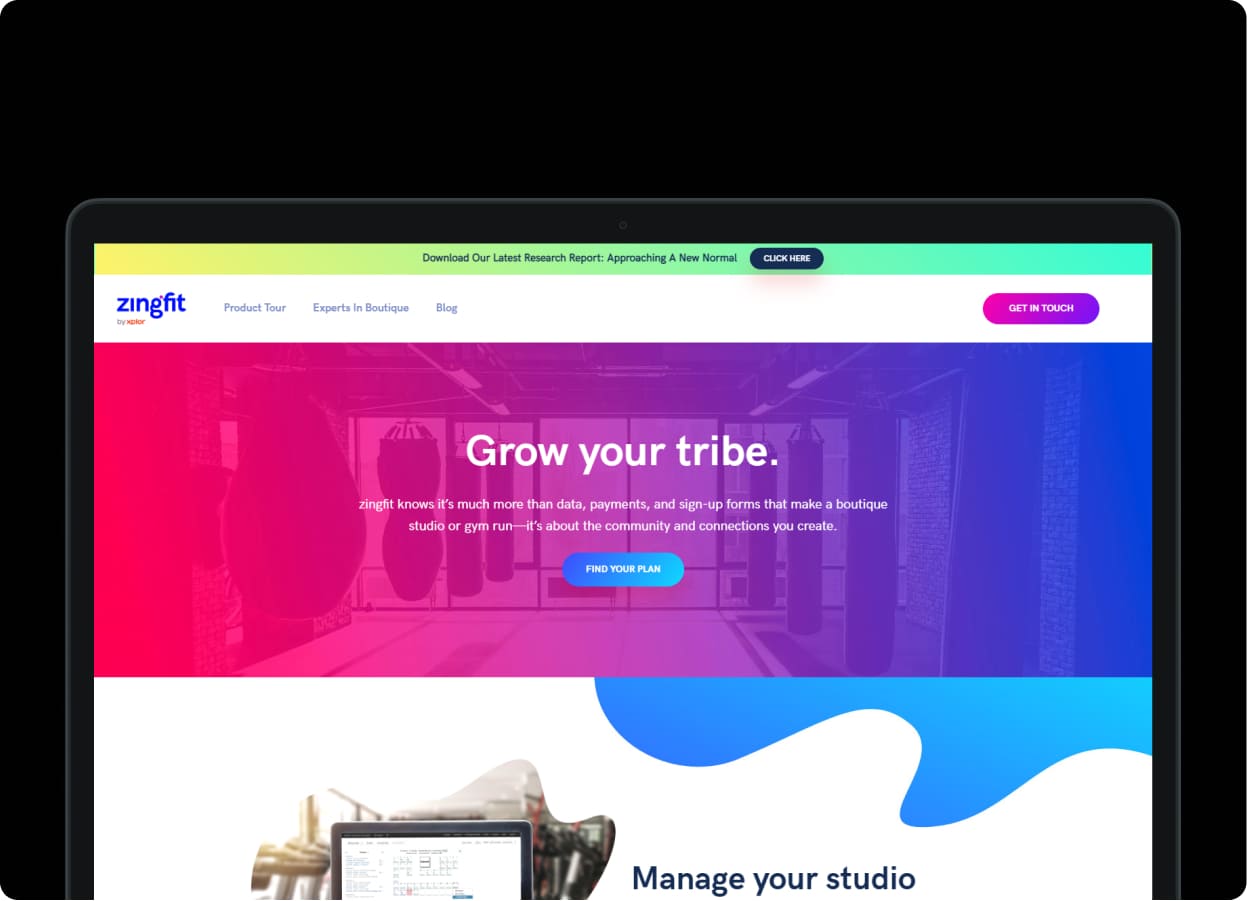 Source: ZingFit
ZingFit overview
ZingFit, born in the fitness-savvy city of Boulder, Colorado, entered the scene on August 17, 2012, thanks to the entrepreneurial spirits of Jeremy Firsenbaum and John Bogosian​​.
It swiftly carved out its niche, offering a comprehensive platform primarily for boutique fitness centres. Let's take a closer look at what ZingFit offers and, more importantly, where it might fall short for some users.
Pricing and plans: Navigating through ZingFit's pricing is a bit like solving a mystery. While we've found some figures from third-party sources – with plans like the Studio Plan at $149/month, Boutique Plan at $299/month, and Enterprise Plan at $459/month – there's a catch.
ZingFit's own website doesn't lay out these details openly. Instead, they encourage potential customers to contact them for a live demo and to discuss pricing. This approach raises a question about transparency. Is the lack of clear pricing on their website a strategy to tailor costs to each client, or a way to keep potential users in the dark until they're already engaged in a sales conversation?
Integration with website: ZingFit boasts about its iframe integration, allowing seamless scheduling and e-commerce directly on studio websites. This feature removes the need for third-party hosted pages, which is a plus.
API and customization: The ZingFit API is available for Elite and enterprise clients, offering a degree of customization for digital experiences. But here's the catch – it's not for everyone. Only those at the higher end of the pricing spectrum get to fully leverage this feature.
Customer service: User reviews often highlight ZingFit's responsive customer service team. However, there are mixed feelings about the software's functionality and occasional glitches. Some users have expressed frustration over changes in payment gateway processors, resulting in lost customer card information. [1]
Trial and transaction fees: Details about ZingFit's trial offers and transaction fees are not readily transparent, which might leave potential users guessing. In an industry where clarity and upfront information are key, this lack of transparency could be a turn-off.
Market focus shift: According to insider source, ZingFit is making a significant strategic shift to concentrate more on the US market. This change in focus means the company will be withdrawing its services and support from the Asian, European, and other international markets. This decision may impact international customers who have been relying on ZingFit, leading them to seek alternative solutions that cater to their regional needs and preferences.
ZingFit presents itself as a robust option for fitness studios, with commendable features like seamless website integration and responsive customer service.
However, its less transparent approach to pricing and the tiered structure, which seems to favour larger enterprises, might not sit well with everyone.
The lack of straightforward information on trial offers and transaction fees further adds to the ambiguity. While ZingFit has its merits, these points suggest that it might not be the one-size-fits-all solution it's often made out to be, particularly for smaller studios or those valuing upfront transparency and cost-effectiveness.
Top 5 ZingFit software alternatives
From pricing transparency to customizability and user experience, we're about to dive into a world of options that could be the perfect match for your fitness business needs. Let's find your ideal fitness software companion!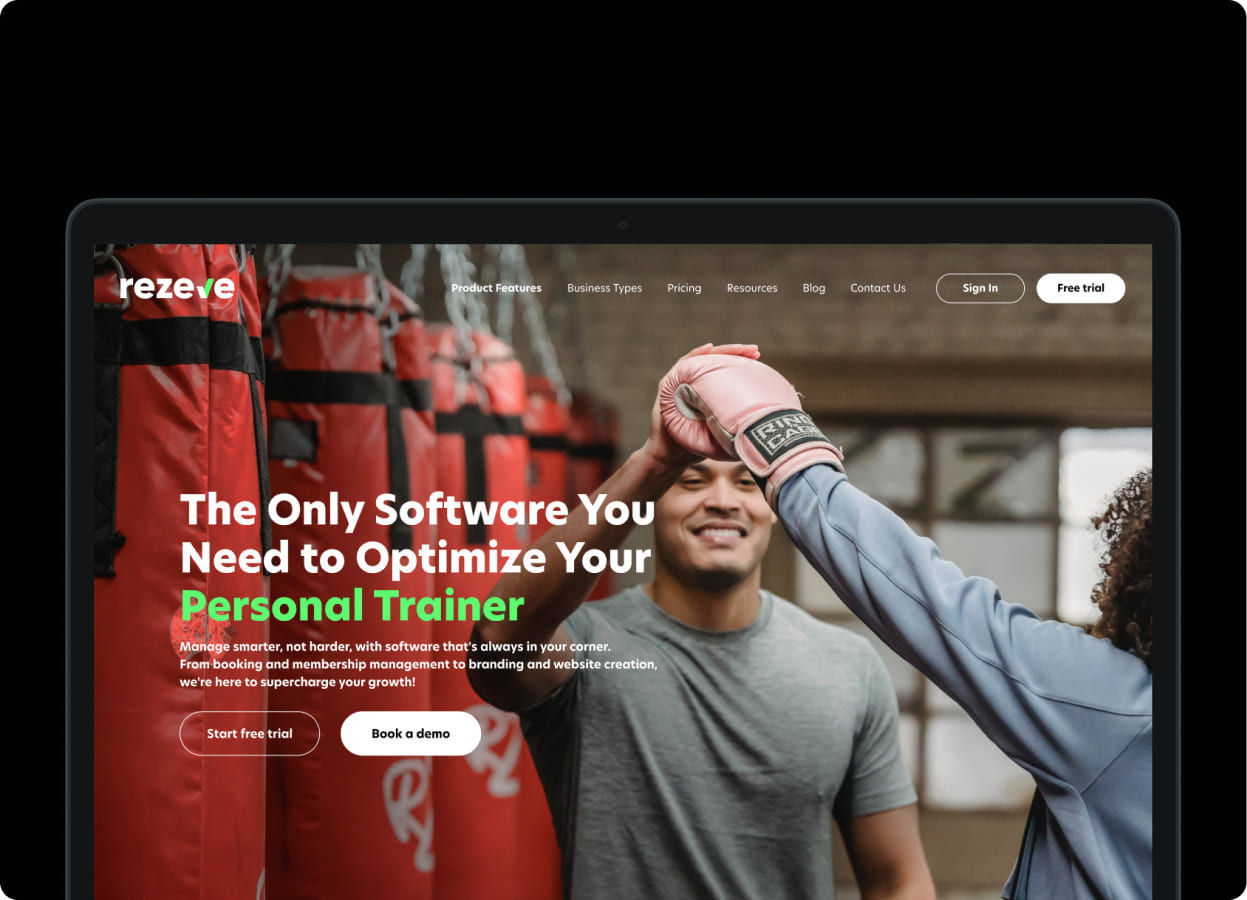 Source: Rezeve
1. Rezeve
First up on our list is Rezeve, a versatile tool that breaks the mould of traditional fitness studio software.
Far from being confined to fitness studios alone, Rezeve caters to a wide array of service-based businesses, making it an ideal choice for everyone from independent personal trainers to large-scale fitness centres.
Feature-rich and user-centric: Rezeve shines with its extensive feature set. It's equipped with a custom-branded website builder, efficient booking management, and thorough staff and membership management systems. The inclusion of robust marketing tools further enhances its appeal. Rezeve acts like an extension of your team, focusing on the seamless management of various business aspects.
Innovative shareable package: A standout feature is the Shareable Package, which revolutionises how session bundles are utilised. Members can purchase and share sessions with friends or family, fostering client referrals and aiding in business expansion. This feature is particularly beneficial for studios looking to broaden their clientele.
Unique offerings – Spot Booking and Family Accounts: Spot Booking addresses the needs of studios with high demand for specific equipment or spaces, like spin or Pilates classes. This feature allows clients to book their preferred spot or equipment in advance, significantly enhancing their class experience.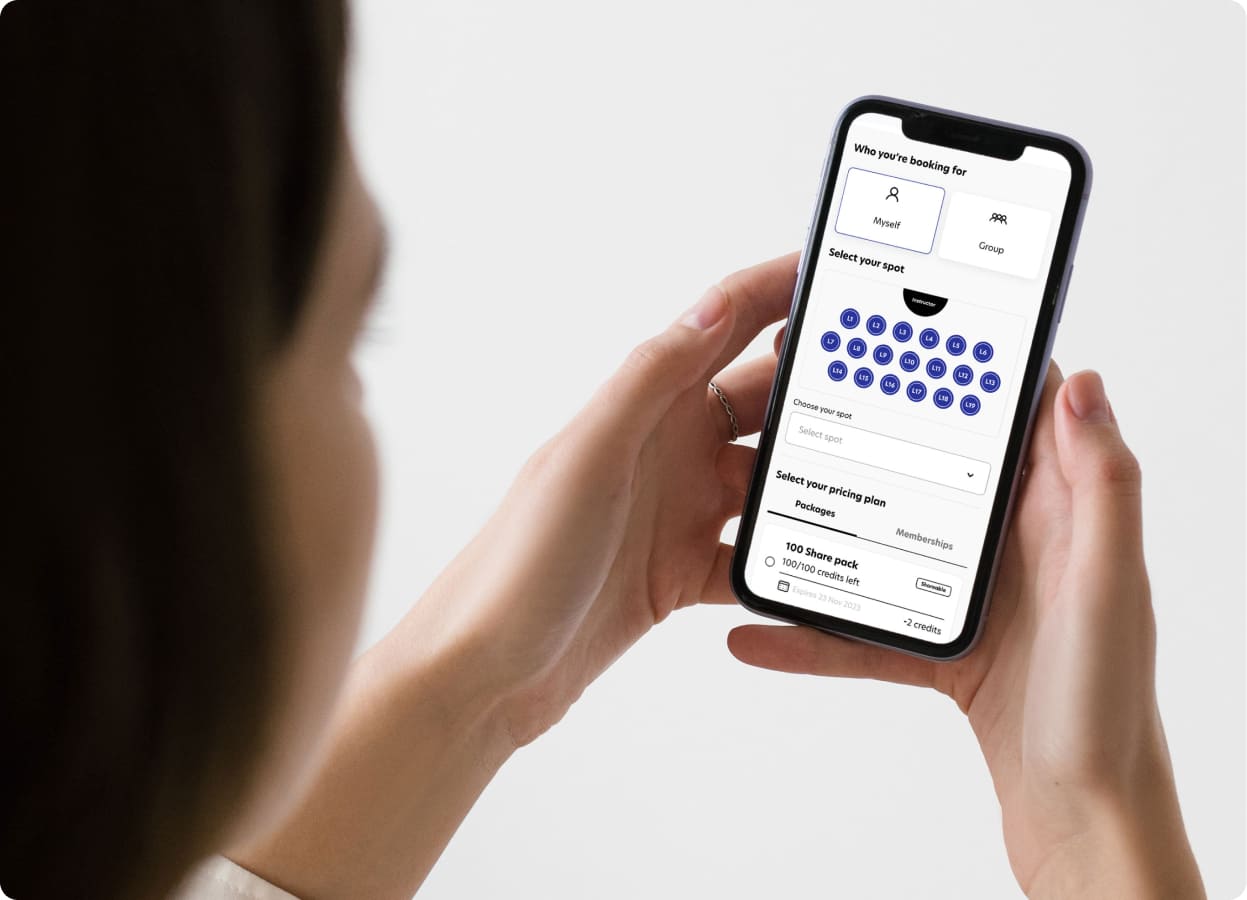 Source: Pexels
The Family Account feature, ideal for studios with kids' classes, simplifies the booking process for parents by letting them manage their children's bookings under a single account. It's a thoughtful addition that caters to family-oriented services.
Unwavering client support: Rezeve sets itself apart with its unwavering commitment to client support. Understanding the complexities of booking management software, they offer unlimited help to ensure clients can fully utilise the software's features.
This level of support is invaluable for businesses adapting to a new system or looking to maximise the software's potential.
Reviews from Software Advice reinforce this, stating that the Rezeve team is "prompt with responding and dedicated to solving problems and coming up with features that's helpful for end users​"​. [2] Another review notes the team's readiness to incorporate feedback and improve the platform, indicating a customer-driven approach​​. [2]
User experience: Customers have praised Rezeve for its ease of use and intuitive interface. One review on Capterra highlights that Rezeve has been a "fantastic experience" for studio management needs, emphasising its user-friendliness and the minimal need for complex training​​ [3] This ease of use is crucial for businesses seeking a straightforward, efficient tool for managing their operations.
Optimal solution post-ZingFit's market exit: With ZingFit's recent shift to focus on the US market, leaving the Asian, European, and other international markets, Rezeve aptly fills the gap for business owners in these regions. Not only does Rezeve continue operating extensively in these areas, but its commitment to providing unlimited support to every user, regardless of location, becomes an invaluable asset.
Additionally, Rezeve is unique in offering local payment options in some countries, allowing businesses to utilize popular local payment methods. This makes Rezeve an even more accessible and user-friendly choice for those seeking a robust management software solution.
Pros:
Integrated custom-branded website builders that are user-friendly and require no coding skills to use. Plus, there are 50+ website templates to choose from.
Unique features for managing family subscriptions, group booking, spot booking, and shareable package.
Support online local payment methods such as virtual account, QRIS, bank transfer, e-wallet, and credit card.
Unlimited support policy for businesses.
Offers a budget-friendly price, making it especially suitable for small or boutique fitness studios.
Comes integrated with ClassPass, allowing fitness business owners to reach a broader customer base.
Cons:
Notable features:
Branded website builder: Enable business owners to build their own custom branded website in a snap. No coding required!
Spot Booking: Allow customers to reserve their desired spot or equipment before the class starts.
Group Booking: Allow customers to book classes and sessions together with their friends or family, rather than each person making separate bookings.
Shareable Package: Allows customers to purchase a package of credits and share them with their friends and family.
Family Account: Allow customers (parent) to book classes for their children.
Free Trial:
1 month free trial period
Pricing:
The standard plans are:
Starter at 29.90 USD/month
Team at 169.90 USD/location/month
Business at 299.90 USD/location/month
Enterprise: Contact for pricing
It's important to note that pricing can vary based on your location, so it's a good idea to check this page for the rates specific to your country.
And here's a sweet deal – if you're all in for the long haul, opting for an annual plan snags you a 20% discount. It's Rezeve's way of saying thanks for your commitment, making the start of this partnership even more rewarding.
Source: Mindbody
2. Mindbody
Moving on to the second alternative to ZingFit, let's look at Mindbody. As one of the most popular member management solutions in the market, Mindbody serves a vast number of clients, more than 50,000 businesses since its inception in 2000​​. However, its wide range of features comes with a complexity that might not be ideal for all users.
Features galore, but at what cost? Mindbody boasts a comprehensive set of features, including a popular mobile app, marketing and retention tools, extensive reporting capabilities, scheduling, client profiles, and point-of-sale options​​.
The app is particularly notable for its ability to attract new clients, as it allows users to discover and sign up for nearby fitness classes, which can be a boon for business growth.
However, this also means that your clients might discover and choose your competitors, as the app highlights all nearby businesses using Mindbody​​.
Steep learning curve and additional costs: Mindbody is known for its powerful features but also for its steep learning curve.
Some users find its interface and functionality challenging to navigate, which can be a hurdle, especially for smaller businesses or those with limited technical expertise. To address this, Mindbody offers training through MINDBODY University, but this comes at an additional cost​​.
Marketing tools with limitations: While Mindbody offers marketing capabilities, such as automated emails and loyalty programs, some users have found its marketing functions less than satisfactory, particularly regarding integration with other platforms​​. This could be a significant drawback for businesses that rely heavily on integrated marketing strategies.
Client profiles and POS functionality: The software does well in maintaining detailed client profiles and offering seamless point-of-sale functionality. However, while these features are beneficial, they are now fairly standard across most fitness business management software.
Mindbody, with its array of features and large user base, certainly has its strengths, particularly in marketing and client attraction.
However, the complexity of its system, the potential risk of losing clients to competitors through its app, and the additional costs for training may make it less appealing, especially for smaller businesses or those looking for a more straightforward, easy-to-use alternative.
Pros:
Robust open API.
Integrated employee management tools, including automated payroll processing.
Offers advanced customer support messaging features powered by artificial intelligence (AI).
Cons:
Several customers have reported having difficulty contacting customer service. One customer commented on softwareadvice.com,
"When trying to get an answer to a question, I was sent to three different people, and even then, I wasn't guaranteed a solution. Our account representative was also unable to help us with our issue and directed us to the website or another department, stating that they lacked the authority to change an email address."
Some users have reported that certain bugs and glitches have taken longer than expected to fix.
Notable features:
Virtual class streaming: Allows gyms to live stream and provide on-demand videos to instruct members remotely.
Referral management: Track the clients who've sent new clients your way and automate the rewards process.
Free Trial:
No free trial
Pricing:
Mindbody has 4 different plans:
Starter at 129 USD per month.
Accelerate at 259 USD per month.
Ultimate at 399 USD per month.
Ultimate Plus at 599 USD per month.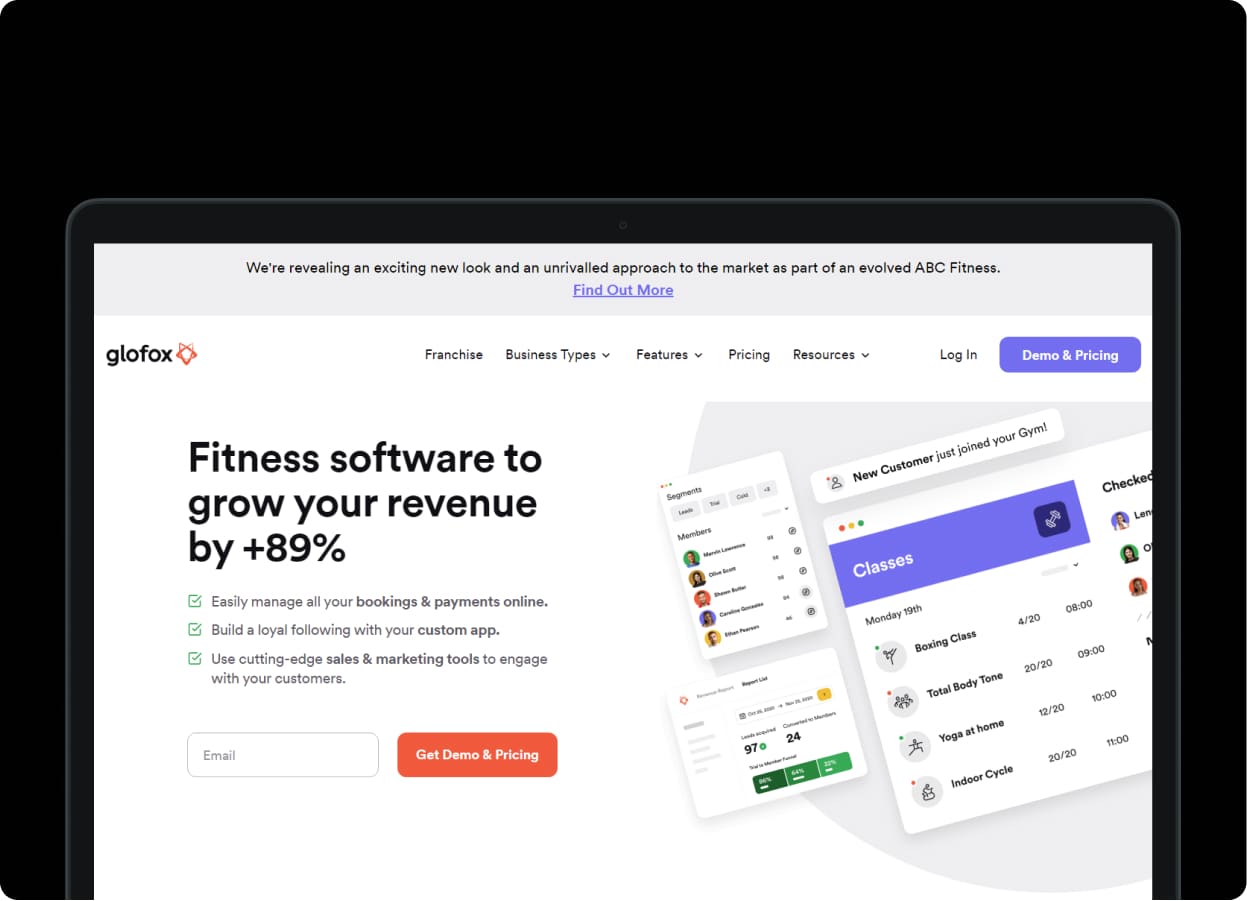 Source: Glofox
3. Glofox
Established in 2014, Glofox is a Dublin-based fitness club management startup. It's known for its ease of use and strong customer support. This makes Glofox particularly appealing to smaller fitness studios and businesses just starting out.
Customised experience, but with limitations: Glofox distinguishes itself with a custom-branded mobile app for each client, which enhances brand loyalty and member engagement.
This app allows for easy class registrations, payments, and even retail purchases. However, Glofox's reliance on Stripe as its payment processor limits its operation to Stripe-supported countries and lacks direct debit integration. Also, the absence of coupon and discount code functionality might restrict promotional strategies for businesses​​.
Operational Challenges: Despite its user-friendly interface, Glofox has faced criticism for operational issues. Features like 'Book a Buddy' have been reported as ineffective, and integration glitches have led to lost bookings, which is a serious concern for any business relying on the software for scheduling and client management​​. [4]
Communication and Support Features: Glofox's mobile admin app is a notable addition, allowing clients to manage their business directly from their phone. However, users have reported limitations in communicating class changes or cancellations through the app, which could lead to customer dissatisfaction and management difficulties​​​​. [4] [5]
Glofox, with its focus on customization and ease of use, offers certain advantages for fitness businesses, especially smaller ones or those just starting.
However, its limitations in payment integration, operational reliability, and communication could make it less suitable for businesses that require robust, flexible, and reliable management software.
Pros:
User-friendly interface.
Integrated custom-branded Android & iOS apps.
Integrated CRM system.
Cons:
Take a fee on top of the provider's fee.
The pricing information is not readily available.
Can be relatively expensive compared to others.
Notable features:
Automated Emails and Push Notifications: Set up triggers that will automatically send emails or notifications.
Membership Management: Create, customise and manage membership plans.
Free Trial:
No free trial
Pricing:
Customised pricing, starts from USD 100/month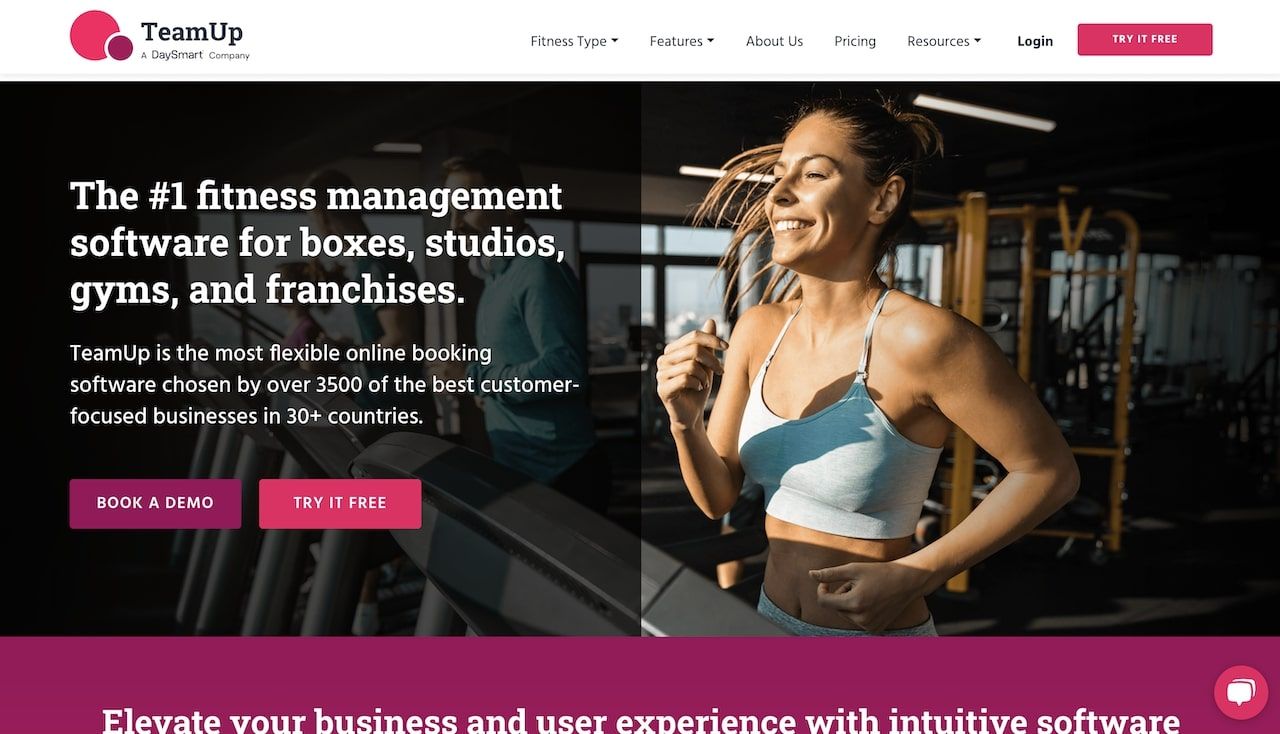 Source: TeamUp
4. TeamUp
Esteemed for its wide application across various fitness-focused entities such as gyms, personal trainers, and CrossFit gym, TeamUp has established itself as a versatile solution in the fitness industry.
It's designed to simplify the management of class schedules, customer relationships, and payments, aiming to streamline fitness business operations. But, does its functionality align seamlessly with all business needs?
Comprehensive features, but are they user-friendly? TeamUp's rich feature set includes customer management, class scheduling, memberships, payment processing, integrations, and reporting. While these features are built to cater to a wide range of fitness business needs, their user-friendliness is a crucial factor.
The ease of setting up and using these features is paramount, especially for less tech-savvy users. The software's customer tools and integrations with various platforms add to its appeal, but the complexity in setting these up can be a deterrent for some​​​​​​. [6]
Pricing that grows with you - but at what scale? TeamUp's pricing model, based on the number of active customers, starts at $99/month for up to 100 active customers and scales up to $309/month for 601+ active customers.
While this flexible pricing is advantageous as it grows with the business, it raises questions about affordability for larger operations. Small businesses might find the entry-level pricing reasonable, but as they expand, the increasing costs could become a concern​​​​. [7]
Usability and accessibility - A mixed bag: Users have praised TeamUp for its ease of setup and quality customer support. However, challenges in the setup of integrations and the subpar performance of its mobile apps have been noted.
These aspects could impact the overall user experience, particularly for those who rely heavily on mobile platforms and seamless integrations for their business operations​​. [8]
TeamUp offers a broad array of features tailored for fitness businesses, with a strong emphasis on customer and staff tools, as well as integrations. However, its potential complexity in setup, especially for non-tech-savvy users, and the limitations of its mobile app might not make it the best fit for all.
Pros:
Pricing structure is based on the number of members and does not offer tiered pricing. This means that all features are available to users regardless of the pricing plan they choose.
Offers dedicated branded mobile apps.
Cons:
Email campaigns require outside integration with an email tool like Mailchimp
No free plan
Notable features:
Access Security Control: Ensures that only registered and enrolled members can access the gym's facilities.
Family and Group Account: Let customers create a shared account for their family or friends. This allows them to add family members or friends as members of their account, making it easier to manage schedules, track payments, and take advantage of group discounts.
Free Trial:
1 month free trial period
Pricing:
Depends how many active customers you have per month:
99 USD per month for 0-100 clients.
159 USD per month for 101-200 clients.
189 USD per month for 201-300 clients.
219 USD per month for 301-400 clients.
249 USD per month for 401-500 clients.
279 USD per month for 501-600 clients.
309 USD per month for 600+ clients.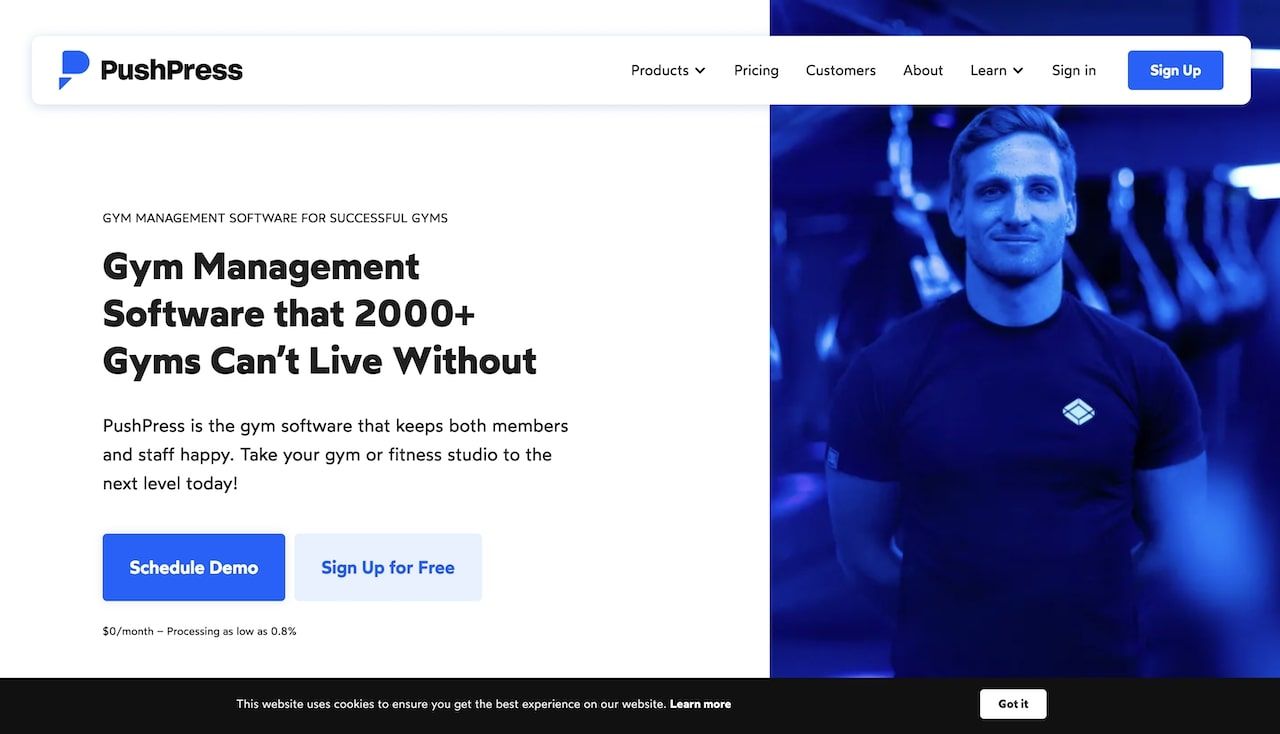 Source: PushPress
5. PushPress
PushPress positions itself as a gym management software solution, aiming to cater to the needs of smaller to larger gyms and fitness studios. It boasts of providing ease of use for both members and staff, coupled with strong customer support.
Features and functionality - A mixed experience: PushPress users have reported high satisfaction with the software's customer support, which is described as quick, helpful, and continuously improving. The software is praised for its intuitive and clean interface, making it easy for staff to learn and use. [9]
However, there are some drawbacks. Users have noted that the app can run slow on tablets and encounter issues.
Additionally, there's a desire for more detailed customization options, particularly for event times and cancellation windows, suggesting that while the software is user-friendly, it may not meet all the specific needs of a fitness business​​​​.
Pricing - A range of options with additional costs for integrations:
While PushPress provides different pricing tiers to cater to businesses of various sizes, there might not be a perfect fit for every gym or studio. This lack of a one-size-fits-all pricing model can be challenging for businesses that fall in between the defined tiers.
They may need to choose a plan that doesn't align perfectly with their needs, potentially overpaying for features they don't use or missing out on essential functionality.
PushPress also offers add-ons integrations with various third-party apps and services, but some of these integrations may come at an extra cost. This means that businesses looking to connect PushPress with other tools they rely on may incur additional expenses beyond the base subscription fee. These extra costs can add up and potentially strain a business's budget.
Pros:
Can be integrated with popular tools like Slack, Facebook, Google Calendar, Mailchimp, and Zapier.
Offer a free plan with unlimited leads and 100 members cap.
User-friendly and simple interface.
Cons:
Not all features are available immediately; instead, you may need to purchase add-ons to access certain features.
The free plan does not include integration with external tools.
Notable features:
Workout Tracking: Allow trainers to create a personalised workout plan for members using the member app, and monitor their progress in real-time.
Lead Generation System: Track and follow up with leads automatically with features like lead tracking, which enables you to view a complete list of your leads and their entire communication history. Additionally, the feature offers automated follow-up functionality to send text messages, make phone calls, and send emails to leads.
Free Trial:
No free trial since its already have free plan
Pricing:
PushPress has 2 different plans:
Pro: 159 USD per month
Max: 229 USD per month
Add-ons:
Branded member app: 97 USD per month
PushPress Grow: not specified
---
Conclusion
In the competitive world of fitness business management software, making the right choice for your gym or studio is crucial. In this comprehensive review, we've explored five alternatives to ZingFit, with a focus on highlighting the strengths and weaknesses of each.
Ultimately, the choice between these gym management solutions comes down to your unique business needs, budget, and priorities. While each option has its strengths, Rezeve shines as a versatile and accessible solution. It's designed not only to meet your current needs but also to grow alongside your fitness business.
Friska 🐨
Read next: Top 5 boutique fitness studio software